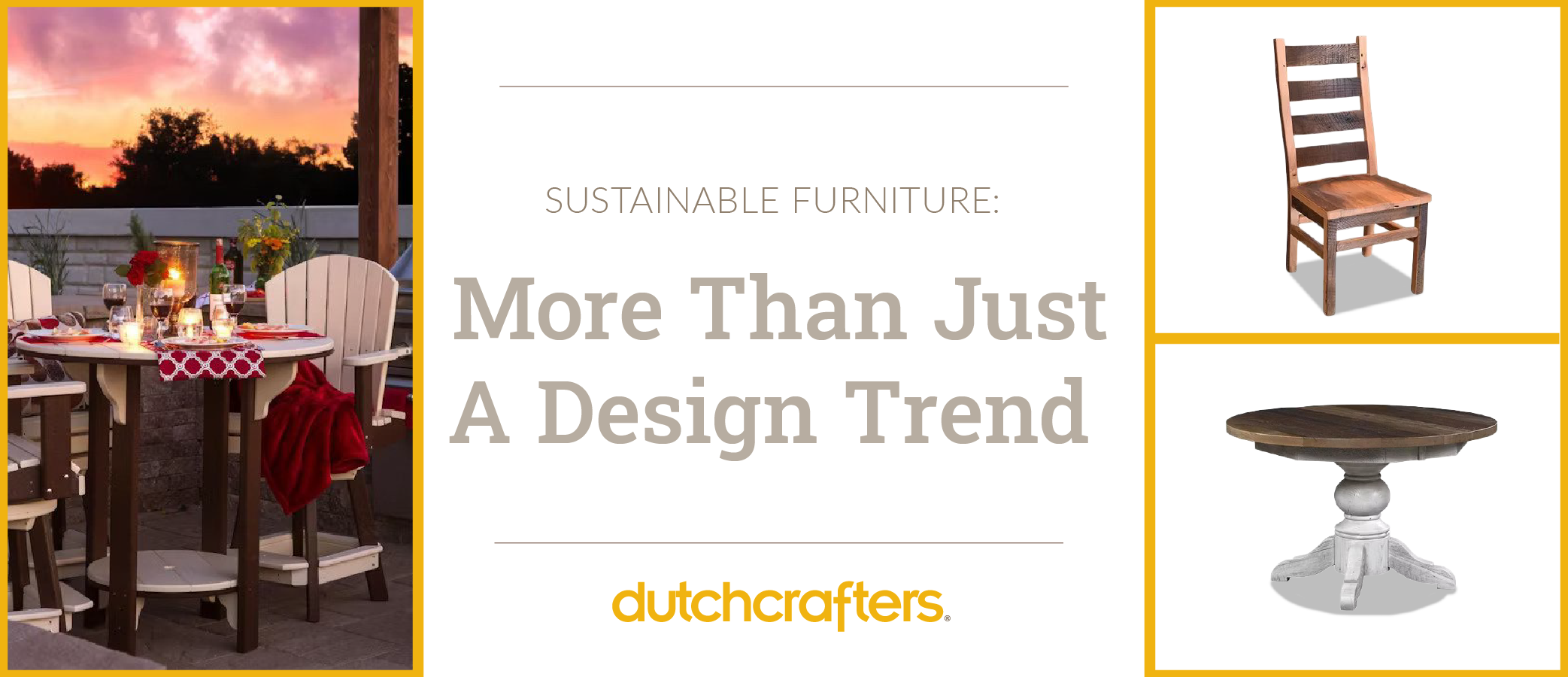 Sustainable Furniture: More Than Just A Design Trend
Sustainable living is one of the year's shining trends, including an increased awareness and use of sustainable furniture for the home. More and more households are not only aware of the growing need to be kind to the planet, but are committing to supporting the practice of going green. We're embracing the value of sustainable furnishings not only for the planet, but for our family, our friends and ourselves.
Within the groups of sustainable practices like composting and recycling comes investing in products that are kinder to the environment and kinder to people including—sustainable furniture.
Sustainable Furniture
Being a company that sells solid wood furniture noted for its slow build, fine craftsmanship and superior durability, we welcome the spread of sustainable furniture fans. Solid wood furniture stands out in stark contrast to furniture made with lesser materials like particle board, medium density fiberboard and cheap plastics.
Sustainable furniture jumps way ahead of them all, with solid wood adding the most value by staying strong and sturdy for decades, versus being sent to the curb in five or less years. Wood furniture companies like DutchCrafters offer furniture made not only with premium quality solid wood, but wood that is sourced from sustainably managed forests that ensure new growth of trees to replace those that are used.
Two Trends Go Hand In Hand
This year, and for a number of years prior, adding natural materials to home décor has been popular on annual furniture trend lists, and there's not a more natural material than solid wood. We love how this goes hand in hand with using sustainable furnishings. Solid wood is included on the list of natural materials, along with clay, stone, silk, cotton and more. Solid wood is authentic and adds warmth to any room. It always stays in style as trends change, and in addition to its natural look, solid wood offers the quality that ensures it won't break down and end up in a landfill, but go the long run, and perform for decades and even generations. Its quality and authentic nature make for a highly durable product that will last to be passed on and used over and over.
Types Of Sustainable Furniture
Furniture that's kind to the environment will exhibit two main features: it's made with materials that are kind to the environment and it will not be "throw away" furniture that peaks within a few years. Instead, it's built to last and stand the test of time.
Two popular types of sustainable furniture are reclaimed wood furniture and poly outdoor furniture.
Reclaimed Wood Furniture
Reclaimed wood furniture comes from very old buildings and structures like barns, warehouses and bridges to name a few. Early 19th century barns are the most common source of reclaimed wood in the U.S. Each piece of furniture made with this barnwood is unique due to each barn being naturally distressed (aged and worn) and colored by exposure to the elements. The old wood is salvaged, cleaned and repurposed to create solid wood furniture. Reclaimed wood furniture does not require trees to be cut down, instead wood that's already available is given new life. Keep in mind much reclaimed wood came from old growth forests—forests that attained great age without being disturbed.
Few resources are required to "harvest" and process reclaimed wood, and old wood is kept out of landfills. Reclaimed wood is extremely durable and stable and will last for decades. All of these factors contribute to qualify reclaimed furniture as sustainable furniture.
Poly Outdoor Furniture
Eco friendly poly outdoor furniture is made with recycled plastics. Think of all those milk jugs and detergent bottles you recycle. It's pretty amazing they can be turned into highly durable, stylish outdoor furniture. How you ask? Here's the process.
Poly lumber is made of recycled high density polyethylene, or HDPE. It comes from recycled plastic that's shredded and cleaned, melted into pellets, combined with dye and UV protectant and formed into solid colored poly lumber. Then poly lumber is cut and built into furniture that comes in a wide variety of colors. Poly is durable, and fade and weather resistant. It won't rot, crack or splinter and it's low maintenance, only requiring simple cleaning with soap and water. These benefits combined with the maximum durability poly delivers makes it an increasingly popular choice for homes committed to going green.
Solid Wood
Beautiful, natural solid wood means quality and those conscious of the environment are turning to it to replace furniture made of lesser materials that gets thrown out and harms the environment. Solid wood furniture offers natural beauty, durability, and saves you money in the long run. It's versatile enough to adapt to any style or design trends, and let's face it—it's impressive. Friends and family are likely to ask about a solid wood piece that's built well. There's no denying the materials and craftsmanship simply stand out from the rest.
Returning to Fine Craftsmanship
How a product is made has a direct result on its performance. Along with the growing support for sustainable furnishings is a renewed respect and following for fine craftsmanship. Craftsmanship is something we follow closely at DutchCrafters, investing time in observing and understanding how the solid wood furniture we offer is made. It's built slowly with the finest materials and the most valued practices, like mortise and tenon joinery, dovetailed joints, solid frames and smooth opening drawers. While building furniture of this caliber takes time, those becoming invested in sustainable living support it. Pride is taken in knowing where the furniture was made and something about the process. Solid wood slow furniture is the kind guests ask about, and knowing the story behind it makes ownership of it even more enjoyable. Waiting for this quality brings home furniture that will be used for generations. You won't see this stuff piled on the curb or overflowing in piles at the landfill.
As living sustainably grows, a light is being shed on fast furniture practices that harm the environment. Cheaply made furniture that's mass produced is being shown to break down sooner, contributing to filling our landfills. More green households are investing in quality furniture they know they'll have for decades versus the latest décor trend. Along with the quality comes an interest in and value for the craftsmanship behind it. Purchasing sustainable furniture is a more mindful approach to home furnishing. It has homeowners leaving the fast furniture lane and investing in quality that will last, investing in wood furniture and home furnishings made with recycled materials.
Eco friendly materials and factoring in how an item is made lifts home furnishings to a new level. It's a trend we hope will not remain a trend, but a way of life.