At DutchCrafters, we offer solid wood furniture handcrafted by the Amish – more than 10,000 different fine furniture products for your bedroom, dining room, office or living room. Because our furniture is handcrafted in America by master craftsmen, it is not only solid wood, but solid value.
Our solid wood furniture includes many types and styles, most of which is available in a variety of hardwoods and many different finish options. Some of our wood options include oak, quartersawn oak, cherry, maple, walnut, rustic cherry, brown maple and hickory. Because solid wood furniture is made from natural fiber, its beauty lies within the wood itself – a natural, wholesome, elegant look and feel that makes solid hardwood furniture unique and special.
Unlike cheap imported furniture that is made with veneers and synthetics, our American made, expertly crafted, heirloom quality solid wood furniture is built to last. Your investment will hold its value as you pass along our Amish furniture from one generation to the next.
Furniture Wood Types
There are many woods to choose from for your furniture, and it can be hard to decide what is the best choice for your style and needs. We have developed resources for you to learn about the different woods used to make our furniture and the characteristics of those woods. You may want cherry wood for its natural beauty or oak for its strength and longevity. For your outdoor furniture, you may prefer poly for its resiliency or cedar for its smell and insect repellent qualities.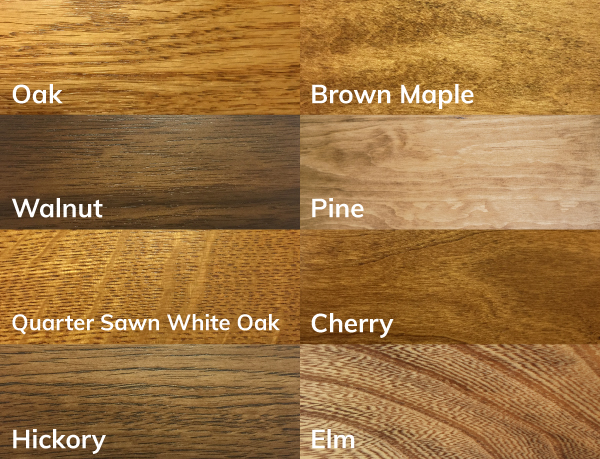 As you browse the many wood varieties we offer, please keep in mind that many of our wood shops use sustainable forestry techniques. These practices are not only better for the environment than clear-cutting and other harmful harvesting techniques, but can actually strengthen the forest in which they harvest the wood. When you remove an old tree near the end of its life cycle, you clear that area for the saplings to reach for the skies. This ensures that the wood used in our furniture is of the utmost quality and the forest from which they come will be more beautiful and stronger than ever.
Whichever wood type you are thinking of using, please read through and learn about the characteristics of each wood to better understand what goes into your solid wood furniture. If you need assistance, please reach out to our Amish furniture specialists at 941-867-2233.