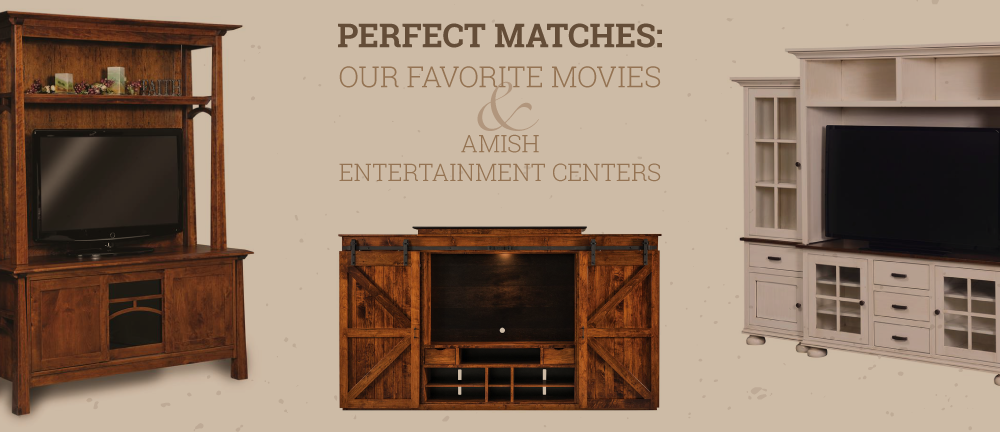 Our Favorite Movies & Matching Entertainment Centers
The cooler months are the perfect times of year for cuddling up with a warm blanket, a special person, and a good flick. Right in front of your home entertainment center is the best spot to enjoy your all-time favorite films.
We're sharing some of our staff members' favorite movies matched with the Amish entertainment centers we think best reflect the characters and themes of each film. From a Pixar film with family, to a romantic comedy with your significant other, there's an entertainment center handcrafted for you with a theme and character all its own.
Jake Smucker, Multimedia Producer/Graphic Designer
Movie: The Lord of the Rings Trilogy
Match: The Amish Modesto Six Piece Entertainment Center Wall Unit
We start things off full force by matching Jake's favorite trilogy with the Amish Modesto Six Piece Entertainment Center Wall Unit. This gorgeous home theatre includes a central TV stand, two angled side cabinets, a center hutch, a bridge top, and a hanging back behind the TV area. A beautifully sculpted entertainment center rich with storage is a must for the obstacles Frodo, Sam, and friends face. The strength and persistence of the characters in the film are a match for the durability and solid body of this living room set.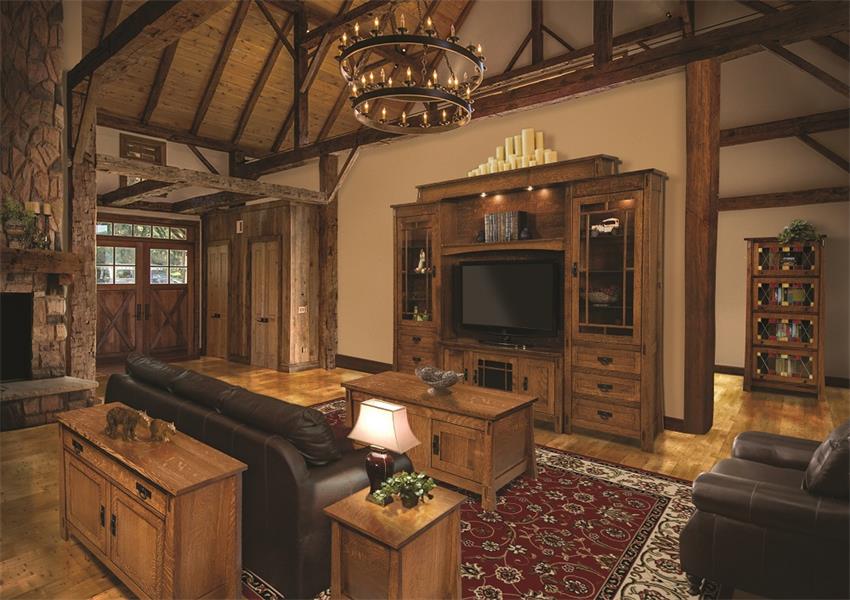 Maribel Arista, Administrative Assistant
Movie: Bridesmaids
Match: The Amish Kaitlyn Wall Unit
A collection of clashing and witty personalities converge in Bridesmaids. Hilarity ensues with misunderstandings and mishaps that move the film toward the beautiful wedding that ties everything together. We would schedule a viewing of this comedy in front the pretty compartments, attractive glass doors, decorative mullions, and lovely bun feet of the Amish Kaitlyn Wall Unit.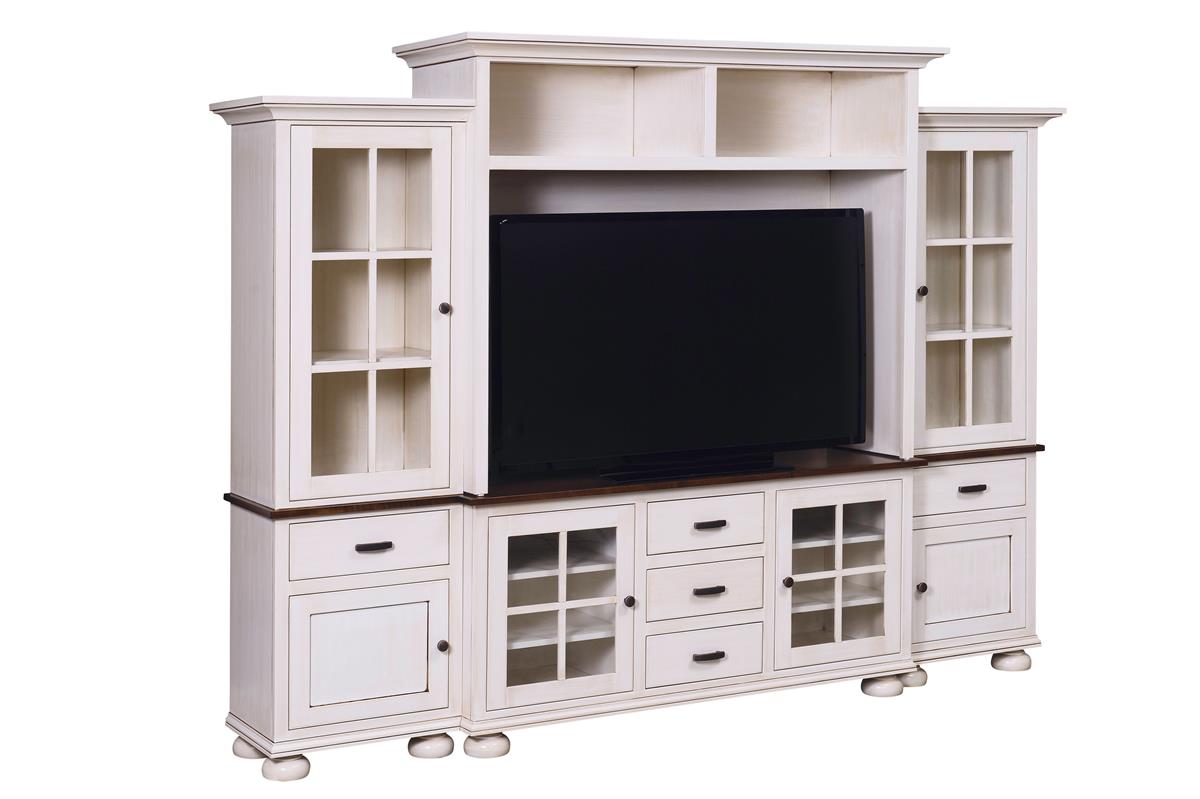 Alyssa Meyer, Sales Assistant
Movie: The Help
Match:  The Amish Mission Deluxe Wall Unit
Classic mission style, the woodworkers' attention to detail, and top-quality solid wood contribute to the enduring character of the Amish Norway Mission Plasma TV Tower Unit. It is built to be strong and durable as it emits a quiet beauty from within, much like The Help's courageous characters.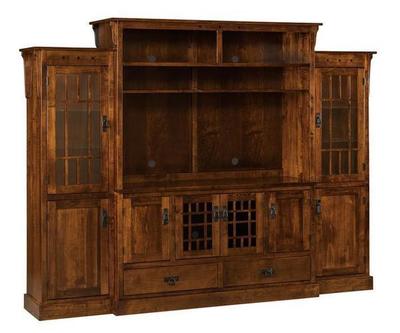 Kari-Jo Koshes, Shipping & Logistics Coordinator
Movie: The Hitchhiker's Guide to the Galaxy
Match: The Amish Artesa Two Piece Entertainment Center
For this insightful and smart comedy that takes place in space, we would house this movie full of colorful characters in the Amish Artesa Two Piece Entertainment Center. This transitional style piece offers all the comfort of traditional style combined with modern elements. Transitional furniture adapts with changes in design, much like the characters in this movie who are taken on adventures throughout the galaxy.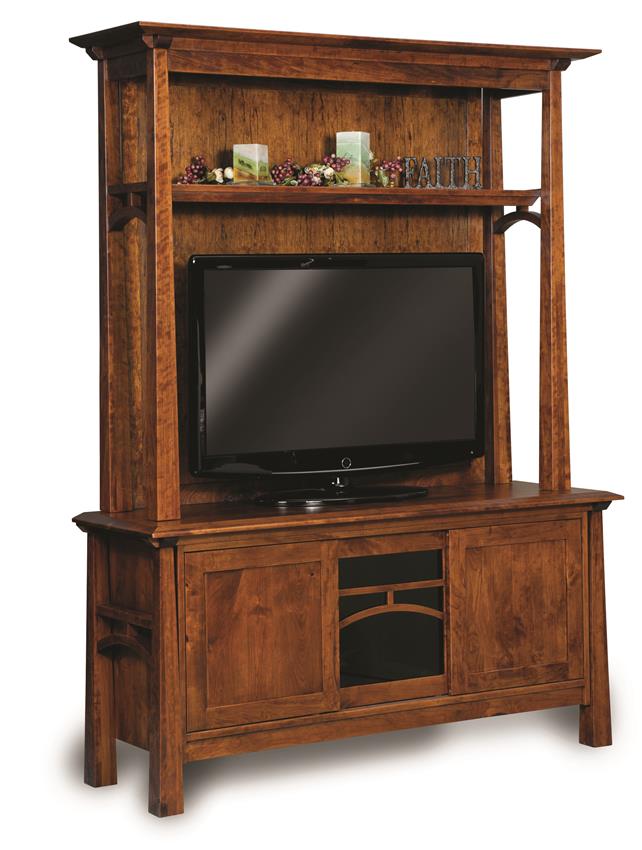 Jennifer Ferdico, Customer Service Specialist
Movie: The Harry Potter Series
Match: Buckingham Living Room Set
With the adventures that follow Harry Potter wherever he goes, we would assign the Buckingham Living Room Set, featured in our Shop the Look section. The Buckingham includes a powerful and mesmerizing 68" wide TV stand with a commanding hutch top that provides a display area. Fluted angled corners and seedy glass doors add variety and value to this home entertainment center. Along with the Amish Buckingham Coffee Table, Sofa Table and End Tables, there's plenty of storage. The combination is positively magical.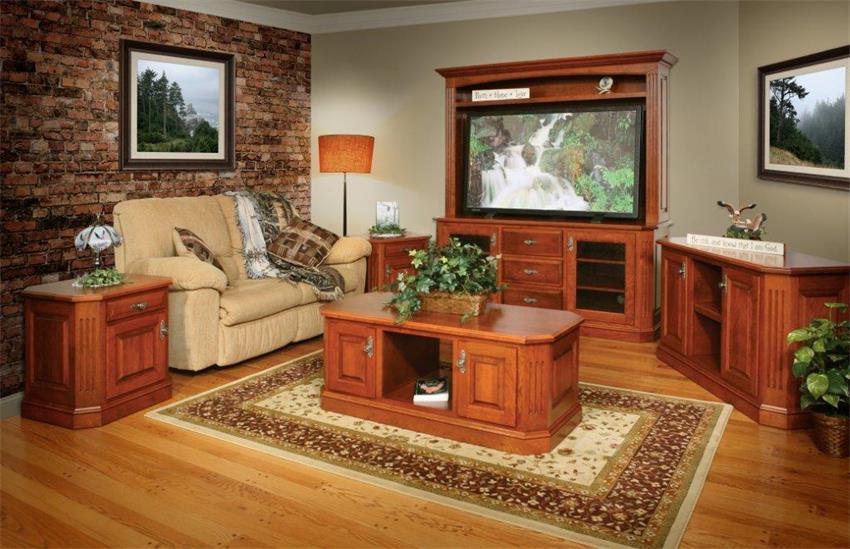 Leah Meldman, Content Writer
Movie: The Breakfast Club
Match: Amish Modular Wall Unit Entertainment Center
Five quirky characters come together despite their differences in this classic dramedy, and create a new circle of friends. We match Leah's favorite pick with the Amish Modular Wall Unit Entertainment Center. This solid wood masterpiece can be customized into the combination that works best for you. The Modular Wall Unit is available in four sizes, five wood types, and a variety of finishes. It includes a raised panel, cathedral glass doors, adjustable shelves, and crown moulding. Custom-made Amish furniture allows you to bring together different elements to create something new, much like the characters do in the movie. Create the entertainment that will work best with your home furniture collection.

Lisa Spagnoli, Furniture Specialist
Movie: Somewhere in Time
Match: Amish Victorian Three Piece Entertainment Center Wall Unit with Bookcases
Driven by the photograph of a beautiful woman, Richard Collier travels back in time to find true love. This elegant and romantic tale follows the story of a determined character. We would showcase this movie in the Amish Victorian Three Piece Entertainment Center Wall Unit with Bookcases.  This entertainment center draws attention with its lovely design. Its solid wood construction will stand the test of time. Featuring six adjustable glass shelves inside two bookcases, customizable cabinets, and drawers with touch lighting, this handcrafted entertainment center is perfect for romantic movies.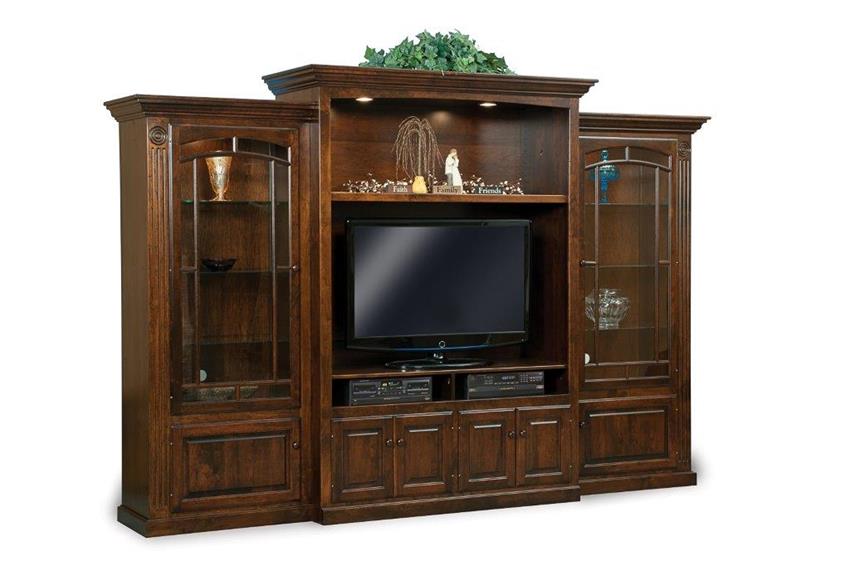 Savannah Shumway, Sales Assistant
Movie: A Knight's Tale
Match: Sliding Door Teton Entertainment Center
William Thatcher is a peasant, but he wants to be a knight. With an unwavering belief in himself, William moves toward his goal, reinventing himself while trying to stay true to who he is. We would showcase A Knight's Tale in the rustic Amish Rustic Hickory Log Modular Entertainment Center. This living room furniture gives rustic style storage a new character, using authentic hickory wood to create an attractive, one-of-a-kind entertainment center. With room for video games, movies, music, and a DVD player, the Teton neatly conceals what's inside by sliding the gorgeous barn doors closed.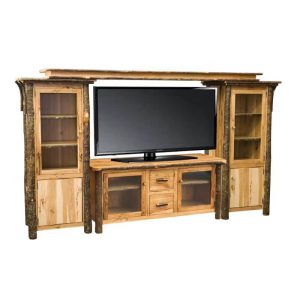 What's your favorite movie? Find the characters you love in our customizable solid wood entertainment centers that support family movie time with style and storage options you can count on.