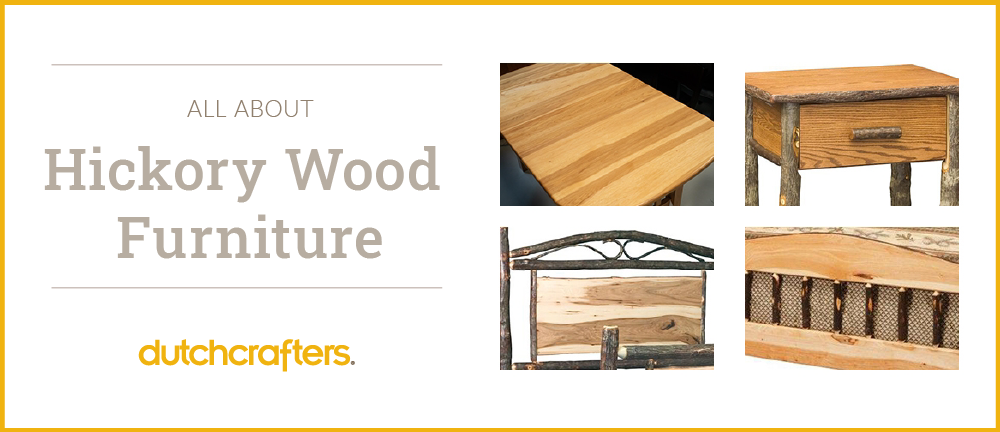 All About Hickory Wood Furniture
Perhaps you've spotted hickory wood furniture in a log cabin where you vacationed or in a rustic style restaurant. Rough, yet alluring, unique and warm, it's a wood that gains points for its strength and hardness. How does it translate to items in our homes? We're covering it here in this post that's all about hickory wood furniture.
What Does Hickory Wood Look like?
Let's start with what hickory looks like. Hickory has a unique look that sets it apart. Hickory colors include medium brown with a reddish tint, and sometimes there are yellow-colored highlights present. The heartwood is light to medium brown with a reddish hue. The sapwood is a pale yellow brown, offering a contrast in color that looks attractive stained or unfinished.  It has a straight grain and uniform texture. It can include some waves and sometimes, bird peck. Bird peck is where a bird has made a small hole or indentation in the wood and a dark mineral streak forms in its place. Some hickory wood will have knots and streaks.  The color contrast is a strong look that's natural and organic and easily lends itself to rustic-style rooms. Calico is a term used to describe when both light and dark shades occur on the same hickory board.
Rustic hickory wood is just like regular hickory except that it includes more imperfections, all of them adding to its rustic charm. These can include burls, knots, color streaks and other variations.
Characteristics of Hickory Wood
Perfect for a log cabin or rustic style
Rugged, natural, outdoorsy look
Heavy, hard, strong and durable wood
Challenging to work with due to its hardness
Prominent color contrast
Good steam bending qualities
Excellent shock resistance
Hickory Style
There's no question hickory wood fits a rustic scene with its rugged and rough edges.  Its bark, imperfect edges and strong colors go all the way rustic. The combination of light and dark colors create a one-of-a-kind look for hickory furniture. Due to its rustic, earthy, natural features, it's a great fit for cabins and country-style homes. 
Hickory Strength
Hickory wood is stiff, hard, dense and shock resistant. It's durable, strong and water resistant, making it a good choice for flooring and furniture.
Hickory tops the charts for offering hardness. It's ahead of white oak and hard maple, which are strong contenders for hardness among wood types.
Hickory wood has a Janka hardness rating of 1820, while hard maple's rating is 1450 and white oak is 1360. The Janka Rating is used to test the relative hardness of wood by measuring the amount of force it would take to embed a 0.444" steel ball into the wood to half of the ball's diameter.
What is Hickory Wood Used For?
In addition to attractive hickory wood furniture, the strength and hardness hickory offers make it useful for tools that take a beating. Hickory was long used for baseball bats before being replaced by ash wood. Tool handles, ladder rungs, sporting equipment, cabinets, furniture, wheel spokes and drumsticks are made with strong hickory. It's also used for flooring since it's good at resisting wear. Hickory's high energy content makes it an ideal wood for wood-burning stoves, and it is popular for barbecues as it adds a pleasant flavor to smoked meats.
Hickory Trees
Hickory trees are members of the Carya genus, which is Greek for nut. Most of the 19 types of hickory trees grow in the eastern US and can grow as tall as 60 to 120 feet.
Two popular hickory types are pecan hickory and shagbark hickory. Shagbark is the most widespread and is considered "true hickory." Shagbark trees are a little denser and harder than pecan hickory trees. Their shaggy bark earns them their name.
Pecan hickory trees are members of the walnut family and bear nuts that are edible. They grow fast and are the largest of the hickory trees.
Hickory Furniture
If you embrace a rustic look and enjoy the imperfections and roughness of hickory wood, hickory furniture could add just the right accent to your home.
For craftsmen, building hickory furniture can be challenging. Its hardness makes it harder to work with machine and hand tools, and finishing can be challenging as well. Some choose to leave hickory furniture unfinished. If you choose to have it finished, it's recommended it be done by a professional.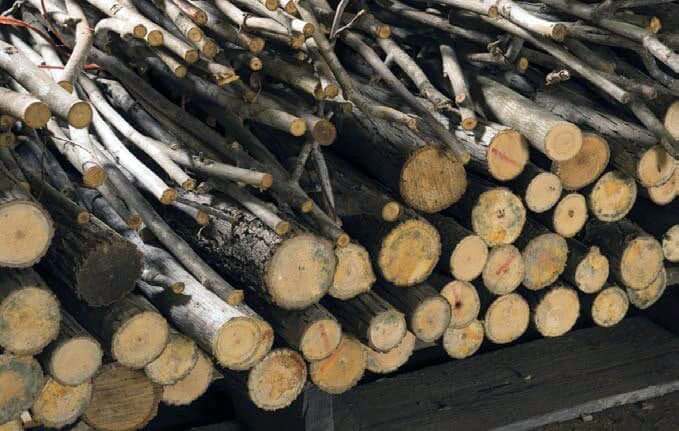 How to Care for Hickory Wood Furniture
Caring for hickory wood furniture is similar to caring for any wood furniture. To protect the wood and keep it performing its best, the following measures are recommended:
Do not position hickory furniture in direct sunlight
Do not position close to heating vent
Control humidity and keep in a consistent temperature
Wipe up any liquid spills right away
Avoid silicone wax cleaners that can cause a cloudy finish
Use a soft, clean cloth for dusting to avoid scratches
Use a protective pad when writing on surface of wood
Lift items for placement, do not drag or slide along wood surface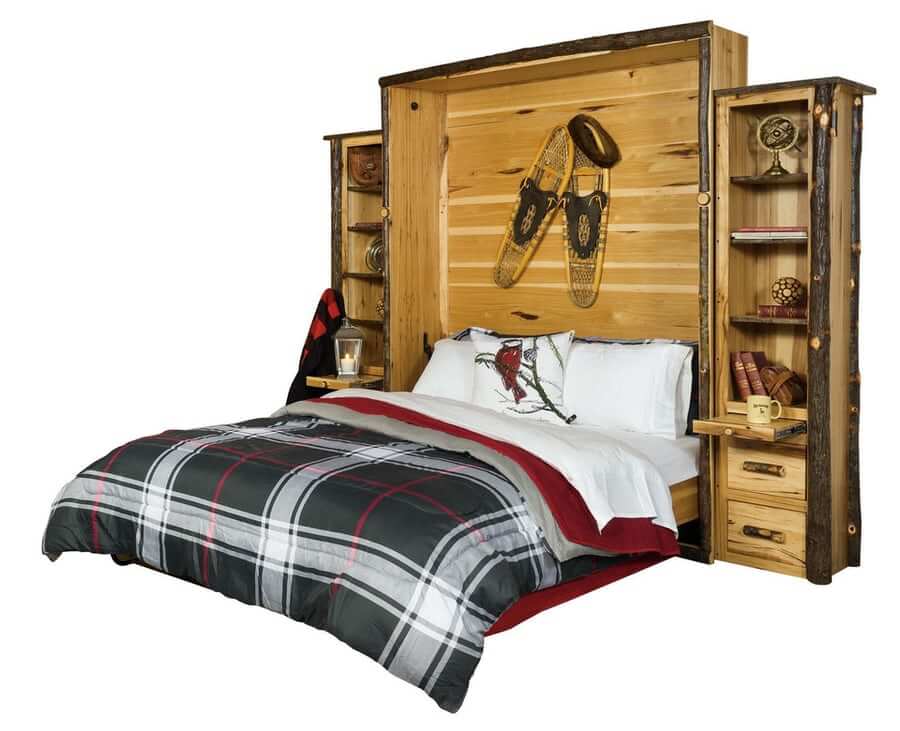 Hickory furniture offers rich rustic style. If you're looking for a smooth surface and a subdued character, hickory might not be the wood type for you. Its strength translates nicely for furniture that will see heavy use. The colors add to its character and are sure to draw interest.
From a hunting lodge to a log cabin living room, hickory wood furniture offers an earthy, rustic, one-of-a-kind look. A little hickory is sure to grab attention as it has a lot of personality.