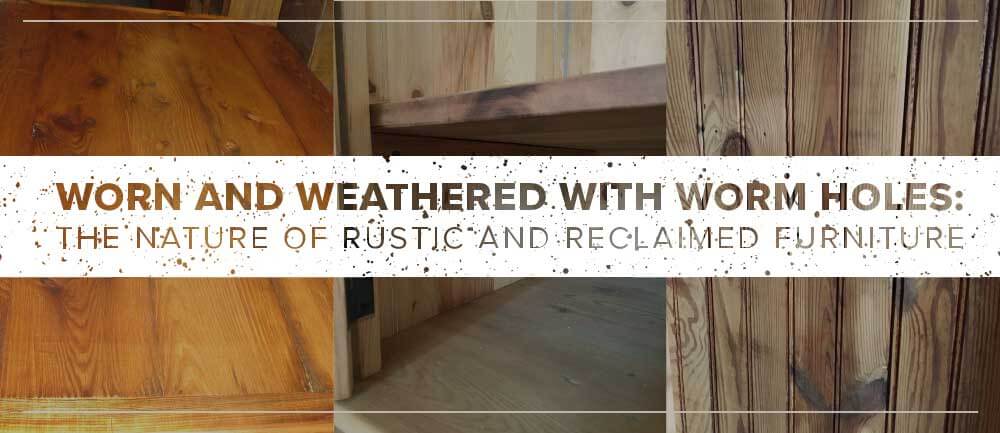 Worn and Weathered with Worm Holes: The Nature of Rustic and Reclaimed Furniture
There will be holes. There will be marks. There will be imperfections. Rustic furniture and reclaimed furniture embrace the beauty of the natural and celebrate its flaws. This is solid wood furniture that exudes warmth with organic character that gives off a relaxing vibe as it provides a connection to the past.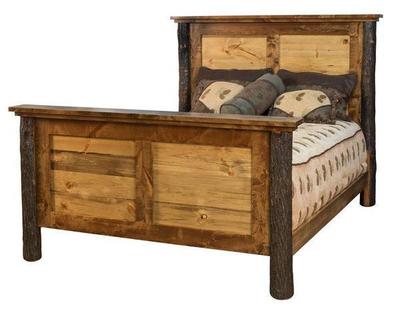 If smooth, shiny and seamless are what you're after, then rustic and reclaimed may not be for you.
The Rustic
Originally, rustic style furniture utilized whatever materials were naturally occurring and available including twigs, logs, bark and saplings. Rustic furniture is rugged and imperfect and brings the beauty of the natural, outdoor world inside.
Characteristics of rustic style furniture include:
Knots and some uneven edges
Textured, rough surfaces
Nail holes and saw marks
Distressed wood
Natural colors
Simple designs
Surfaces can appear weathered
Strong, slightly rough profiles
Amish craftsmen often employ techniques where they fill the holes with epoxy for a smoother surface, but many fans of rustic furniture like to keep the holes natural and open.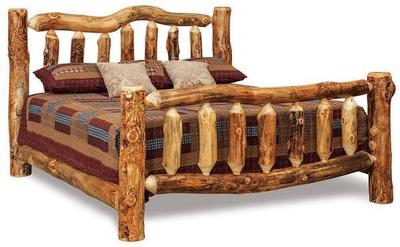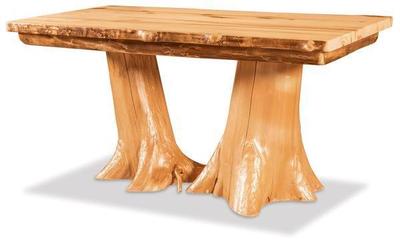 The Amish Rustic Hickory Corner Buffet, The Amish Rustic Log Bed and the Amish Aspen Double Stump Dining Table display the knots, uneven edges, textured surfaces and natural corners rustic furniture is popular for.
The Reclaimed
Reclaimed furniture or barnwood furniture, is built with wood that's been salvaged from old barns across the countryside. The wood is cleaned, kiln-dried and made into reclaimed furniture. The wood is rich with age and character and has its own unique history. Reclaimed wood has a story to tell.
Characteristics of reclaimed furniture include:
Marks that may include knot holes, worm holes, sun spots and nail holes
Appearance of knots where tree branches intersected the tree trunk
An eco friendly nature as the wood is locally sourced and salvaged from old barns
The use of barn beams
Durability and strength
Weathering and wear throughout the years that results in one-of-a-kind pieces
An authentic character
A unique story
Reclaimed furniture is a rustic style itself. Initially, all the natural flaws like nail holes and worm holes are left open. There are various finishing processes and techniques woodworkers can use to fill holes including epoxy or special fittings they can do for a smoother finish. But the markings and aged appearance will remain. Often, owners choose to leave the holes open to preserve the character of the wood.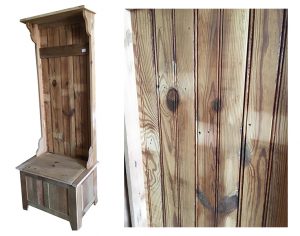 The Amish Reclaimed Barnwood Hall Tree
A close up of the reclaimed wood used for the Amish Reclaimed Barnwood Hall Tree shows a variety of nail holes, knots and sun spots that come with reclaimed furniture.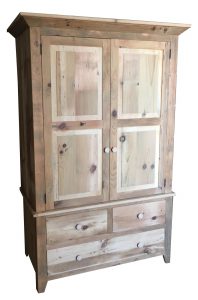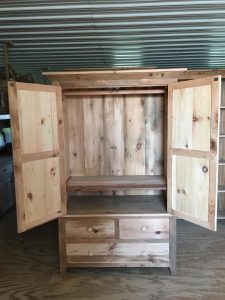 A Rustic Barnwood Wardrobe is strong and natural bedroom storage.
Distressing for Rustic Furniture
Distressing techniques are a great option for creating a time-worn aged look. This involves manually roughing up and altering the surface of the wood with different tools. While choosing distressing in varying degrees from light to heavy gives you more control over the final product, here are the points that are important to know about distressing.
Creates an aged appearance
Uses a variety of marking techniques that require tools like planers, ice picks, heavy chains, drill bits, saws
Marks made that will appear in the wood include pin holes, indentations, nicks, simulated cracks, edges appear heavily worn
Uses a variety of stains, paints and glazes
Contributes to the warmth of rustic style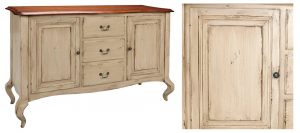 A close up on the door of the Amish Royal Court Buffet exemplifies how distressing techniques can create an aged appearance.
Distressing techniques are explained in our Frequently Asked Questions Video Series.
If you're looking to embrace the natural and the Wabi Sabi (beauty in imperfection) then both rustic and reclaimed furniture offer exciting options for your home furniture collection.