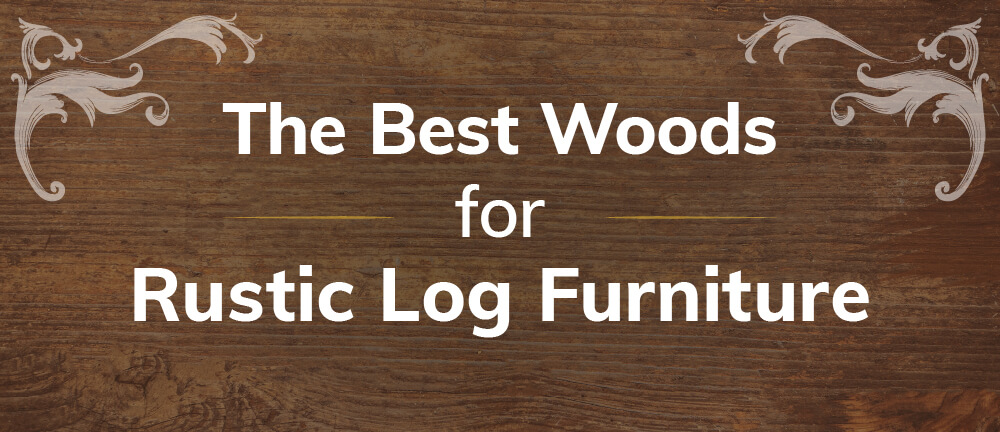 The Best Woods for Rustic Log Furniture
Rustic log furniture brings home a natural, outdoor woodsy feel. You feel that you've been removed from the everyday and launched to log cabin life, complete with log beds, barstools and rustic coffee tables full of natural knots and markings. Rustic furniture helps set the scene and with it comes certain types of woods. Furniture woods vary a great deal in their characteristics, benefits and challenges.
What woods are best for rustic log furniture?
Let's take a look.
Cedar
Cedar wood not only brings its rich red hues to rustic log furniture, but it steps up its game with resistance to rot and a natural repellant for bugs. These characteristics make cedar a popular choice for closets and chests that house clothing and other items you want protected from pesky visitors. Cedar's tight knots add to the natural look of rustic log furniture. Cedar wood will last a long time, and it's a budget friendly wood. It can resist changes in temperature and moisture so that it will be less prone to expanding or contracting in response to humidity. It stands up well in humid climates. There's nothing like the fresh scent of cedar wood in your log cabin or vacation home to create a feeling of being outdoors among the fresh air and earthly elements.
The presence of tight knots adds to a rustic look. For woodworkers, cedar's softness, low density and light weight make it easier to shape, cut, and drill.
Rustic Cedar Wood Characteristics
Rich colors
Resists rot and decay
Naturally repels insects
Durable
Resistant to changes in temperature
Easy for craftsmen to work with
Aspen
Aspen wood has a natural rustic look all its own. With shades of white, blond, and light brown, aspen brings its own beautiful colors to log furniture. There are often streaks in the wood and discolorations that add to its rustic character. Even though it's light, aspen offers good durability. No two logs are alike, making aspen unique. Craftsmen who work with aspen know how to sand and sculpt to bring out the knots and patterns and all the rustic goodness aspen has to offer.
Aspen logs are light, so rustic log furniture made with aspen are easy to move around. It's resistant to splitting, and woodworkers work the wood by sanding and sculpting to bring out the knots, patterns and natural characteristics.
Aspen Wood Characteristics
Blend of white, blond and light brown shades
Contains streaks and discolorations
Durable
Knots and unique grain patterns
Resists splitting
Pine
Pine adds to a rustic look. It's a stiff wood that's lightweight, yet durable and strong for furniture. Pine has a whitish or light yellow coloring. It may contain more knotholes than other woods used for rustic log furniture, but pine and cedar differ in that cedar often has more knots and a bit more color in parts of the wood. A mixture of the two creates a nice result for rustic log furniture.
Pine takes stains nicely, and it's resistant to wear. Woodworkers like it because it works well with hand or power tools and takes glues and finishes well. Its density makes it a good candidate to hold nails and screws. Pine holds its shape very well without warping, shrinking or splitting.
Pine Wood Characteristics
Lightweight
Strong and durable
Attractive white/yellow color
Knots add to a rustic look
Resistant to wear
Showcases stain nicely
Fairly easy to work with
Hickory
Hickory wood is one of the top choices for rustic log furniture. Why? It's flexible and durable. Craftsmen often use steam bending techniques to make the wood pliable. It is then bent into unique shapes, dried and added to log furniture.
Hickory is hard and heavy and combines light and dark colors for a unique look that contributes to one of a kind log furniture. It's the imperfections in hickory that add to rustic greatness. Burls, knots, streaks of color and assorted grain variations bring a lot to rustic hickory. Leaving the bark on adds even more to a rustic look.
Hickory is great for log furniture because it is rich with color and can handle heavy use. Working with hickory is something that should be done by an experienced craftsman, as its hardness makes it a challenge to work with. Hickory is often chosen for its durability, and hickory twigs offer a unique look for log furniture.
Hickory Wood Characteristics
Responds well to steam bending to create unique shapes
Hard, heavy and durable
Combination of light and dark colors
Contains burls, knots and streaks for a one of a kind look
So, what is the best wood overall for rustic log furniture? That's up to you. Do you like the extra knots that hickory and pine bring, or do the reddish hues of cedar wood win over those? Does the individuality of aspen with its streaks and discolorations work best? The final rustic look is up to you.