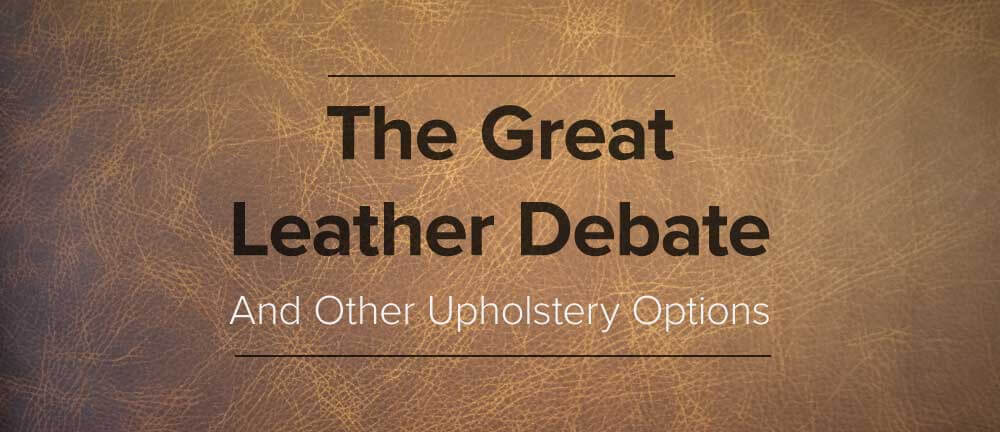 The Great Leather Debate and Other Upholstery Options
To leather or not to leather? That's a sound question to ask when it comes to choosing upholstery for your new furniture. New technology has custom fabrics making great gains, promising new durability and ease of cleaning like never before. What leather products do we offer at DutchCrafters and how do they compare to our fabric offerings?
Let's take a look.
DutchCrafters offers the following selections that come from Heartland Fabrics located in Topeka, Indiana as well as Greenhouse Fabrics that come out of North Carolina.
Standard Fabric
Premium Fabric
Crypton Fabric
Revolution Performance Fabric
Micro Fiber Suede
Faux Leather
Ultra (faux) Leather
Genuine Leather
The Low Down on Leathers:
Leather offers maximum durability and can last 15 to 20 years compared to about five years for fabric. Leather ages well, maintains its shape and won't absorb animal odors. Pets can be a concern when using leather furniture as their claws or teeth can damage the leather. Leather furniture should not be positioned in direct sunlight as the light and heat can fade and dry the leather, causing its natural oils to evaporate and eventually causing cracks.
Faux Leather:
Offers the look of leather without using an animal product.
Made from a fabric base that's chemically treated with dye, polyurethane or wax for color and texture.
Made by machine, producing even, consistent color throughout.
Can be dyed many colors and resists fading.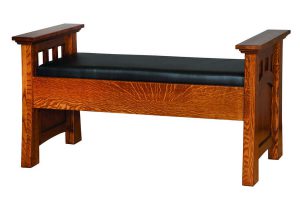 Ultra Leather:
Highly durable performance manufactured leather.
NOT genuine leather, but a fantastic substitute; a high-end faux leather.
Offers a more genuine leather look and feel than regular faux leather.
Breathes better than genuine leather.
Eco friendly with Green Guard Certification, which means it contains very low or no levels of VOCs (Volatile Organic Compounds) and contributes to cleaner air.
Contains no POPs (Persistent Organic Pollutants), no PVC (Polyvinyl Chloride) and no toxic by-products.
The Berkshire Amish Desk Chair: Available in ultra leather, which is a high-end faux leather; not a genuine leather.
Genuine Leather:
Offers maximum durability–more durable than fabric and withstands wear very well.
Easy to clean–simply vacuum or wipe it with a damp cloth.
Just gets better with age; developing its character and softness with use.
Important to Note About Genuine Leather
Like natural solid wood, genuine leather will have unique characteristics in each hide. This is a natural product from an animal so there may be bite marks, scars, brand marks, wrinkles, or scratches present.
Natural marks and grain variations may be present. We cannot guarantee a hide will be free of these distinctive marks or imperfection. They are part of the authentic nature of leather.
Hides are dyed allowing for a wide variety of colors.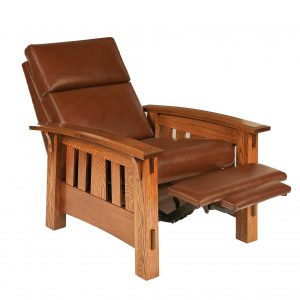 Common Genuine Leather Questions
Are there supposed to be marks and blemishes on leather?
There can be. The hide is a natural product, and there may be bite marks, scratches, wrinkles or scars present. Marks are actually a good indicator that you have a genuine leather product.
Are animals harmed to make leather?
Leather is a by-product of the beef industry, and the hides are used to make leather rather than being disposed of as waste.
The Fab in Fabric
The Double Rub Count of Custom Fabrics
One factor to consider when selecting fabric is the double rub count which is a representation of a fabric's durability. How much you use your new upholstered furniture will contribute to your choice of double rub count. The double rub test involves using a special machine that passes a testing pad back and forth over the fabric until it shows signs of wear. Each back and forth pass is called a "double rub." It's important to note that a sky high double rub count is not needed to ensure durability. Furniture that sees light use can perform well with as low as a 9,000 double rub count, and a 15,000 double rub count is considered sufficient for residential use. A 20,000 to 30,000 double rub count is considered very durable.
Choosing a fabric you like to look at is just as important as its measure of durability. The style or look of the fabric may start wearing off sooner than the double rub count!
Greenhouse Fabrics provides this handy guideline for what double rub counts to look for.
Delicate Use: <9,000
Lightweight Use: 9,000 to 11,000 double rubs
Medium Use: 12,000 to 15,000 double rubs
Heavy Use: 15,000 plus
Machines used for Wyzenbeek testing for double rub count.
Greenhouse also breaks down the types of double rub tests in Wyzenbeek vs. Martindale: What's the Difference?
Revolution Fabrics from Greenhouse
Eco friendly fabrics that use olefin fibers (a by-product of refining petroleum). Through the process of upcycling (transforming byproducts and waste into useful material), olefin is no longer burned off, but is the only upcycled fiber used for making upholstery fabric.
Solution dyed without using any water and requires almost no land or water for production.
Stain resistant.
Cleans pretty easily–most stains can be blotted and cleaned with just water.
Half the price of crypton fabrics.
American made in North Carolina.
To clean Revolution fabrics, remove any loose debris and blot the stain. Spray with water or water combined with a cleaning solution. Rinse and air dry.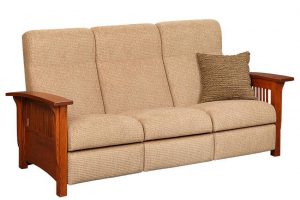 Is There Really Crypton in my Couch?
Crypton, or High-Performance Fabrics, combine technology with custom fabric. The protection against stain, odor and bacteria is woven right into heavy duty fabric through an immersion process that creates ultra-resistance to stains, moisture, mildew and odors. Fabrics treated with Crypton are in it for the long haul.
Stain, odor and moisture resistant–liquid beads up and doesn't absorb into the fabric.
Soft, breathable fabric with built in odor resistance for freshness.
Green Guard Certified (low or no levels of Volatile Organic Compounds).
Highly durable.
Easy to clean.
Available in a wide array of vibrant colors and textures.
American made.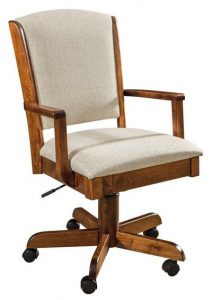 The Amish Morris Desk Chair is available in ultra durable Crypton fabric.
Crypton fabrics are easy to clean but are not self-cleaning. Most liquid spills will blot off the surface with a dry towel. For tougher stains:
Wipe away excess with a clean, dry towel.
Mix a simple soap and water solution.
Apply and clean with a soft bristle brush.
Blot with clean towel.
Rinse and repeat, if necessary.
A cleaning solution of 1 tsp enzyme laundry detergent like Tide or Cheer with 2 cups warm water is recommended.
At DutchCrafters, we offer a wide variety of custom fabrics and leathers in new and exciting colors and patterns. Some of our vendors may only offer their own line of fabrics and some fabrics are discontinued over time, but our Furniture Specialists will always work with you to look for the best solution. It's important to note that most upholstery is considered a wear item and may not be covered under warranty. Our Furniture Specialists can guide you to the best care for your new fabric or leather upholstery.

From left to right: Stone Faux Leather, Merlot Genuine Leather, Ashley Crypton Fabric, and Peanut Eco-Friendly Revolution Fabric.
It's all on the upside with upholstery options that provide durability, color and style like never before. Please contact a Furniture Specialist with any questions about your custom upholstery selections and have fun styling your new DutchCrafters Amish furniture. More information about upholstery can be found in the Learning Center on our Furniture Upholstery and Leather Information page.