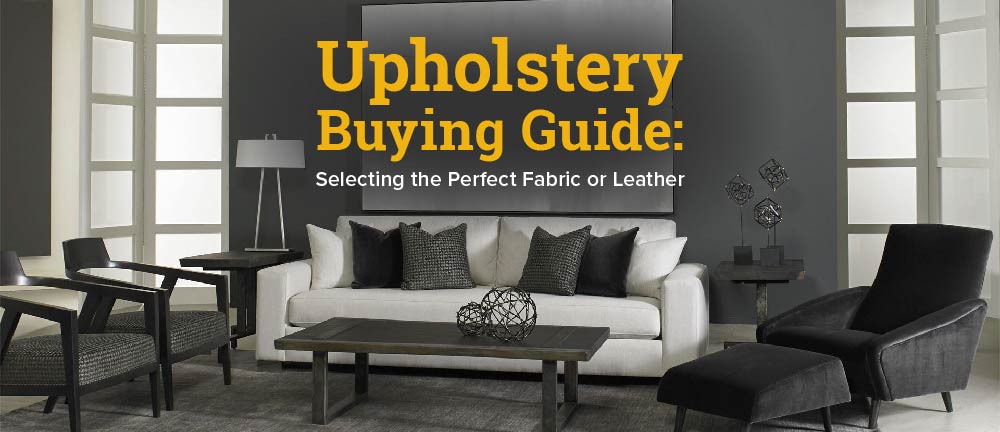 Sinking into a soft living room sofa or working comfortably at an office chair requires quality construction and support. Just as important as the construction of the furniture is the fine fabric or leather used to upholster it.
There are lots of options to choose from when deciding on the right fabric or leather upholstery for your custom furniture. This Upholstery Buying Guide offers helpful points to consider when choosing a fabric with the sensational color and pattern you're looking for, that's backed by the durability and function that you need.
Fun with Fabric
Fabrics can be broken down into two main types: natural and synthetic.
Natural Fabrics
Natural fabrics are made from organic materials that come from animals or plants. They offer a luxurious look and feel, are soft, and tailor well. Drawbacks include the potential to pill and fade in direct sunlight.
Cotton, linen, silk, and wool are examples of natural fabrics.
Cotton
Cotton provides good resistance to wear, fading, and pilling. Its durability depends on the weave. The higher the thread count, the better it will wear.
Linen
Linen is best for formal rooms and adult-only areas. It resists fading and pilling, but soils and wrinkles easily.
Wool
Wool resists pilling, fading, and wrinkling but doesn't breathe well.
Silk
Silk is suitable for adult-only areas. It must be professionally cleaned if stained.
Synthetic Fabrics
Synthetic Fabrics are made from inorganic materials or organic materials combined with chemicals to create fabric for specific uses. They are made to look great and provide durability. Synthetics are lightweight, won't wrinkle easily, often resist stain, sun, abrasion, and are fairly easy to clean.
Nylon, polyester, and olefin are examples of synthetic fabrics.
Synthetic fabrics with Crypton technology are becoming very popular due to their durability and easy cleaning qualities.
Quality Testing for Fabric
Fabric can show signs of age and wear over time. The longevity of your upholstery is just as important as the construction of the furniture. Fine fabrics are assigned a "double rub" count to give an idea of how durable they are. The testing method that determines a double rub involves using a special machine that passes a testing pad back and forth over the fabric until it shows signs of wear. Each back and forth pass is called a "double rub." A 20,000 to 30,000 double rub count is considered to be very durable.
The Look of Leather
There's nothing like leather when it comes to dressing your upholstered furniture in style. Leather is very durable and easy to clean. Simply vacuum or wipe it with a damp cloth. Leather often looks better with age, developing even more character and softness with use. It is more durable than fabric and withstands wear very well. Our genuine leather showcases the distinctive look of the animal hide with the imperfections unique to each hide visible. Each brand mark, wrinkle, or scratch tells a story. Hides are dyed allowing for a variety of colors.
The Amish Goshen Shaker Recliner features full top grain leather.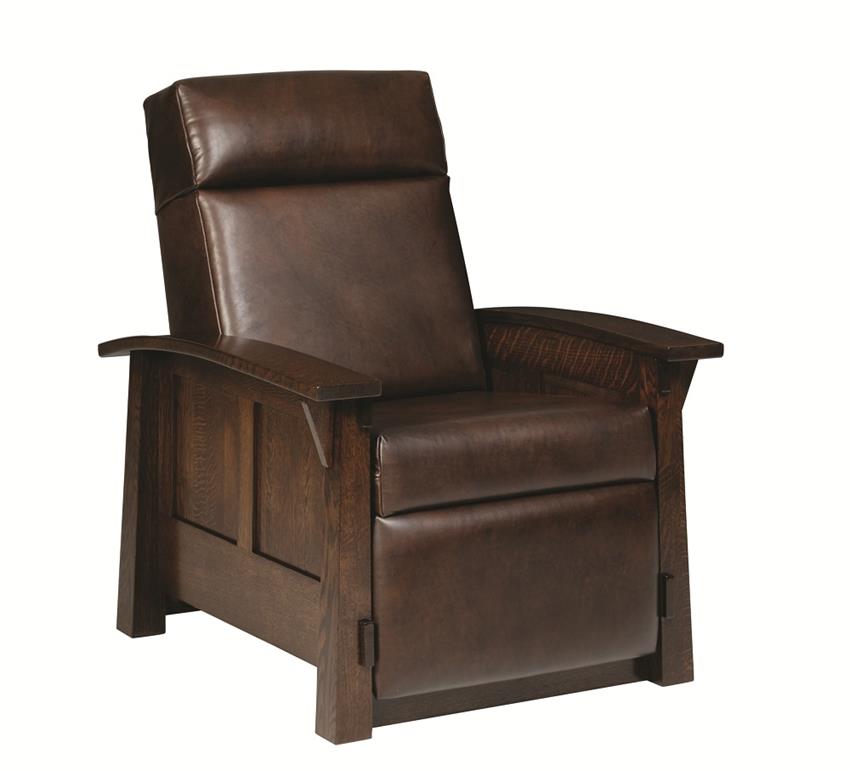 The leather seat and back of the Starr Amish Executive Arm Chair with Gas Lift will only get better with age.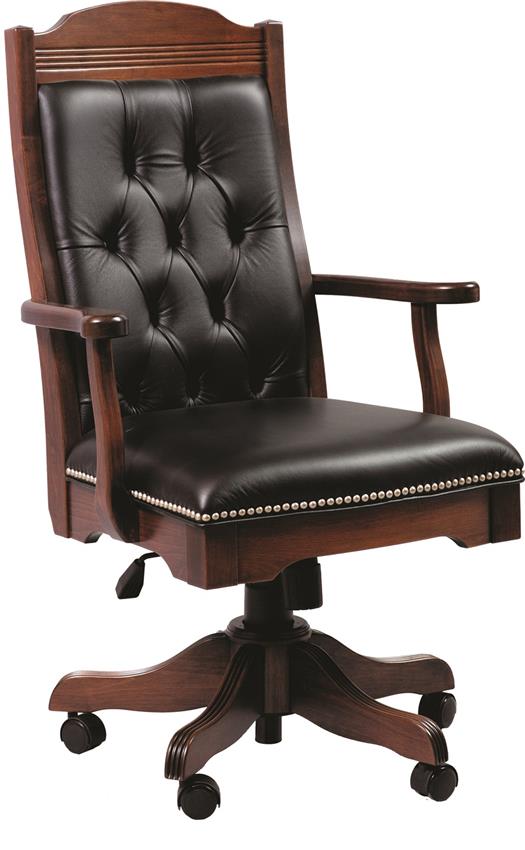 Faux leather allows you to enjoy the look of leather without using an animal product. This upholstery option is made from a fabric base which is chemically treated with dye, polyurethane or wax for color and texture. Faux leather is made by a machine, producing an even, consistent color throughout. It can be dyed many colors and resists fading.
Outdoor Fabric
Outdoor fabrics offer a bevy of benefits these days and are available in a wide variety of colors and patterns. Our collection of Sunbrella fabrics are stylish, fade and water resistant, and easy to maintain.  They have become so popular they are often used on both outdoor and indoor furniture.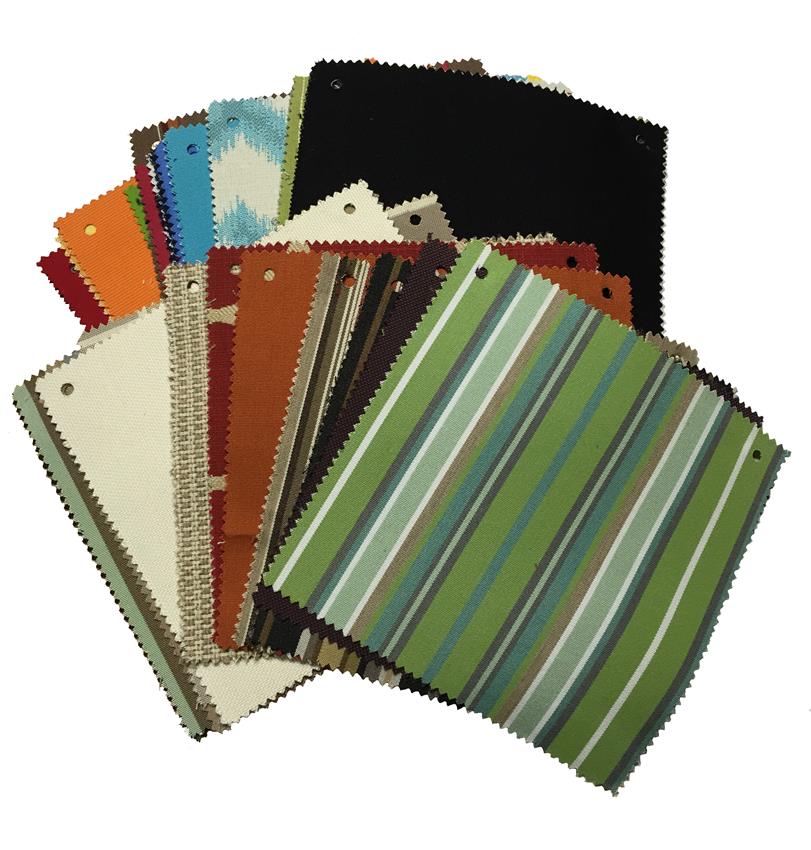 Questions to Ask when Choosing Upholstery
When selecting fabric or leather for your custom furniture there are a few key questions to ask before you begin.
Who will be using this furniture?
If you're choosing fabric for furniture that will be in a formal living room that will only be used for guests on special occasions, then natural fabrics are safe for your display. If you're looking to finish furniture in the family room that will see daily use by the kids, visitors, and pets then a durable, stain resistant fabric is a better option.
The Amish Madison Sofa will stand up to everyday use covered in the strength of our Cayenne fabric with Crypton technology woven into every fiber.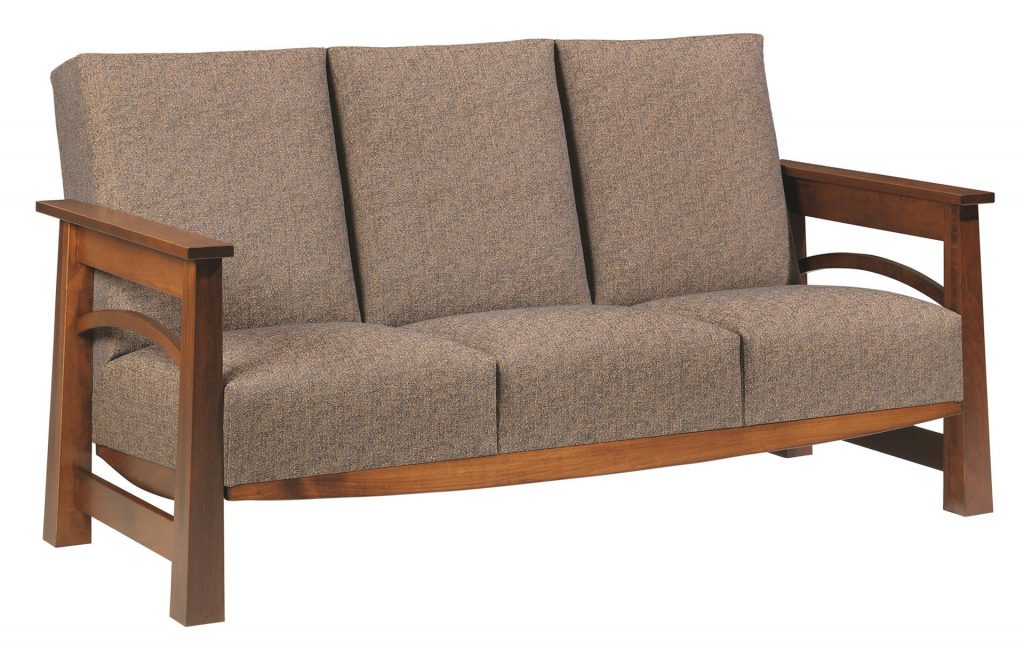 What room will it be used in?
A less durable fabric can be used in a quiet foyer or formal dining room. You will want to upholster kitchen bar stools, a living room sofa or family room ottomans with a sturdy, wear-resistant fabric.
The Amish Lansfield Upholstered Swivel Bar Stool will work even harder with leather or fabric upholstery like neutral Hemp.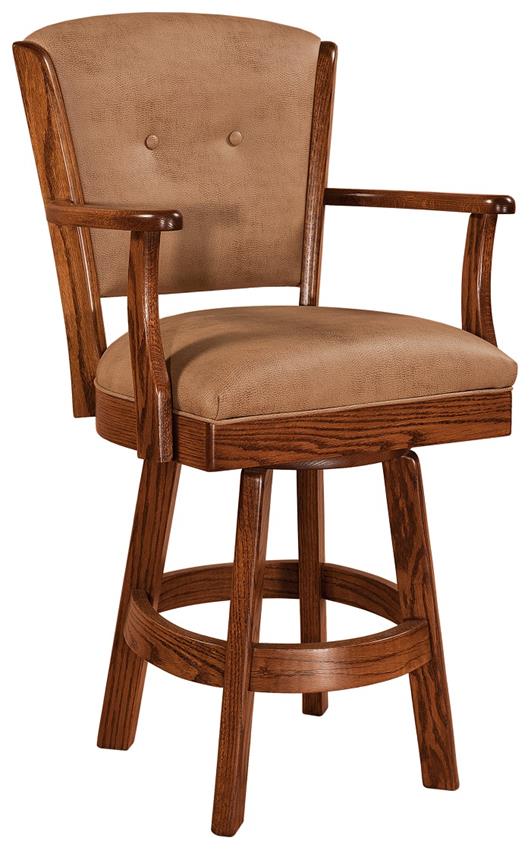 What kind of mood am I trying to create?
The colors and patterns of fabrics and leathers are a couple of the most exciting aspects of choosing new upholstery. Think about the mood of the room as well as your color palette. Are you decorating with cool colors or going for warm tones? Is this fabric for a sunny kitchen or a cozy den? Keeping these things in mind can help narrow down your selections.
The Fine Line for Fabric
There are no set rules when it comes to choosing fabric and leather for your custom furniture. The following guidelines will ensure longevity and function.
Fabric and Frame
Keep in mind how fabrics and frames mix. You don't want to lose the effect of the fabric with a large pattern on a small piece of furniture or have a tiny print that gets lost on a large sofa or sectional. Fabric patterns should also match the size of the room where they will be featured. Large bold patterns work best in larger rooms. Smaller patterns work well in smaller rooms.
The Amish Countryside Mission Upholstered Ottoman displays a small pattern perfectly on its modest frame.
Fabric Style
You want fabrics that will blend well with the décor of your home. Frame styles and fabrics should stay consistent. Fabric should match the style and character of the piece it is dressing. A traditional fabric works best on a traditional style frame. Being adventurous by mixing fabric and furniture styles is fine, but it is recommended that the room style then match either the fabric style or the furniture style to keep a proper balance that allows your fabric to shine.
The Amish New Haven Dining Chair is shown here upholstered in a contemporary fabric that matches its transitional style frame perfectly.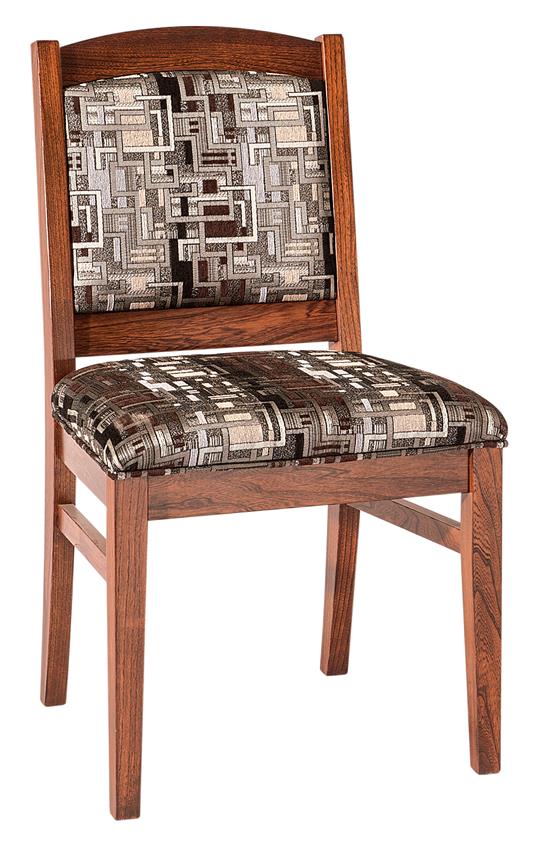 Fabric Color
Choosing fabric colors is fun. Be sure that you will be happy with the colors you choose for a long period of time. Be careful of bold colors in smaller rooms or on large pieces of furniture. Neutral colors create a sense of calm and are always in style. Neutrals also let your accessories shine. Avoid delicate colors with children or pets and remember to choose colors that fit the mood of the room.
A lovely neutral like Bisque will keep the Connor Long Sofa offering eye-catching appeal for a long time.
Five Factors to Consider
Durability
The importance of fabric durability varies depending on the piece of furniture, the room it is used in, and who will use it the most. Synthetic fabrics are stronger for furniture that is used by kids and pets. Fine fabrics with Crypton wear well, resist stain and clean up easily, allowing you to enjoy your upholstered furniture without worrying.
Color
A fun part of choosing fabric, color helps to convey the mood you are trying to create.
Pattern
Patterns help to define the character of your room décor and can help add color.
Style
Fabric styles can enhance the frame of the furniture on which it is used and help support your décor.
Maintenance
It's important to select the fabric that can hold up to the demands of your household.
Selecting just the right upholstery can feel daunting, but it doesn't have to be if you follow these tips. And to make it even easier, we can provide samples of the fabrics you are considering to find the best fit for your custom furniture and home.