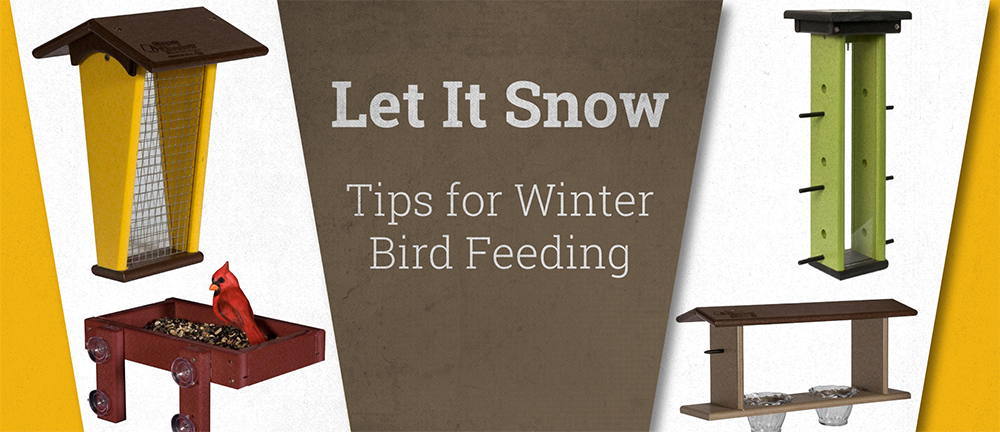 Let it Snow: Tips for Winter Bird Feeding
After strong winter storms, birds can be cut off from their natural food sources. You can contribute to the health and safety of feathered friends with these winter bird feeding tips.
Friendly Feeders
The ideal feeder is sturdy and firm, and is easy to assemble and clean. With minimal cleaning required, environmentally friendly poly feeders fit the bill perfectly. Multiple feeders placed in your yard will attract more birds for you to enjoy.
The placement of feeders is important for the safety and comfort of the birds that visit you.
To avoid birds flying into your windows, either place feeders more than 30 feet away from windows to provide a safe distance that will not cause birds to become confused by reflections, or place feeders no more than 3 feet from windows to prevent birds from building up enough speed for a collision that could cause them harm.
Hang feeders at least 10 to 12 feet away from shrubs or brush to keep birds away from locations where cats can hide and pounce.
Tray Feeders
Tray feeders like the Amish Poly Covered Ground Feeder make a good, general choice for a backyard bird feeder. Use any kind of food in the tray for birds to enjoy. A covered tray feeder like this one keeps snow off the seed and helps to ward off larger birds who try to dominate the space. These ground level feeders are likely to attract mourning doves, sparrows, juncos, goldfinches, and cardinals.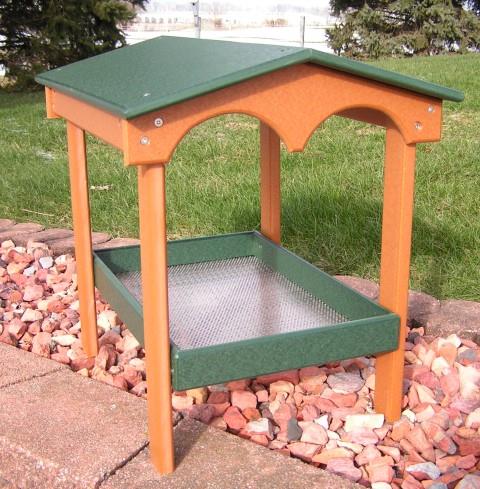 Suet Feeders
Suet is a mixture of seeds, nuts, grains, and fruits held together by fat. A feeder like the Amish Poly Suet Bird Feeder is designed to hold the suet in place. Suet feeders are likely to attract chickadees, titmice, and woodpeckers.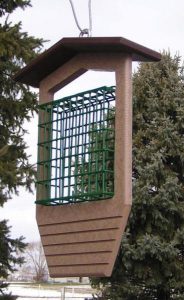 Peanut Feeders

Peanut feeders offer birds a challenge. Enjoy their colors and movements as they work to break the peanut down into bite-sized pieces. Feeders like the Amish Handcrafted Recycled Poly Peanut Bird Feeder can attract jays, titmice, woodpeckers, and chickadees.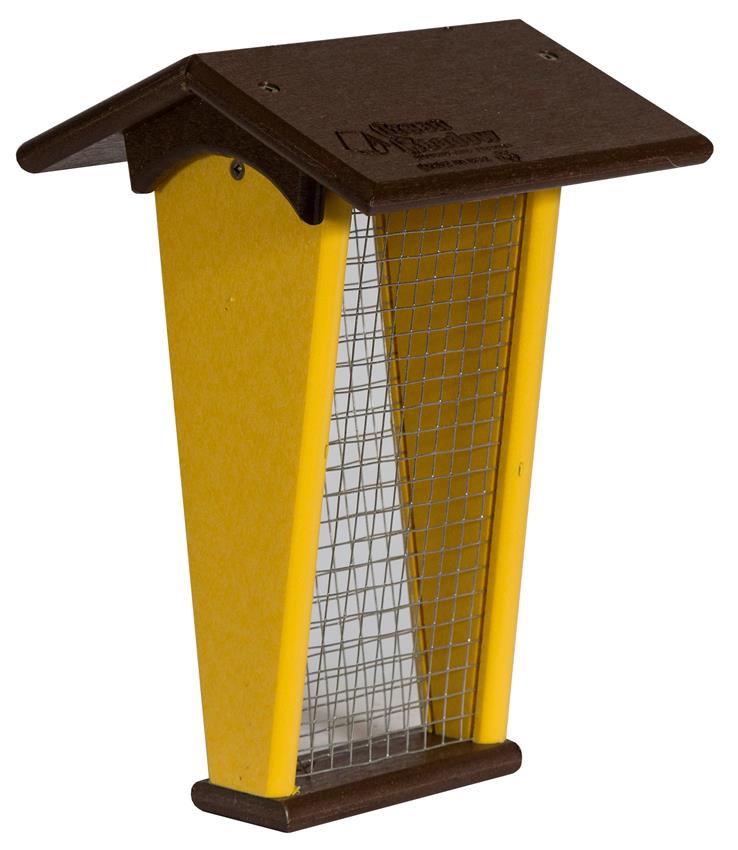 Peanut Butter Feeders
Peanut butter is high in protein and fat. It is sought after by insect-eating birds. The Amish Poly Double Peanut Butter Feeder may bring woodpeckers, chickadees, or titmice to feed in your backyard this winter. Just spread some peanut butter on both sides and watch them come to perch and play.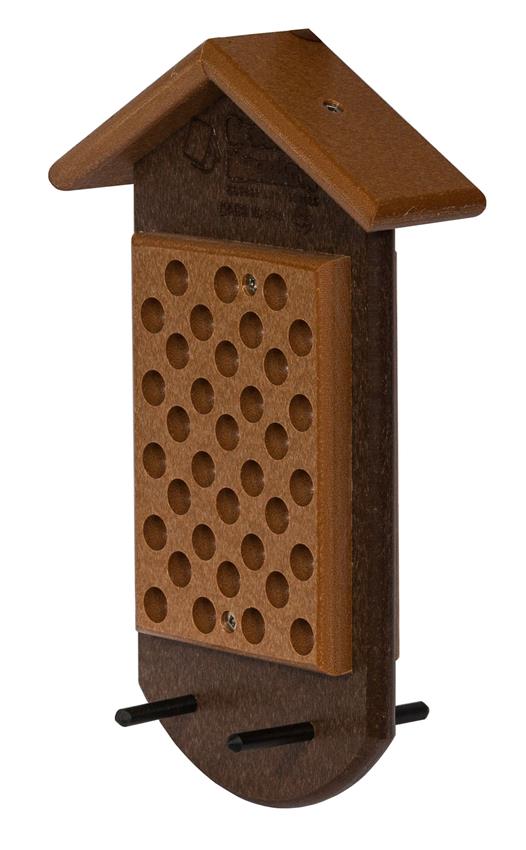 Jelly Jar Feeders
The Amish Poly Double Oriole Feeder provides a great spot for hummingbirds or orioles to perch and partake. Add jelly or nectar to the jelly jars, or switch to seeds or suet mix for the winter.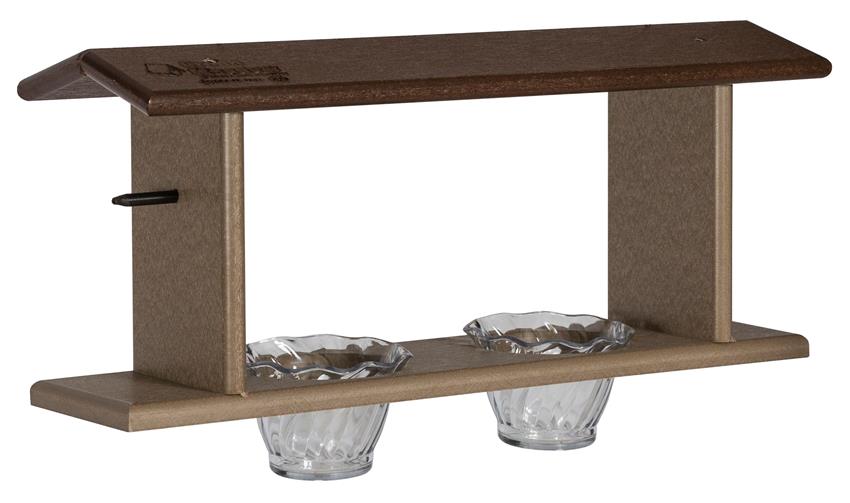 Hopper Feeders
The Amish Poly Tall Finch Bird Feeder is a great example of a hopper style feeder. The clear sides make it easy to see when seed needs to be added, and help to keep it dry and protected. Hopper feeders are likely to attract chickadees, titmice, and goldfinches, as well as some larger jays and cardinals.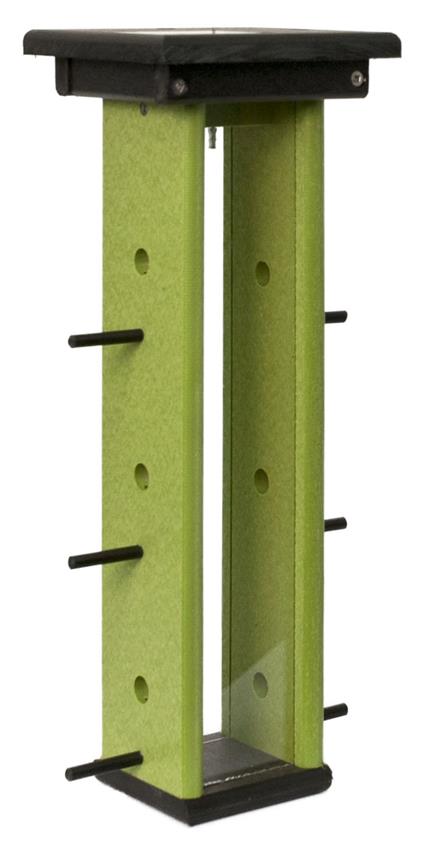 For the Squirrels
Keep the squirrels busy and away from your bird feeders with an entertaining feeder of their own. The Amish Poly Squirrel Feeder just needs a few corn cobs to attract bushy-tailed squirrels.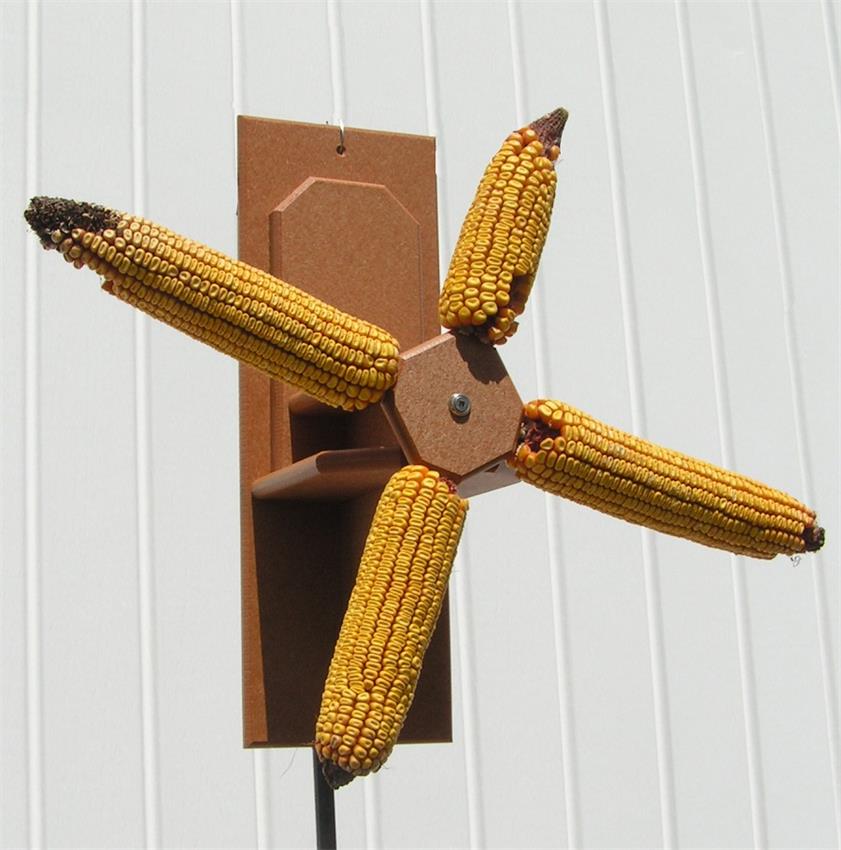 Let's Talk Seeds
Different mixtures of tasty treats in your bird feeder will attract different birds. Watch them flock to your feeder this winter with these delectable foods to enjoy.
Small Black Oil Sunflower Seed
This seed contains a high oil content full of nutrition, and the thin seed coat is easy for birds to crack open. Feature this mixture in the Amish Window Mount Tray Bird Feeder and observe chickadees at your window.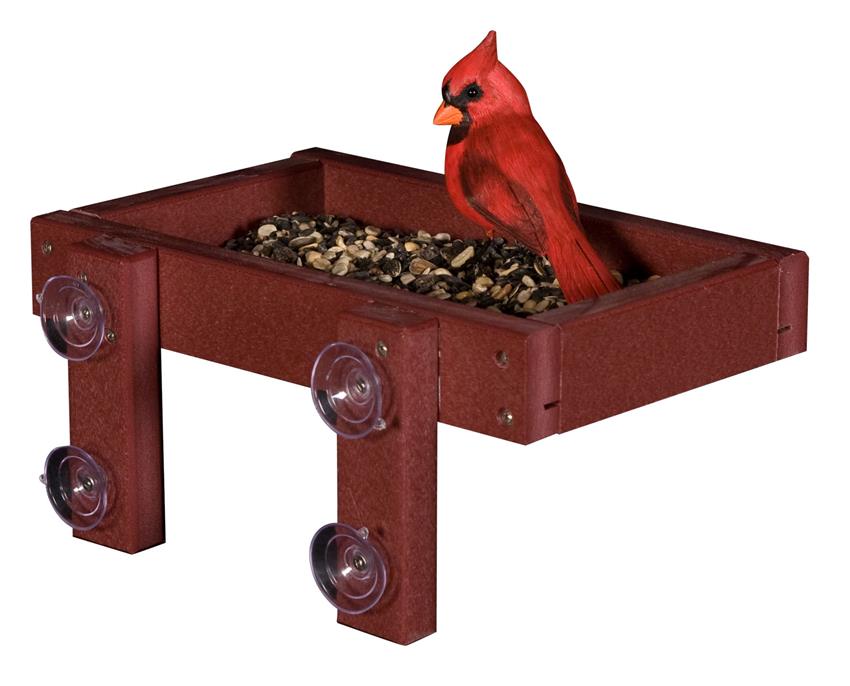 Suet
A mixture of seeds, nuts, and grains or fruits held together by fat provides a vital energy source for birds. Feature your suet mixture in the Poly Single Suet Bird Feeder and watch the grateful birds come to feed.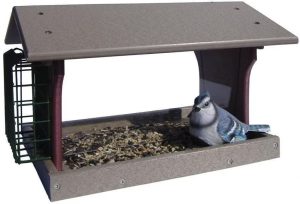 Peanuts
Look for woodpeckers, jays, and nuthatches to come in search of protein rich peanuts to supply them with high-energy nutrients. Use the Amish Poly Split Peanut Butter Bird Feeder with Suet Cages to house your peanut supply. This feeder offers birds a challenge to retrieve their tasty treats and has two suet cages to boot.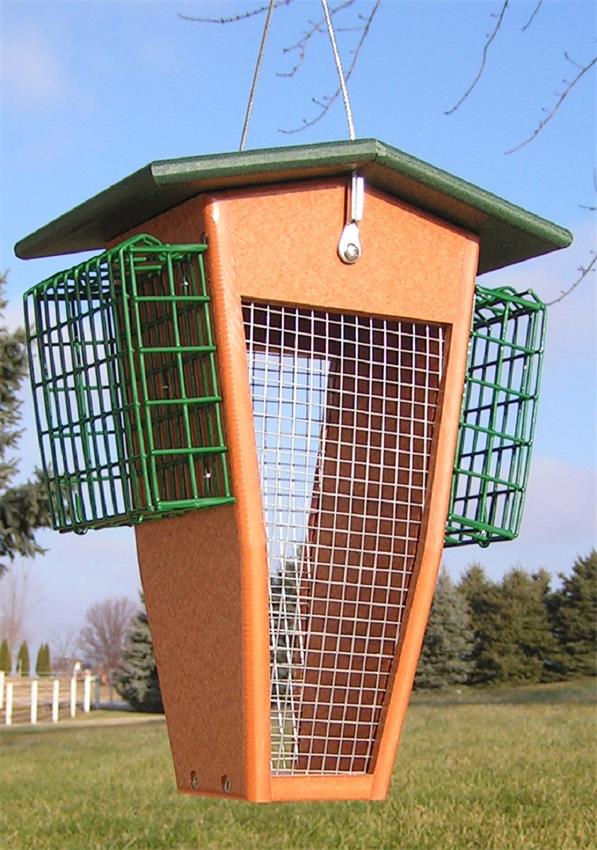 Safflower
Safflower seeds are white and thin. High in protein, fat and fiber, cardinals, blue jays, doves, and grosbeaks enjoy this tasty treat. Safflower attracts larger species, so feeders providing adequate room like the Amish Poly Deluxe Fly By Bird Feeder are best.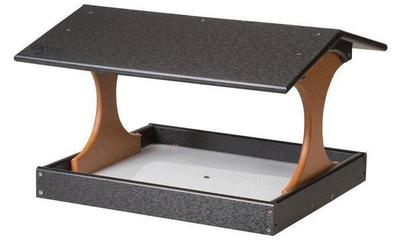 Cracked Corn
Broken into small, manageable bits, cracked corn offers protein and fiber. It can attract sparrows, blackbirds, jays, doves, and squirrels.
Winter Bird Feeding Tips
Provide feeders that can hold a good amount of seed to nourish birds during winter storms, or use multiple feeders to keep food in supply.
Offer nutritious seeds like the ones listed above.
Include fatty seeds and mixtures like suet since birds burn more calories in the winter to stay warm.
Replenish feeders regularly.
Be consistent with feeding for birds relying on your supply during the winter.
Clean feeders as needed.
Store seed in a cool dry place.
Enjoy the colors and movements of your fine feathered friends as they visit your Amish-made bird feeders this winter.