Purchasing furniture should be a thoughtful decision and sometimes it can be stressful as well especially when you don't understand furniture jargon. At DutchCrafters we recognize that the furniture industry can have its own words to describe certain features. We decided to come up with our own furniture glossary based on the questions we often get from customers. We hope that by providing this furniture glossary we can help our customers feel more comfortable with their Amish furniture purchase and they can distinguish the quality and value as well in their investment.
Bamboo Turnings
Some of our hardwood chair and benches have a unique style of turnings that resembled a bamboo stalk such as our Amish birdcage Windsor chair and birdcage Windsor bench. These types of Windsor's are often called rod back Windsor chairs or Federal Windsor chairs. This bamboo-style turning brings an elegant and exotic look to a traditional Windsor chair.
Bent Parts
Some of our Amish chairs, benches and bar stools have steam bent parts. The wood is steam bent to create beautiful bow back designs.
Breakfast Nooks
Our Amish breakfast nooks can be customized to fit your space. The corner benches are actually three pieces; one large bench, one smaller bench and the corner piece. Call one of our Amish furniture specialists today with your kitchen corner dimensions and wood choice and they will be happy to quote a custom corner nook set to fit your space. The breakfast nook backs can also be finishes with raised panels if the breakfast nook set will not be used in a corner.
Butterfly Leaf
Some of our Amish tables offer a Butterfly leaf option. Butterfly leafs have "wings" that fold up on each side and store inside the table for easy storage.
Cabriole Legs and Feet
Cabriole legs and feet are known for their beautiful curves. This furniture feature is often found on Chippendale furniture and Queen Anne furniture.
Care Light
Our Keystone Collection bedroom furniture comes with the option of a care light. This is a light that will automatically active by motion. This light is operated by batteries and will provide safety and security for those dark evenings.
Cherry Wood Furniture
The cherry wood fruit tree is part of the botanical rose family or Rosaceae family which is also known as prunus serotina. The beautiful visual grain pattern, smooth texture and rich patina of cherry wood make it the ideal choice for fine furniture. Decorating with cherry wood furniture is sure to bring a timeless and formal look to your home or business.
Chifforobe (Also spelled Chifferobe, Chifrobe and Shifferobe)
chifforobe is a basically a large armoire with a combination of a chest of drawers or wardrobe typically used for hanging clothes. This is a popular Amish furniture item for someone that doesn't have much closet space.
Convertible Crib
At DutchCrafters we offer a wide variety of convertible cribs. These safe and durable cribs will grow with your child. Purchase one of our convertible cribs and accessories and you get three beds in one; crib, daybed and full bed. Our Amish handcrafted cribs are tested and certified to strict federal standards. Made in America, with organic finishes available, this Amish crib is sure to become a treasured family heirloom.
Corner Braces
Corner braces are often used in the corner of tables or frame chairs to create a corner triangle for added strength. These corner braces are sometimes grooved and glued as well.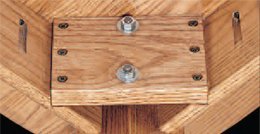 Custom Furniture
Almost all of our furniture can be customized! Please call one of our Amish furniture specialists today for a custom quote.
Dentil Moldings
Dentil moldings are marks in a vertical row along the molding of the furniture. They have the look of a teethy smile which is where the name dentil originated from.
A popular finishing feature on our Amish furniture is distressing. We offer a wide variety of distressing options from light distressing to heavy distressing. With a light distressed finish package you can expect to receive slightly eased edges, nicks and extensive pinholes in the furniture. We also offer just a rubbed distressed finishing where the paint is rubbed to create a time worn look. With our heavy distressed finish package your furniture will have the look of an aged antique. Rub-through, extensive nicks, pin holes, eased edges, simulated cracks and other distressing techniques are used to bring about the transformation from new to old looking.
Dovetails
Most of our furniture drawers are dovetailed joints. The dovetails are important for joining the front, side and back for a tight and securely built drawer.
Dovetailed Bed Slats
Dovetailed bed slats are a feature offered by some of our Amish bedroom furniture craftsmen. The wood bed slats fit snugly into metal holders to prevent bowing.
Fabrics and Leathers
We work with a wide variety of fabric and leather manufacturers. We are happy to send out samples to assist you with making your own selection. Customers can also provide their own fabric or leather. We offer American made and environmentally friendly fabric options. Please inquire with assistance in locating these options.
Finials
Finials are a popular addition to some of our Amish furniture. Shaker ladder back chairs often have the option of a long finial such as product 986 as well as our beautiful pencil post beds.
Gateleg Table
Our Amish gate leg dining room tables are perfect for kitchens or small dining rooms. The gate leg table features legs that swing out to support and level side extensions. This table is sometimes called a swing leg table.
Geared Slides
Most of our pedestal dining room tables and trestle tables comes come with our heavy duty, easy to use double equalizer geared slides. Only one person is needed to open both sides of a dining room table with geared slides. These double equalized hidden geared slides are non-sagging and will hold up to everyday use.
Glazed Finishing
Glazing is an optional finish option that helps to create a time-worn aged look. The glaze is applied over the finish and then hand rubbed to make the Amish furniture look old and antique. Glaze is often used with other finishing techniques such as heavy distressing. The finished look is a beautiful patina on the furniture. (use the Jackson painted picture https://www.keystonecollections.com/estatejackson_painted.asp)
Hand-Hewn Finishing
Our hand-hewn finishing is a multi-step finishing process. When furniture is hand-hewn it will be hand-planed, hand-pegged as well as distressed. The wood is then glazed by hand to create a true wood of art.
Floating Panel Construction
DutchCraftres paneled doors will have floating panel construction. The inside panel will float inside the frame and be held in place by soft rubber balls. This construction technique lessens the chance of cracks and splits that often occur with temperature changes.
Furniture Feet
Our furniture comes with a wide variety of feet styles such as claw feet, empire feet, cabriole feet, mission feet and more.
Full Extension Drawer Slides
Most of our Amish made case good such as hutches or dressers comes with full extension drawer slides. These full extension drawer slides can be either under mounted or side mounted. The drawer will extend all the way out offering ease of getting in and out of drawers. These full extension drawer slides have at least a one hundred pound load rating.
Full Extension Soft Closing Drawer Slides
Our full extension soft closing drawer slides extend all the way out but also come with the popular feature of closing on their own. Just give the drawers a gentle push and they easily self-close. These full extension soft closing drawer slides have over a one hundred pound load rating.
Hand Planed Furniture
On some of our Amish dining room tables, buffet tops, chairs and accent tables we have a hand-planed option. The furniture is planned by hand the way it was done in the colonial days with a furniture plane.
Highboy Dresser (Also called Tallboy Dresser or Flattop Highboy Dresser)
A highboy dresser is basically a high chest of drawers on four elegant turned cabriole legs with a decorative bonnet top and finials. Highboy dressers, also called tallboy dressers stand over seven feet high and can have anywhere from six to eight drawers. This style of dresser is generally built in cherry wood, mahogany wood or walnut wood with a dark finish. Highboy dressers are true representations of American furniture! Highboy dressers generally come in three styles Queen Anne highboy dresser, William and Mary highboy dresser and Chippendale highboy dresser. The top can often be flat on some highboy dressers.
Leg Levelers
Leg levelers are often options on our dining room chairs and tables. These are a popular options for customers that live in older homes with uneven wood floors. The leg levelers can be adjusted to prevent wobble on uneven floors.
Mattress Support
On our larger bed sizes a center leg is added to ensure that your mattress has the support that it needs.
Mortise and Tenon Construction
This simple construction technique has been around for thousands of years providing a solid, sturdy furniture assembly. The tenon or wood piece is wedged into the mortise or hole cut into the wood to join the two together. Glue can sometimes be used for additional strength but isn't often necessary.
Painted Furniture
All of our furniture is available with a painted finish. If the option is not shown, please call one of our Amish furniture specialists for pricing. You can have straight painting, hand rubbed painting or painting with one of our heavy distressed finish packages. We offer a wide variety of paint colors from our popular black to a fun, bright red. Custom paint colors are available upon request. Many customers choose to do a two tone paint and stain combination as well. Some of our furniture also offers hand painted design options.
Pedestal Tables
Our hardwood pedestal tables come in a wide variety of size, shapes and styles with many options to choose from. We even offer a large 60" round pedestal table and a 72" round pedestal table! You can choose to have one pedestal, two pedestals or our huge triple pedestal table. We even have a split pedestal dining room table. Claw feet, empire feet, cabriole feet, mission feet are some of the choices for customizing the look of our Amish handcrafted pedestal tables.
Pie Safes
Our Amish handcrafted pie safes are not used to store pies and baked goods anymore but they are just as popular. A pie safe is a cabinet or cupboard with doors. The door panels are often punched tin or raised panel wood. Some of our pie safe cabinets come with handpainted designs on the doors.
Plate Grooves
All of the glass shelves inside of our china cabinets and hutches come with plate grooves. These plate grooves are a convenient way to display your heirloom china or collectibles. Some wood shelves also have plate grooves please call one of our Amish furniture specialists with questions on this feature.
Fiber Seats
Some of our Shaker chairs come with the option of woven fiber seats bring to mind a French provincial feel.
Scooped Seats
Some of our Amish dining room chairs and kitchen chairs have carved out scooped seat for added comfort.
Self-Storing Table Leaves
Some of our Amish dining room tables and kitchen tables have the option of self-storing the leaves inside of the table. This feature should be noted in the product quick specs. Please call one of our Amish furniture specialists regarding having the table leaves store inside of the table.
Shade in Finishing
The stain tone or color fades in to create unique stained finish on the wood.
Silverware Insert
Some of our hutches, buffets, sideboards and hunt boards come with the option for adding one or two silverware inserts to the drawers. Please call if the hutch you are interested in doesn't offer this option.
Skirt or Apron
The underside of the table top or extension that wraps around the table. Some of our tables have options for different styles or types of skirts. Arm chairs will often not fit under the skirts on tables.
Stowleaf Table or Draw Extension Table
The leaves on our stowleaf tables or draw extension tables pull out and store underneath the side of the table. The table's draw extensions operate on hinges and wooden slides. The table's end extensions normally rest underneath the table. When the extensions are pulled outward from the table, they slide over the center of the hinge and are raised upward. You then drawn back against the edge of the table for a very solid and sturdy fitting. Stow away your leaves with ease in our stowleaf dining room tables. The leaves are very stable, sturdy and strong. Authentic breadboard ends and pull-out leaves are standard on our stowleaf dining room table.
Sustainable Furniture
DutchCrafters furniture is sustainable furniture due to the fact that 1) we use local lumber as much as possible and suppliers that use sustainable forestry ethics 2) leftover wood scraps are used for animal bedding or heating 3) its heirloom quality ensures it will be passed on for generations. We also offer environmentally friendly finishing and shipping options. Some of our furniture is handcrafted from reclaimed barn wood as well as lyptus wood or bamboo.
Touch Lighting
Many of our Amish hutches have touch lighting. By simply touching the hinge on the hutch the light comes on! Touch the hinge again and the hutch will go off! Our customers love this feature on their hardwood hutches, china cabinets and corner hutches. Check the quick specs field to see if this feature is included with the hutch you are inquiring about.
Tongue-and-Groove Furniture Backs
Most of our Amish hutches and china cabinets come with a solid wood tongue and groove back. Some bookcases, desks hutch top and other items also offer this quality feature. This solid wood hutch back offers a beautiful and durable choice for your Amish furniture.
Please call one of our Amish furniture specialists today for trade discount and volume discounts. We do not offer our furniture and crafts wholesale but are happy to work with designers and other members of the trade looking for volume discounts. Unfinished Furniture Unfinished furniture is available at a discounted price. Please call one of our furniture specialists for a quote on unfinished Amish furniture. Note some warranties are waived if furniture is purchased unfinished.
V-Groove
Some of our dining room tables have the option of a v-groove table top. These grooves in the table top create the look of a plank table.
Wood Slides
Most of our leg tables come with easy to open wood table slides. These smooth wood slides are durable and sturdy for holding your table extensions. Two people are needed to open tables with wood slides.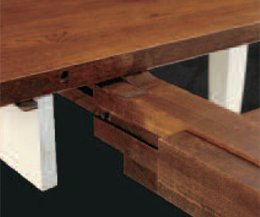 Last updated Monday, March 4, 2019.