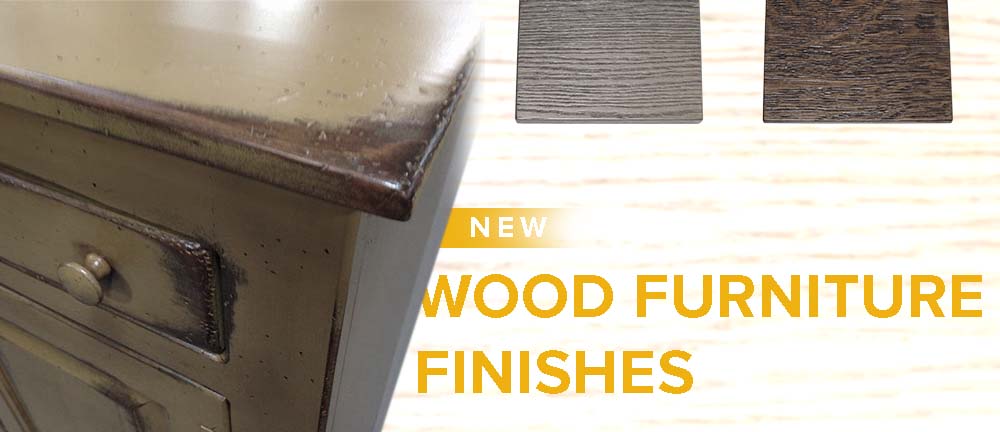 Wood Furniture Distressed Finishes
Standard finishes often add the perfect touch to your solid wood furniture. They offer protection as they enhance the look of the wood. In addition to a standard stains and paints, there are a number of exciting furniture finishing processes that can bring out the beauty of the wood in different ways while adding décor to a room. Distressed finishes including light to heavy distressing, wire brushing, and sandblasting give the wood a new look. These techniques create an aged appearance that makes your custom furniture look like an antique.
No Stress in Distressing
There's something about furniture with signs of wear that's comforting. Enhancing the wood to make it look like it has been passed down makes it seem like the furniture has history and that it has been used and loved.
Distressing involves manually creating signs of wear and age that give the furniture character. It involves using a combination of stains, paints, glazes, and marking techniques for a one-of-a-kind look.
Light to Medium Distressing
Light to medium distressing involves sanding furniture to simulate wear. Wear points, nicks, pinholes, lightly eased edges, indentations, and rasp marks may be visible, and the furniture may have a hand-rubbed finish.
The Amish Royal Court Dining Chair displays a weathered look and hand-rubbed finish.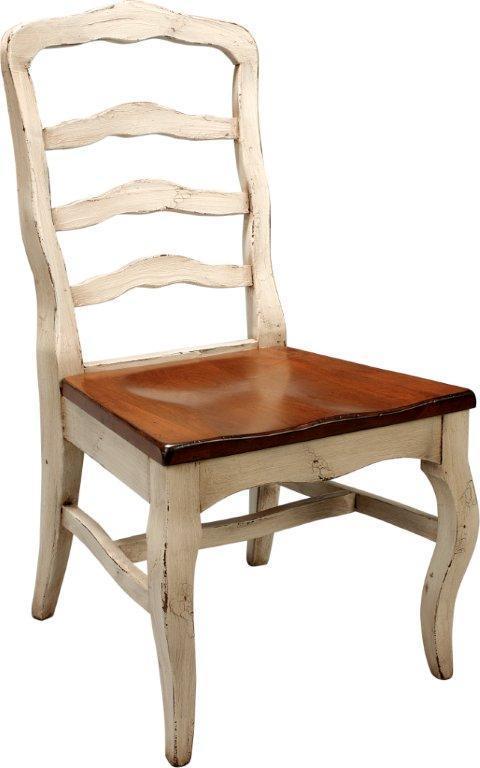 Heavy Distressing
Heaving Distressing displays an extensive amount of hand distressing, pin holes, eased edges, indentations, nicks, rasp marks, and simulated cracks. Edges appear to be heavily worn to create a vintage look.
The Amish Pine Wood Large Pie Safe features eased edges, indentations, nicks, and heavy wear.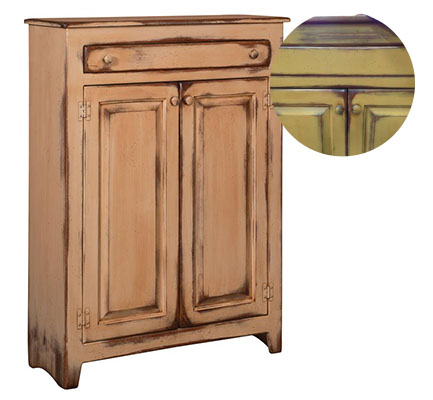 The French Country Kitchen Island is shown with heavy distressing, rub through finish, and hand planed top.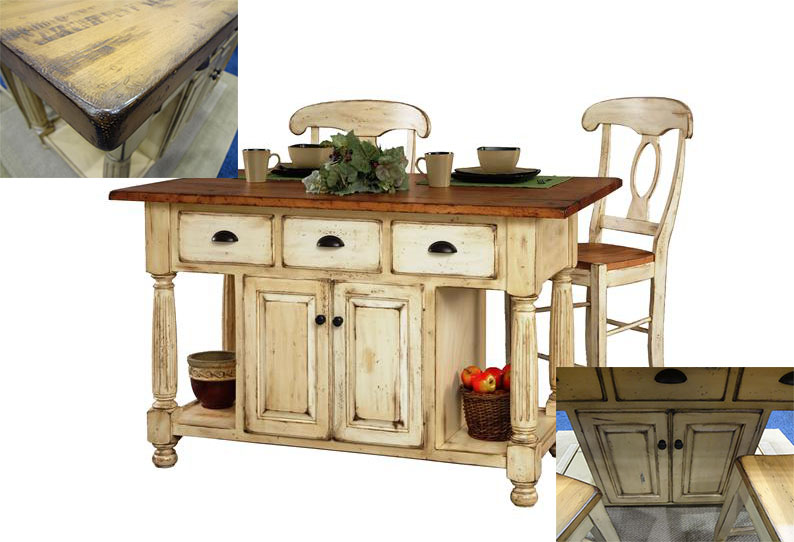 Distressing Techniques
Tools used for distressed finishes include hand planers, ice picks, heavy chains, and drill bits. An added benefit to the welcoming look of distressed furniture is that any real wear and tear over the years won't show. Scratches, dents, and dings that may occur simply add to the natural beauty of the finish.
Eased Edges or Wear Points
This technique is used to create signs of wear where they would normally occur over time. The wood is sanded and scuffed to simulate years of use. The techniques are used where the furniture would most often begin to show signs of wear such as chair rungs and wooden knobs or handles.
Pin Holes or Worm Holes
Pin holes and worm holes are recreated in the wood using ice picks, drill bits, nails, or sharpened awls. Holes vary in size and represent where worms would have burrowed in the knotty part of the tree.
Hand Rubbed Glazing
After the furniture is stained, a glaze is hand rubbed all over the initial stain to create a darker, deeper finish that brings out the distressing. Glazes are pigmented stains that give the furniture an antique, naturally aged look. Glaze can only be applied over light stains as it will not be noticeable over dark stains or paints.
Rasp Marks
A rasp is similar to a file but has very rough edges similar to sharp teeth. A rasp is used on furniture edges to create pronounced wear and tear that is more dramatic than eased edges.
Rubbed Paint Finish or Rub Through
Edges are hand rubbed to create the look of paint naturally wearing away over the years. When the paint is rubbed off, the finish beneath is revealed. This technique contributes to an aged look.
Simulated Cracks
Cracks are created just along the top of the wood to make it look like the furniture is naturally cracking. Simulated cracks do not jeopardize the strength of the wood. This technique is used in heavy distressing.
Hand Planed Tops
Hand planing involves using the long flat sole on a hand plane to remove the top-most layers of an imperfect surface. A woodworker applies force as he runs the cutting blade over the surface to reduce thickness and smooth the wood for the desired look. Hand planed tops are smooth but not perfectly even, giving the furniture an authentic, vintage look.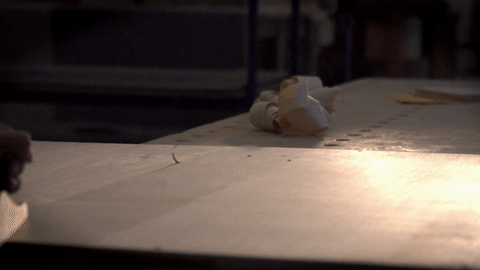 The Lexington Kitchen Island features a time worn look with a hand planed top.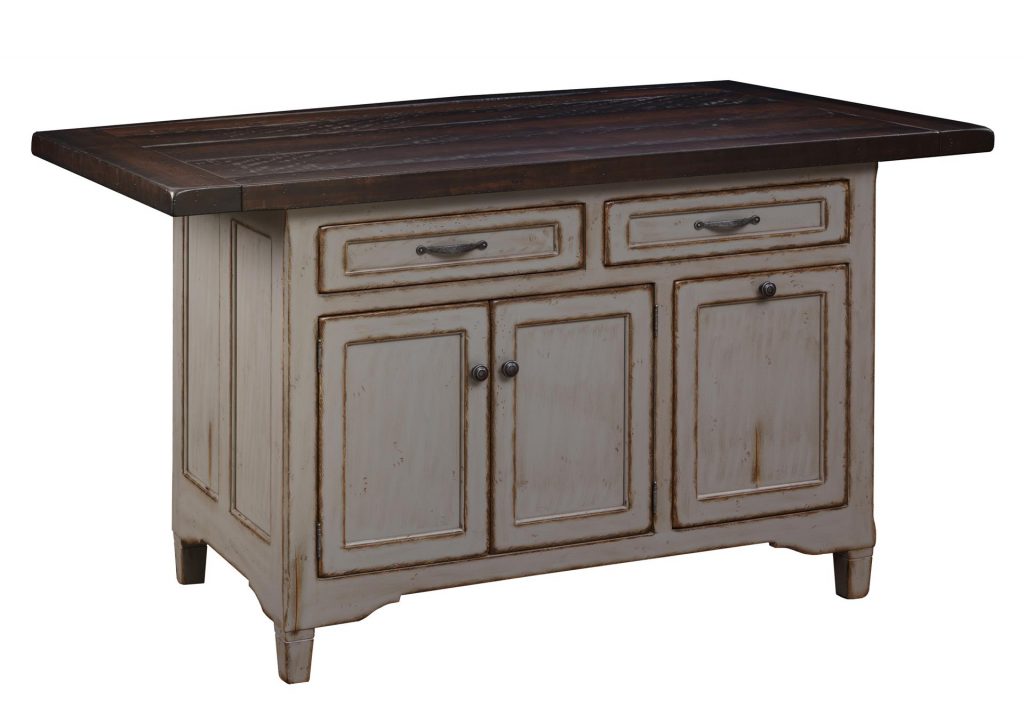 Hand Burnishing
Burnishing can dress up a table or make it look older. The burnishing process can be done by hand or with a tool. Wood fibers are rubbed against the wood, yielding a very smooth surface. Burnishing gives the outer edges of furniture a darker shade and the body of the furniture a lighter shade.
The Amish Sterling Single Pedestal Desk features burnishing.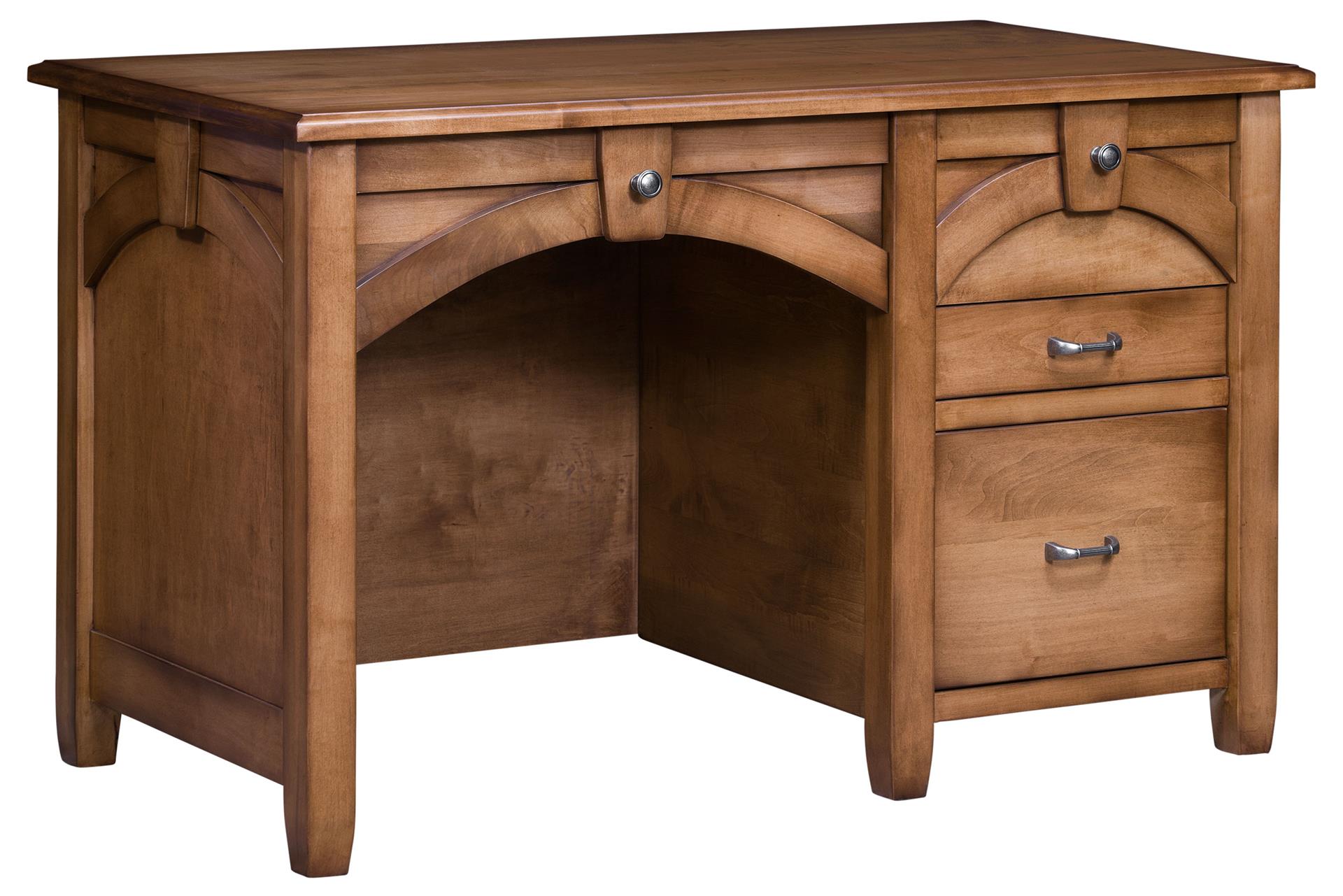 Amish Sterling Single Pedestal Desk
Wire Brushing
Wire brushing produces a weathered and worn look. A wire brush is run over the wood  in the same direction as the wood grain before it is finished, creating long, clean lines across the wood. The brush will wear away at the softer parts of the wood more quickly than the harder parts, creating a textured finish.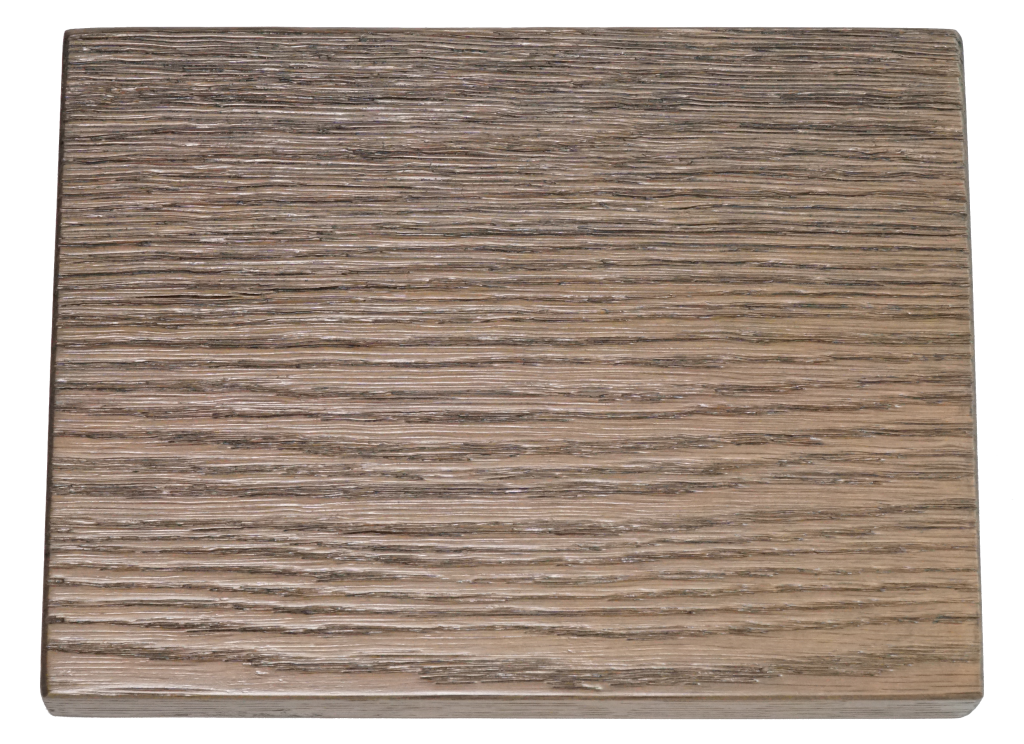 Sandblasting
Sandblasting is the process in which sand or another medium is shot at a high speed through a machine across the surface of the wood. Sandblasting wood raises the grain, creating an uneven tone with a smooth finish. Sandblasting can resurface and reshape the wood quickly and requires a steady, experienced hand.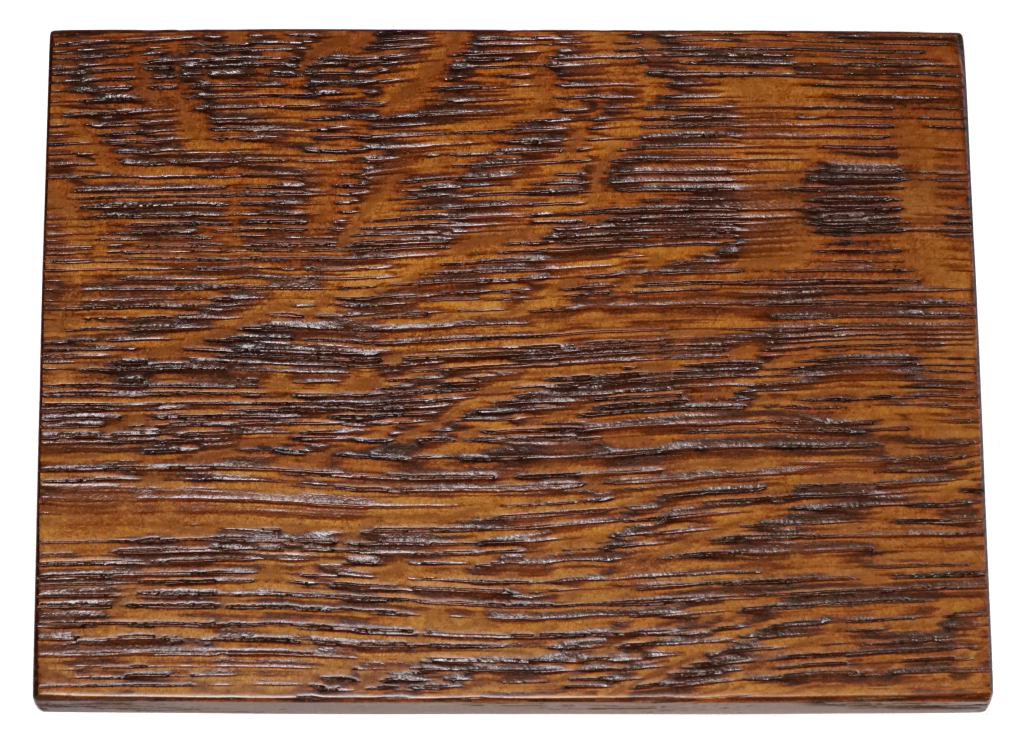 Distressing techniques open up a new arena of possibilities for your custom furniture. Enhance the character of Amish furniture with a time-worn, antique look in the custom finishing process of your choice.
Visit our Learning Center for more on distressed wood furniture.