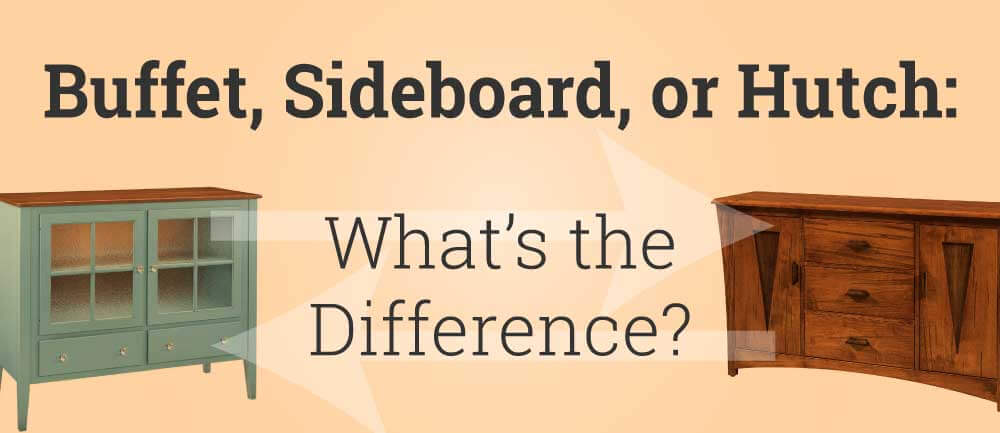 Buffet, Sideboard or Hutch–What's the Difference?
No, you're not a rule breaker. There's a chance you might have a sideboard in your dining room or a buffet in your living room, since they're very similar and the terms used to describe both are interchangeable. When it comes down to it, sideboards, buffets and hutches share the common goals of providing storage and offering a serving area or a display space. Here are the subtle differences that set them apart.
LOCATION, LOCATION, LOCATION
A buffet is a lot like a sideboard and a sideboard is a lot like a buffet. Both are used for storage and display and for serving food on occasion. One main difference is where they are used in the home. When placed in the living room, you have a sideboard. When placed in the dining room, you have a buffet.
BREAKING DOWN BUFFETS
Originated in Sweden, starting out as tables used to serve pre-dinner drinks, then developed into a "smorgasboard" table for serving food
Popular choice for laying out a wide variety of food for self-serving
Offer more space horizontally than vertically, more conducive to hosting buffet style meals
Normally located in dining rooms, but have become popular in the kitchen for storing and serving
Often have medium to long legs that support cabinets or drawers
Offer plenty of drawer and cupboard space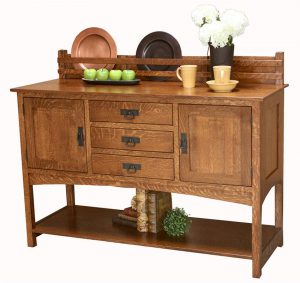 The Amish Philbrook Dining Sideboard can be used in the dining room or living room.
The Amish Christy Buffet and the Amish Eco Buffet are versatile dining storage cabinets that can be used in the living room for plants, books, or miscellaneous media storage.
THE STORY ON SIDEBOARDS
Originally used to serve food; over time drawers and cupboards were added to store dishes and other household items
A long, low cabinet often with short legs; some sideboards have cabinets that extend all the way down to the floor
Narrow depth allows them to fit in smaller spaces
Called a buffet when used in the dining room for serving food, displaying dishes, and storage
Versatile, can be used in living rooms, dining areas, kitchens, hallways, and foyers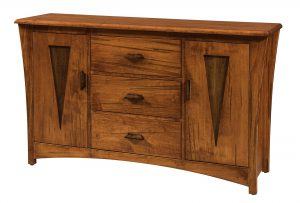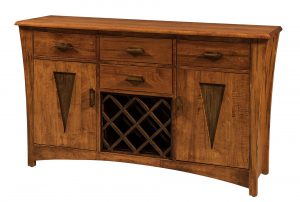 The Amish Delphi Sideboard is shown here with and without the wine rack option. The Delphi measures 18″ deep, making it a great candidate to fit in a smaller space.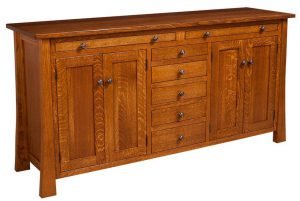 The Amish Grant Sideboard offers plenty of room to multi-task, organize, and banish clutter.
THE HUTCH ADDITION
A hutch is a set of shelves or cabinets added on top of a lower storage unit
Provides added storage and display space
Popular in the dining room or kitchen, but a hutch is very versatile and can be used as extra storage anywhere from foyer to bedroom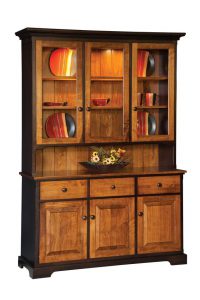 Wherever you decide to use your sideboard, buffet, or hutch, you can't go wrong with customizable solid wood dining storage.