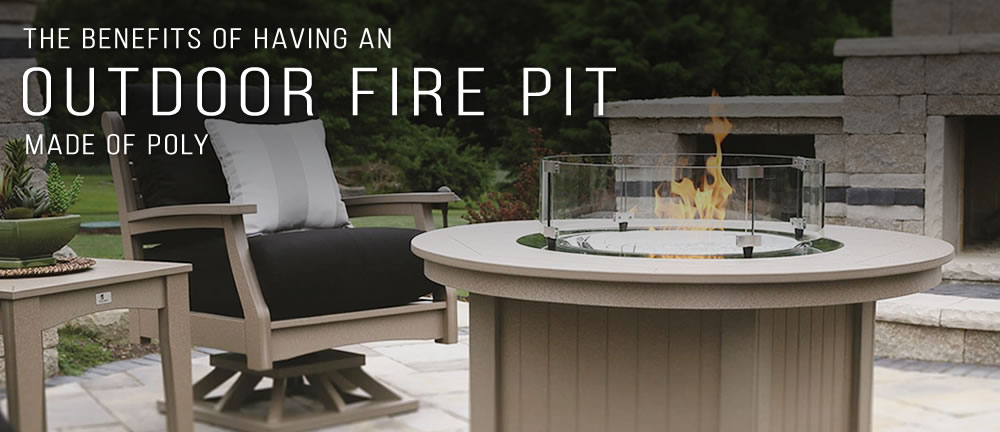 The Benefits of Having an Outdoor Fire Pit Made of Poly
The outdoor fire pit is a great place to relax, gather and socialize, and to enjoy the views of your property as you take in some fresh air. Providing warmth and comfort and a unique outdoor attraction, the outdoor fire pit is a place perfect for reading, chatting, enjoying a drink, making some s'mores and taking a break from life's chaos.
These days, it's easy to add an outdoor fire pit to your serene scene outdoors. Above ground models are attractive and add to your décor while they contain the fire and save you from having to dig a hole in the ground that you have to monitor and maintain.
A Little Fire Pit History
When fire was discovered, it was the job of the "fire watcher" to be sure the fire didn't spread or go out. Archeologists have found evidence that the earliest fire pits existed 200,000 to 400,000 years ago. Fire pits were used for warmth and for cooking food. As we learned to work with metals and cooking moved above ground, the use and style of the fire pit took on new forms.
Fire Pit Styles
Early fire pits consisted of a hole dug in the ground. Now there are models made of metal, brick, stone and poly and styles are quite versatile. Outdoor fire pits come in all shapes and sizes.
Fire pits that use propane or natural gas keep things neater, eliminating wood, ash and debris.
When choosing an outdoor fire pit, look for one that fits your backyard or outdoor area in style, shape and material. You'll also want to look for a fire pit that fits your plans for using it. What features are best for you? Do you want a fire pit that also functions as a table, for example? Do you want a portable model that's easier to move around?
Fuel options include wood, propane or natural gas. Wood burning offers an authentic "open fire" experience, but they are heavily regulated. Propane and natural gas are free of smoke, easy to clean, and turn on and off.
Types of Materials for Fire Pits
Metal, stone, concrete and poly are all materials used for outdoor fire pits. Stone is heavier and not a fire pit you can move. Stone could also crack over time. Concrete is also heavier and not a portable material. Concrete can also show stains from soot.
Poly has been dubbed a "miracle" for outdoor use. It's made with high density polyethylene that comes from recycled plastic. In addition to its eco friendly nature, poly is easy to clean and maintain and it can weather the elements with maximum durability.
Benefits of Outdoor Fire Pits Made with Poly
Poly fire pits have a long outdoor life
Durable and can withstand the outdoor elements from cold temps to blistering heat
Poly won't warp, splinter, rot or crack
It's colorful
Easy to maintain with an occasional cleaning with soap and water
Eco friendly, making use of recycled plastic
Customizable
Fade and weather resistant
Long lasting
No clean up
Stylish Fire Pit Tables
**It's important to review local laws, building codes or homeowner association rules and regulations for safe placement of outdoor fire pits.