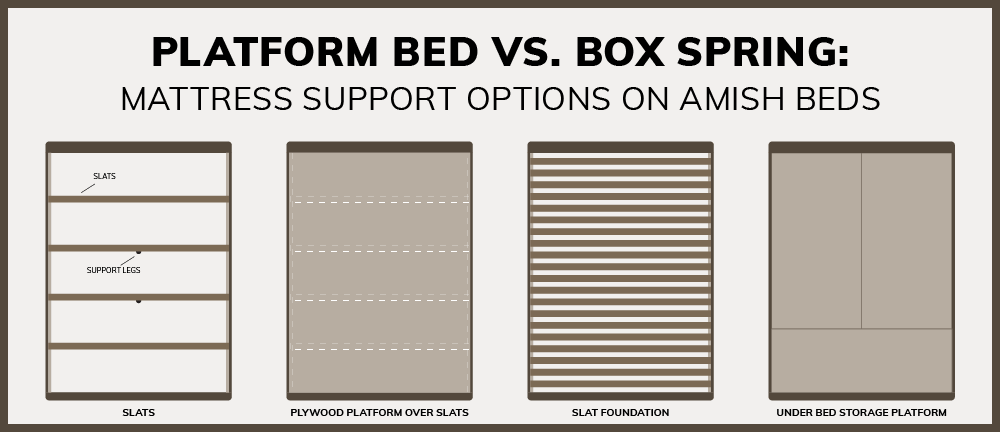 Platform Bed vs. Box Spring: Mattress Support Options on Amish Beds
This week's blog post was written by Jake Smucker, who has served as the product manager for bedroom furniture. We wanted to pass on what he has learned about how mattress support works in our Amish beds.
What's the difference between slats and a platform? What's the purpose of a box spring? What type of support do I need for my mattress? We'll answer these questions and more in this Mattress Support Guide for Amish Beds.
Mattress Airflow Basics
Traditionally, mattresses have been built to provide a springy, cozy resting place that you can sink into while staying a comfortable temperate. It may feel like a solid surface beneath you, but your sheets and the mattress fabric are actually made to breathe. They're designed to allow air flow straight through and out the bottom, although different mattress materials allow this to varying degrees.
This air flow is good for your comfort, but it's also good for sweat. No, you may not want to think about it, but it's very common to sweat at night. And where does that sweat go? Into your sheets and down into your mattress.
If your mattress doesn't get the airflow it needs, many people worry about moisture accumulation and all its associated problems: smells, mold, and rot.
What Type of Mattress Do You Use?
Your first consideration in your selection of your support needs is your mattress itself. Whereas the traditional mattress was heavily reliant on springs topped by assorted types of foam, modern mattresses may not conform to that model.
The mattress of the 2010s is the mail-order mattress. You've heard of some of these startups: Casper, Purple, Tuft & Needle, and so many more. They deliver your mattress in a modestly-sized box, compressed and vacuum-sealed into a tight roll. How did they do that? It's simple: they removed the springs! These spring-free mattresses claim comparable or better comfort with a much lighter weight all-foam design. We're not mattress experts, so we'll withhold judgment on the accuracy of these claims.
Regardless of where you got your mattress, we highly recommend you check the information provided by your mattress manufacturer to find out how they recommend supporting your mattress. For example, some all-foam mattress companies claim that a box spring doesn't provide enough support for their mattresses and a solid platform is recommended.
What are the Most Common Types of Mattress Support?
Slats and a box spring
Slats and a plywood platform or bunkie board
Slatted foundation
Under-bed storage platform
What's the difference between slats and a platform?
So now you know why air flow is important. And, it may now seem obvious why slats are better than a platform: 4 to 6 slats allow a lot more air to flow between them than a solid platform.
But put your mattress directly on slats and you're presented with a new problem: a saggy mattress. Mattresses are foamy, springy, and soft, not a rigid plank.
So, whether it happens immediately or over months, your mattress will lose its shape and become a wavy mess—lifted only where it's supported by slats and sagging in between. Not only is that uncomfortable to sleep on, but it's bad for the durability of your mattress.
What's the purpose of a box spring?
Box springs, also known as box-springs or a box spring, are the traditional solution: they sit on your slats, create a solid surface to hold your mattress, and allow airflow through them. The best of all worlds.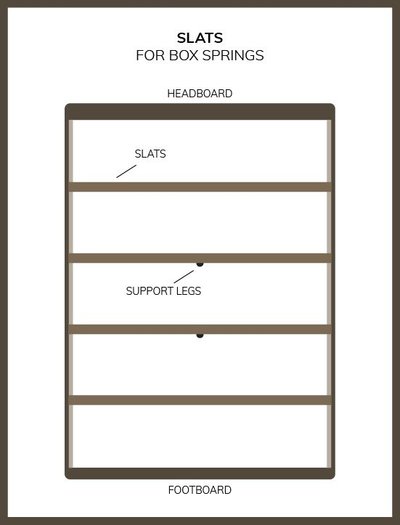 That is, unless you don't like them for one of the following reasons:
Your mattress: check your mattress requirements. If your mattress needs more consistent support than a box spring provides, you may be better off with a solid platform.
You don't like the look. Not a fan of the double-stacked look on your bed?
You don't want your mattress that high off the ground.
A box spring is more expensive than a platform and isn't worth the cost to you.
Your bed design is made for a mattress only. Minimalist design and mid-century modern beds may look unusual with their thin frames piled with both a box spring and mattress. Even many Amish shaker beds would suffer the same imbalance. Similarly, Murphy wall beds, with their moving parts and ability to hide the mattress away, can't fit a box spring. Their built-in platforms are typically made for just a narrow mattress.
What are the Alternatives to the Box Spring?
There are many reasons box springs have fallen out of favor in certain circles. But if your mattress needs support, what option do you have? You actually have several options. We'll start with the simplest.
Plywood Platform for Mattress Support
The plywood platform is the simplest mattress support. The DIY solution: buy your own plywood at a hardware store, cut it to size, and there you have it—support for your mattress.
Or, you can go the simpler route and order one with your bed. All of our Amish wood shops can make you a perfect plywood platform, cut exactly to size and often stained to match your bed just in case it's seen.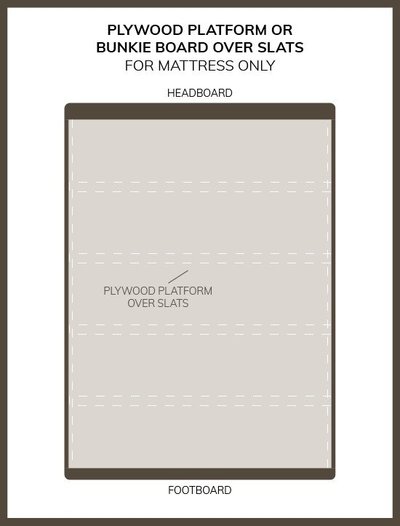 Bunkie Board Support
The bunkie board is an option with a few of our woodworkers. Like plywood, this is also a solid platform to support beds. It sits atop slats at just an inch or two tall. However, unlike the plywood option, the bunkie board is covered by fabric. This means, if the edge of it is seen from the side it'll look more like the the top edge of a box spring or something that belongs on a bed.
It may come as no surprise: the name bunkie board, also spelled bunky board or bunkieboard, comes from the bunk bed. A platform to support a kid's mattress without a box spring. The bunkie board, however, has evolved from the bunkbed to Amish beds of all sizes.
Slatted Foundation
I'll never understand why they missed the opportunity to call this design a "slatform," but the slatted foundation is basically a platform made of slats spaced a couple inches apart across the entire length of the bed. This hybrid slat/platform design, sometimes called a mattress foundation or slat foundation, splits the difference between the two extremes. This slat-based design approximates a platform while providing consistent support underneath the mattress.
It uses the same slats as a typical slat bed, but instead of just 4 to 6 underneath, the slats fill the bed, spaced about 2-3 inches apart. This provides a very solid base and plenty of support for the mattress to keep it from getting wavy.
This provides a strong foundation for your mattress while allowing a bit of airflow between the slats. Many of our shops can build a bed this way, but you may have to request it with custom pricing if it's not available in the options.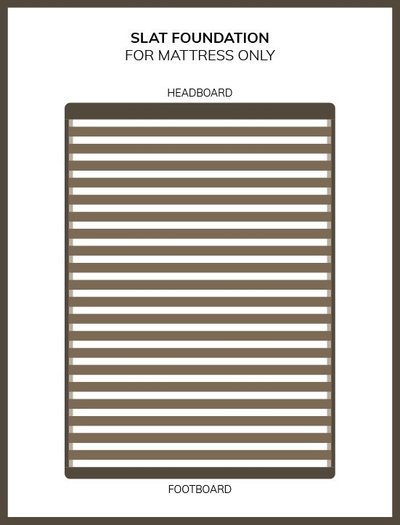 Supporting an Adjustable Mattress
What if you plan on using an adjustable mattress? Many Amish made beds can support an adjustable mattress, but storage beds and platform beds cannot. It's important we know if you plan to use an adjustable mattress for your custom bed, so we can be sure the bed you've chosen will fit it and notify the woodshop. When building your bed, the craftsmen will leave out the slats so that the adjustable base and mattress will fit down into the bed frame. We go into this topic in more depth in our blog on Amish beds with adjustable mattresses.
Under-Bed Storage Platform
Most Amish Beds at DutchCrafters offer the option to add under-bed storage drawers. (Pro tip: even if it's not listed as an option, ask about it. We can likely make it happen.) Whether you're adding the standard 6 drawers (3 on each side) or just 4, 3, or even 2 footboard drawers, that change will always be accompanied by a switch from slats to a solid platform over the drawers.
Whereas the typical plywood platforms sit on top of slats, these under-bed storage platforms will be large boxes that connect together to form a solid platform.
One last under-bed storage design worth a look is the lift storage bed, a unique design that allows you to lift your entire mattress and platform like a car hood to access an open storage area beneath. This is only available on a few select beds here at DutchCrafters.
You may wonder about the use of plywood at all in solid wood Amish furniture. And we've actually written an entire blog post on the topic! Anytime plywood is used in DutchCrafters Amish furniture, it's used to enhance the durability of the piece, not cut costs and cheapen the product. This is the case with your platform beds; high-grade plywood is the best material for the job!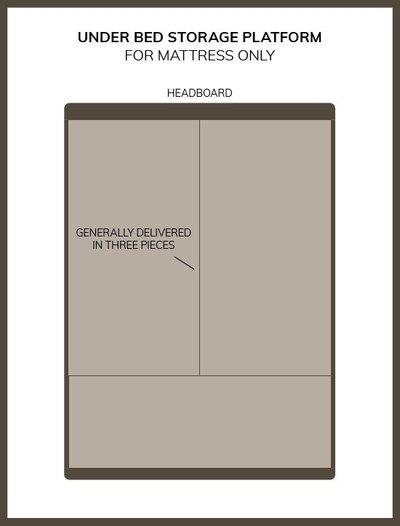 Height of a Platform Bed
What if you don't want your platform bed mattress to be closer to the ground than a bed with box springs? There's a simple solution to this; we can ask our woodworkers to raise the height of the slat attachment to account for this. Give us a call if you're ordering with a platform, and we'll be happy to request the height be raised.
Amish Platform Beds at DutchCrafters
So now what? Let's shop! Hopefully you find it worth spending some of your hard-earned savings to invest in a bed that will last for generations: one that you can customize to match your home's needs. If so, you can start your shopping with the largest collection of Amish beds online here at DutchCrafters. You can start start at the Platform Beds or Storage Beds pages or with all Amish Beds and then ask us to add a platform or under-bed storage once you have a favorite selected.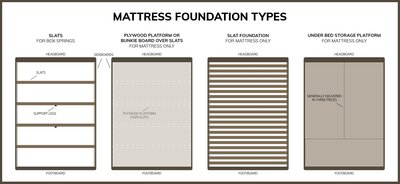 If Amish furniture isn't right for you today, we wish you luck finding a solid bed that properly supports your mattress. We hope we helped with your search in some way. Thanks for reading!