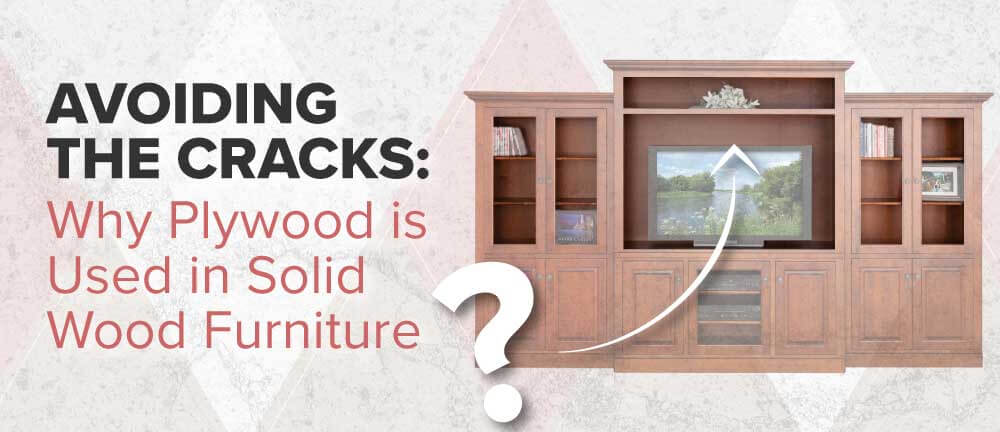 Avoiding the Cracks: Why Plywood is Used in Solid Wood Furniture
Wait a minute. You're buying handcrafted, heirloom quality solid wood furniture. It is intended to last and look beautiful, but it's costing you more. You've heard there's a chance that there's some plywood used in the building of solid wood furniture. Could this be right? Is this true? What's the deal?
The answer is yes, plywood is used even in the finest solid wood furniture. But there's a very good reason for it. Simply put, solid wood moves. Without the plywood material to handle the movement of the wood, your solid wood furniture is at risk of cracking.
Why Wood Moves
Wood is a natural material. It contains water and continually absorbs moisture from the air as well as releases it. Wood fibers run the length of a board and the wood expands and shrinks across its width.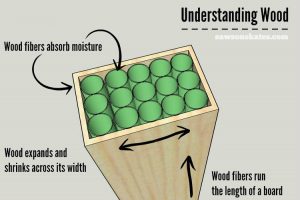 Wood fibers are continuously absorbing or releasing moisture. Photo Credit: Saws on Skates 
The wood moves in response to its environment. It will absorb moisture and expand in a humid climate and release moisture and shrink in a dry climate. While the movements are small and happen over time, they can eventually contribute enough damage for a crack to form. There's no way to stop wood from moving. It is going to move.
At DutchCrafters we recommend protecting a solid wood investment by carefully managing the heat and humidity in the home with the use of air conditioning and humidifiers. We share best practices for protecting your solid wood furniture in video and on our blog.

What Is Plywood?
Plywood is made from thin layers of wood that are pressed together. The wood is layered so the grains of the boards are at right angles to each other. This reinforces the strength of the wood. It is important to note that high grade plywood IS NOT PARTICLE BOARD, which should be avoided since it is inferior in strength and substance.
Plywood is often made of the same wood species as the piece of furniture it is at part of. The plywood can be stained to match the rest of the piece or sometimes a veneer (a thin slice of the solid lumber less than 3mm, about 1/8 inch thick in the same wood species) is glued to the outside of the plywood to perfectly match the rest of the piece.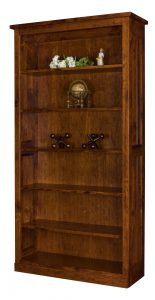 Same species plywood is used in the back of the Amish Meridian Bookcase to support its structural integrity.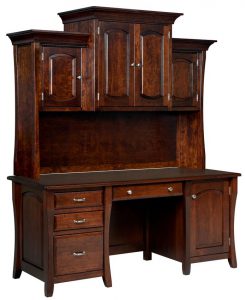 Same species plywood is also used in the hutch back of the Amish Kingsman Executive Desk to protect it.
The Purpose of Plywood
Plywood is light and reduces the weight of a piece of furniture.
Plywood layers are so thin, they don't absorb moisture or give it off, therefore they won't expand and contract like solid lumber.
Plywood offers stability for the piece it is used in since it doesn't move.
High grade plywood looks attractive and protects furniture function while maintaining the integrity of the piece.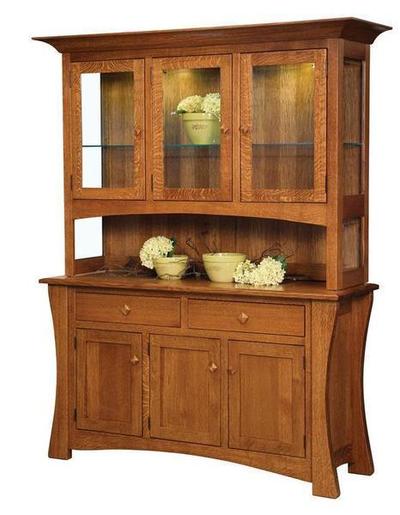 Places Where Plywood is Used in Solid Wood Furniture
Hutch backs
Drawer bottoms
Bed panels
Bookshelves
Cabinet doors and panels
Backs of desks that go against a wall
Backs of gun cabinets
Backs of credenzas
For frames in case goods that are susceptible to cupping and warping, plywood is the answer. It is used where it is the most appropriate choice to create a sound structure. Plywood panels used in drawer bottoms prevent the solid wood frames from cracking apart.
High grade plywood is often used in the back of case goods like the Amish 72″ Wide Executive Bookcase and the Amish Spring Lake Mission Buffet + Hutch to protect the framework.
The high grade plywood that's used in Amish furniture is not there to hurt or hinder it in any way. Ply is there for protection to keep your solid wood furniture fully functioning and beautiful for generations to come.