Protecting Solid Wood Furniture: Managing Humidity and Dryness
A top concern for protecting solid wood furniture is managing the humidity and dryness that can affect it. Wood is a natural material that responds to its environment and some shrinking and swelling is to be expected. However, controlling the humidity and dryness is essential for preventing damage.
Furniture damaged by unmanaged climate control is not due to a defect in the product. Perfectly crafted solid wood furniture can crack if subjected to harsh enough conditions, making this an important point to share in order to protect your solid wood furniture investment.
The Movement of Wood
Here's the long and short of it. The moisture content of wood changes in response to relative humidity. When the air is humid, the wood absorbs moisture and swells. When the air is dry, wood loses moisture and shrinks. Excessive shrinking or swelling can affect the look of the wood or possibly cause cracks or splitting.
For example, breadboard ends for tables do not expand the same way as the main panel because of opposite grain directions, therefore creating an offset between the panel and breadboards. If the main panel extends beyond the breadboard, it has expanded. If the breadboard extends beyond the main panel, the piece has contracted. This is a normal occurrence and will shift between seasons.
Some furniture has built-in features to allow wood movement without causing damage. Plywood back panels on case goods allow the piece to move without breaking.
EMCs and Relative Humidity
According to Carl A. Eckelman in his book The Shrinking and Swelling of Wood and Its Effect on Furniture, EMC stands for the concept of Equilibrium Moisture Content, which means that the moisture content of wood will come into equilibrium with the relative humidity of the air around it. For each level of relative humidity of the air, there is a matching equilibrium moisture content of wood. The most commonly used woods have EMC values that are similar enough that one set of values can be used for them.
'Tis the Season
Climate and the change of seasons mean different things in different parts of the country. With southern states being hot and humid and northern states cold and dry in winter, the EMC can be too low or too high. Shrinking and swelling occur in direct proportion to changes in moisture content, and moisture content changes of only a few percent are enough to cause significant movement of the wood.
What to Do in Your Neck of the Woods
While some shrinking and swelling of wood will occur, here's what to do to manage the moisture and humidity. We've mapped out a graphic to assist, showing which areas of the country are dryer and which are more humid and noting where a humidifier or dehumidifier would be needed. (Note that these are normal averages and the numbers may increase or decrease during summer and winter months.)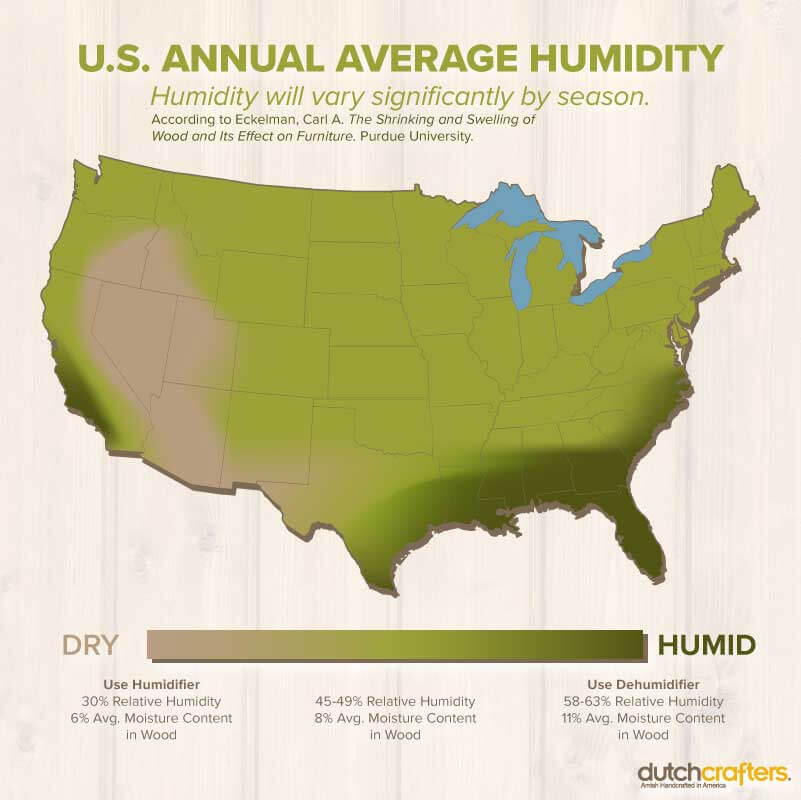 In Addition:
Keep solid wood furniture in a temperature-controlled environment, with the relative humidity at 35 percent to 45 percent.
We recommend the use of air conditioning as well as investing in a humidifier or dehumidifier to help manage the humidity in your region.
Do not place solid wood furniture directly in front of windows, heat or air conditioning vents, radiators or fireplaces.
Do not expose solid wood furniture to continuous direct sunlight.
Store table leaves as close to the table as possible, so the leaves adjust to the same relative humidity as the table.
Invest in a hygrometer to measure the humidity level in your home.
Follow these helpful tips for managing humidity to keep your Amish furniture looking beautiful for generations to come.