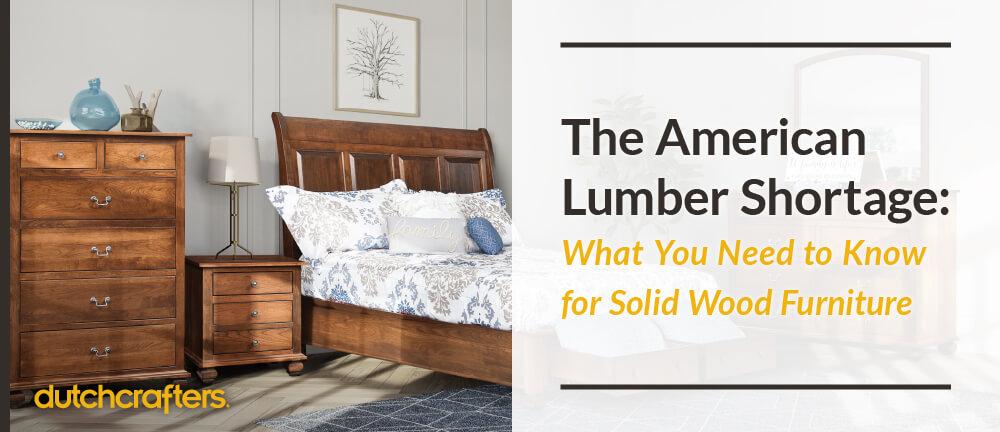 The American Lumber Shortage: What You Need to Know for Solid Wood Furniture
Many of us took a good look around last year. Inside and around our homes, that is. As the COVID-19 pandemic drove many of us into our houses and kept us there, we took notice of what furniture we needed to set up a home office, what rooms needed an upgrade, and ways to create more effective storage options. At the top of the list, we also looked for furniture that would bring us comfort indoors and out, during an uncertain time when we needed all the extra comfort we could get.
These developments created an explosion in the furniture industry. One that jumped on the demand button and has been holding it down ever since. This is fantastic news for furniture companies, right? Yes. Fantastic for furniture companies that build the really good stuff out of solid wood right? Well, yes, but as the pandemic caused shutdowns, hold ups and challenges, the effects were felt in the furniture supply chain, resulting in one great big lumber shortage.
The American Lumber Shortage
Skyrocketing demand for lumber isn't just for wood furniture. With mortgage rates so low, the building of new homes is up. Fortune magazine reports sales of new homes hit its highest level since 2006 in July, up 36% year over year with home construction growing 22.6% in July (August 31, 2020). Decks are being built so we can go out without going out, DIY projects are flourishing, and many restaurants invested in building outdoor seating in an attempt to keep people a bit safer when they came to dine. All these projects converged on lumber like patrons in a toilet paper aisle in the early weeks of the pandemic.
When COVID caused sawmills to shut down, it had massive impact on the amount of lumber available for market, helping to drive up the price. Fortune magazine reports that lumber prices are up 188% since the start of the pandemic (Lance Lambert, March 20, 2021). Compounding the problem, prior to the onset of the pandemic the lumber industry experienced decreased demand for timber in areas like paper manufacturing and home goods, causing some sawmills to cut back harvests and then cut them back even more in anticipation of the virus, only to have the demand for wood fly in the opposite direction. Newsweek reports that both softwood lumber and treated lumber are hard to find now and suppliers have hiked up prices by at least 50% since the beginning of 2020 (Jocelyn Grzescszak, August 2020).
How is this Affecting Amish Made Wood Furniture?
What does all this mean for wood furniture buyers? Can you still get solid wood furniture? The good news: Yes, you can. The not so great news: There will be price increases and delays in delivery.
Amish furniture makers are feeling the same crunch as the rest of the country, with lumber harder to find and prices going up. The lumber shortage has also caused building times to be longer, extending the wait for a finished product.
At the height of the pandemic, many Amish wood shops had to close and production was slowed. As they got back into the woodshops, they faced the challenge to catch up with waiting orders and an increased demand on top of the lumber situation.
DutchCrafters works with over 150 wood shops located throughout Pennsylvania, Indiana and Ohio to manage the roughly 15,000 products offered on the DutchCrafters website. We spoke with a few of our vendors to gain some insight into how the lumber shortage is affecting their work.
Edward Beachy of Glenmont Furniture Company gets lumber from Ohio, Pennsylvania and New York. He notes that sawmills are having a harder time obtaining the lumber, and they have to pay more for it. That price increase gets pushed on to the woodshop and on down the chain. When asked if some wood types are more affected than others, he confirmed that maple is hardest to find right now, followed by white oak and walnut wood. The good news from Edward is cherry wood is more readily available.
Briarwood, another Amish furniture vendor, gets their lumber from the northeast region of the U.S. They maintain steady communication with their suppliers to stay ahead as best they can on what wood species will be affected the most. Briarwood has been able to maintain quicker build times despite the lumber shortage. How do they do it? Dedicated employees committed to production figured out how to get more done in the same amount of work hours with bonus incentives as a reward.
What to Expect with Lumber Prices
In an article for New England Building Supply, Michal Flood, notes that lumber prices were rising as early as 2018, and were expected to be high in 2020, then come down. But COVID-19 blew that out of the water. According to Flood, in order for lumber prices to come down, U.S. lumber production will need to increase a lot, shutdowns will need to end and timber producers will need to amp up supply to bring costs down. It's anyone's guess when these things will happen.
No one knows for sure when the surge in demand will ease and the balance between available timber and the projects it is needed for will be restored. We recommend taking caution with your wood furniture purchases. Be wary of promotions that promise solid wood furniture available quickly at low prices, you might not be getting a genuine product. Now is a good time to buy in anticipation of wood furniture prices that could possibly rise even higher in the coming months.
Several things remain constant for wood furniture made in Amish country. There's the same dedication, skill and care of Amish woodworkers and the same commitment to building solid wood, heirloom quality furnishings customized to reflect the customer's style and needs. A quality product that will last generations arrives home to become part of your family's story, no matter when the lumber arrives or how long it takes to build.