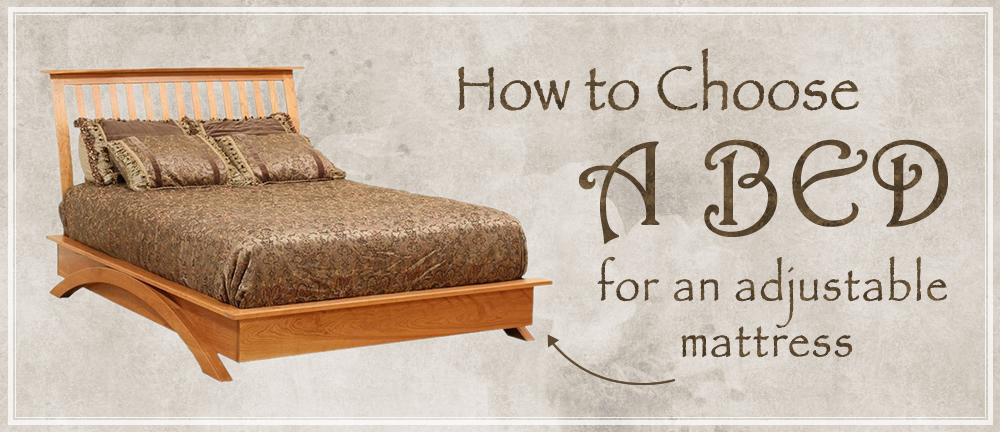 How to Choose a Bed for an Adjustable Mattress
We have something important to share with you about beds that use adjustable mattresses. Shopping for a bed that's Amish made opens up a world of possibilities. You can choose the wood type and the stain. You can go platform, panel, or storage bed, and many of our woodworkers can make custom adjustments.
But in order for delivery day of your new bed to be the most exciting and perfect day on the calendar, we just need to know about your adjustable mattress before the building begins on your custom bed.
Why?
The good news is that many of our custom-made Amish beds can accommodate adjustable mattresses. The bad news is that some cannot. When ordering a new bed that you want to use an adjustable mattress with, please be sure to inform us as we process and oversee the building of your new bed.
How Your Custom Made Bed Accommodates an Adjustable Mattress
If you have a regular headboard, footboard, and bed frame with rails and slats going across, then you can rest assured your adjustable mattress will fit. But…the slats and cleats have to be removed so that the adjustable base can fit down in the bed.
So why do we need to know about your adjustable mattress ahead of time?
Let's take a look inside the body of a bed so you can get a good look at what's going on in there.
There are elements inside your bed that are made to offer maximum support, and once they are in place they cannot be removed easily once the bed is delivered to your home. Unfortunately, it's not as simple as just removing the slats. The cleats that support the slats are glued and screwed into your Amish made bed, and both the cleats and the slats themselves would be in the way.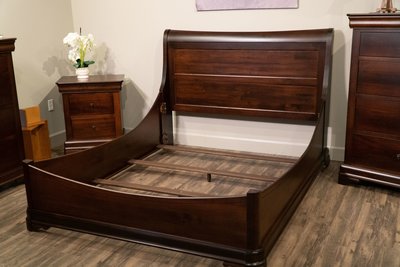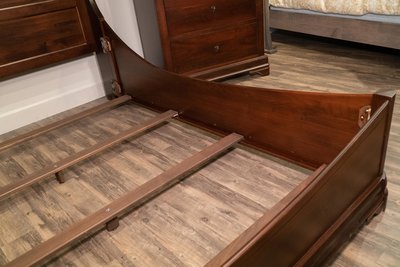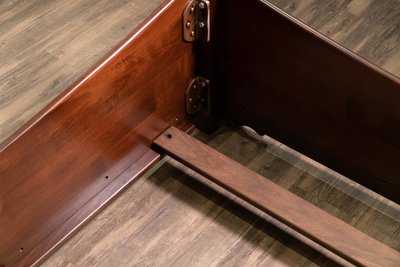 What We do Once We Know You'd Like to Use an Adjustable Mattress in with Your Bed
When one of our Furniture Specialists has the pleasure of talking to you via phone or email and you have made him or her aware that you'd like to use a bed with an adjustable mattress, the specialist will inform the wood shop. The craftsman building your bed will leave the cleats (slat support) out so your mattress will fit and slats that normally support your mattress will not be used. With these parts removed, you can lower your adjustable base and mattress down into the bed frame.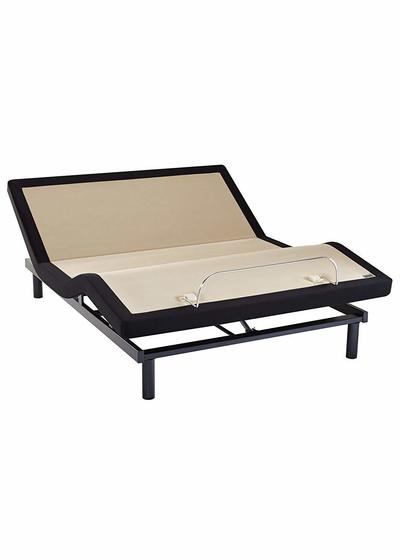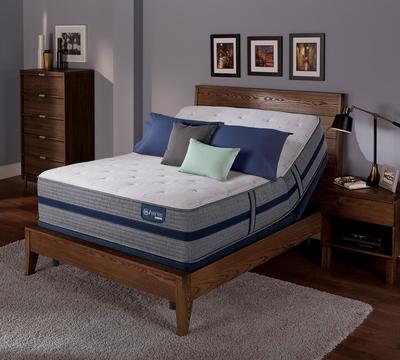 Can a Storage Bed or Platform Bed Accommodate an Adjustable Mattress?
If you would like a platform bed or storage bed that has a flat solid surface, often with storage drawers underneath, an adjustable base and mattress can be used, but adjustments will have to be made to your bed at the woodshop. Our large variety of Amish made beds includes some storage and platform beds that can accommodate an adjustable mattress and some that cannot. We again encourage you to connect with a furniture specialist to inform them if you'd like to use an adjustable mattress with your new bed, so they can confirm with the woodshop that it can be done. In order for a storage or platform bed to handle an adjustable mattress, the frame must evenly distribute weight across the platform surface instead of four posts. Some of our Amish platform beds will accommodate an adjustable mattress as well. The woodshop will re-engineer the frame, reinforce it with metal and secure the slats. (This will likely require a custom quote.)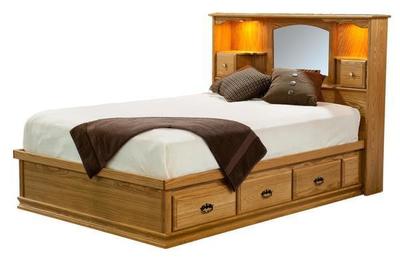 Here's a breakdown of what you will often see in the bed frame of your custom bed.
The rails that comprise the outer frame of the bed.
The slats that offer support for the mattress.
The cleats. Cleats support the slats and are attached to the rails. These have to come off for an adjustable mattress to fit. They have to be removed by the woodworker because they are glued and screwed in. Normally the slats rest on them.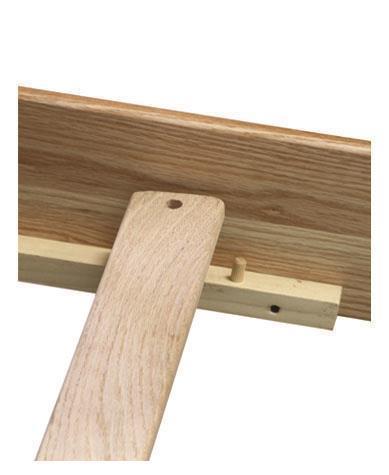 About Platform Beds: Did You Know?
Feature a strong level base that consists of either a slat support system or a solid panel.
Sit fairly low to the ground and do not require a box spring.
Simple bed frame that often has a contemporary look.
Easy to add storage under the bed in the absence of a box spring.
Available in many unique shapes and styles.
Platform beds are mattress only.
Some platform beds can fit an adjustable mattress.
About Panel Beds: Did You Know?
Feature headboards that are normally divided into panel-like sections.
Require a box spring.
Have a more traditional style.
Side rails hold and support the box spring and mattress.
Wood slats are under the mattress and the open spaces between slats let the mattress breathe.
Available in many styles.
Panel beds can accommodate an adjustable mattress and frame once the slats and cleats are removed.
About Storage Beds: Did You Know?
Most common form of underbed storage is three drawers on each side.
Other popular storage options include footboard storage or wall units.
Some storage beds can accommodate an adjustable mattress.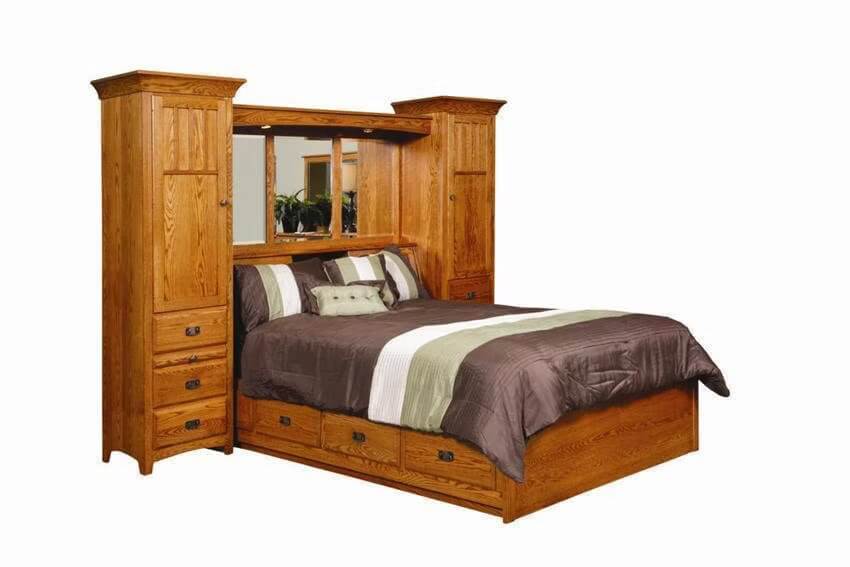 Options for Custom Made Beds
Here at DutchCrafters, we are home to custom options. So, if you have ideas about adjusting bed dimensions or getting crafty with headboards to accommodate an adjustable mattress, we invite you to speak to one of our Furniture Specialists about your ideas. They can let you know what custom changes are possible. Lots of our beds can be built to be either panel or platform, so there are plenty of bed options available at DutchCrafters to accommodate your adjustable mattress.
For example, here's what we did for interior designer Lorraine Blais of Blais Interiors who was working with clients who had an adjustable bed.
"I was able to have them (DutchCrafters) make the frame of the bed three inches longer so that when they (the clients) used the mechanical part of it, the bedding stayed in place."
What You Need to Do
It's easy. Just let us know about your adjustable mattress and the Furniture Specialist you are working with can take note of it. If you really like a bed that won't accommodate an adjustable mattress, they can help guide you to a similar one that will.