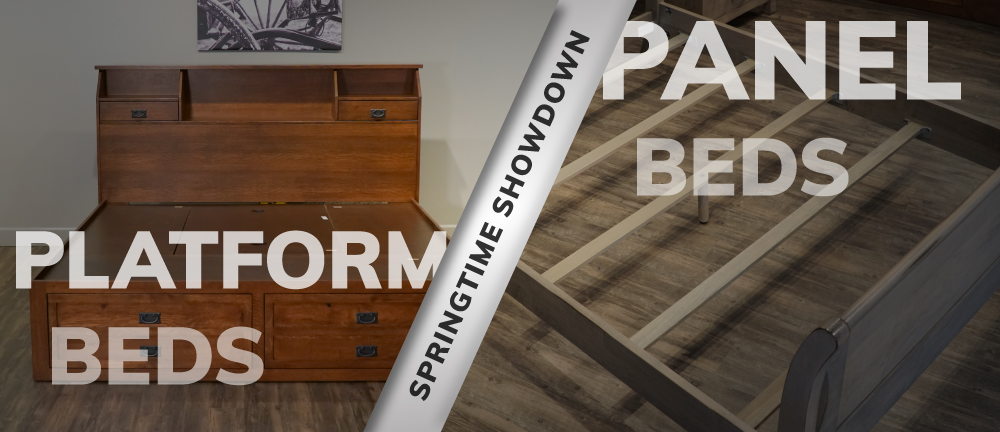 Springtime Showdown: Panel Beds vs. Platform Beds
Panel beds and platform beds both have reasons to brag. One will cost you less while the other might be easier to get in and out of. We're breaking down the features of panel beds versus platform beds with some insider tips on our stylish Amish beds.
What are Panel Beds?
A panel bed has an eye-catching headboard that's usually fairly tall and decorative. The headboard is divided into panel-like sections and definitely makes a statement. Panel beds require a box spring which creates a more traditional looking bed.
Panel Bed Construction
Panel beds have side rails that hold and support the box spring and mattress.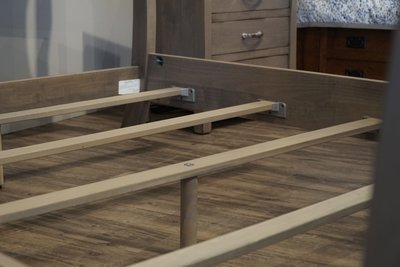 Wood slats are under the mattress. Open spaces between the slats allow the mattress to breathe.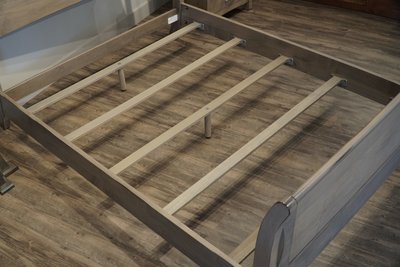 Pros of Panel Beds
Come in many different styles, offering lots of options to choose from
Box spring adds to the height of the bed which can be easier for some to get in and out of
Offer great support with slats, box spring and mattress
Cons of Panel Beds
Require a box spring which adds to the cost
Generally more traditional in style, may not fit a modern look
What Are Platform Beds?
A platform bed has a strong level base that consists of either a slat support system or a solid panel. Platform beds are fairly low to the ground and do not need a box spring. They are simple bed frames that come in different materials and different styles. Platform beds often have a contemporary look due to their simple form.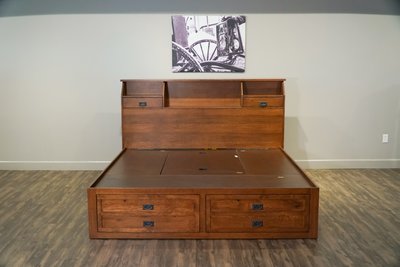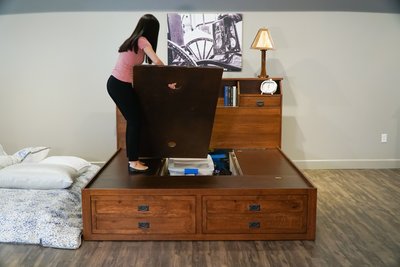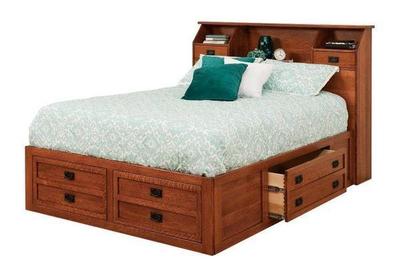 Pros of Platform Beds
Budget-friendly: Saves you money since a box spring is not needed
There's more room for storage drawers under the bed since there's no box spring—it's like a bed and dresser in one!
Great choice for fans of contemporary style
Being closer to the ground makes the bed more stable
Available in many shapes and unique styles
Cons of Platform Beds
Solid and heavy and not as easy to move around
Not a choice for those who are looking for a more traditional style bed
Being closer to the ground can make it harder for some to get in and out of
Which One Is the Winner?
The better bed really depends on you. What are your needs? With their lower height, platform beds take a little more oomph to get out of and they're not easy to move. You'll also want to purchase a better mattress to go with your platform since there's no box spring for added support. On the other hand, if you prefer a traditional looking bed that's a bit higher with a decorative headboard, a panel bed might be more to your liking.
Insider Info About Our Amish Made Panel and Platform Beds
Head and footboard are assembled using high quality bonding agents and mortise and tenon joinery to protect against wobbling.
Every bed is assembled before being sent out for fine-tuning to be sure customers can count on each piece going together flawlessly.
Minimal tools are required to assemble beds. Our panel beds will ship with the headboard, footboard and two side rails. Side rails simply attach to headboard and footboard.
To prepare for delivery, be sure to have your room clear so you have plenty of space to work. It is easiest to put beds together with two people.
Our Amish beds are crafted from solid wood. Many sites claim American made solid wood beds but are using veneers. That doesn't happen with our Amish beds. They are sturdy and offer maximum durability.
Tell us, are you a panel or a platform bed fan?