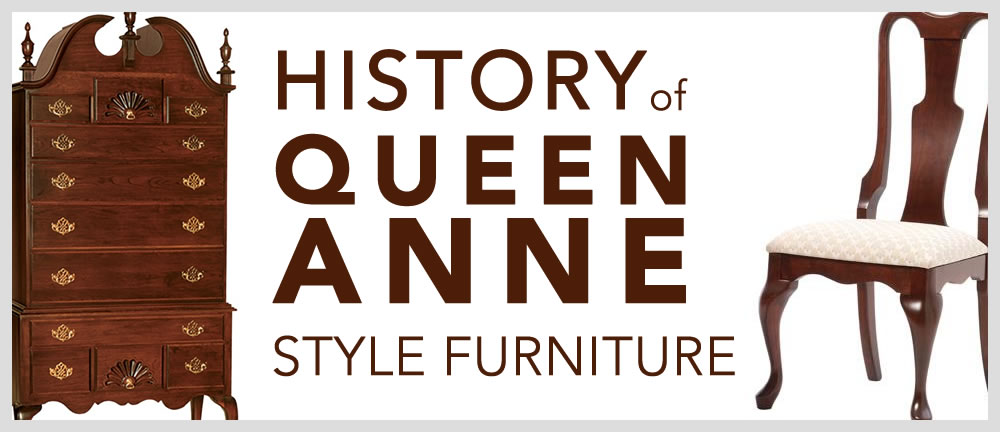 History of Queen Anne Style Furniture
Although Queen Anne reigned from 1702-1714, the style of formal furniture that would come to bear her royal name did not gain popularity in the Americas until the 1720s. Around that time, prosperity beckoned immigrants to the colonies, including a large number of British craftsmen. This made way for a major transition. The more ornate William and Mary style furniture was transformed. The result was Queen Anne style.
The reign of William and Mary (1689-1702) heavily influenced Queen Anne furniture. Their style was translated during Anne's reign to reflect hers. This resulted in subdued, functional furniture. Its restrained decoration marked a departure from previous ornate designs.
Queen Anne style favors a more refined appearance. It is said to be smaller and lighter than the elaborate William and Mary furniture that came before it. Queen Anne's love for drinking tea is thought to have contributed to this. Small, yet sophisticated, moveable furniture best suited this royal ritual.
The need for regal yet realistic furniture introduced Queen Anne style tables, chairs, and ottomans. Accessories like curio cabinets, secretary desks, and bookcases were made to match. Bedroom furniture like highboys and dressing tables were also in high demand.
The Amish Queen Anne Highboy Dresser offers a delicate design that dates back centuries.
Cabriole Leg
The cabriole leg was a new innovation during this period. Modeled after an animal's legs, this feature remains the most recognizable element of Queen Anne style. Oversized turned legs of the past were replaced in favor of functionality. 
The balance achieved by cabriole legs made it possible to support top-heavy furniture. These slim legs surprisingly did not require the support of stretchers.
Heavy ball feet characteristic of William and Mary style were replaced with graceful pad feet. This reinforced the lighter look of the Queen Anne style.
The regal cabriole legs of our Amish Queen Anne Dining Room Table make dining delightful.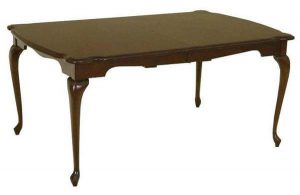 The Age of Walnut
Walnut was the dominant choice of wood for the early construction of Queen Anne furniture. This lead to the emergence of an era referred to as "The Age of Walnut." Previously popular oak was used less to construct furniture in the style.
Other popular choices included cherry, poplar, and maple. Mahogany also began to be imported in this period. However, it was less common because of its high expense. Nonetheless, it was a fast favorite, because the dark hue made for an ideal canvas to display the subtle curves of the Queen Anne style.
Cherry is a popular choice among DutchCrafters customers who order Queen Anne style furniture. Our Amish Traditional Queen Anne Dressing Table Vanity looks charming in cherry wood.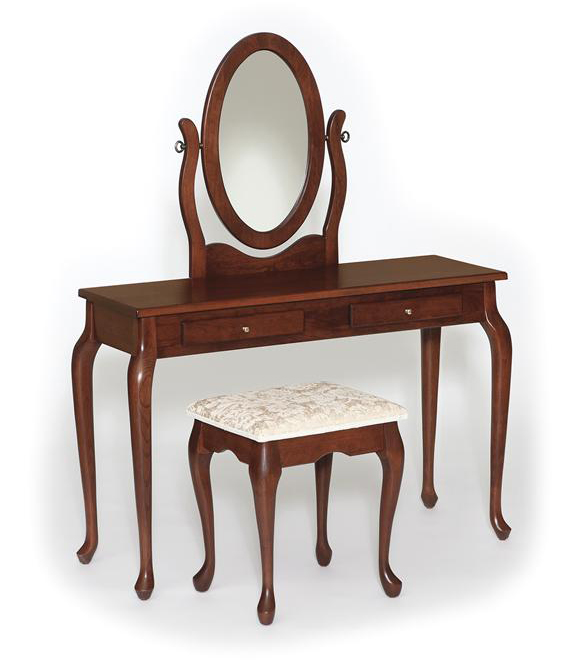 Queen Anne Characteristics
Along with its distinctive cabriole legs, Queen Anne style is known for:
Formal feel
Subtle curvature
Broad but delicate design
Simple fan and shell carvings
Fiddleback chairs
Yoke-shaped top rail
Bat wing-shaped drawer pulls
Dark stain to accentuate smooth lines
Refinement of William and Mary style
Attention to form rather than ornamentation
Featuring many of the hallmarks of the Queen Anne style, our Amish Queen Anne Double Door Curio Cabinet will add elegance to your home.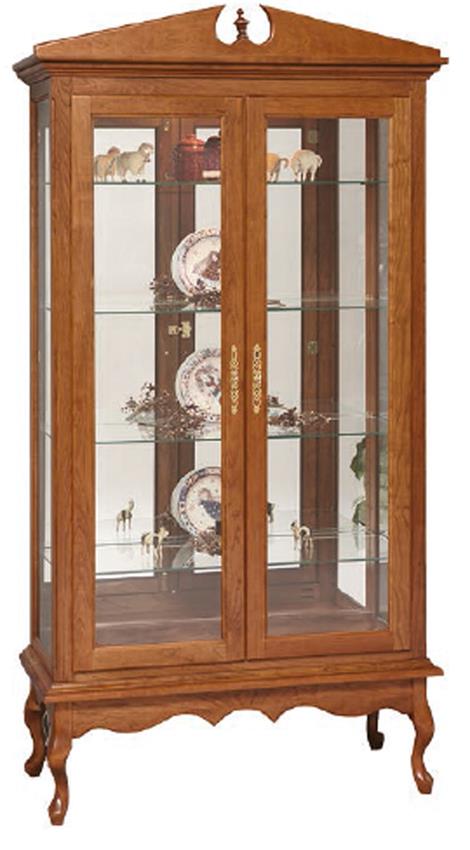 Still popular today, the style is perfectly suited for built-to-last Amish furniture. Our woodworkers recreate timeless Queen Anne designs using heirloom quality construction. A reflection of its centuries-old history.
Shop our selection of Queen Anne style furniture to bring this sophisticated style to your space.