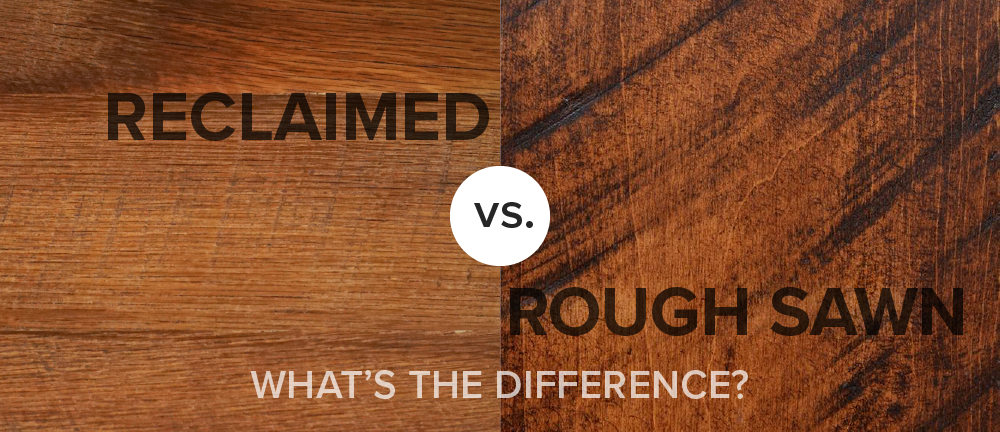 Reclaimed vs. Rough Sawn: What's the Difference?
At DutchCrafters, we offer a variety of rustic furniture that creates a rugged warmth in the homes of our customers. Reclaimed wood furniture and rough sawn wood are some of our most popular options that cater to this distinct look. Although it is easy to confuse reclaimed and rough sawn wood, there are some key characteristics that set them apart. Keep reading to learn the difference between these styles.
Amish Reclaimed Wood Furniture
The reclaimed wood trend has blown up in recent years. Salvaged from barns in Pennsylvania and Ohio, the wood's rich history sets reclaimed furniture apart. It is also eco-friendly. Instead of going to a landfill, barn wood is given a new life. After undergoing a rigorous cleaning process, a fresh canvas is revealed. What remains is over a century of character already built into each piece. Original knot, worm, and nail holes, as well as sun spots are all present on the surface of our reclaimed wood.
The Timber Ridge Reclaimed Barn Wood Dining Table is a highlight of our Sarasota, Florida furniture store.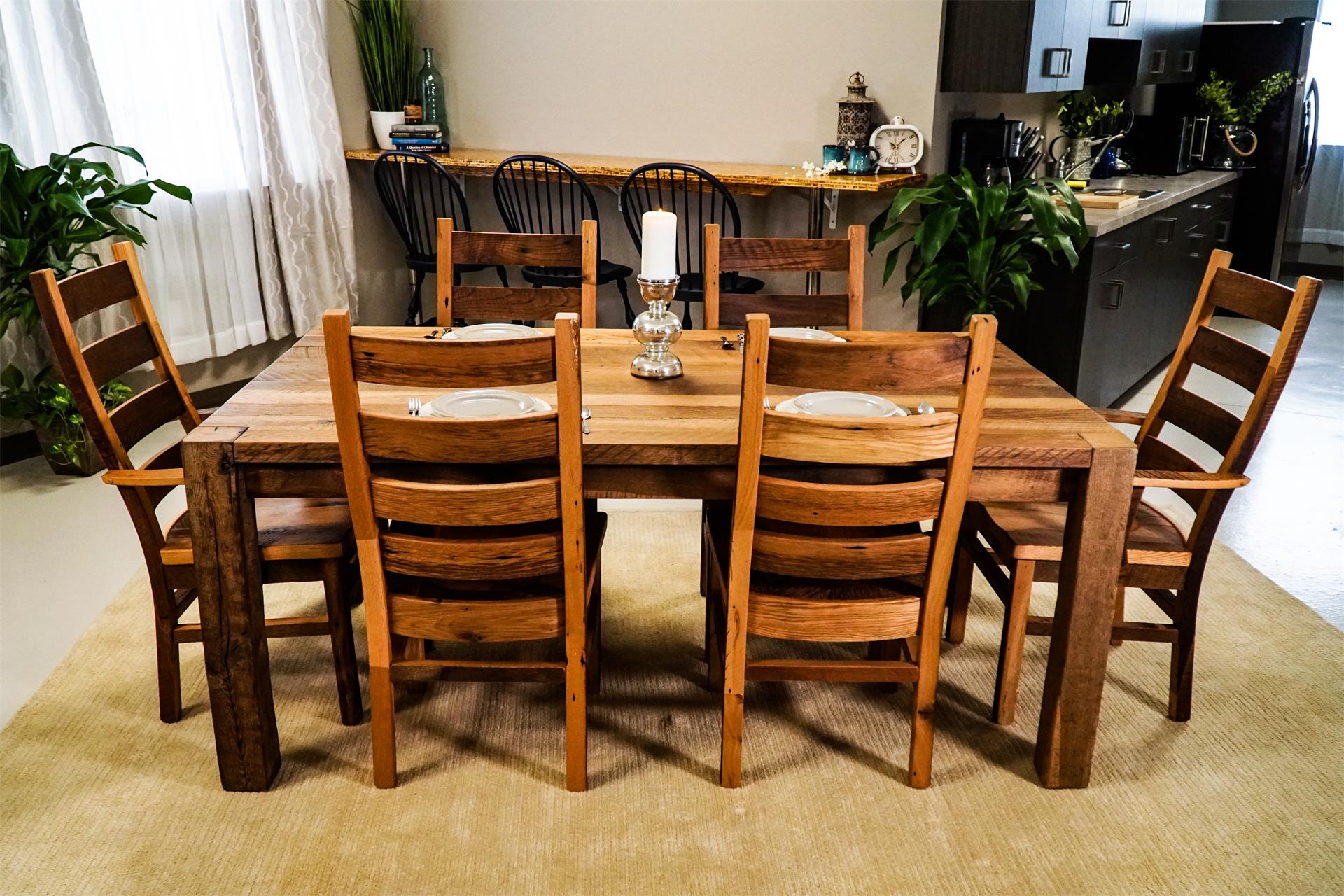 Reclaimed wood embraces individuality. No two pieces are exactly the same, ensuring that your furniture is one-of-a-kind.
Our Sliding Barn Door Wine Cabinet, featured in the video below, exemplifies the new life that reclaimed wood is given. Its unique personality is painstakingly preserved by our expert woodworkers. Wood from barns, usually oak or pine, is repurposed to create an amazing amenity for the modern home.
Typically, reclaimed wood is finished with a clear stain on top. This allows its charming character to be fully observed.
Key benefits that characterize reclaimed wood include:
Authentic character
Eco-friendly
One-of-a-kind design
Amish Rough Sawn Wood Furniture
Rough sawn, rough cut, is a type of distressing that occurs when the wood is being cut. Rough sawn furniture adheres to the original cut of wood as much as possible. The original saw marks are not sanded out of the wood. It is growing in popularity on the heels of the reclaimed trend, and is modeled after it. This man-made option mimics the look of century-old barn wood. It offers a similar feel without many of the imperfections that reclaimed is known and loved for.
Our rough sawn Original Sliding Barn Door is a customer favorite. Pictured below in the DutchCrafters corporate offices, its charming hand saw marks give our space a rustic and warm feel.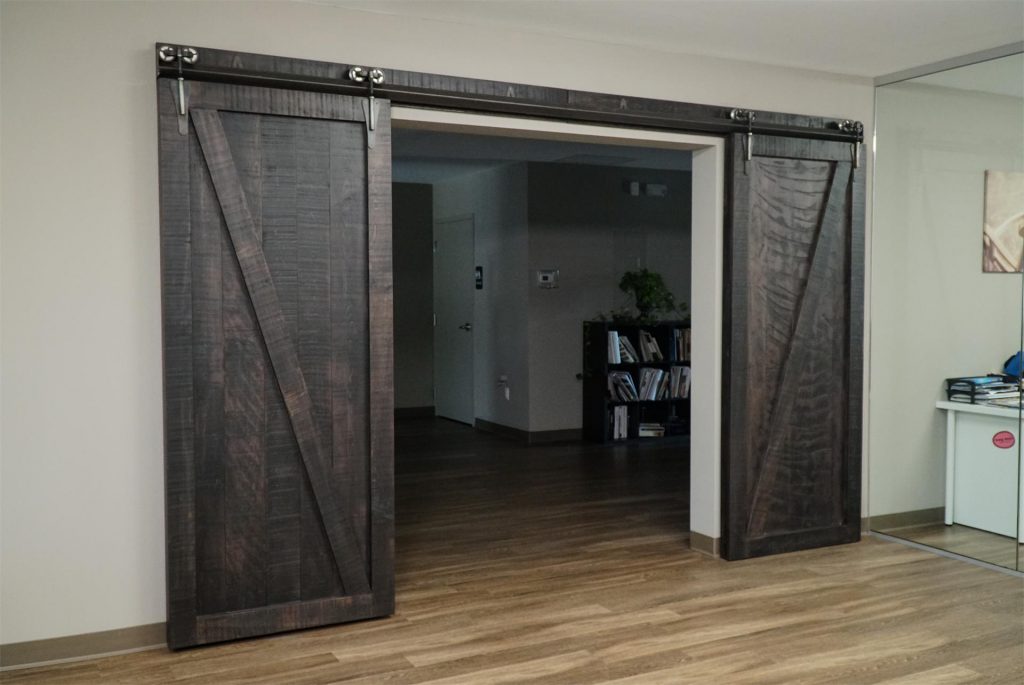 Because rough sawn markings are man-made, there is a greater degree of control in what you order. You will have an idea of what to expect when you purchase a rough sawn piece of furniture. Because reclaimed furniture is created from barns that have been exposed to the elements, each item is different. Rough sawn pieces, on the other hand, can have a more uniform look.
Rough sawn wood does not show as much variations in colors as reclaimed because there is not the natural effect due to exposure. Therefore, rough sawn furniture typically has a stain finish in order to create a unique look.
DutchCrafters customers who order rough sawn furniture often want a rustic look, but don't want the natural "imperfections" found in reclaimed furniture. 
The Ruff Sawn Tahoe Dining Table provides a beautiful backdrop for creating new memories.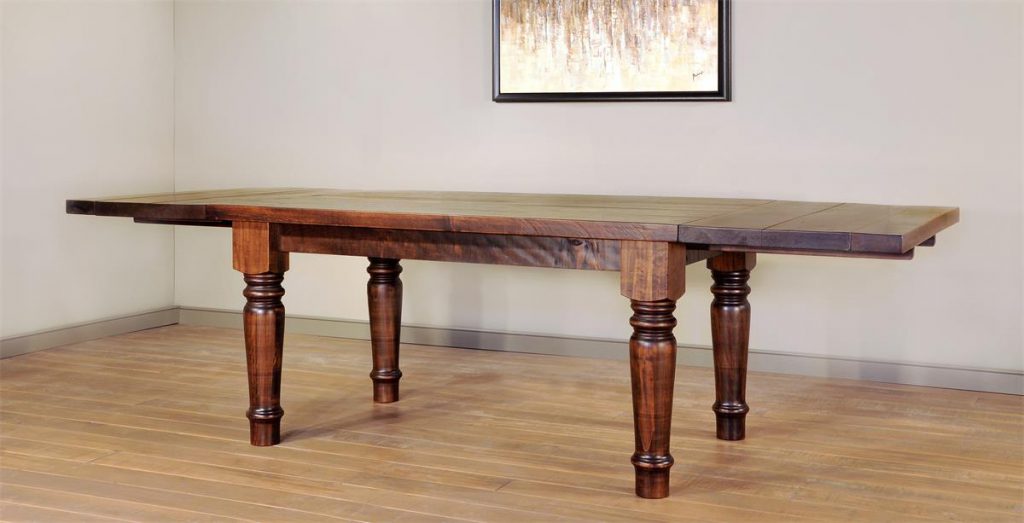 Rough Sawn characteristics include:
Man-made alternative to reclaimed
More control in what you order
Rustic feel without the rustic history
Reclaimed wood tells a rich story about the heartland of America. Rough sawn wood recreates the look that this story tells. Each is made with care by DutchCrafters woodworkers who are dedicated to making Amish furniture built to last a lifetime.