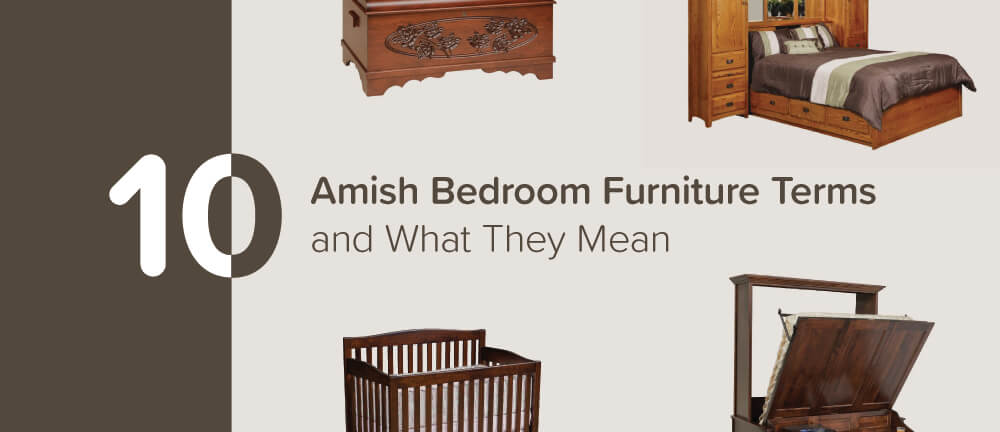 10 Amish Bedroom Furniture Terms and What They Mean
What is a dovetailed bed slat and what makes it better than other bed slats? Why use a full extension drawer slide in your bedroom dresser? What are the benefits of a Murphy bed?
It's time for a look at some Amish Bedroom Furniture Terms, 10 to be exact, and identify what they are, what they mean, what they do and the benefits they provide.
Clue: I'm three beds in one and I start in an infant's room. What am I?
This bedroom furniture starts as a crib. Once little ones are big enough to crawl out and you wake at 5 a.m. to find them standing next to your bed staring at you, you know they're ready for the daybed version. When they move into the tween and teen years, these convertible beds eventually shift to a full bed. And when they're Amish made, these are beds that can go with them into adulthood and beyond.
Clue: You can find bestsellers right by your bed on my shelves. What am I?
A bookcase bed.
More than just a place to sleep, bookcase beds add storage with the addition of shelves. Books, photo albums, decorative items and more can be stored on the shelves that are built into a bookcase bed.
Clue: I offer a bed and mattress more stability and help to prevent bowing. What am I?
A dovetailed bed slat.
On many beds, the support system consists of slats that lay across the bed frame and rest on the bed rails to offer support for the mattress. A dovetailed bed slat takes this component of the bed frame to the next level, fitting securely into metal holders for maximum support. This locks the wood slats in a supportive position and prevents them from moving around. A dovetailed bed slat provides better support for side rails, preventing them from bowing.
Clue: I'm often wider than I am tall, but I'm not a dresser. What am I?
Mule chests are a versatile storage option. They offer a combination of lots of drawers along with cabinets. The origin of the mule chest dates back to colonial times when closets did not exist. These large chests were used to hold blankets, linens and clothing. The development of the name "mule chest" has different theories behind it, with one of them being that it got its name for storing slippers that were referred to as mules during the 17th and 18th centuries.
Clue: I was brought to America during the 18th century. I'm also known as a dowry chest, trousseau chest and a glory box. What am I?
A hope chest.
Solid wood hope chests remain a favorite today. They were originally given to young women to fill with items they would use one day when they got married. While this practice still occurs, cedar wood hope chests are used in bedrooms, hallways and foyers to store seasonal clothing and blankets. Some are built to serve as seats too and make a lovely addition as window seat storage. Hope chests have also become popular to serve as toy boxes in a children's bedroom or playroom.
Clue: I'm a piece that's added to make sure there's enough support for the mattress on larger beds. What am I?
A center leg.
The addition of a center leg keeps the mattress from sagging on larger size beds.
Clue: I have a large chest and a small chest and I combine them to offer storage. What am I?
A highboy dresser.
The highboy dresser, also known as a tallboy, is a tall chest of drawers, often referred to as a chest on chest. The chest of drawers usually sits on elegantly turned legs. The bottom of a highboy dresser is usually wider than the top.
Clue: I make sure you get the most out of your drawers, with no space wasted. What am I?
A full extension drawer slide.
Full extension drawer slides are a delight for bedroom dressers and nightstands. They allow each drawer to extend fully, making it easy to stow and retrieve items.
Full extension drawer slides can be either side mounted or undermounted.
With a side mount the drawer slides attach to each side of the drawer with a ball bearing or roller mechanism. Side-mounted drawer slides can support a lot of weight but will reduce the size of the drawer since the slides are attached on the sides.
Undermount drawer slides are ball bearing slides that are located underneath the drawer. They are fully concealed and hold more weight and offer more support than side mounts. They also allow for more spacious drawers since they are not taking up space on the sides.
Clue: I'm a money saver for the bedroom. I don't need a box spring. What am I?
A platform bed.
Platform beds are lower to the ground, adding stability and saving money since they do not need a box spring. They offer a simple form for the bed frame and provide more options for storage underneath the bed. Platform beds are available in lots of shapes and styles. Since they are lower to the floor, they might be harder to get in and out of for some. While they are available in many styles and shapes, they lean more toward a contemporary look than traditional.
Clue: I create high function in a small space. You can easily conceal me for the duration of the day and let me out at night when I'm needed. What am I?
A murphy bed.
Murphy beds help you create a guest room wherever you need one, even if you're short on space. Since they fold up neatly, you can add them in an office, den, living room or any other place where space allows.
What other Amish bedroom furniture are you curious about?