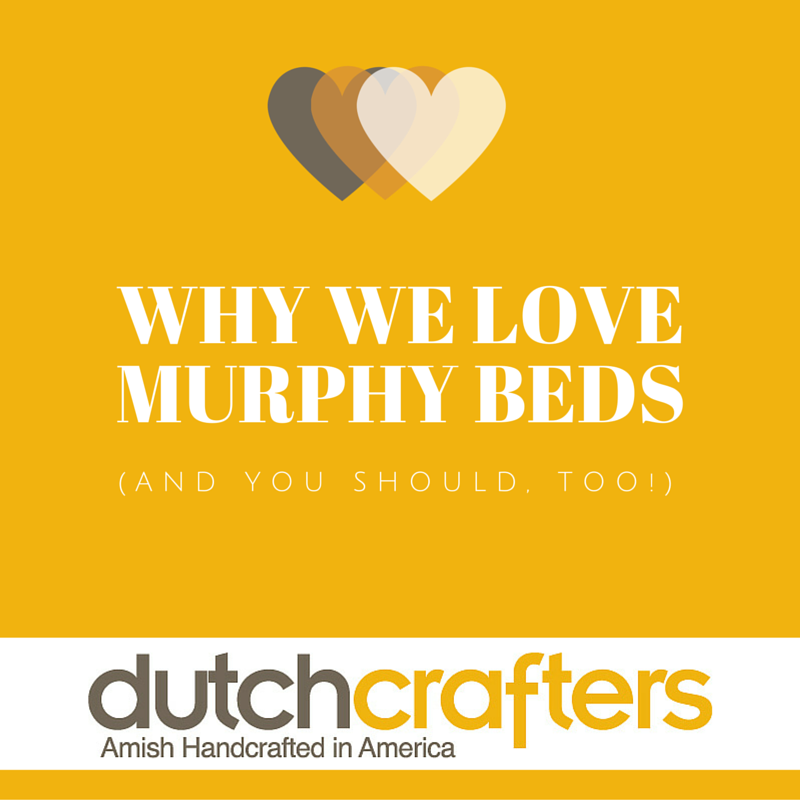 Why We Love Murphy Beds (And You Should, Too!)
This blog post was updated on February 4, 2019 with additional Murphy bed designs.
Older homes are notorious for their compact, often complicated little bedrooms. Don't let layout discourage you from creating a multi-functional room to use for exercise, overnight guests or–with the example below– an amazing work space. Read on, and see how Murphy Beds are a surprising solution to any number of bedroom bummers!
May we introduce . . . the Vertical Murphy Wall Bed and Desk:
Handcrafted and built to last for generations, this solid wood marvel of modernity can take a cramped guest bedroom from solitary sleeping quarters to suite-worthy superstar space. Let us take you through some of the primary, feature-based awesomeness of this bed, and our Murphy Beds in general:
Like all of our Amish beds, this Murphy Desk Bed is handcrafted by our Amish woodworkers right here in America. That's already pretty inspiring.
These same woodworkers will customize their Murphy Beds to fit your space and style–And we don't just mean stain or paint color. We mean wood type, size, even changing the orientation of the bed! See the horizontal wall bed option in this line drawing:
For starters, you get to decide which functionality defines the room that the Murphy Bed is in. Is it most useful as an office, or as a bedroom? Right there, Murphy Beds empower you to make the decision that's right for your home.
How about for a children's room? After all, there's really no need to make the bed :). In all seriousness, stowing away the big ol' bed that kids only use 8 hours a night is a brilliant plan as far as we're concerned. When children are on the young side, the open floor space gives them more room to romp. As they grow old, they (and their teachers!) will appreciate a built-in desk that's ready to take on the tough assignments–with no chance of napping through the hard chapters!
Renting out a room? Murphy Beds offer your tenant flexibility unavailable in other types of studio rooms.
Guests' and other extra rooms are ideal spots for the multi-tasking Murphy Beds. Ever the conversation starter,  the ability to fold it into the wall makes your guest feel less like a tourist in a one-room hotel, and more like a member of the family that can really settle in for the week!
Additional Murphy Bed designs include: