Why Table and Drawer Slides Make a Difference
When you need to add leaves to the dining table, do you always need someone to help you? Does the table open in one smooth motion or is there some tugging involved?
What about your dresser drawers? Ever closed them too quickly and they slammed shut and woke the baby?
These things have a lot to do with the type of table or drawer slide that's in your furniture. They really do make a difference. Let's take a look at the types of slides in Amish tables and drawers.
THE GRAND OPENING FOR TABLE SLIDES
A dining table slide is the mechanism under the table that aides in opening and closing it so that extensions can be added.
There are three main types of table slides. They are wood slides, metal (or geared) slides and ball bearing slides.
WOOD SLIDES: The original table slide.
PROS:
Will never rust
Simple style
Strong
Allow extensions to extend out the farthest
Can support heavy weight
Traditional look
CONS:
May require more effort to slide than other options, usually two people
Somewhat bulky
*Important to note: Table and drawer slides are another reason that humidity control is so important for your fine furniture. While drawers and tables are built to handle some expansion and contraction, managing the humidity is vital to keeping drawers and table openings in good working condition.
METAL (GEARED) SLIDES: Most common type of slide. Operates with two wood rails sliding in opposite directions that are each guided and supported by metal gears and metal rails.
PROS:
Provide smooth motion
Provide plenty of strength
Wood rails offer added support to prevent table from sagging
Gears allow one person to open table from one side
CONS:
Has more parts
A little more complicated than wood slides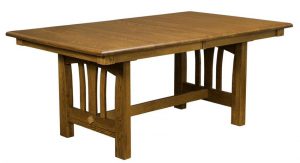 BALL BEARING SLIDES: A premier slide.
PROS:
Offers ultra-smooth motion
Metal slides open with a lot less resistance
Long lasting
Not sensitive to humidity
CONS:
The longer the table, the more support needed
Not as much support on the ends of the table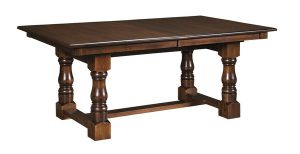 TABLE TYPES AND TABLE SLIDE MATCHES
LEG TABLES:
DutchCrafters solid wood leg tables contain wood slides. A leg table has support on the ends from the legs. The wood slides are made to bow upwards (curve, or lift up in the opposite direction) to adjust for the weight of the table top. This offers additional support in the center when leaves are added. Wood slides used for leg tables will support the table all the way around. The bigger the table gets (as more extensions are added) the more support it will need.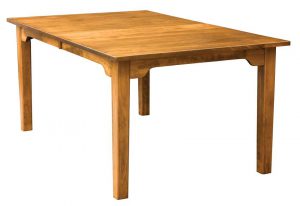 TRESTLE AND PEDESTAL TABLES:
For trestle tables and pedestal tables, the support is from the middle and metal slides can work beautifully and are easier to open. Since trestle and pedestal tables already have support in the center, the gear slides are made to have the table bow upwards at the ends.
Skirt Note:
Table skirts like the skirt shown on the Amish Ethan Leg Table provides added upward support and will help prevent the table from sagging.
DRAWER SLIDE STYLES
Drawer slide types include ¾ extension slides and full extension slides. Consider how much weight you need the drawer to hold when deciding on slides.
¾ EXTENSION SLIDES:  Part of the drawer stays in the cabinet.
FULL EXTENSION SLIDES: A full extension drawer will extend the entire length of the cabinet, offering access to the entire drawer.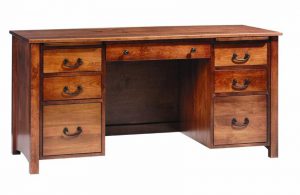 Full extension drawer slides in the Amish Rivertowne Desk Deluxe ensure access to the entire contents of each drawer.
SOFT CLOSE DRAWER SLIDES: Slides use a hydraulic cylinder or other mechanism to engage the drawer as it closes pulling it closed gently and quietly without slamming.
Watch the soft close drawer slide feature in action in this bedroom dresser.
WOODEN DRAWER SLIDES:
Traditional look
Drawer sides and joinery are not full of metal hardware
Will not allow for full extension
In case goods wood slides can wear over time from wood on wood and may become bumpy
*Wooden drawer slides are another solid wood feature that is susceptible to humidity. Humidity must be controlled so expansion and contraction doesn't cause drawers to stick.
METAL DRAWER SLIDES:
Ideal drawer slide for smoothest movement
Ideal for frequent daily use
DRAWER MOUNTS
CENTER MOUNT: These are wood or ball bearing single slides that mount underneath the drawer in the center. Since it's underneath the drawer, it can't be seen when the drawer is open. Center mounts often have a lighter weight rating.
SIDE MOUNT: Come in pairs or sets with a slide attaching to each side of the drawer with either a ball bearing or roller mechanism. Can support more weight than center mounts but can be seen when the drawer is open. The side mount means the drawers will be smaller since the mount is attached on the sides of the drawer. Can handle heavy load capacity.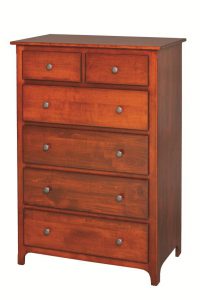 UNDERMOUNT: These are ball bearing slides sold in pairs that mount to the sides. They are fully concealed and can hold more weight and provide more support than side mounts. Undermounts allow for more spacious drawers. Since the mount is located underneath, the drawers can be wider.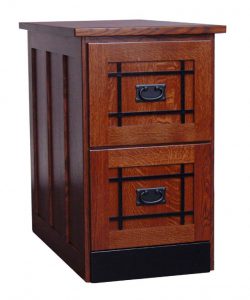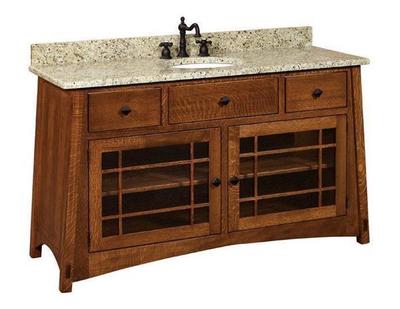 Table and drawer slides contribute greatly to the function of your solid wood furniture, influencing the look, ease of use and support of tables and drawers.