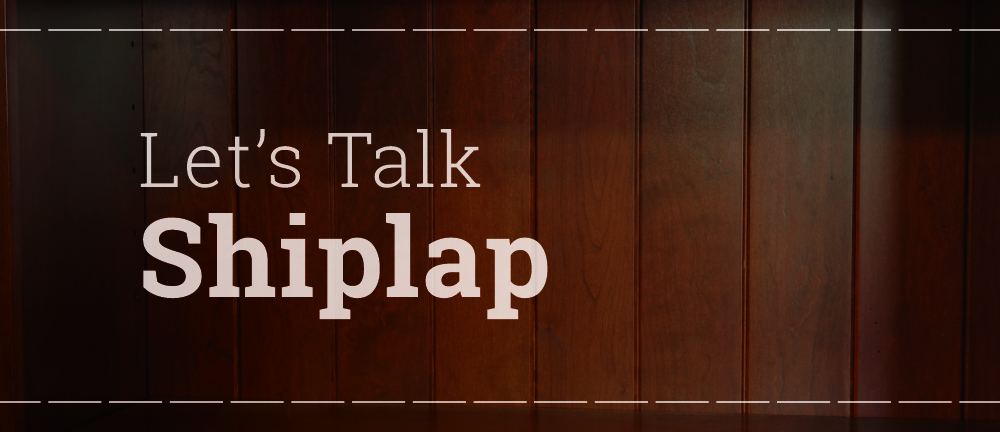 When it comes to whimsical cottage style and rustic warmth, shiplap is a design element that adds a nice touch. This stylish feature adds depth, looks pretty, and is offered as an upgrade on some of our custom hutches and bookcases here at DutchCrafters.
What is Shiplap?
Shiplap gets its name from the planks that were used to make boats at one time. Grooves or recesses called rabbets are cut into the wood along the top and bottom of each board. These allow the pieces to fit together just right, forming a watertight seal. The interlocking boards overlap–hence the name ship-lap–for a smooth fit. Shiplap worked so well keeping water out, that builders started to conform the materials so shiplap could be used as exterior sheathing on homes where it would be helpful in blocking cold winds. The shiplap sheath was put between the frame of the home and its exterior siding. Because of its ability to support and create that tight seal, shiplap siding is great for home or building exteriors that need to endure the outdoor elements. Shiplap siding is often used for exteriors of homes, barns and sheds. Shiplap is not a type of wood.
The Shiplap Effect
The way shiplap boards overlap creates a little gap between them, and while they are often arranged horizontally for exterior siding or interior walls, long wood planks can be arranged vertically for wood furniture. Shiplap used in solid wood furniture is mainly decorative. It adds a bit of sophistication and gives the back of a hutch or bookcase a pretty look.
The overlapping style of shiplap arranged vertically creates a rustic look and feel. It's charming, warm and welcoming—a timeless look if you will. Shiplap is loved for the popular farmhouse style that's relaxed and cozy as well as cottage, bungalow and rustic décor.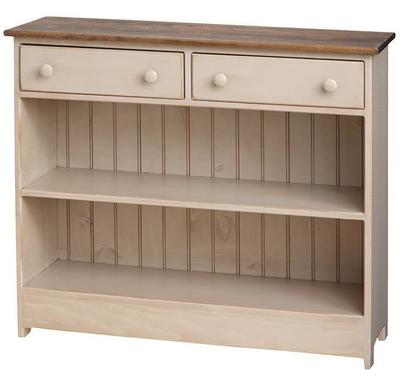 When shiplap is used for walls it can make the room feel larger. Installed vertically, it extends the vertical line and draws attention to the height of the room.
Wood Furniture with Shiplap
Pine is pretty for shiplap as pine naturally lends itself to country style or rustic style furniture. You can find shiplap or tongue and groove in hutches, bookcases, some armoires and even in our DutchCrafters Exclusive Murphy Bed.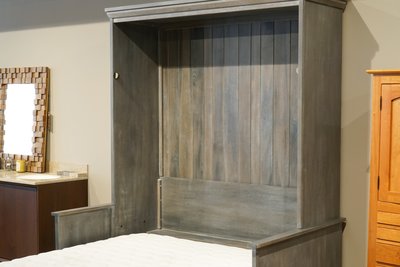 What is tongue and groove? How Does it Differ from Shiplap?
Tongue and groove boards used in furniture look very similar to and give the same rustic look as shiplap, but tongue and groove is different from shiplap in the way the boards fit together.
Tongue and groove boards include a piece with a tongue shape or extension that fits in a groove or slot and locks them together. One side of the board has a tongue and one side has a groove. Tongue and grove joints are used a lot for panel walls, flooring, doors and table tops. Tongue and groove joints used in wood furniture require extra work for the woodworker. They are a sign of quality craftsmanship. Shiplap boards have those rabbet joints we mentioned earlier that create a recess in the board. This allows them to overlap and lock together smoothly. The main difference is shiplap boards rest on top of each other in an overlapping pattern. Tongue and groove boards join together and interlock.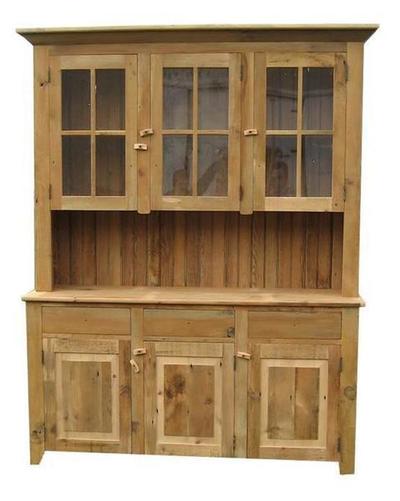 Why Should Customers Choose a Shiplap or Tongue and Groove Option? What are the Benefits?
Shiplap or tongue and groove in DutchCrafters wood furniture is made with the same wood the piece of furniture is made with or same species plywood. Here are the benefits:
Decorative feature offering a refined look that enhances farmhouse, rustic or cottage style furniture
The joining of both shiplap and tongue and groove boards helps accommodate some of the expanding and shrinking wood does in response to temperature changes
What about Beadboard?
Beadboard is a close friend of the shiplap and tongue and groove family. It's a decorative style of paneling with a row of planks arranged vertically with evenly spaced grooves. In between each wood plank is a little ridge or indentation called a bead. Much like shiplap and tongue and groove, beadboard fits farmhouse, rustic or cottage décors beautifully.

Another Place You Can Find Tongue and Groove
Tongue and groove joints are used in lots of our rustic style dining tables where there are breadboard ends. Breadboard ends are both decorative and functional. They add to the design of the table and also help support the large center table panels.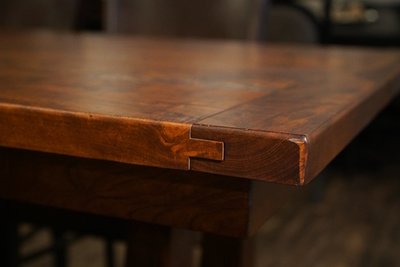 Is Shiplap Furniture for You?
If you like the look of rustic elegance, shiplap could be in your furniture's future. What started as a good way to seal out water and weather has found its way inside the design of wood furniture. F