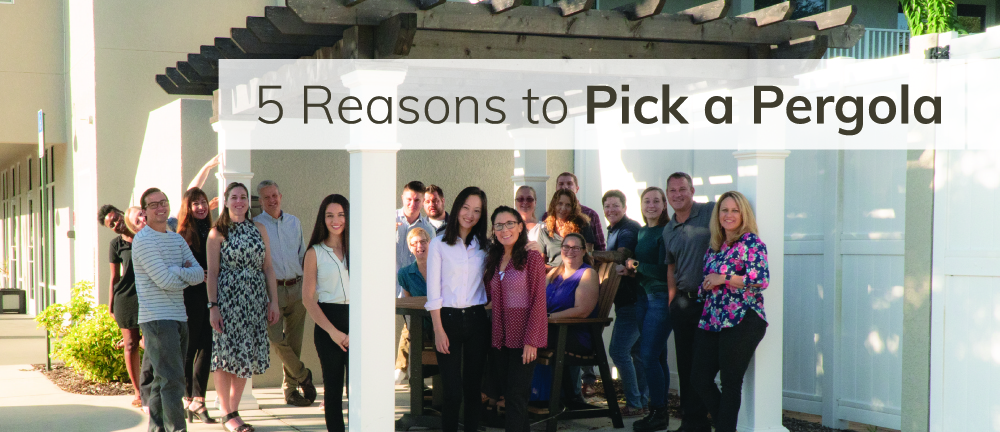 5 Reasons to Pick a Pergola
Love relaxing outside? Entertaining outside? Being outside with your plants?
A pergola might be just the thing for you. While the word pergola might sound like the name of a shape from a geometry lesson, it is actually from the Late Latin "pergula" that means "projecting eave."
What is a Pergola?
A pergola is an outdoor structure that consists of four sturdy columns that support a roofing grid of beams and rafters that create an attractive lattice top. The roof is open and while it provides a degree of shade, it lets the light in and will not completely block sunlight. Its open design keeps air circulating. A pergola helps to define an outdoor space and creates an area you can use to enjoy the outdoors even more.
Pergolas are spacious and open up lots of opportunities for hosting events outside, or they can be used as a private area to retreat to.
Outdoor Pergola Designs
Pergola designs can be fancy or simple, and they can be made with different materials including pressure-treated wood varieties like cedar, pine and teak. Other varieties include aluminum or vinyl with wood encased in vinyl.
Pergolas come in a wide range of sizes to cover areas large and small, and they can be freestanding or attached to a building or house.
Wood pergolas are strong and beautiful. The wood will require more maintenance than aluminum or vinyl.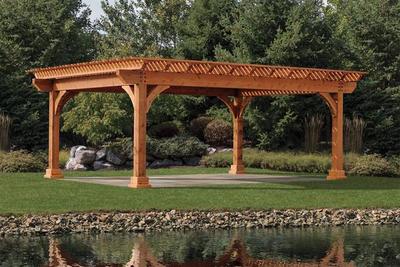 Your outdoor pergola can go anywhere. Popular spots include over a dining area, by a pool or on a pool deck, near an outdoor fireplace, or over a hot tub. They can also be placed over a pathway to the yard or garden to create a grand entrance.
Pergolas are available in kit form and you can either build them yourself or enlist the help of a professional contractor to put one up for you.
5 Reasons to Pick a Pergola
THEY DEFINE AN OUTDOOR SPACE
A pergola makes it easy to add a dining or lounge area to your porch, patio or pool area and can add the structured space you're looking for. Whether you have a large outdoor space and want to section off an outdoor eating area in it, or you want to create a sitting area at the center of things, a pergola can help. Pergolas are used for grand entryways as well as creating "outdoor rooms." Those who love to garden can enjoy a pergola that makes a space for all their potted plants and gardening tools.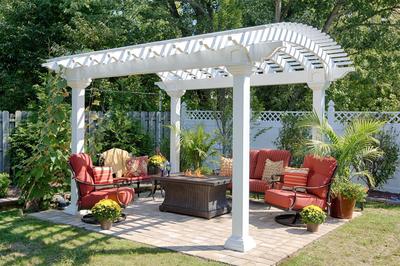 While a pergola contributes to defining your outdoor space, it does so with an open look instead of creating a confined area.
When adding a pergola for privacy, you can select curtains or canopies to close off some of the openness of the top and sides.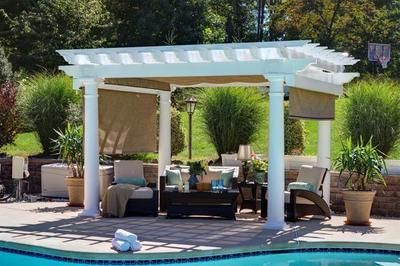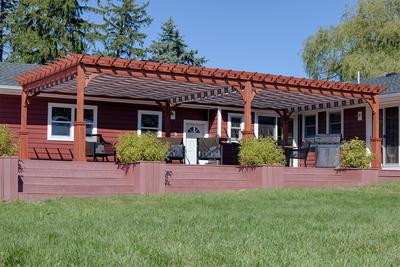 2. THEY'RE ATTRACTIVE
The combination of stain or paint color combined with attractive posts and beautiful latticework make the pergola more eye-catching than standard outdoor décor. Whether you're creating a gathering area or highlighting your garden, the pergola adds color and elegance with its unique architectural design.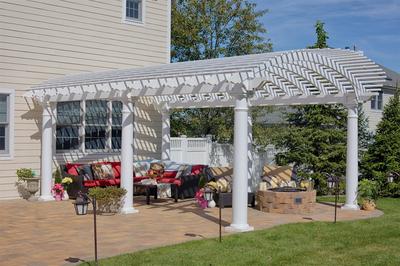 3. THEY'RE A GREAT WAY TO ADD SOME SHADE
While it's important to remember that a pergola won't bring complete shade cover, it's an added bonus that it provides enough shade to slice through direct sunlight over an outdoor area. While pergolas are open and won't provide complete shade, they can add a decent amount. The addition of side curtains and top canopies helps even more.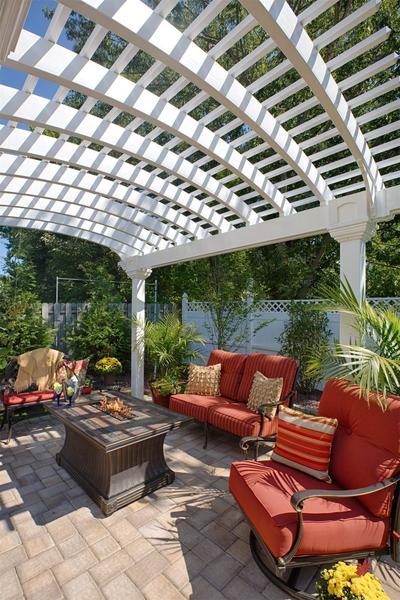 4. THEY'RE IDEAL FOR THE GARDEN ENTHUSIAST
When you take great pride in your garden, a pergola can add to it in many ways. It can be used to create an outdoor room for gardening supplies, as a sitting area where friends and family can go to enjoy your gardens, and its design is ideal for allowing hanging plants and climbing vines of all types to grow.
5. THEY'RE DURABLE
Pergolas are available in different materials to best fit your budget. Cedar is more costly than pine. Both offer the durability to handle the elements outdoors. Some are made with wood and vinyl combinations. Vinyl won't chip, rot, fade or discolor and it's lower maintenance than wood.
A Pergola is not an Arbor
Both arbors and pergolas make lovely additions outdoors. They are often mistaken for each other.
How do they differ?
Arbors are simpler and smaller than pergolas. They often have curved arches at the top and they do not have columns like pergolas. Arbors are often used as an entryway to pass through or to accentuate a pathway. Pergolas are much larger, they have columns and very often, flat tops. A pergola is an open structure that's more like an open room.
Some Pergola Features from DutchCrafters
Several selections available in cedar wood stained in the color you choose.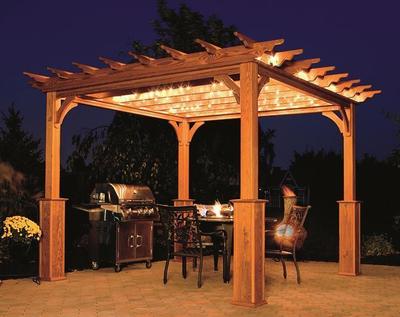 Some of our pergolas feature wood posts encased in vinyl.
DutchCrafters pergolas ship as compact, easy to assemble kits.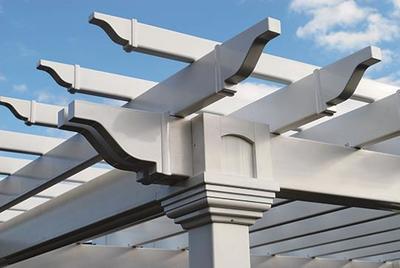 What ideas do you have for an outdoor pergola? Here are some photos of our team under our pergola located outside the DutchCrafters Furniture Store in Sarasota, Florida.