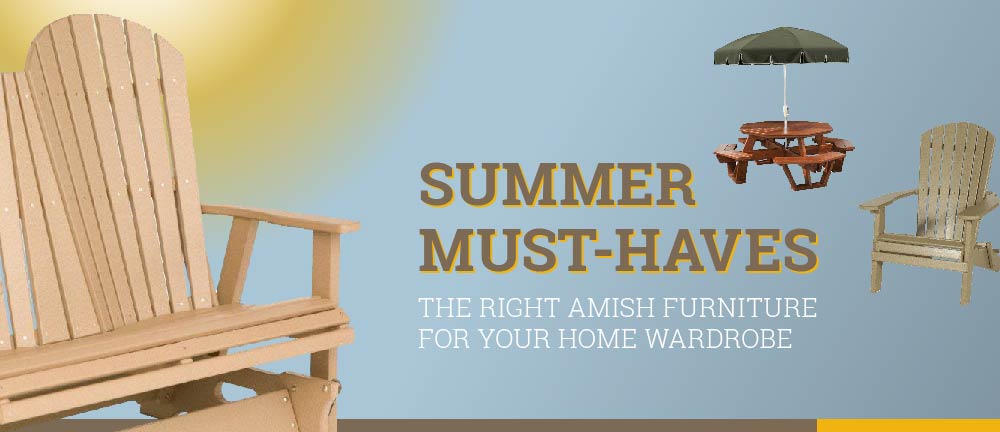 Summer Must-Haves for Outdoor Spaces
This blog post was updated on July 2, 2019.
It's time to unpack your summer wardrobe. Essentials like a white V-neck tee, denim shorts, casual sneakers, and a stylish bathing suit are staples.
But why does your summer wardrobe get to have all the fun? What about your outdoor furniture collection? Here are the must-haves summer pieces that bring style to outdoor spaces.
Amish Folding Poly Adirondack Chair
This eco-friendly beauty comes from our Leisure Lawns Collection and proudly wears an American made label. Meant to be enjoyed on a casual day, this poly Adirondack chair folds, making it easy to transport and save space. Made of recycled plastics it looks good poolside, ocean side, or countryside. Pick it out in your favorite summer shade, including patriot blue, ivory, and turquoise.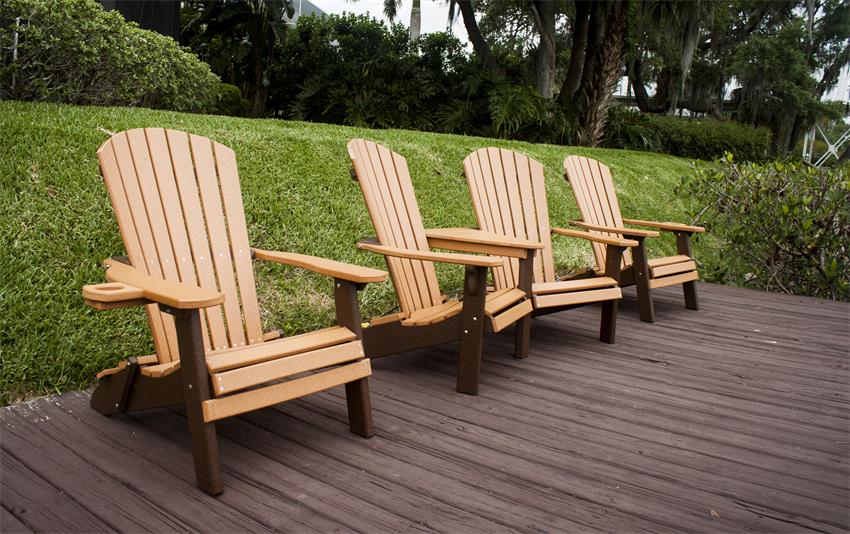 Amish Cedar Wood Traditional English Swing Bed
Enjoy evening summer breezes and morning sunrises in the comfort of this traditional English swing bed. An absolute must for the porch, patio, garden, or pool area, it can be dressed up with accessories like accent pillows and cedar cup holders.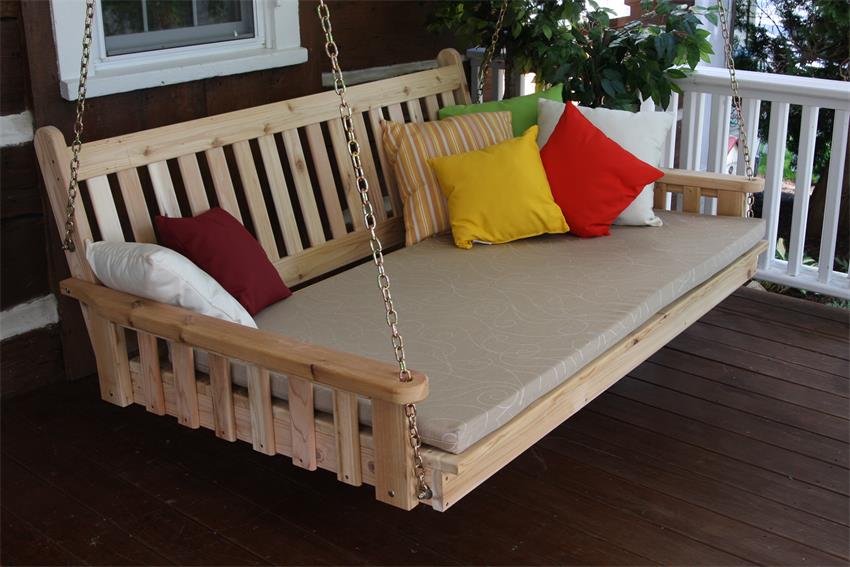 Berlin Gardens Island Poly Bar Set
Made from eco-friendly poly lumber, this outdoor bar set is sure to become a summer furniture collection staple. It will become a go-to for refreshing drinks during warm afternoons. The Island Poly Bar Set features backless bar stools with confidence. This ensemble requires very little maintenance while maintaining a bright, new look in the colors of your choice.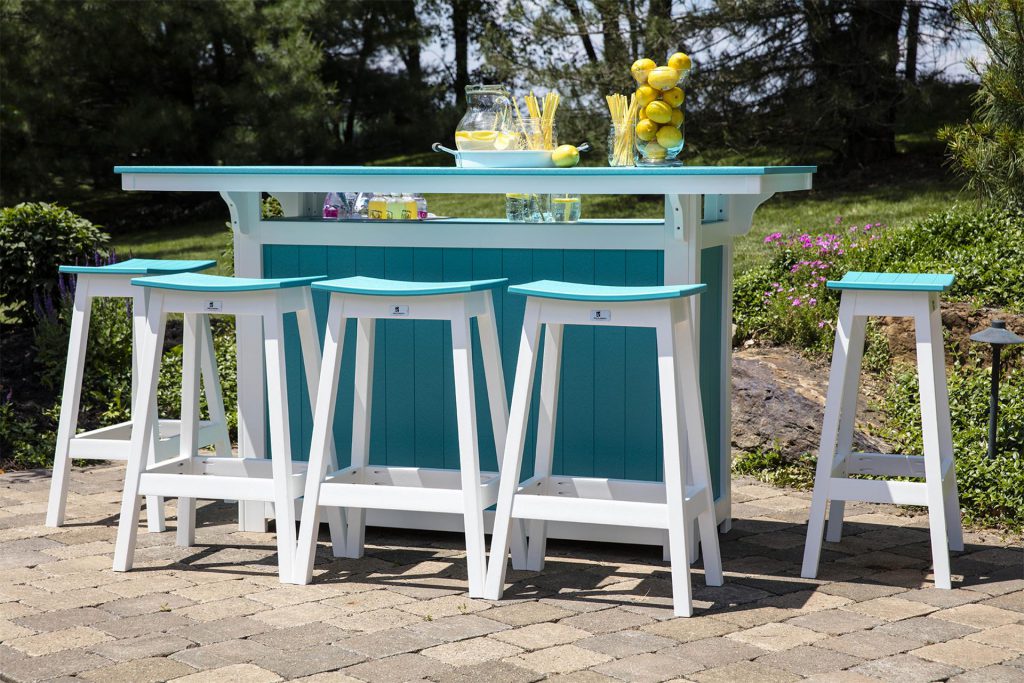 Amish Pine Wood 43" Square Table with 4 Backed Benches
Clear the runway for pretty outdoor pine to make an appearance. This table with benches is essential for outdoor dining, game playing, and crafting. Comfy benches are backed with solid tops that offer support. Select it in the stain of your choice. Consider accessorizing it with a solid wood Lazy Susan with Napkin Holder, perfect for entertaining during summer parties.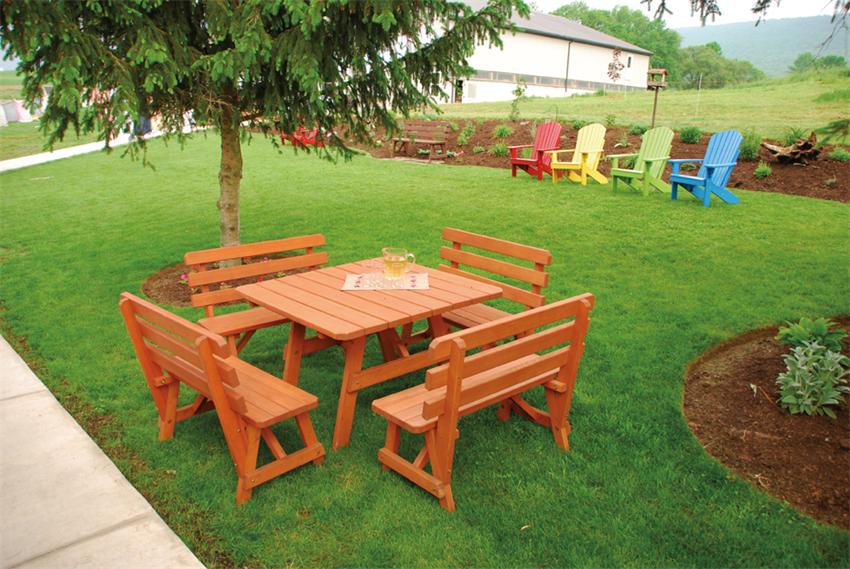 Berlin Gardens Comfo-Back Double Glider
A classic outdoor seat that's sure to suit everyone, this poly double glider is the perfect summer piece. Start the day with coffee and end it with a few scoops of ice cream while swaying in this carefree piece. Made in America by skilled Amish craftsman from recycled milk and detergent bottles, customize it in the color or colors of your choice.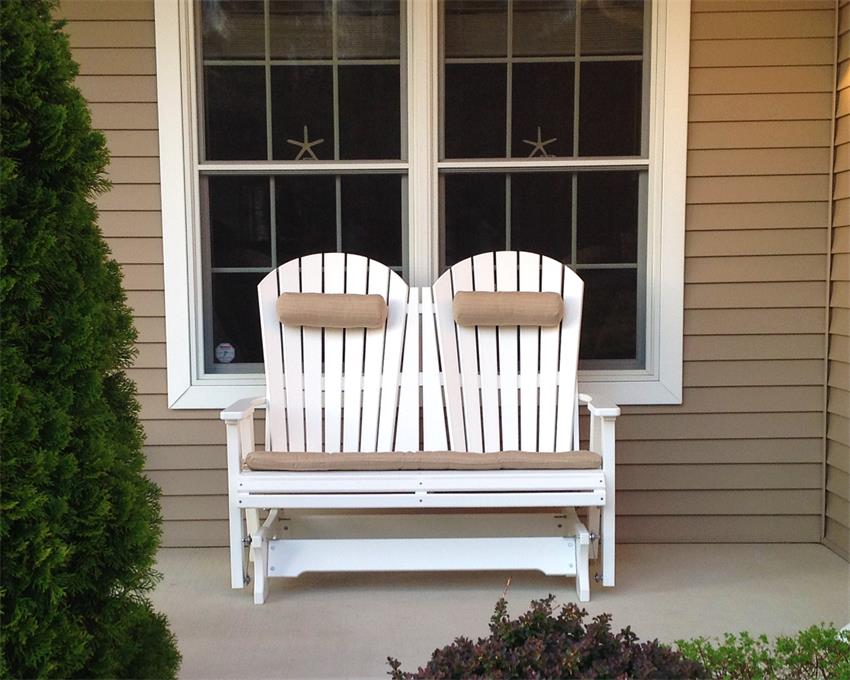 Berlin Gardens Comfo-Back Double Glider
POLYWOOD Chippendale 7-Piece Dining Set
This elegant dining set is essential for outdoor entertaining during the summer months. Rich with the combination of durability and eco-friendly style that only POLYWOOD® can bring, this set takes recycled plastic and turns it into a winning look.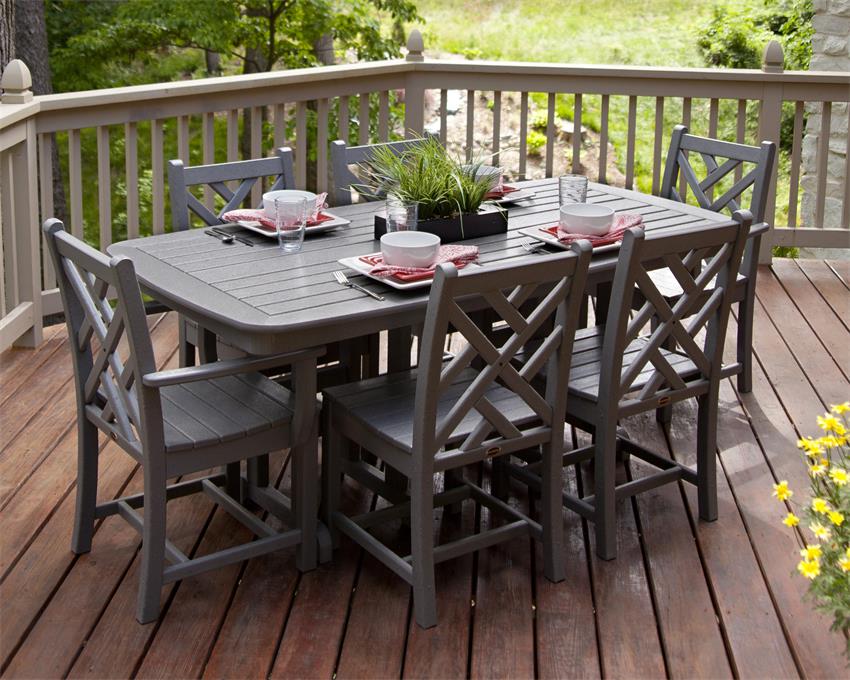 Amish Cedar Wood Octagon Picnic Table
For those who prefer a solid wood dining table, we offer this summer essential made of cedar. This contemporary picnic table features the clean scent of cedar that just happens to repel a variety of pesky insects, and a contemporary design that is the perfect fit for outdoor family fun.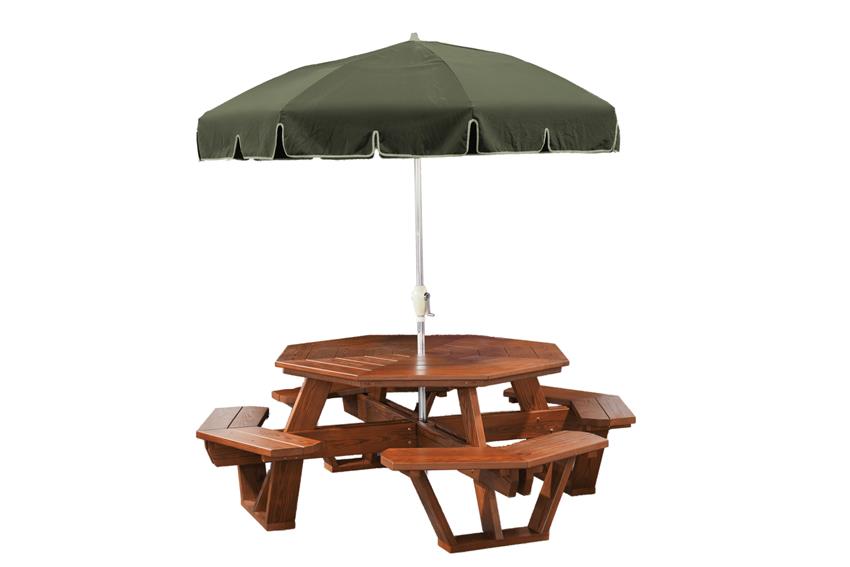 Amish 40" Child's Poly Picnic Table
No outdoor collection would be complete without a colorful picnic table for the kids. Perfect for outdoor activities, snack time, and dinners, customize this poly table in a variety of colors.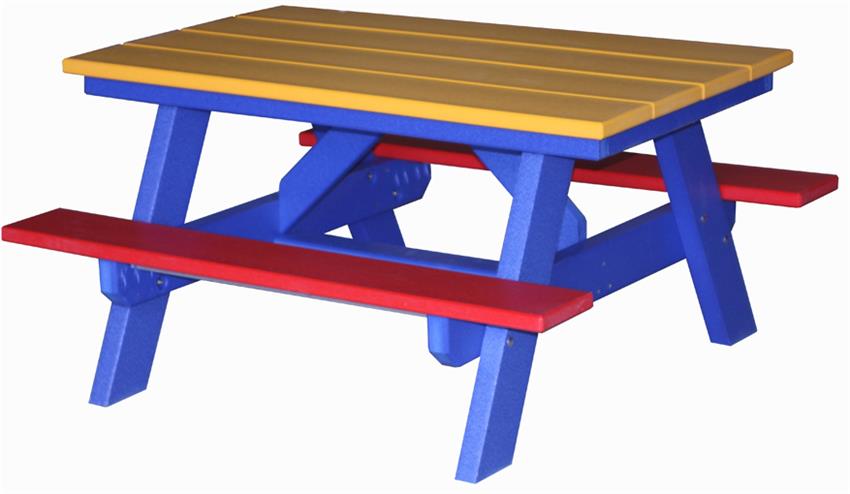 Traditional Pine Pergola Kit
Here's an outdoor furniture staple that goes with everything. The Traditional Pine Pergola will dress up an outdoor space in style. Framing your pool area, showcasing your outdoor furniture, dressing up your garden, or adding pep to your patio, this versatile piece outfits the outdoors with grace while adding to the value of your home.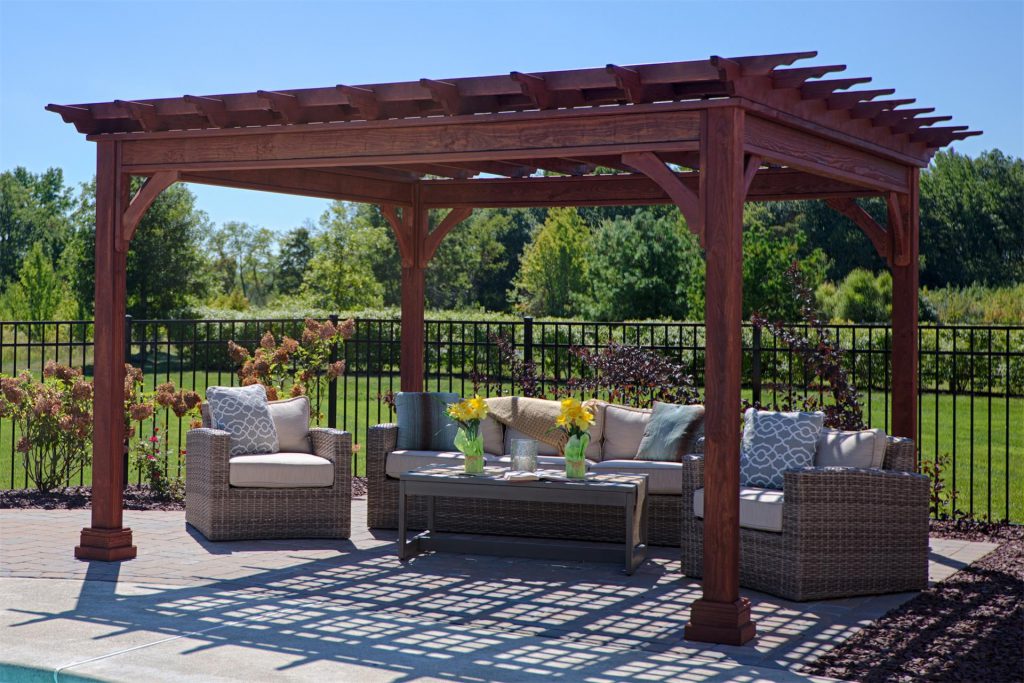 What Amish furniture will you add to your summer outdoor furniture collection this year? Dress up your outdoor space with customizable options that can take on a lifetime of wear.