Things To Do in Indiana Amish Country
Planning a trip to Indiana Amish country? Here are some attractions you don't want to miss.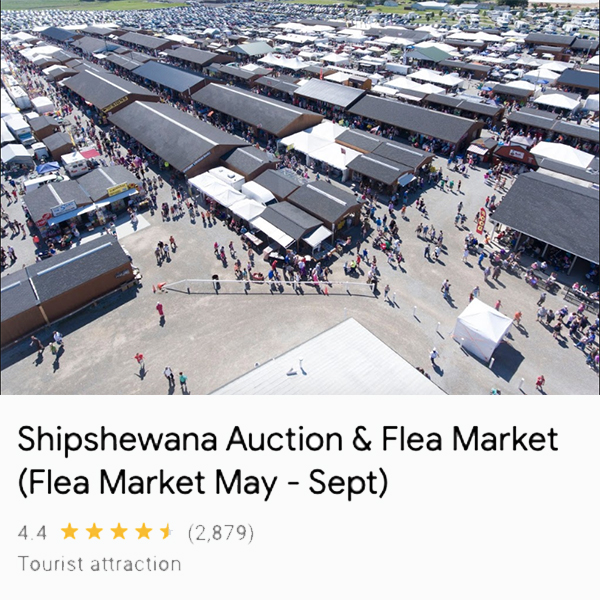 If you love to shop for a bargain outside in the fresh air, you'll want to visit the Shipshewana Auction and Flea Market. Bustling with activity, you'll find 26 aisles full of vendors at this large outdoor market. The food court features a tantalizing variety of places to eat and includes plenty of Amish-made food and fresh pies.
This attraction is known as the 'Midwest's Largest Flea Market' and draws visitors from all over the country. You never know what treasures you'll find at this market. It's pet-friendly too, as long as you bring material to clean up after your furry friend.
For those that love to shop for antiques, there's the Antique & Miscellaneous Auction that features 10 auctioneers energetically selling fun finds every Wednesday throughout the year.
Be sure to double-check hours of operation for this outdoor market as it is seasonal and runs May through September.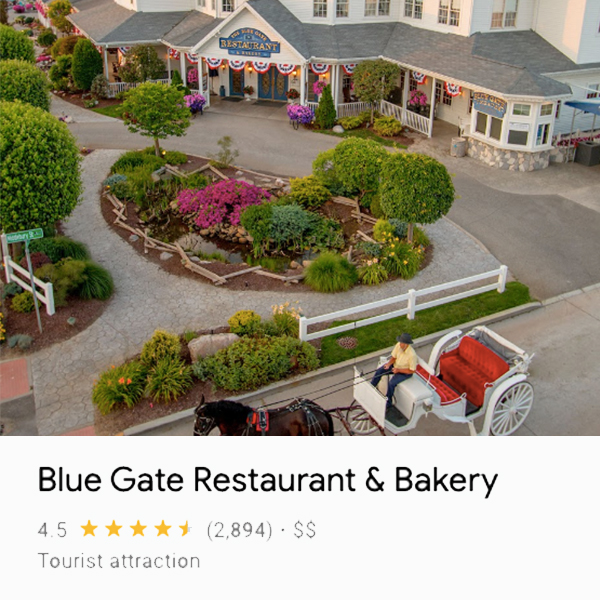 Also located in Shipshewana, the Blue Gate Restaurant and Theatre offers fun entertainment, fine eating, and handcrafted Amish items for sale.
The Blue Gate Restaurant features fresh, homestyle Amish/Mennonite cooking with a mouth-watering menu to choose from. Tucked inside is the irresistible Blue Gate Bakery, too — full of tantalizing sweets and fresh breads.
Finish dining and enjoy a stroll around the Blue Gate property that includes a wrap around porch and lovely outdoor décor that reflects the current season. Stop by one of Blue Gate's gift shops to pick up some gifts for loved ones, and plan an evening out at the Blue Gate Theatre that features musicals and concerts throughout the year.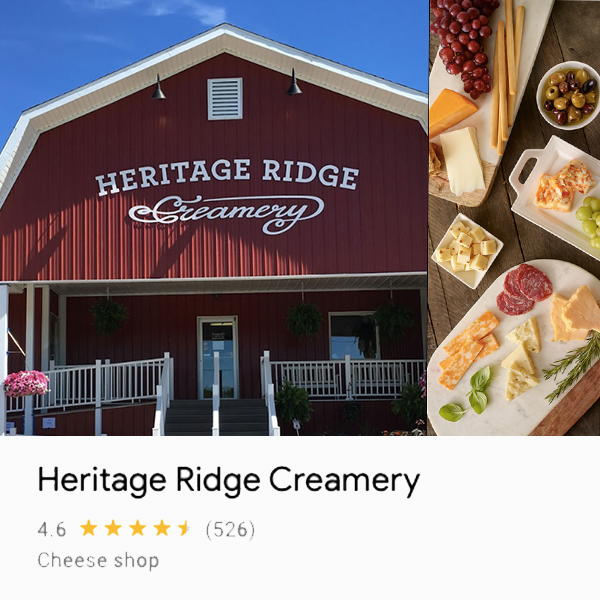 Cheese lovers are going to want to make Heritage Ridge Creamery a stop on their route through Indiana Amish country.
The creamery is home to a vast collection of creamy, fresh, delicious cheeses made with high quality milk from local Northern Indiana dairy farms. Tempt your palate with Colby-Jack, pepper jack, cheddar, garden vegetable, and siracha cheeses, among others.
Heritage Ridge Creamery was started in 1979 by a local Amish man who was trying to create a market for local Amish dairy farms still using milk cans. Initially, the creamery made longhorn style and barreled cheeses, then later focused on longhorn and stirred cured cheeses.
View the cheese making process when you visit the creamery, sample some of the delicious cheeses made there, and visit their store to treat yourself and fellow cheese lovers to cheese from their shop.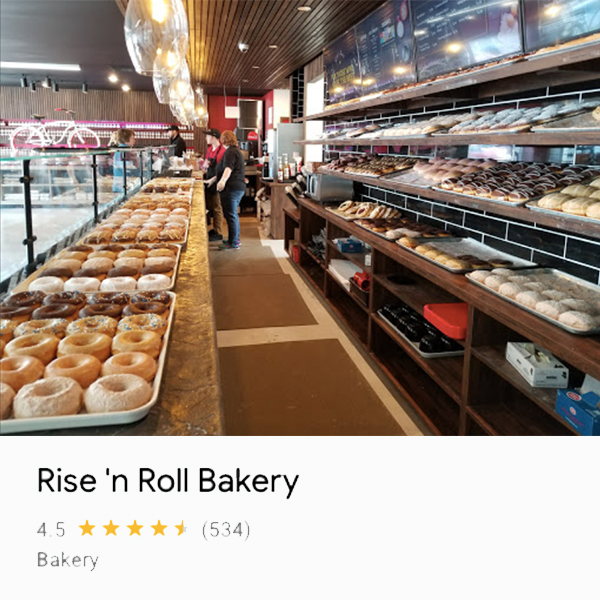 Satisfy your sweet tooth and stimulate your sense of smell with a visit to Indiana Amish Country's Rise 'N Roll Bakery & Deli. The delicious items you find at this Amish bakery are made with family recipes that have been practiced and perfected for generations.
There's plenty of fresh Amish made donuts, candy, cheese, jarred goods and delicious deli items to be found. They also offer a selection of gluten free products.
Rise 'n Roll is known for their cinnamon caramel donuts—yeast raised donuts covered in homemade caramel icing and sprinkled with cinnamon. Their high-quality baked goods are scrumptious beyond measure!
There's also a deli located in the store that you can visit for a hearty breakfast or lunch for eat-in or takeout.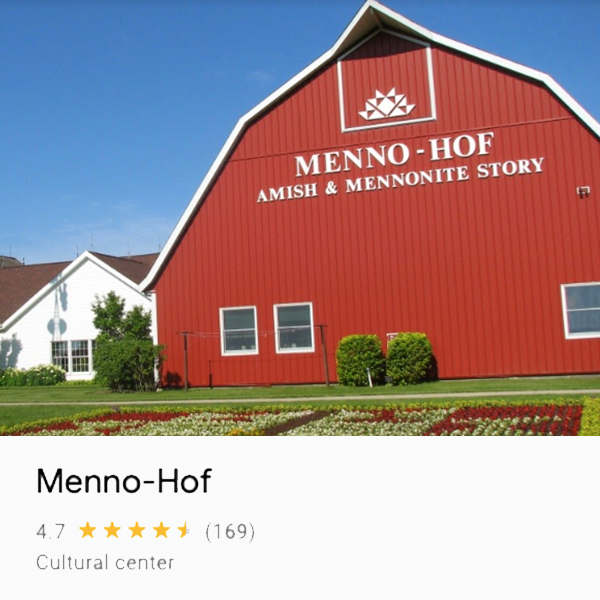 If you're curious about the Amish and Mennonite way of life, the Menno-Hof is a spot to put on your tour of Indiana Amish country.
The non-profit information center located in Shipshewana offers unique displays and presentations that allow visitors to learn stories of God's work in the Amish, Hutterite, and Mennonite communities, and more.
Find out answers to the questions you have about Anabaptist life and faith, then be sure to visit the Menno-Hof's gift shop for a variety of handmade Amish crafts and books.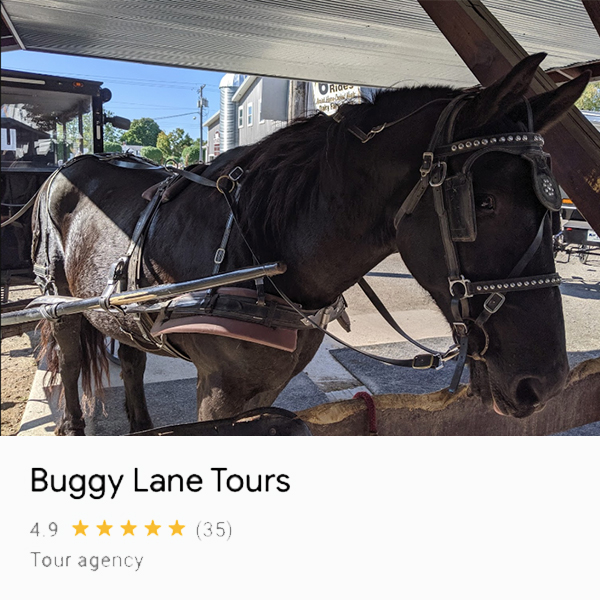 Have some fun with a close up look at Amish country when you book a guided tour. Some Amish country tour activities include visiting Amish farms, shops, and homes.
Located in Shipshewana, Buggy Lane Tours has been providing wonderful horse-led tours to visitors for over 30 years. Tours range from a fun 7-minute ride to 4-hour tours complete with dinner with an Amish family.
Other Amish tour guides include Cathy's Countryside Tours, Blue Gate Tours, and Miller's Buggy Line Tours.
A buggy tour through Amish country is an experience you won't forget.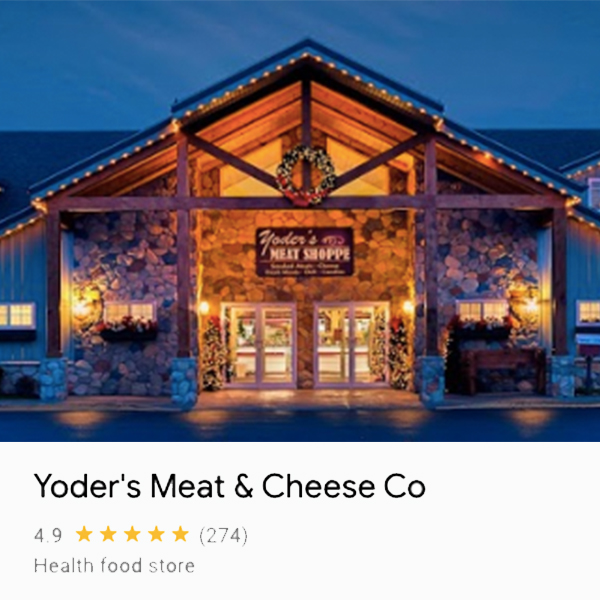 For farm fresh products, Yoder's Meat & Cheese is the place to visit. From the farm to your table, Yoder's is stocked with goodness, with over 150 cuts of meat and over 100 varieties of cheese to pick from. There are four generations of experience behind Yoder's products and they put their stamp of quality on every product.
Sample meats and cheeses to your heart's content then shop for your favorites. In addition to their fresh meats and cheeses, there are jams, salsas, candies, and much more. You're sure to find plenty of delectable treats for yourself and lots of gifts for family and friends.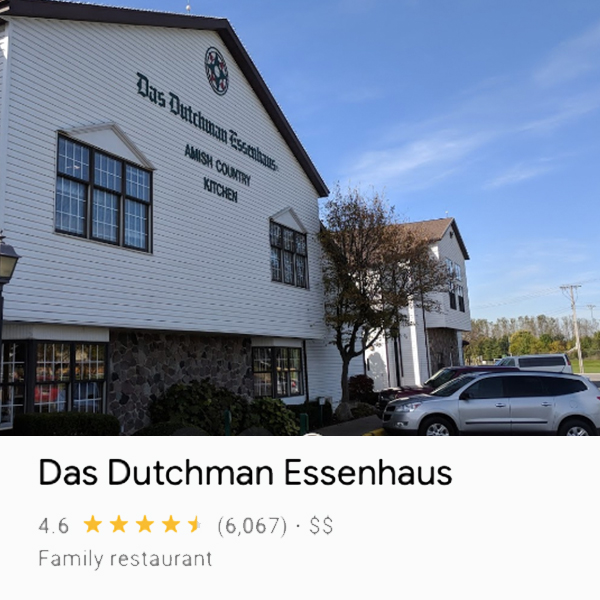 Das Dutchman Essenhaus is Indiana's largest restaurant. Since 1971, Das Dutchman Essenhaus has been serving up delicious Amish and Mennonite cooking. It's located just a short drive from Shipshewana in Middlebury, Indiana. After enjoying a fine home cooked meal, you won't want to miss walking through the bakery where a selection of breads, rolls, cookies and 30 varieties of pie are waiting for you!
Located close to the restaurant is a collection of village shops with unique gifts, as well as Heritage Hall Theater and fun activities like mini golf, carriage rides, and bike rentals.
From Memorial Day through Mid-September Essenhaus is a host-site for the Annual Quilt Gardens Along the Heritage Trail Tour. View quilt-inspired gardens, featuring more than one million blooms, and murals.
—
There's plenty to see, taste, and do in Indiana Amish country. Come explore and don't forget to visit our LaGrange Amish Outlet Store and Warehouse.