Amish Furniture Stains & Finishes

Everything You Need to Know About Amish Furniture Finishes
There are two goals to finishing solid wood: to enhance the beauty of the natural wood grain and to protect it from damage and discoloration throughout its life. So how is that done? And what options do you have when it comes to your furniture's finishing? Here is everything you need to know about finishing Amish solid wood furniture.
What Do You Want to Know About Finishing Hardwood Furniture?
The Basics of Wood Finishing
When you order from DutchCrafters, your furniture is custom built to your specifications—usually at a small, Amish-owned woodworking shop. Then, it is often moved to a local finish shop to be finished with a beautiful PCL stain and a top-coat of Catalyzed Conversion Varnish before delivery. This process affords you the option to select your stain color, the sheen of varnish, and much more. The majority of our indoor furniture is finished with stains from the Preferred Color List (PCL) collection of stains. However, you can expect reclaimed barnwood, pine wood furniture, and outdoor furniture to have different finish options that better suit those materials and uses.
How to Select a Stain Color
Selecting a stain is one of the most important decisions you can make regarding the appearance of your furniture—probably even more critical than the wood type. Why? Because there are so many colors to choose from! From the whitewashed Mineral stain to the popular Michael's Cherry to a dark Onyx, your stain selection can transform a piece of wood furniture. That makes it one of the most fun parts of the ordering process!
Stain Color Comparison
How do you compare stain colors? Well, start right here with our infographics comparing PCL stain colors. We graphed our stain options by darkness and by color tone.
First, choose your favorite wood type.
Then, view the infographics below to see stain options in that wood. We've posted infographics for our five most popular wood types: oak, brown maple, quarter sawn white oak, hard maple, and cherry.
Finally, order samples and compare them in your home. These graphics will help you identify groups of stain colors based on their color tone and darkness. Pick four stains that you'd like to see in person, then place your order for stain samples!
Stain Color Infographics
3 Popular Amish Furniture Stain Colors
Michael's Cherry

Michael's Cherry is probably the most popular stain color on Amish furniture. This medium-toned stain is available for every wood type. It illuminates wood's rich gold and red tones and darkens grain texture to increase contrast. Michael's Cherry looks great on oak, brown maple, cherry, or just about any wood type you select. All of our finish shops can stain products in Michael's Cherry.

Asbury

What is Asbury stain? Asbury is a medium brown color tone. At DutchCrafters we offer two Asbury stains. Light Asbury is light brown with a touch of golden tones, similar to Vintage Antique and Michael's Cherry; Asbury Brown is a darker brown tone, similar to Tavern and Earthtone.

Onyx

Onyx is one of the darkest stains we offer, a deep brown that may appear black in some lighting situations. This shade is great for both traditional and modern style homes. As part of a two-tone finish or all alone, Onyx provides a striking contrast with it's deep color and just a hint of the natural woodgrain.
These represent just a few of the most popular stain colors for Amish solid wood furniture. You can find these colors on nearly all of our wood types for hardwood indoor furniture, along with many more options ranging from natural to dark gray. See more in our infographics above.
How to Order Stain Samples
Place a stain sample order by phone at 941-867-2233, on our website, or by placing an order for furniture and, under "Finish," selecting "Order stain samples."
Once you've selected your wood type and four finishes you'd like to see, we'll ship out your samples. Included in your sample kit are four samples and a return bag with a pre-paid return shipping label.
View your samples on location in the furniture's future home, in a variety of lighting conditions. Compare it to the wall color and the floor color in particular, as well as any other wood tones in the room.
Tell your furniture specialist which finish you have chosen and place your order if you haven't yet.
And then place all four samples in the included return bag and stick it in the mail!
Finally, all that's left is to wait as your custom furniture is built and finished to your specifications. We're confident that when you do receive your new pieces, you'll love what you created.

What is the Amish Furniture Finishing Process?
The finish can make or break the look of wood furniture. In the finishing process, woodworkers color the wood with stain and then varnish to add a protective coat to the surface. Sanding, staining, and sealing all require an experienced hand; it's really an art form! For more information, read our blog Adding Color and Finishing to Solid Wood Furniture.
The Amish furniture finishing process includes the following steps:
Sanding
Sanding contributes a great deal to a good finish job. All joints, corners and surfaces must be sanded smooth. It takes Amish woodworkers time to complete the sanding. They use sandpaper and sanding belts for larger surfaces.
Stain Application
Once sanding is finished, woodworkers apply the stain color. It is carefully sprayed on evenly. After covering the entire piece of furniture, woodworkers use cloths to hand rub the stain. Wood absorbs a good deal of stain, enhancing the grain pattern before any excess stain is wiped off.
Drying
Next, the stain is left to dry, oftentimes overnight. Once the stain is dry, finish specialists inspect the furniture to see if any more sanding is needed.
Finish
Lastly, woodworkers apply Catalyzed Conversion Varnish to seal the piece. This clear coat helps protect the wood's surface from scratches, moisture, and heat. We highly recommend our standard semi-gloss varnish for most indoor furniture, but you can read more about varnish sheens to help make your decision when you order.
Amish Stains
Wood furniture always stands out from furniture made with lesser materials, and the stain color you choose has a huge impact on the look of your wood furniture. Amish stains are colors you can count on, with PCL stains leading the way. PCL, or Preferred Color List, is a standardized collection of stain colors that Amish craftsmen have chosen that suit a variety of wood types. The Amish stain colors you choose can be trusted to bring out the natural beauty of solid wood in the best way.

Color Variation
The appearance of stain will vary greatly, not just across wood types but also across pieces of the same wood type. If perfect uniformity and an exact color are what you need, unfortunately, solid wood may not meet your expectations. Solid wood is a natural material. It's impossible to predict exactly how the wood will take the stain until it's applied. Only then do we see the natural variation, flecks, and spots that stain emphasizes. It's that authentic beauty that is brought to life in the finish shop.
The Amish Furniture Stain Collections
Preferred Color List Stains (PCL)
Here at DutchCrafters, we offer the Preferred Color List (PCL) stain collection for the vast majority of our indoor hardwood Amish furniture products. If you're interested in purchasing anything built in oak, cherry, brown maple, or hard maple, you'll probably get to select a stain from the Preferred Color List. We find that PCL is the best collection of stain colors, offering everything from red and gold tones to modern grays, from light tones to very dark.
How many stain colors are in Preferred Color List?
PCL color options will vary by wood type. They're selected to accentuate the best features of each wood type. We offer around a dozen stains on some wood types and over thirty on others.

Ohio Certified Stains (OCS)
What are OCS Stains?
OCS, or Ohio Certified Stains, is an older collection of standard Amish stain colors used by Amish woodworkers that complement a variety of wood types. While we at DutchCrafters have determined that the new PCL stain collection offers the best options for most shoppers, you may recognize OCS stains if you've ordered furniture in the past. We are happy to finish with OCS stains for you by special request.
How to Care for Your Wood Finish
A little bit of maintenance goes a long way! By following just a few basic maintenance tips, you can maintain your finish's luster through years of use! We have identified the most common problems with solid wood furniture to help you avoid all of them. Find these furniture care tips in our blog post, How to Care for Your Solid Wood Furniture.
Painting Solid Wood Furniture
Staining is the most popular finish on solid wood furniture for its stunning ability to color while maintaining the natural wood appearance. However, painting wood furniture can be a great choice as well.
Why paint solid wood furniture?
The biggest reason to paint wood furniture is to fit an aesthetic or design scheme. If you have a home design without much natural woodgrain, or with a modern aesthetic, you may want the benefits of solid wood without the appearance. Black, white, or colored paint can accomplish that.
Another reason to paint wood furniture is that it can give the appearance and feel of woodgrain while matching the color scheme in a room.
The last, and perhaps our favorite, reason to paint wood furniture is to draw contrast with stained wood in a two-tone color scheme. Many people paint table bases black or white while staining the tabletop. Or they may order two-tone chairs, bedroom sets, or kitchen islands. These two-tone finishes help make your furniture a beautiful, attention-grabbing centerpiece to a room.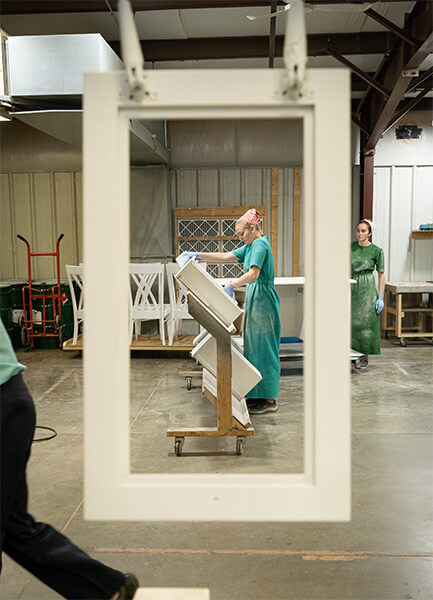 If any of the above reasons appeal to you, you may consider painting your furniture. Your first decision, before selecting a paint color, is which wood type you'd like to paint.
Which Wood Type Is Best to Paint?
Pine wood is often painted. This "soft wood" is less expensive than hardwoods and displays frequent knots in its light, fine wood grain. Some shoppers desire the price point of pine but want to cover the knots and variations with paint. That's where pine is a great option. Our craftspeople who work with hardwoods do not use pine. If you want pine, you'll have to shop specifically for pine wood furniture designs.
If you are set on having the feel and durability of hardwood, you'll likely want to select either brown maple or oak wood to paint. These are two of the most affordable hardwoods and offer you two options: smooth grain (brown maple) or rough grain (oak). Brown maple is the choice for you if you'd rather have unblemished color without visible woodgrain texture. A less popular option for painting, oak's rough grain pattern is textured and gives a hint of natural wood's appearance, even through the paint.