Mini-Episode: The Amish Furniture Finishing Process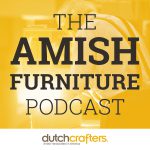 Hello, Amish furniture fans! This is Beth Rice, co-host of the Amish Furniture Podcast. We've enjoyed sharing all things Amish furniture with you. We're taking a break right now to work on new episodes and enjoy the holidays, but we won't make you wait long. In the meantime, here's a mini-episode about how Amish furniture is finished. We'll be back in the New Year with new full-length episodes. Thank you for listening and happy holidays!
Finishing Amish Furniture
It's been said that the Finish "makes or breaks" a furniture design. And it's often true! This is an episode for anyone curious about what goes into finishing solid wood furniture.
Stain Samples
We really stress the importance of working with stain samples. The photos won't exactly match from your computer screen to reality, no matter what we do. So, whether you're trying to match an existing wood tone in your home or you just want to make the best selection for your aesthetic, please order samples!
The Amish Furniture Finishing Process
First, choose your wood grain based on your preference for grain pattern and wood hardness.
Then, order samples and select your stain or paint and any distressing you want to have applied to the wood.
The woodshop will finish building your furniture and sends it over to the finish shop.
At the finish shop, it's sanded (and distressed if requested).
Then the furniture will be stained, usually with a pneumatic sprayer and hand-rubbing, or painted.
After drying, the catalyzed conversion varnish is added over top to protect the wood and stain color.
Shop DutchCrafters for Beautiful Solid Wood Furniture
So, start with DutchCrafters for your solid wood furniture handcrafted right here in America.
Want to learn more about paints, stains, distressing, and varnish? Find more on our blog:
Facts About Finishing https://www.dutchcrafters.com/blog/protection-to-solid-wood-furniture-facts-about-finishing/
What is Catalyzed Conversion Varnish? https://www.dutchcrafters.com/blog/what-is-catalyzed-conversion-varnish/
Wood Furniture Distressed Finishes https://www.dutchcrafters.com/blog/wood-furniture-distressed-finishes/