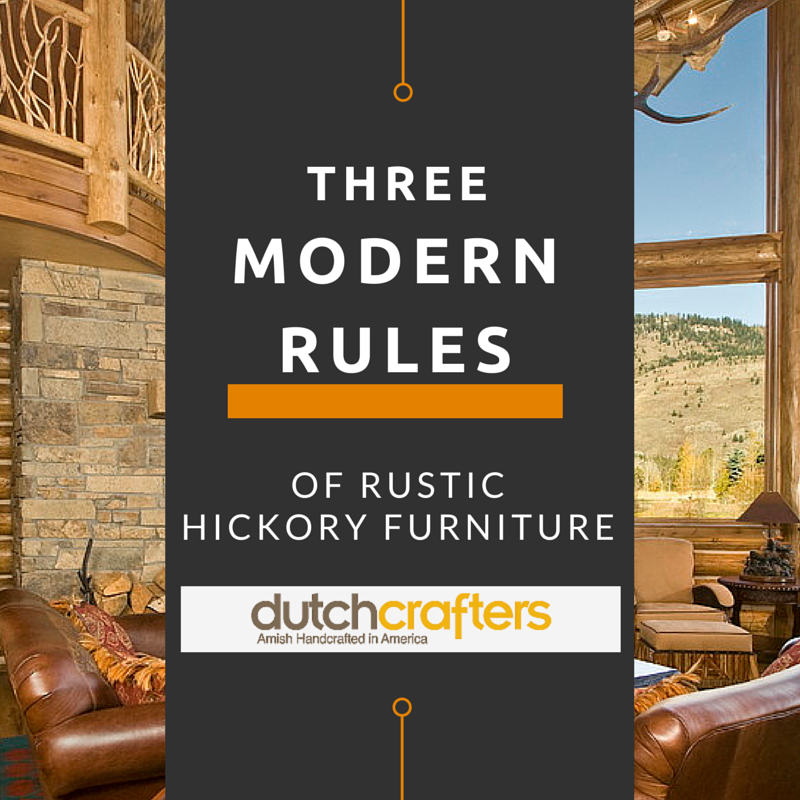 Discover 3 Modern Rules of Rustic Hickory Furniture
Cozy and kinda crafty, rustic hickory furniture (too often!) gets a bad rap for being thematic and over-the-top. Let us help you get the look you crave – think a little more Aspen, a little less Abraham Lincoln.
1. Round out the Edges
A polished, spacious kitchen leaves plenty of room for hickory's huge personality. The brick above the rustic cabin hickory bar echoes the warm colors of the wood and plays perfectly well with the rough, irregular surface. Marble countertops and inlaid stone floors provide nice smooth paths for the senses to follow while maintaining the straight-from-the-forest feel of the room. Wood cabinets with less color contrast than the hickory bar and matching hickory chairs do their part to soften the effect, as well.
A bonus feature of this picturesque kitchen is its flexibility – proof that you don't need soaring windows with mountain views for rustic hickory furniture to feel right at home.
2. Small Doses = Big Impact
Rustic hickory furniture is the hot sauce of your solid wood furniture options – a little bit goes a long way. This living room already has the ample windows with the bucolic view, the magnificent stone fireplace, and exposed wood and brick bones – it certainly didn't need a massive live-edge coffee table to bring the country feel home. In a well-spiced room like this, a drop of hickory at the center carries the theme easily . . . without overpowering it.
A little something extra to keep in mind: If you're decorating around such a dominating fireplace (especially one that's already competing with a gorgeous view), keep your table options mobile, like this hickory end table as a coffee table. This way, you can sit wherever you please, and be assured to have a drink or book stand available!
3. Surround it with softness & light
Yes, you could absolutely go with hickory bedroom furniture top to bottom, with navy or forest green bedding and a matching carpet. However, if you're looking for a fresh take on a rustic bedroom, lighten up! Fluffy white bedding and gossamer curtains plus a white dresser and white-washed walls give this bedroom an airy, casual feel that translates easily from apartment to lodge.
Keep the organic love flowing with a woven chair, and some nubby, natural fibers underfoot. Final touches, like the oversized wooden bowl and worn wooden frames, perfectly match the headboard of this rustic Cabin hickory panel bed. Itching for some contrast? The shiny brass lamp strikes your ideal balance.
Do you think rustic hickory furniture has a place in your home?