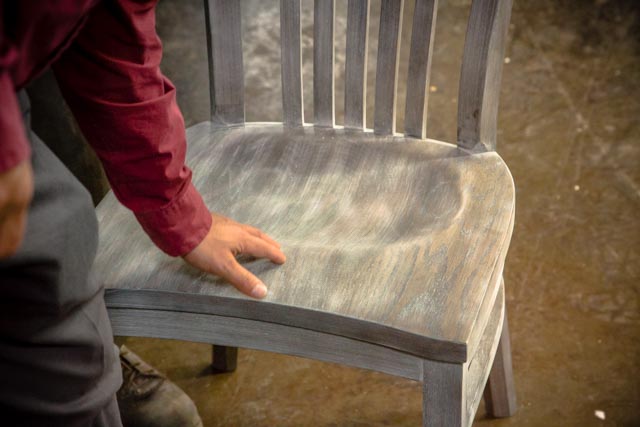 Meet the Amish Furniture Makers: The Mt. Eaton Collection
The Mt. Eaton Collection
Meet the Amish Makers at the Amish woodshop that crafts our Mt. Eaton Collection – one of our most diverse and unusual woodshops.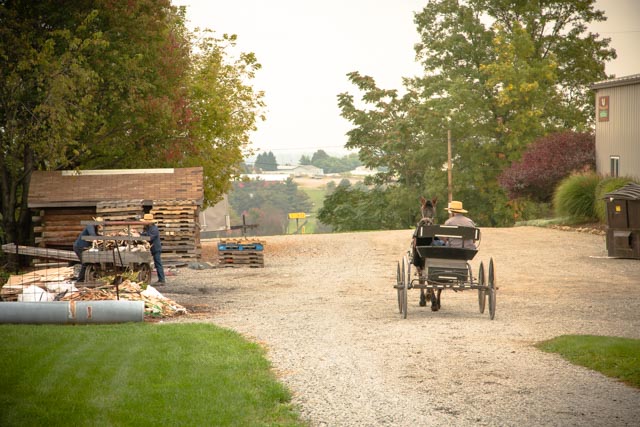 Nestled in the rolling hills of Holmes County, Ohio, our shop operator, Alan, manages over 30 nearly-unrelated Amish employees. We say nearly, because the Amish community is fundamentally a close-knit society – members are never too too far apart if placed on a giant family tree. However, in a town where most woodshops employ generations of the same family, Alan hires his talent from all across the town, and across the Amish spectrum, as well. Seven separate Amish denominations are represented there.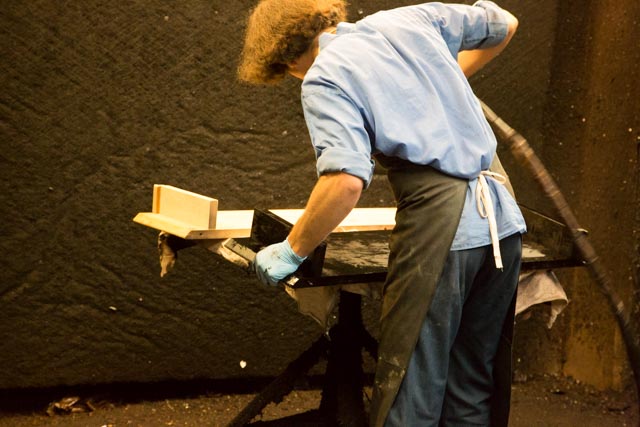 The industrious young man above – beginning the long and detailed process of finishing a table extension to match its mate – is one of several Schwartzentruber Amish employees at Alan's Mt. Eaton shop. Schwartzentruber is a subgroup of Old Order Amish who mainly reside in Holmes and Wayne County, Ohio. As the name might suggest, these Old Order members are among the most conservative of all the Amish – they do not use electricity, or even indoor plumbing, in their own homes. They adhere to a number of other strict traditions – strict even among the Plain People:
Schwartzentruber Amish do not use the typical bright orange safety triangles on their buggies, or symmetrical tail lights (to avoid looking like a car); they avoid brighter colors like mauve or baby blue in favor of grey, navy and black; most speak Pennsylvania Dutch (a variety of West-Central German), and avoid other common technologies, like bicycles, Velcro, and even buttons.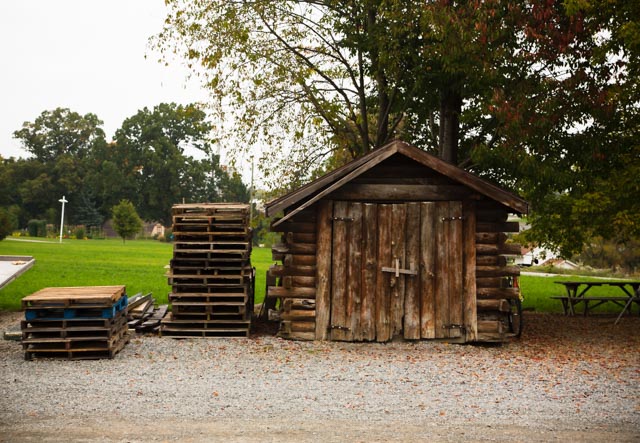 Like all Amish groups (and most conservative religious groups in general) the local bishop determines local Schwartzentruber laws, and they vary by region. Also like all Amish groups that we've been blessed to know (or grown up with, as is the case with our own Dutchcrafters' boss, Mennonite Pastor Jim Miller), they were kind, helpful, and respectful. So was this fellow, whose particular denomination allows for fussy modern habits like our constant photography: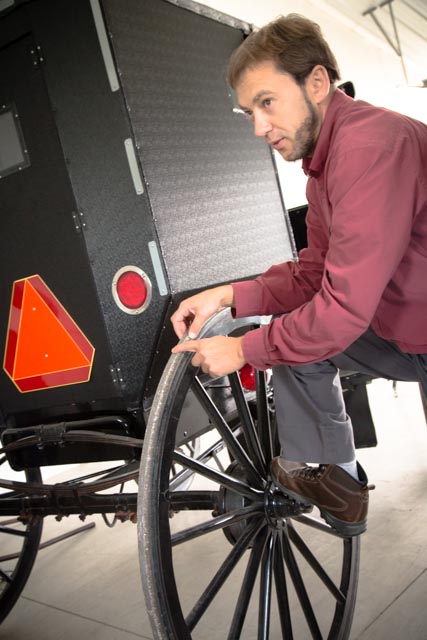 This is our endlessly patient tour guide, Alan (describing the finer points of a New Order buggy)! We spent an entire afternoon poking around his shop, wandering through stacks of lumber, then through rows of unfinished and finished furniture, all while asking just shy of a million questions. While we're doing portraits-of-sorts, Cindy here spoke fluent PA Dutch and English, and served as tour guide #2: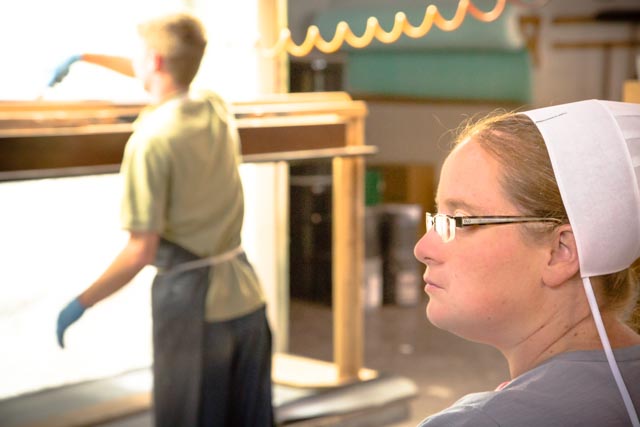 Behind Cindy is a rising star in Alan's shop – at 20 years old, Alan touts his finishing skills as the best in the business. We'll go ahead and let you be the judge, both in the pictures below and in the Mt. Eaton Amish Furniture Collection: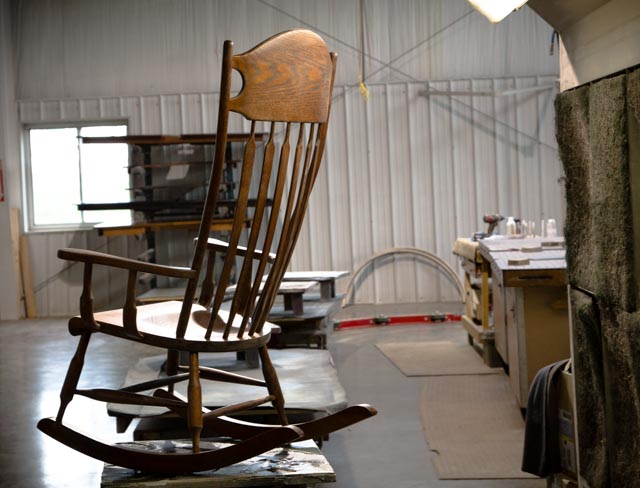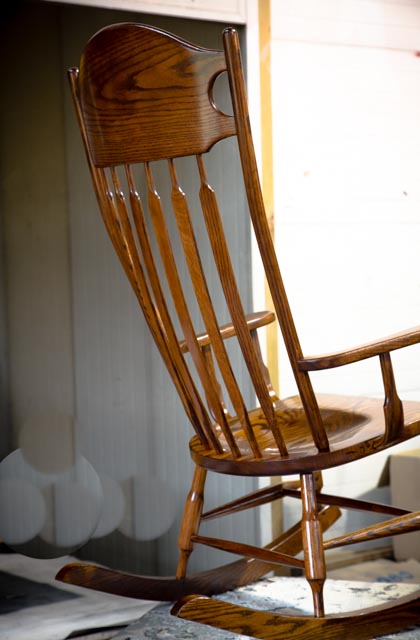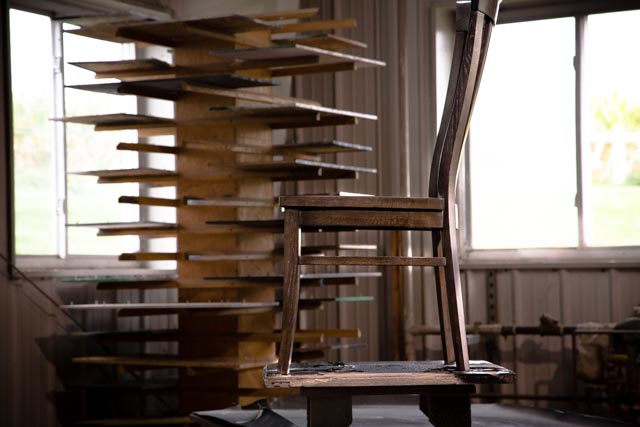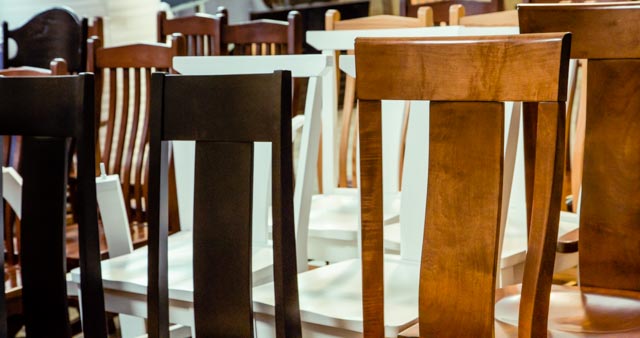 We'd be remiss not to mention that Cindy & Alan took us out for some local pie, showed us their stable full of beautiful horses, let us ogle their tiny phone booth, and were generally a fantastic way to spend an afternoon! View some more of our snapshots below, and be sure to see the Mt. Eaton Collection of Amish Furniture at Dutchcrafters.