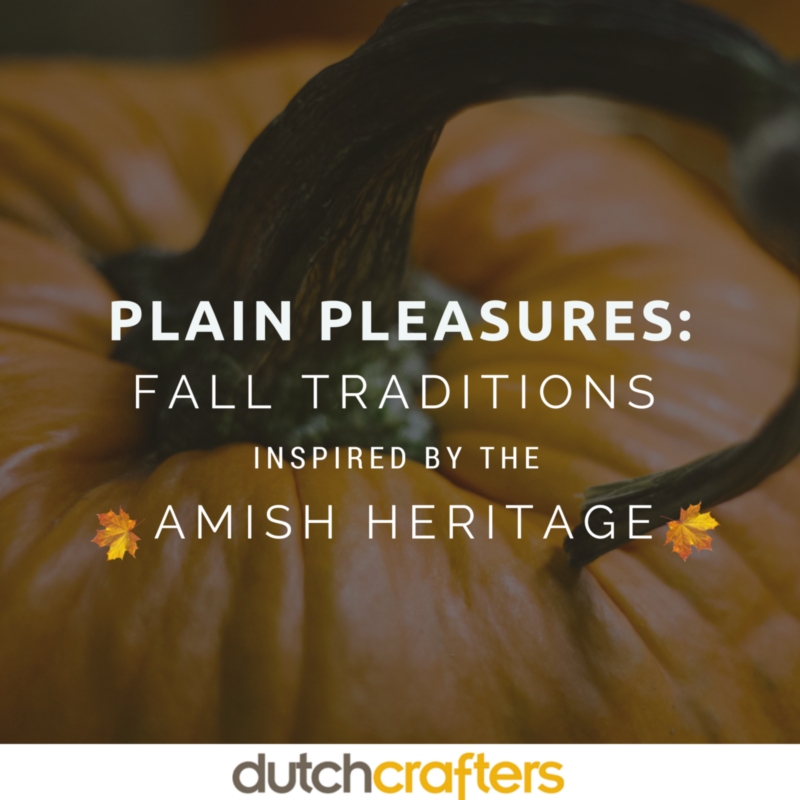 Plain Pleasures: Fall Traditions inspired by the Amish Heritage
Diving through piles of leaves, stretching for the shiniest apple, inhaling the cinnamon and pumpkin spice in the air — fall captivates your senses like no other season. The Amish have long practiced these kind of simple fall traditions, each growing in meaning as the years pass. Take your family for a whirl with these four fall traditions before you're snowed in for the winter!
Play in a pumpkin patch.
The iconic orange vegetable is just a hop, skip and a jump (or a buggy ride) away for most Amish community members, and heading to a pumpkin patch to gather the goods for some of their famous down-home baking is less of a social function and more of a necessity.
For you, a pumpkin patch presents an opportunity to pick up gourds, pumpkins, mini-pumpkins and cornstalks to decorate with. Gather an abundance of veg in different colors and irregular shapes to make a vibrant autumn display to last through November.
Kids in tow? Snap mini-portraits with them frolicking among the pumpkins — as they grow, this fall tradition will be a fun reminder of when they were hardly the size of the pumpkin to when they could lift their very own! Pumpkin patch portraits also make super-sweet Thanksgiving cards for family & friends.
[Tweet "Take Pumpkin Patch Portraits to send as Holiday Greeting cards!"]
Host a Harvest Party
For the Amish, hosting for Church events or community celebrations is a regular practice. Come fall, these get-togethers bundle up a little tighter, but are nonetheless outdoors, full of delicious family-style food and buoyant conversation.
Why not host your own version of a harvest party? Invite your friends and neighbors, and make it potluck-style. Ask everyone to bring a homemade dish to share – bonus points for whipping up family recipes, and for starting a game of touch football!
Speaking of football, you can kick this fall tradition up a notch by hosting right before the big game. Football parties are bound to bring out your most boisterous buddies, and having a dual-function party allows you to invite all ages in comfort – those who want to catch some zzzz's can head home after the potluck, and those up for the upsets can stay awhile.
Apple Picking!
Here's another Amish fall tradition that doesn't have anything to do with looking great on Instagram – but taking your family apple picking? Well, it sure looks good on Instagram! While the Amish can choose their pick of the local farmers, you can use Local Harvest to find an orchard near you that caters to self-pickers.
Bring a picnic basket (and a selfie stick?) to make a day of it, then bring your ripened treasures home for a Sunday of fall project baking. The apples from the orchard are apt to be more unusual in flavor profile than your standard supermarket finds, making them ideal for the grand apple pies, crumbles, Apple Puddings, apple spice cakes, even applesauce that your grandmother spoiled you with as a young 'un.
[Tweet "Apples from the orchard are have a more unusual flavor profile than supermarket finds"]
S'More Fun
Bonfires are a staple of outdoor Amish gatherings as the nights grow chilly. While we've just past the ideal time to tell ghost stories around a haunting blaze, there's no reason to give up the fun.
DutchCrafters Poly Outdoor firepit is a year-round entertainment magnet. For a rustic night of backyard camping – so much better in the fall, when temperatures turn down – use it roast a hot dog dinner and a marshmallow desert. For a grownup night of feast and fun, turn on the music, pour some drinks and lay out a spread for gourmet s'mores.
What fall tradition does your family hold dear? Any new ones that you're thinking to add to the arsenal?