4 Wood Garden Seats for Your Outdoor Nook
Sometimes, all you need to complete a dream is the right place to sit and ponder it. Hidden in a sprawling English garden, or tucked under a single leafy tree, a cozy outdoor nook with wood garden seats can fit perfectly into your daydreams.
Glorious Gliders
Ever more luxurious than your typical, everyday wood porch rocker (which is a classic that we love, by the way), Pine Wood Porch Gliders nestle right in under the hustle and bustle of this property's main porch. Fluffy hydrangea bobble in the breeze, and lanterns await intimate nighttime conversations in this open-air nook. The darker take on pine wood gives some additional, visual separation between the upper porch area and what we assume is the oft-overlooked lower section.
Prefer some time to yourself? Try this exuberant, abundant nook:
Restful Rockers
Peek down a winding garden path to discover a charming setup, complete with a bistro table and third chair for extra company. Two contoured-back rocking chairs beckon outdoor company to a secluded spot off a larger, more intricate and public garden. Here, gatherings are quiet, lemonade and tea still flow freely, but a tall, imposing tree provides shade and communion with the landscape.
On an entirely different path, these two pine wood fan-back outdoor rockers provide an open nook just slightly to the left of a wide, easy walking path. This setup is ideal for sharp corners or cul-de-sacs in a larger garden, or along on a longer, manicured driveway.
Bewitching Bench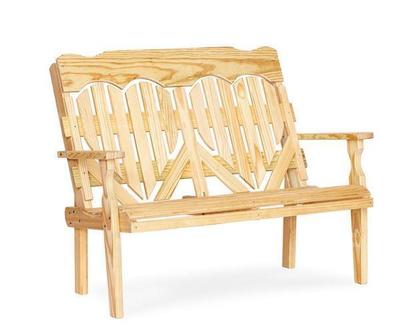 Truly a look to love! Perfectly placed inside a romantic white arbor, awash in flowers, this pine wood high back heart bench practically sings its own love songs. Reminiscent of a garden wedding, this bench is made for cuddling and canoodling while taking in activity on the sweeping lawn before it – maybe the grandchildren are playing badminton? Or the dogs are rollicking? This magical sort of setting is just shy of a garden fairy serenade! 🙂
Wood garden seats – benches, gliders, and rockers alike – all benefit from their ability to blend in with your landscaping. Organic and naturally beautiful, you'll have just about zero difficulty finding a seat that sinks right into its garden surroundings.