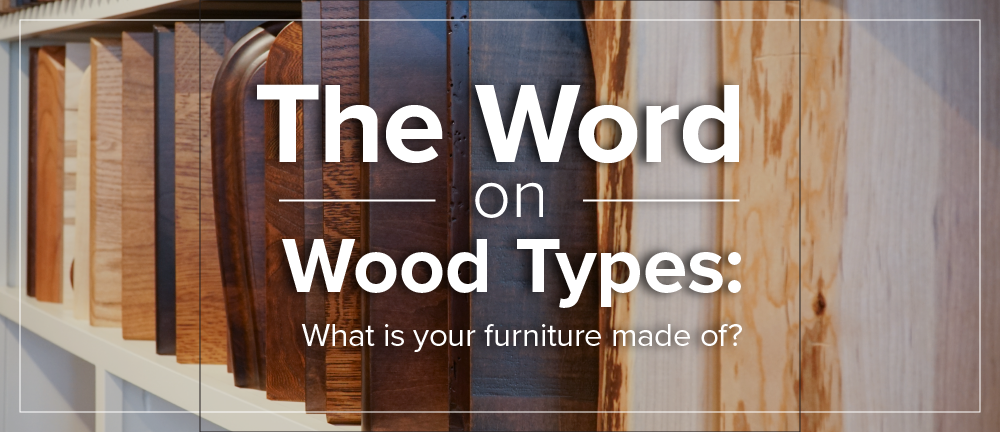 Wood Types: What is your Furniture Made Of?
Solid wood furniture has a leg up on the competition. Sought after for its quality and beauty, it can't be beat by cheaper imitations. While it may be more expensive, wood furniture will last longer, saving you money in the long run.
Investing in solid wood furniture guarantees the buyer:
A durable product that will last
Natural beauty within the home
Furniture that can be passed on to future generations
Which wood types offer exceptional quality and what furniture styles are they best suited for? Let's take a look.
Three Cheers for Cherry
Cherry wood is a popular choice for fine furniture. When first cut, it is naturally a pale pinkish-yellow color. It will darken over time into a rich brown shade. Furniture made from cherry is strong and durable. Exhibiting a fine straight grain, it's easy to shape. Its rich color lends itself to elegant dining furniture, carved chairs, and shaker tables.
The Fenmore Leg Dining Table and the Lacombe Amish Dining Chair exhibit the elegance and beauty of cherry wood furniture.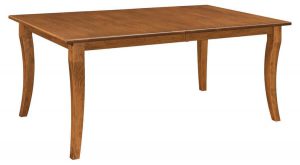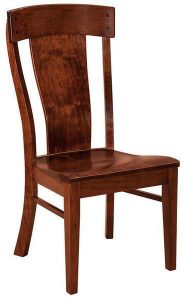 Own Oak and Reap the Benefits
Oak wood is naturally light in color and features heavily defined grain patterns. It can be separated into two types: white oak and red oak.
Red oak is light brown to pinkish-red in color. White oak is a mixture of white combined with light and dark brown shades. Its natural beauty lends itself easily to mission style furniture. It is also a good choice for furniture that gets used every day.
There's much to be celebrated about oak furniture. Although the heavy grain doesn't make it a good candidate for a painted finish, its attractive price tag, strength, unique character, and resistance to wear and tear make it a popular choice for American-made furniture. It can be finished in a variety of light to dark stains.
The Quiet Strength of Quarter Sawn Oak
With a few creative cuts of the log, oak furniture can feature a different pattern. The log is quartered, then turned and cut to create a beautiful and unique grain pattern that is not as thick as the natural pattern of oak. Quarter sawing produces a strong and stable wood that is more resistant to cupping, warping, and moisture. This dynamic wood lends itself to bedroom furniture, as well as shaker and mission styles.
The Amish Quarter Sawn White Oak Wood Mission Hope Chest displays the dramatic character of quarter sawn white oak.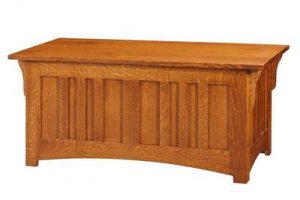 The Marks of the Maple
The hardness and durability of maple wood makes it an attractive candidate for furniture. While there are different parts of the maple log, they share some of the same characteristics.
Brown maple is the heartwood of the maple tree and features heavy streaks and a sleek, smooth grain that is ideal for painting. It looks best in contemporary styles that have smooth forms and strong profiles like the Amish Bloomingdale Dining Table.
Hard maple is the sapwood of the maple tree. It exhibits the same strength, but is denser, heavier, and harder than brown maple. It is naturally light but takes dark stains well. This added durability makes it ideal for children's furniture.  The Amish Tanessah Kid's Chest made from hard maple wood will easily stand up to daily use.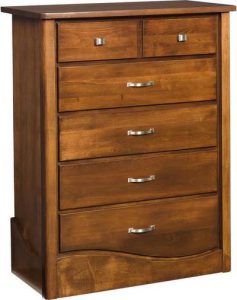 Winning with Walnut
Walnut's heartwood (the dense inner part of a tree trunk that yields the hardest timber) is a deep, rich brown with a heavy grain that contributes to a luxurious texture and look. Walnut is the favorite for "dark furniture." The wood's bold grains and clean lines lend themselves to more formal styles. Walnut shines in deep brown shades, creating attractive bedroom dressers and desks. Its strength and stability make it a natural choice for beds and accent tables that get used daily.
The Amish 48" Armoire with Optional Pocket Doors is an example of premium sophisticated dark furniture while the Amish Mission Royal Corner Hutch features walnut inlays we love.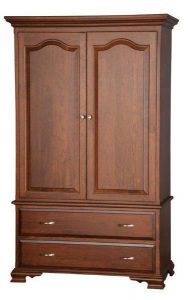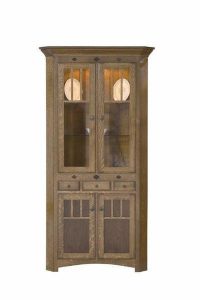 The Amish Mission Royal Corner Hutch
Pine Wood: Pretty at a Great Price
Pine a soft wood with a yellow, whitish-brown color. Solid pine wood furniture is lightweight and resists shrinking and swelling. It is a more economical premium wood. Its natural knots make for beautiful country style furniture and farmhouse style tables.
Renew with Reclaimed
Reclaimed wood brings its own special story to furniture. Salvaged from abandoned barns that are often over 100 years old, the wood features nail holes, worm holes, hairline cracks, and distressing. Reclaimed furniture is usually yellow pine, but could also be hemlock or fir. It is rustic at every turn, adding that natural, lived-in feel that welcomes you into any room. Reclaimed wood is popular for industrial style furniture that combines its historic character with metal elements.
Every mark found in the reclaimed wood of the Amish Barn Wood Farmhouse Table with Breadboard Ends tells a story.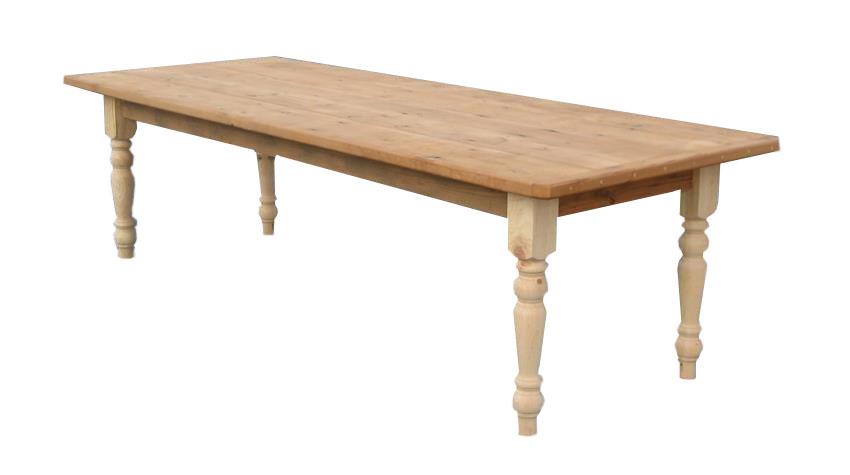 Spend Time Outside with Cedar
Cedar wood is the perfect candidate for outdoor lounge furniture. It is lightweight and resists decay. It even has a fresh scent that repels insects.
The Amish Outdoor Round Side Table is just right for enjoying a beverage in the backyard.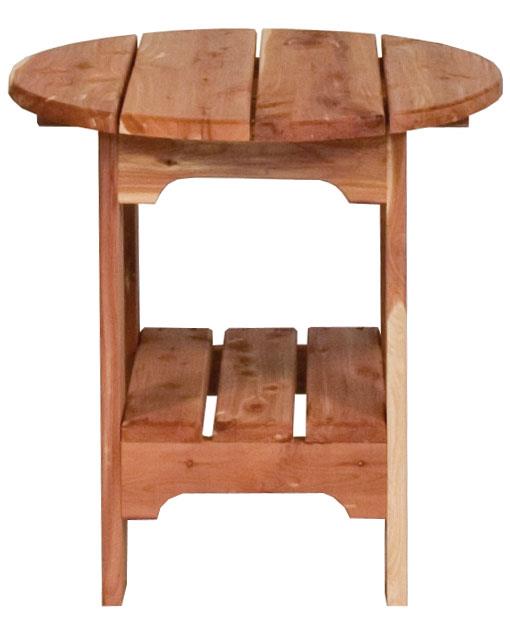 Perfect Poly
The formula for creating incredibly durable and stylish outdoor furniture has been found with eco-friendly poly. Made from recycled plastics, it will not rot, splinter or warp. Poly contains a UV protective agent that safeguards the wood from fading. It is also weather resistant and virtually maintenance free, only requiring occasional cleaning with mild soap and water.
The Berlin Gardens Classic Poly Picnic Table is perfect for outdoor gatherings.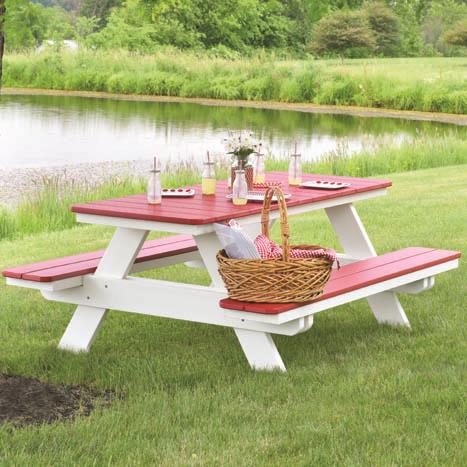 The natural characteristics of these wood types contribute to the quality and exceptional style of our Amish-made solid wood furniture.