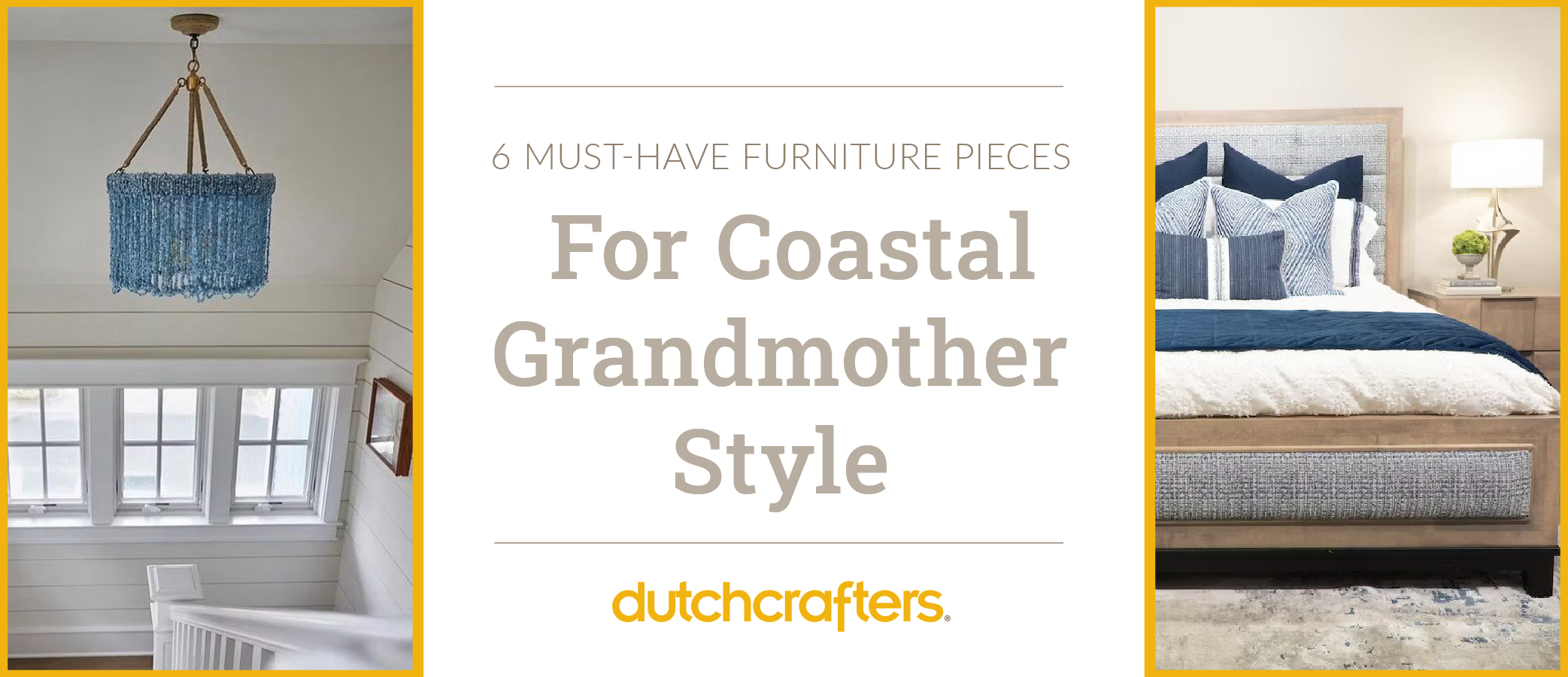 6 Must-Have Furniture Pieces for Coastal Grandmother Style
Coastal grandmother embodies a clean, classic style. It's often associated with wealthy middle-aged women who live in luxurious homes along the oceanfront. Life as a coastal grandmother may include walks along the beach wearing neutral colored capris and perhaps a straw hat, trips to the farmers market for all the fresh goods, plenty of time in the garden, a good glass of wine, and the best dinners shared with family and friends. The coastal grandmother lifestyle enjoys the little things, investing in quality and spending time socializing with family and friends.
The coastal grandmother often lives in a large, traditional style home found in upscale beach towns. The interior style is clean and fresh, and full of neutral colors like tan, white and beige, with some sea and sky blue shades mixed in. You won't find outlandish or busy prints on upholstered pieces. You're likely to find more natural elements inside.
If you've fallen in love with this comfy, casual, classic style, you can create a coastal grandmother wardrobe by choosing a few main pieces in neutral colors and mixing them. Keep the pieces comfortable and fresh. Include things like linen, cashmere, roomy sweaters and scarves to accent the look. The look is refined yet casual, so…refasual?
How do they furnish their homes? The interior of a coastal grandmother home is minimalistic. There are no fancy embellishments or artwork that screams at you. It's comfy, quiet, chic, warm and luxurious. We love that coastal grandmothers invest in quality. They like bringing in natural elements, and solid wood furniture would be a yes for their interiors.
Here we ask ourselves, what furniture would we share with the person in love with the coastal grandmother aesthetic? What essentials are needed inside to reflect luxury, comfort and a minimal look?
Here are the top six must-have pieces of furniture for a coastal grandmother home.
A Spacious Kitchen Island
Coastal grandmother kitchens are big and offer lots of room to cook. All those fresh veggies and fruits need storage and surface space. This lifestyle embraces taking time to cook and prepare a meal from the food served to dressing up the table. Part of the practice includes food prep, perhaps with a glass of wine and chatter with family and friends in the kitchen.
We'd recommend the Amish New England Kitchen Island with its maple block top and custom finish for those fun meal prep times that are never rushed.
A Plush Sofa
Coastal grandmother living rooms are about space, comfort and providing cushy seats for guests. There's always a sofa or sectional that you can sink into. We'd recommend the Precedent Nicole Sofa that wears a contemporary, clean-lined look. You can customize it in choice of upholstery, but remember, no crazy prints for sofa or accent pillows. Coastal grandmother likes neutrals all the way.
Quality Lighting Fixtures
If you're in a coastal location, perhaps it's easier to bring in more natural light. This is a good thing, as coastal grandmother households love it. As for the lighting fixtures inside, a classic and clean look is welcome, with classic table lamps mixed with some modern pendants adding nice accent pieces as well as light.
The American Made Lily Beaded Chandelier is one that quietly displays quartz crystals. You can customize this chandelier with choice of quartz crystals.
Shown here with Aquamarine Chip Quartz. Also available in Blush Chip Quartz—accent colors coastal grandmother loves!
A Large, Inviting Dinner Table
We love how coastal grandmother embraces the importance of taking time to enjoy a good meal with family and friends. The dining table in a CG house needs to be large, warm and inviting.
We'd recommend this farmhouse style table made with authentic reclaimed barnwood for those relaxing evening dinners.
A Big Comfy Bed
Where does the coastal grandmother retire to after a long day? It's got to be a big comfy bed that's modern and cool yet classic.
The Amish Serenity Bed is simply elegant and customizable. Picture the Serenity in a California King with a rich and soft upholstered headboard to lean against for reading or watching TV.
An Outdoor Swing Bed
Gardening and outdoor time are always on the agenda for the coastal grandmother lifestyle. She loves to entertain outside too, and is sure to furnish a large porch, pool or pavilion area with just the right outdoor furniture.
Coastal grandmother likes taking her time to experience the outdoors without rushing inside. We'd recommend the cozy, comfy Outdoor Daisy Garden Swing Bed as a must-have for her collection.
There they are. Six must-have furniture items for a coastal grandmother home. They all feature quality materials and will last a long time. They're beautiful without being too fancy, and they all provide top-notch comfort, one of the main hallmarks of a coastal grandmother. Remember when furnishing and decorating for this style to avoid going too nautical, and don't stuff every space with beach themed knick-knacks. Go for a classic and comfortable, neutral and classic look.