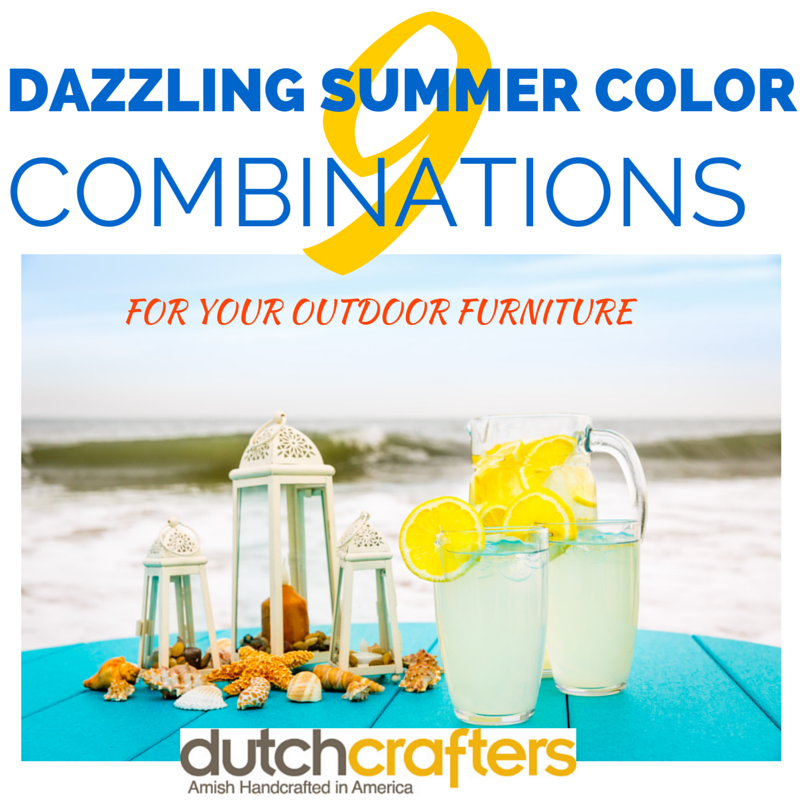 9 Dazzling Summer Color Combinations for Your Outdoor Furniture
Adding two or three new colors to your outdoor furniture and decor can completely change the look of your outdoor rooms. Lucky for everyone, our eco-friendly poly wood outdoor furniture comes in a dizzying array of fantastic options to freshen up your deck, patio or backyard! Consider one of these designer-approved, naturally-themed combinations to impress and delight in your outdoor living space this Earth Day . . . and beyond!
1. Garden and Fountain Color Combination
Available on any of our 100% recycled Poly Wood Finch Collection, our Amish craftsmen and in-house designers made these combinations of bright poly lumber and sturdy, versatile fabrics to last – both in durability and in fashion. Traditionally, you might try the more neutral solid fabrics (the buttercup, the sand) for your seat cushions, while the busier options dress up a few accent pillows.
Feeling bold? Go the opposite route; here, we've chosen a bright royal blue poly with the Dolce Oasis cushion fabric and matching umbrella. Now that's an eye-catching fountain that doesn't pale poolside.
2. Frond and Rock Color Combination
Exactly what you think of when you hear "the colors of nature," the combinations soothe by a fireside and relax on a back deck. Think slightly overcast days, variably wooded settings, oak trees and the eventual, beautiful onset of autumn (we know, we know — not yet!). Equally at home on a lawn or in a sunroom, these colors most closely bring indoor style to outdoor furniture.
3. Butterfly Breeze Color Combination
All hail the return of patterns for the summer! Jaunty and joyful, patterns add immediate interest to a backyard that's bound for boisterous barbeques. We think the Astoria Lagoon is an absolute boon against the Accord Jade, and while we appreciate the pairing with a cherrywood poly as below, we're all for a more striking contrast of white or turquoise poly lumber. Feeling a life a little less aquatic? Sun-baked, desert colors like the Spectrum Grenadine will add some serious spice to your outdoor life.
Imagination is key when you're playing with your outdoor furniture colors, so remember to keep your mind wide open. Whether you want to go vibrant and citrusy, warm, deep, juicy, vivid or saturated, we think you'll find it in our poly wood Finch Collection.