A Place to Play on a Rainy Day: Kids' Table and Chairs Defeat Wet Weather Blues
April showers keeping the kids trapped indoors? No problem! Rainy days bring just as much opportunity for fun and learning as the balmy heights of summer. Read on for some inspiration to tide you and your little loves through even the stormiest of April showers! And if you're looking for a handmade, child-approved activity space, complete with kids' table and chairs, we've got a few ideas for those, too.
Kids' Activity 1
Unlikely Art: Potato Shapes!
Northern European parents are experts at filling whole seasons of rainy days with smiles and learning, and this fun art activity is a simple and natural example of their relaxed approach to April showers. All you need is a few potatoes, some paint, a little paper and a flat surface – it couldn't be simpler.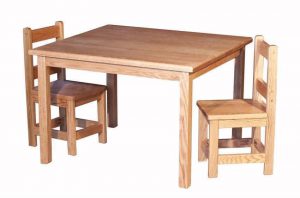 First, someone old enough to hold a driving license should select some medium or large potatoes, wash them in cold water, and then cut them cleanly in half. Once this is done, people of all ages can get to work shaping the now-flat edge of their potato into a cool shape of their choosing using a blunt knife, spoon, or other cutting implement. Popular shapes include basic triangles or squares, love hearts, criss-cross cuts, and more!
Once the shapes are ready, the artist should hold the potato by its uncut end and press the cut side straight down into a tray of non-toxic paint or glue. The potato stamp is then ready for its debut: press the painted potato into paper, and voila! A neat shape from the stamp appears, and a brand-new, one-of-a-kind art tool is born.
Kids Activity 2
Science Break: Indoor Rain!
It's raining, it's pouring, it's – wait. Where's all that water coming from?
This wonderful piece of demonstrative science is the perfect way to help kids understand where exactly all that falling water that's keeping them from their day in the park is coming from. All you need is a glass jar or cup, a plastic lid, and some ice cubes.
To make indoor rain, place the glass on a flat surface and put the plastic lid on top, making sure there's no room around the edges for air to escape in large quantities. Put the ice cubes on top of the lid, and after a few minutes, the air near the top of the jar should be cooling and condensing to the point where it begins to form droplets on the bottom of the lid. As those droplets begin to fall down, you've got it: a storm in a glass!
(Note: Making your ice cubes with food coloring adds another dimension to this experiment, and provides an easy way to make sure kids don't just think the water from the ice cubes is somehow leaking through the lid.)
Kids' Activity 3
Sensory Art: Pasta Rainbows!
It might be cloudy outside, but that's no reason not to bring rainbows indoors! This one couldn't be simpler, either. All you need to do is take some shaped pasta (wagon wheel pasta or rigatoni works well, but anything short of spaghetti will do) and then mix one handful in a bowl with one tablespoon of vinegar and four or five drops of food coloring. Repeat this until you have pasta in all the colors you want for your rainbow.
Then, simply string your colored pastas together with thread or twine, and stick them down on wax or craft paper. Sprinkle a few puffs of cotton wool around until your sky is ready, and then hang your creation by the window to inspire that cloudy sky to clear, bright sunshine!
Kids' Activity 4
Bring the Beach: Corn Meal Sandcastle Dough!
Day at the beach stopped short by the weather? Never fear! Simply mix some corn meal and oil (any kind of oil will do, and you're looking for about ¾ cup of it for every two cups of corn meal) in a long tray with high sides. Then, get stuck in! Mix the corn meal and oil until they form a grainy sand that is happy to form itself into castles, moats, and more.
Adding in cocktail umbrellas and other beach accessories really dials up the beach spirit, but this sand is good for just about any construction project imaginable. Don't let the rain outside dampen anyone's creativity – set those minds free!
All of our solid wood kids' table and chairs sets will withstand years of general children's wear and tear, and only get more beautiful with each passing year, each bit of natural distressing.