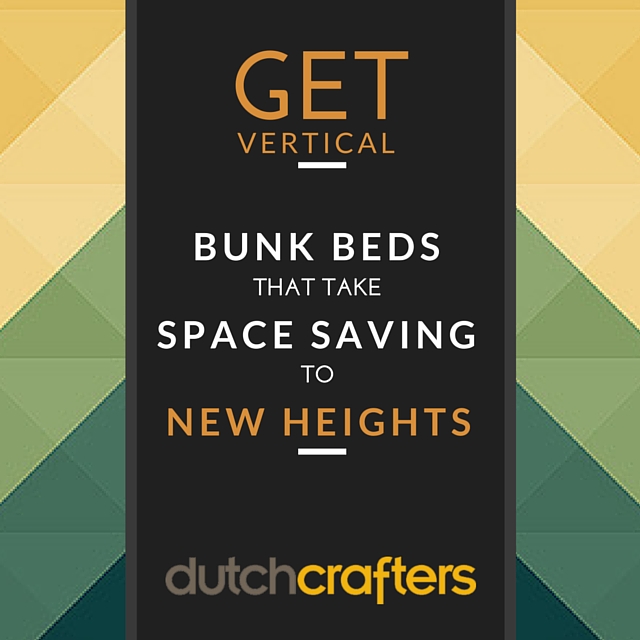 Get Vertical: Bunk Beds that Take Space Saving to New Heights
This post was updated on October 21, 2019. Broken links were fixed and some minor changes were made to the copy. 
Sure, you can look at bunk beds as the ultimate tower of fun for the little ones. But why not use the escapism inherent in bunking up to your advantage?
Here, some very grown-up ways to make bunk beds a part of your home's charm:
Bring On a Built In
A custom job usually trumps commercial, but you can dupe the look for a more modest price.
Start by ordering your beds in a more practical, less playful color scheme.  This way,  they'll feel more architectural than adolescent. The built-in beds above are rather massive in scale, but moving a twin-sized, versatile bunk bed into a child's standard room will evoke the same feeling of cohesion —  just remember to paint the walls a similar shade of grey (or other neutral) to the bed frame. To further the custom-made feel of the room, choose bunk beds with built-in storage, where roomy underbed drawers provide for a perfect place for pjs.
Individual Iterations
Bunk beds with dual personalities soothe sibling squabbles.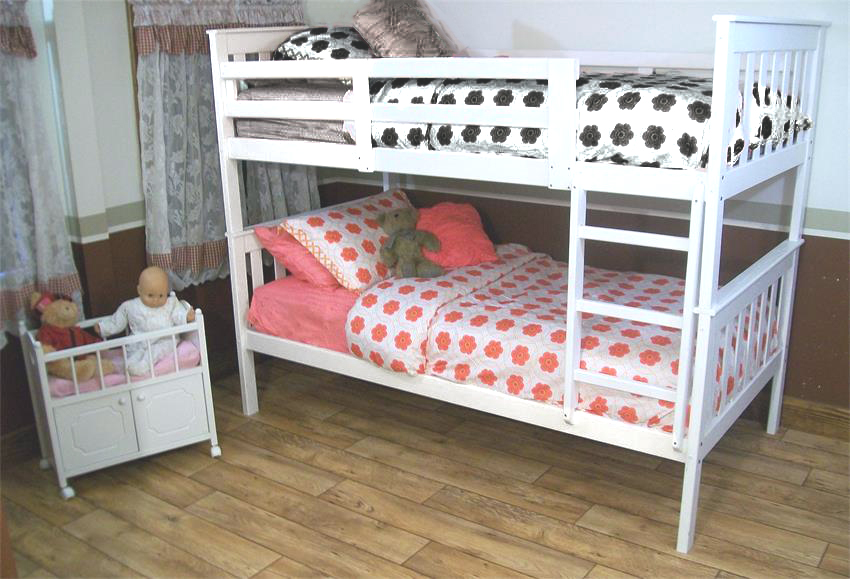 What a difference decor can make on this twin bunk bed!
Boy and a girl? Twins adamant about separation? Blended family? Whatever the reason, don't suppress your child's need to express themselves just because you don't have the space to give them their own room.
Make each level of the bunk bed feel more personal with separate bedding. Try adding a shelf or two to the wall for someone's own little bedtime stash of books, notebooks or plush toys.
Take it a step further and add personal decals to the space above each bed, maybe with the child's name or an apt quote. Take it further still and paint the top half of the wall behind the bed to match the top level, the bottom to match the bottom.
Who wouldn't feel special with that? 🙂
Get In the Zone
Room to grow in more ways than one.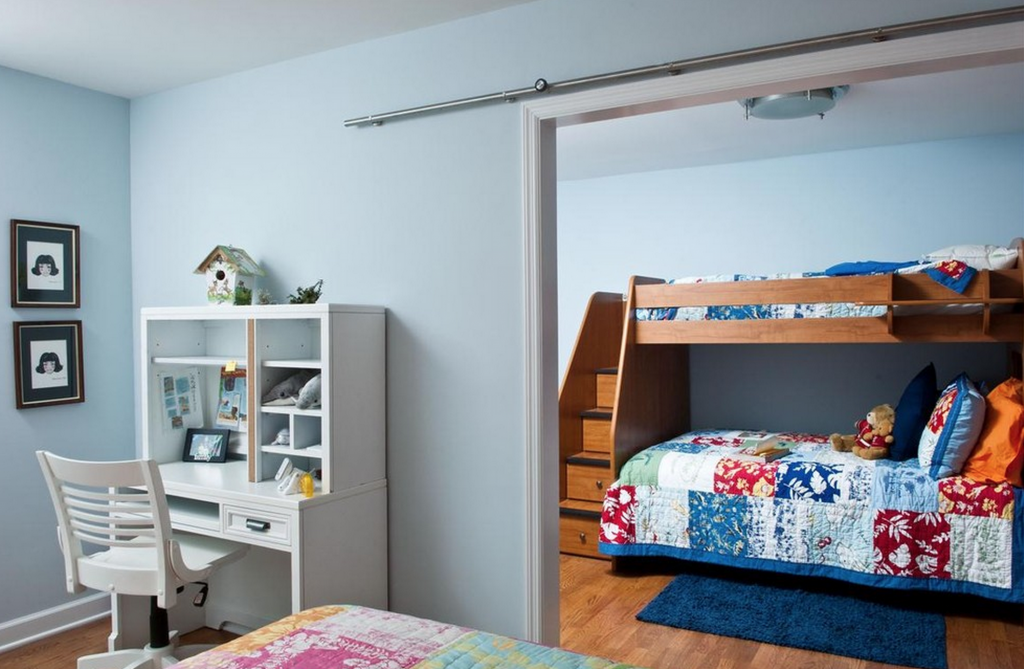 More space for sleep AND for study in this room.[/caption]
Ah, how they grow! An innovative bunk bed that sleeps a full-sized bed under a twin is an ideal solution for expanding families.
Stacking the beds also gives your children a separation of sleep and study, effectively creating  zones for specific functions. In the example, the children's desk is in a separate room, but a bunk bed and versatile child's desk could easily slide up against the same wall in a larger room, as well.
Don't Forget to Leave Room For Fun!
Sure, we saved some space, personalized the bunks, and alleviated some growing pains.
But we can't let bunk beds go without reminding you to have a little fun with them.
We love the idea of giving the beds their own curtains for privacy, adding (child-safe!) slides in addition to the ladder, painting them in any of our dozens of colors (lime green, anyone?) and providing clip-on lights to encourage young readers.
Do you have bunk beds in your home?