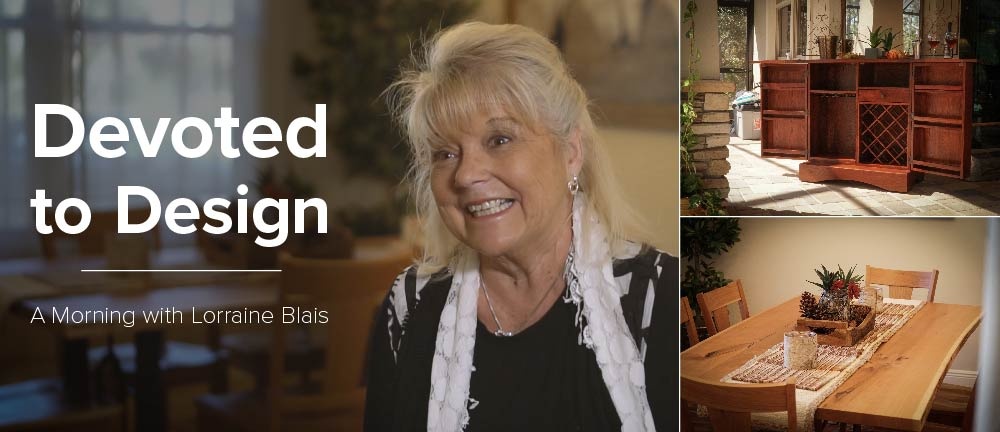 Devoted to Design: A Morning with Lorraine Blais
When Lorraine Blais turns a house into a home, magic happens.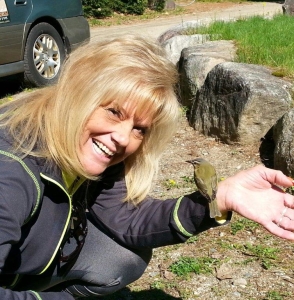 Lorraine Blais
Photo credit: blaisinteriors.com
Meeting with us at a home she fully decorated in Citrus County, FL, the interior designer and general contractor with more than 30 years of experience, identified what it takes to make that magic happen.
"Turning a house into a home means adding the personal touches that mean something to the people who live there," she said. "With my work, I try to make it warm and fuzzy, so when you walk into the home, it actually wraps itself around you and says, 'Welcome, I'm glad you're here.'"
It's clear a flair for creating and building runs in Lorraine's blood. Originally from Maine, she has over three generations of general contractors in her family and accompanied her father to many job sites growing up. Her resume includes working in the retail world in Boston and designing clothes for Jordache in Manhattan. She found her niche in interior design when she moved to Boca Raton, FL. "I realized I loved to build, furnish, work closely with clients, and finish a home that was custom fit to their needs."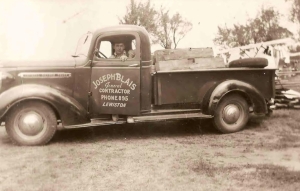 Photo of Lorraine's Grandfather Joseph Blais in his work truck.
Photo Credit: lorraineblaisinteriors.com
When the death of her mother brought her back to Maine, Lorraine started Blais Construction and Design, successfully combining general contracting and home design. Eager to put the finishing touches on every aspect from beginning to end, and armed with the experience to do so, Lorraine offered services for "complete turnkey homes," which she explained includes building the home, consulting on the design with the architect, and furnishing it down to the food in the fridge, toothpaste and toothbrushes.
"When I meet a new client, I try to get involved in the client's lifestyle. This helps direct me on the type of home to design for them," she said.  "A lot of people aren't sure what they want, but they have an idea and it's my job to put forth what they want in a way that's going to be functional and meet their needs best."
Showing us around the Citrus County home, she shared more insight on what goes into her work.
"For this project, I combined lifestyle with décor, and I wanted to find furniture that highlighted the architecture of this house to create the perfect blending of marriages," she said.
Noting the rounded archways, tray ceilings, and crown molding, Lorraine said the house reminded her of both a Santa Fe home and a Montana home, prompting her to bring in beautiful artwork featuring horses, lots of solid wood furniture, natural and neutral colors, and wrought iron. "When you combine two styles without overkilling either one of them, that's a beautiful blending of marriages."
Lorraine's search for furniture to fit her design vision led her to DutchCrafters.
"At DutchCrafters, I contacted Melonie who was extremely knowledgable and professional," she said. "I don't think I could've pulled off all I did with all the different woods, finishes, and designs without her help."
Standing in the master bedroom that features a set of Amish Wilkshire Sleigh Beds and a Wilkshire Dresser, Lorraine said she's very happy with the quality of everything.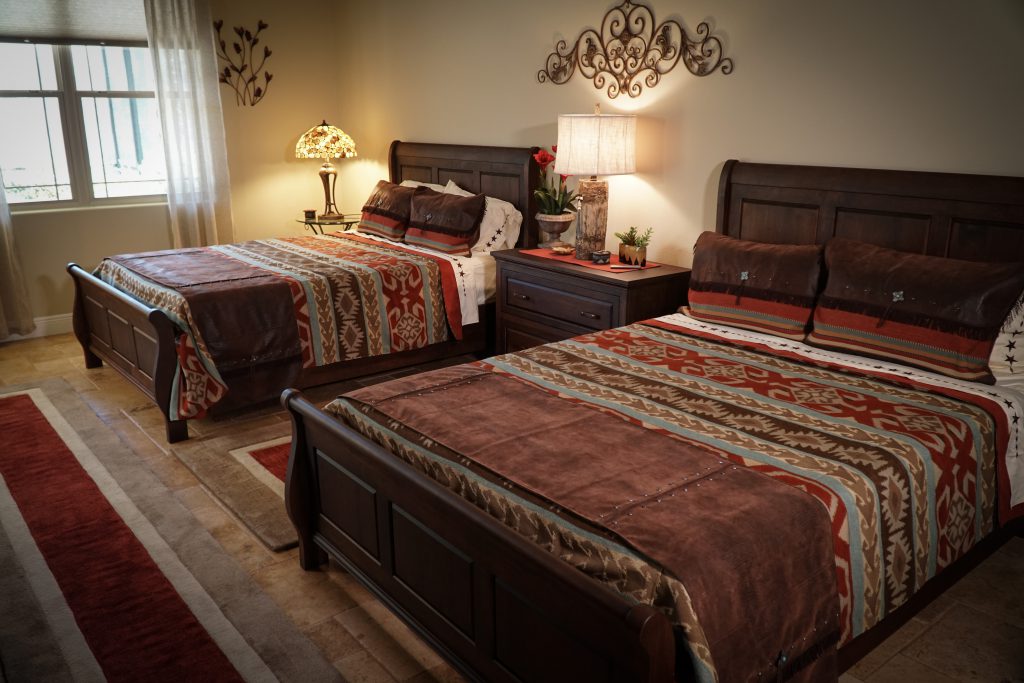 "The clients wanted two individual mechanical queen beds like they've had before, but a problem they had was when they raised the end of the bed, the bedding would come popping out," she explained, "with DutchCafters, I was able to have them make the frame of the bed 3-inches longer to compensate for the bedding so now when they adjust it, the bedding stays in place."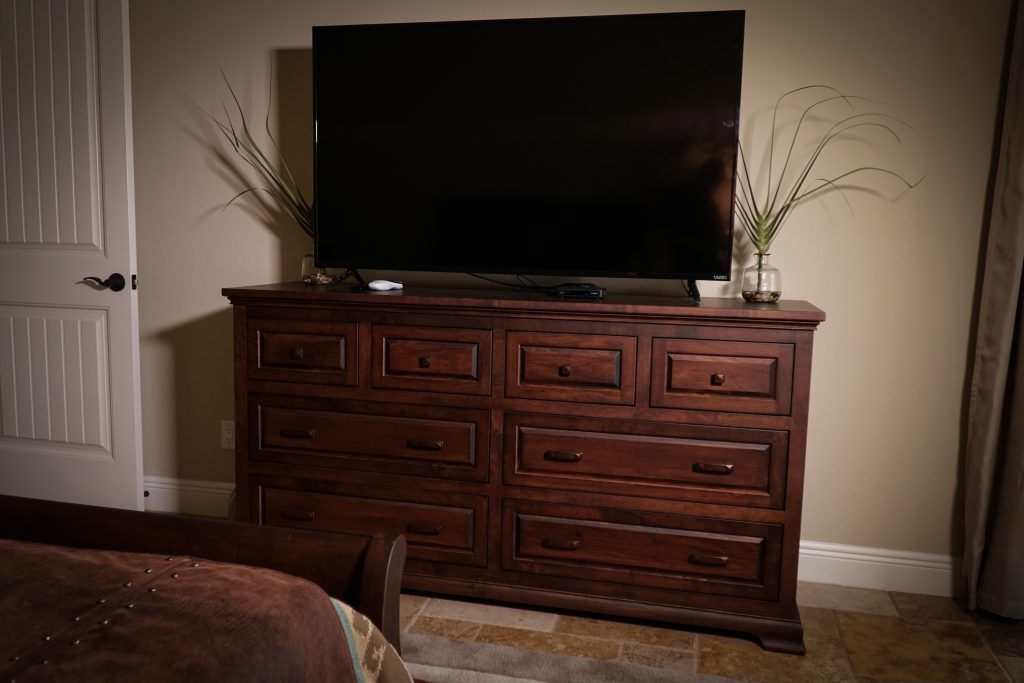 In the dining room, Lorraine went with a live edge dining table for six with a wrought iron base, to tie in with a Santa Fe feel. The Ellington Dining Chairs were custom made in the same wood.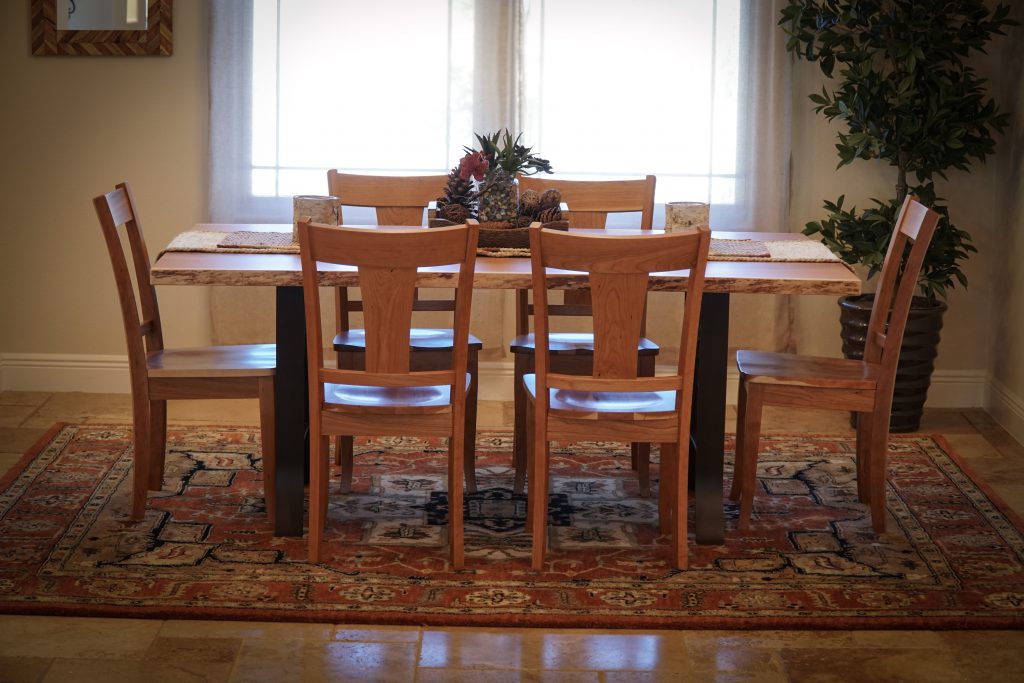 Swivel bar stools were selected for the kitchen bar, using neutral shades that wouldn't detract from the granite counters. Rich cranberry red upholstery was chosen for the backless Dillon Bar Stools at the kitchen island to bring in the rug under the dining table.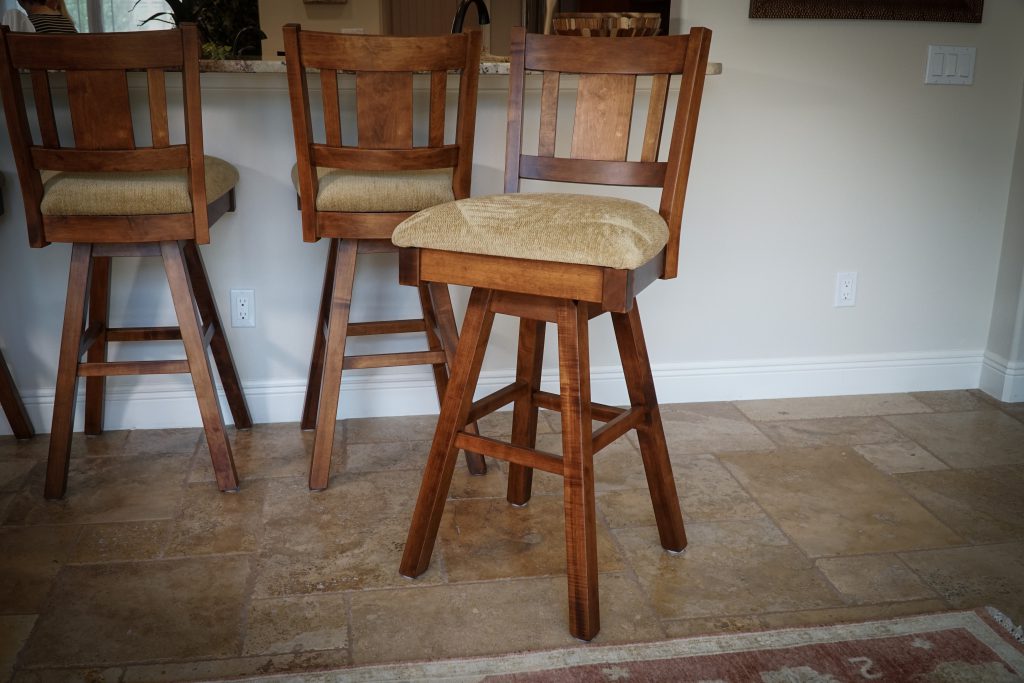 Out on the lanai, Lorraine calls the Amish Napa Wine Serving Bar she had stained to match the existing outdoor furniture a "work of art."
"I wanted the owner to have a bar that could fold down when not in use, but could open as a showpiece when he was entertaining," she said, "and I was able to accomplish this with DutchCrafters."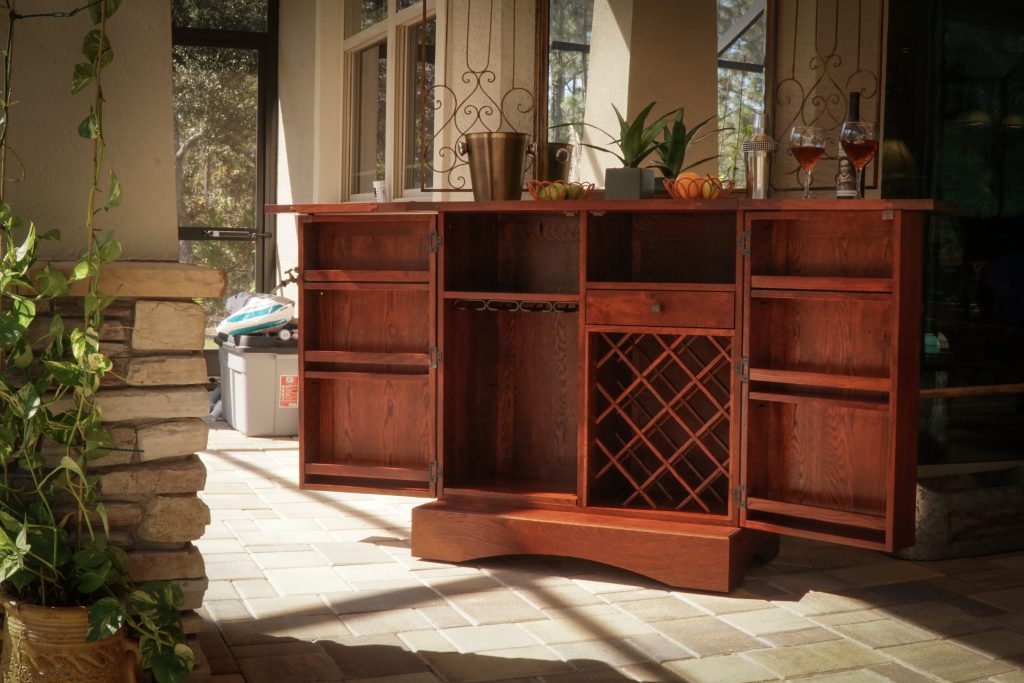 In the office, that also acts as a second guest room, Lorraine explained that the layout of the room was a challenge, but she selected custom furniture that would fit while adding touches that would make guests feel right at home.
An Amish Woodbury Executive Desk was chosen for the work space. Two Bayview End Tables were customized to 13" wide to fit on either side of a pull-out sofa.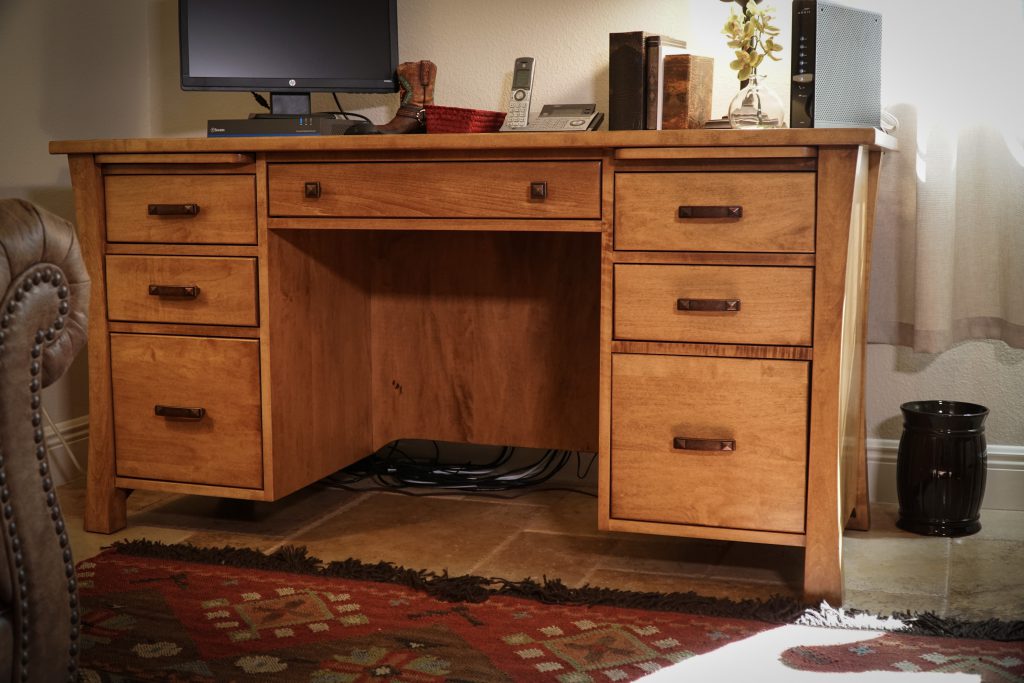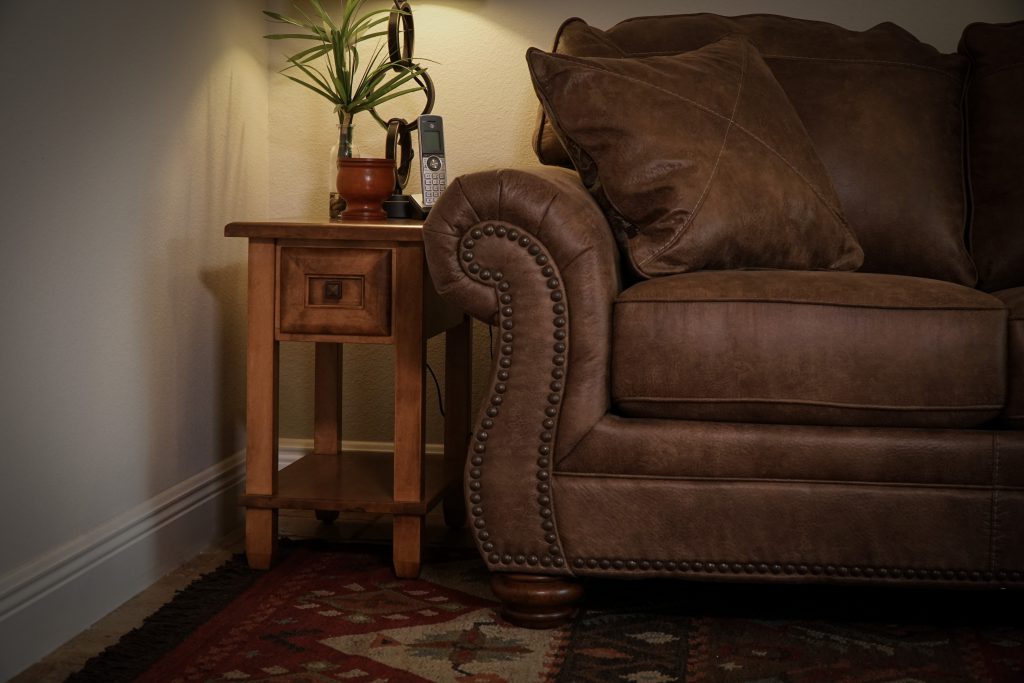 Bayview Side End Table
She also added a solid wood storage cabinet where clothing and personal items could be stored, and had it custom sized to fit between the door and the closet.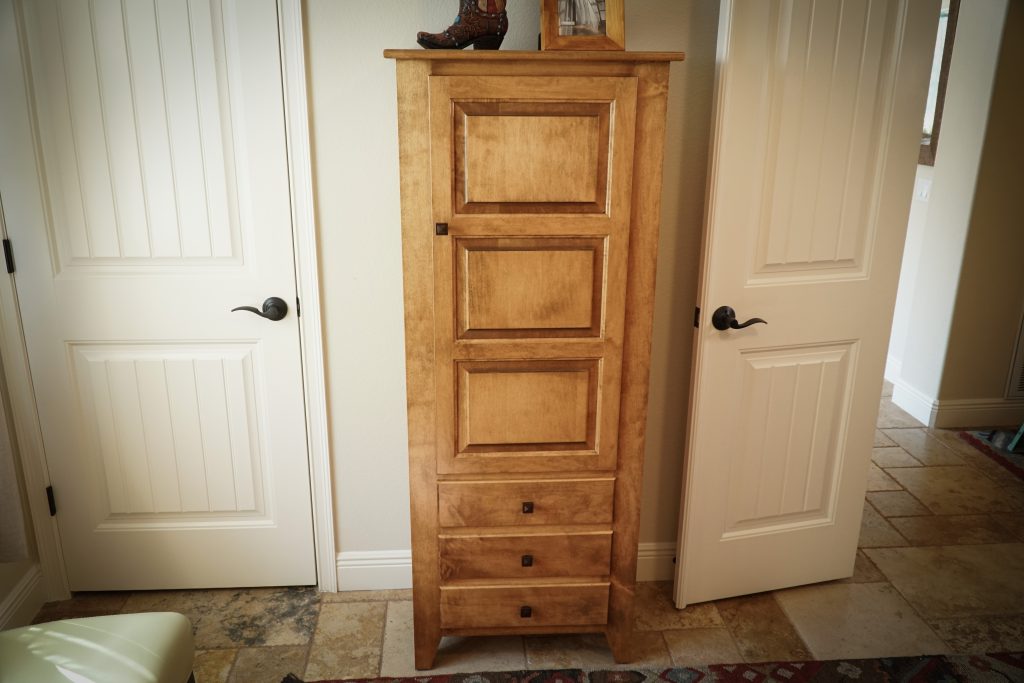 When asked what she would share with other designers about working with DutchCrafters, Lorraine said she would tell them to listen more than they normally would. "You're dealing with professionals who know the art of custom furniture," she said. "Get what you want, but listen to what they have to say so that between the two of you, you get exactly what you want and the quality you want."
Recently transitioning her business to focus on interior design hasn't slowed down Lorraine.
"I have a lot of energy and I put it in a good direction," she said. "I get things done quickly and I get them done correctly the first time."
Affectionately nicknamed "Hurricane" by her clients and bearing the name on her car's front license plate, Lorraine smiles, "I have to admit, I do live up to it."