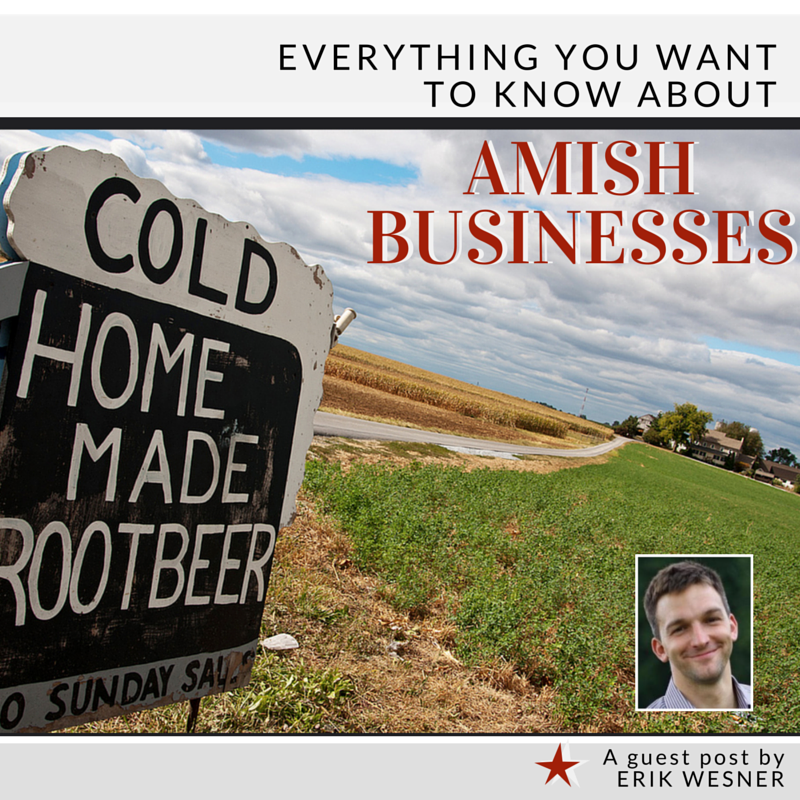 Everything You Want to Know About: Amish Businesses
Erik Wesner, author of Success Made Simple: An Inside Look at Why Amish Businesses Thrive, guest blogs for us today, all about:
Amish Businesses
If you've traveled through an Amish community lately, you may have noticed any number of roadside stands, small shops and signs advertising food and other goods for sale.
Amish entrepreneurs can be found in nearly every Amish community, and in some places have surpassed farmers in number. Today, Amish run thousands of companies across North America, from one-person workshops to large manufacturers employing 30 or more people.
In this article we look at why business has proven so attractive, and successful for the Amish, the types of businesses they run, and more.
Why business?
Why are Amish—traditionally farmers—today increasingly involved in businesses that have nothing to do with agriculture? There are a few reasons.
1. Growing population, scarcer land – "God doesn't make more land" as they say, but Amish populations continue to grow. It's harder to acquire a farm in some places, especially the larger communities, making alternative occupations more attractive.
2. High land prices – The competition among Amish in some communities boosts the price of land, but the situation is worsened in areas where many non-Amish live, such as Lancaster County, or the community in Allen County, Indiana, just outside the quarter-million-population city of Fort Wayne.
3. Developing business tradition – Entrepreneurialism planted its roots decades ago among the Amish, and today there are second and third generation businesspeople. It's not so unusual to open a furniture shop as it would have been many years ago, when most Amish were dairy farmers. Business owners can tap into the reservoir of accumulated wisdom in their communities to help them succeed, making small business even more attractive.
One can also mention the resounding success of Amish-run companies. In terms of survival, one study suggests that over 90% of Amish companies last at least five years. Truth be told, some of these are only small part-time operations, but many provide the primary income for Amish families. There are Amish-owned companies which generate millions of dollars in revenue each year.
Types of Amish-owned businesses
What are common types of Amish businesses? Amish are especially active in a few key industries. Construction and renovation are strong areas for the Amish, who do both residential and commercial work. Amish furniture makers and related wood industries are also very popular. Manufacturing is as well. Crafts, including quiltmaking, are popular in particular among Amish women.
Amish are also active in food-related fields, for example, market stand owners who operate delis, bakeries, and other culinary businesses in Pennsylvania Dutch markets, or those who operate bent n' dent or bulk foods grocery stores. Small shops such as dry goods stores or fabric shops are also fairly common, catering to the local population. The types of businesses Amish run tend to reflect both traditional values, and the fact that Amish have limited formal education (eight grades is typical), funneling them into certain industries.
Connections with the world
How do Amish market their products and interact with customers? While some Amish do sell products direct to the public, Amish frequently partner with non-Amish to retail their products. This allows them to tap into marketing and internet resources that they otherwise wouldn't have access to. (Ed. note: Hey, Erik, we know a little something about that! DutchCrafters Amish Furniture has been partnering with Amish Craftsmen for over a dozen years!)
Some Amish do maintain their own websites, often via a third-party service. They also advertise their goods in various venues, including local papers and trade publications such as Plain Communities Business Exchange.
Do Amish do business with non-Amish people? The answer is a definite "yes"—in many cases non-Amish comprise the majority of their customers. Some Amish businesses cater to their own communities (buggy shops, for instance), but even those often have some English (non-Amish) customers. For example, one large maker of horse-drawn equipment has a surprisingly large non-Amish customer base.
How can I buy Amish products?
There are a number of ways to get Amish-made goods. First, visiting a community, you're likely to see roadside stands and signs advertising local businesses. Amish generally welcome non-Amish customers to their stores.
You can also buy Amish-made products from non-Amish stores which cater to tourists. However, if it is important to you that the goods are "authentically Amish", it is wise to ask specifically, as some stores will sell goods that may have names which include the word "Amish" (like "Amish-style" or "Amish Country") but technically may not be produced by Amish.
Finally, you can buy a wide variety of Amish goods online, including quilts, furniture, scooters, food products, and more.
Two sides of business
Business has been good for the Amish—allowing them to make a living, with the added bonus of giving men a way to work at home, rather than in non-Amish factories, one alternative in some communities.
But there are also implications which cause some concern. These include closer ties with the world, and in the case of successful firms, an influx of wealth into the community bringing affluence and threatening the traditional plain lifestyle.
Despite these issues, small business offers a lot to the Amish family, including a Plain work environment, an opportunity to involve children in work, and an outlet to exercise creativity and innovation in producing and marketing new products to both their own people, and the rest of us.
---
By Erik Wesner, author of Success Made Simple: An Inside Look at Why Amish Businesses Thrive, and editor of the Amish America website.