Places You Didn't Expect to See Amish People
We're happy to have Erik Wesner, founder and editor of Amish America, on our blog! From time to time, he offers us his insights into various aspects of the Amish culture and communities. Take it away, Erik  – 
Let's start with the basics: Where do Amish people live?
Well, with the way Amish have been growing and moving, a better question may soon be "where don't they live?"
For many people, the first place that comes to mind is Pennsylvania, and specifically Lancaster County, home to the oldest and best-known Amish settlement. This is also one of the largest communities, with over 30,000 Amish residents, according to 2014 estimates by the Young Center for Anabaptist and Pietist Studies (Elizabethtown College).
The Amish, as it happens, aren't afraid to migrate and move to the proverbial greener pastures when the need arises. And why might the need arise, you might be wondering?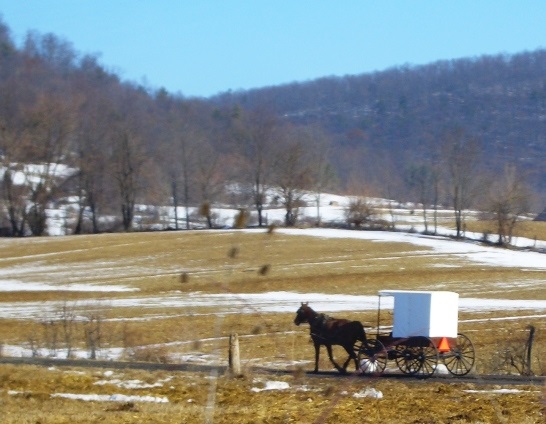 On the road again: Why the Amish people are spreading across the country.
Different reasons, actually—to find cheaper farmland in a less-populated area, a search for spiritual harmony in their church lives, or a desire for more or less technology (different Amish churches follow somewhat different rules, with some permitting technologies others don't). This willingness to migrate has led to roughly 500 independent Amish settlements across North America today.
Likewise, over the years Lancaster County and related communities have spawned dozens of spin-off settlements spanning eight states. You'll see the characteristic gray-topped Lancaster-style buggy in places as diverse as Virginia, New York, and Wisconsin.
Other states that come to mind when we think "Amish" include Ohio, where you'll find the sprawling Holmes County community among rolling hills on the edge of Appalachia, or Indiana, with the bustling Elkhart-Lagrange County settlement or that of neighboring Nappanee.
But the Amish have expanded well beyond these traditional homelands. In fact, as of 2015 you'll find an Amish presence in a whopping 30 states! Amish dots pop up all across the map, from Maine to Montana, Texas to Florida.
Some states have proven especially attractive in recent years to Amish seeking new homes. These include Kentucky and New York, which have attracted migrants at an above-average rate.
Amish still remain most heavily-settled in the Midwest, however, though their presence in the South (states like Virginia and Tennessee) and the West (Colorado and Wyoming) is expanding.
Those Amish who relocate to different regions of the country find climates and conditions different from those in their traditional areas. This can influence the type of work they pursue—with Amish in some cases opting for small businesses such as stores and Amish furniture workshops in lieu of dairy farming (those living in drier climes, for instance).
Some Amish communities have developed a reputation for certain trades. For example, the Arthur, Illinois settlement is known for its furniture and cabinetry work, with dozens of shops scattered throughout the community of over 4,000. Many Amish in the community just outside Fort Wayne in Allen County, Indiana are active in construction trades. And their neighbors in the northern part of the state provide the backbone to the area's well-developed recreational vehicle industry.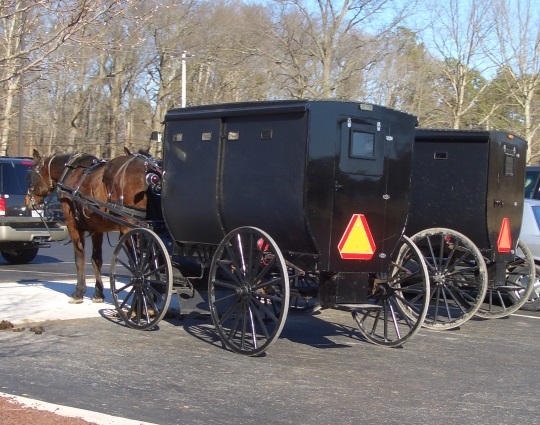 You won't find the traditional horse-and-buggy in EVERY Amish community – Amish people in Florida travel by bike!
Finally, we can't forget Canada. Since the 1800s Amish have made their home in Ontario, and today there are over one dozen communities in the province, where they rub elbows with their spiritual cousins, horse-and-buggy Mennonites. Until now, Amish north of the border have mostly remained in Ontario, though recent news reports suggest a group may migrate to Prince Edward Island.
For that matter, Canada is the only country outside of the US where you'll find Amish, though at certain points in their history, Amish have lived in both Mexico and Paraguay.
Despite these rare forays into foreign lands, few Amish have ever attempted to resettle outside of the US and Canada. No doubt the Amish continue to appreciate the religious freedoms and economic opportunities which drew them out of Europe and into North America beginning back in the 1700s.
—
Erik Wesner is the founder and editor of Amish America, a website about Amish culture and communities, and the author of Success Made Simple: An Inside Look at Why Amish Businesses Thrive. All images belong to Mr. Wesner.