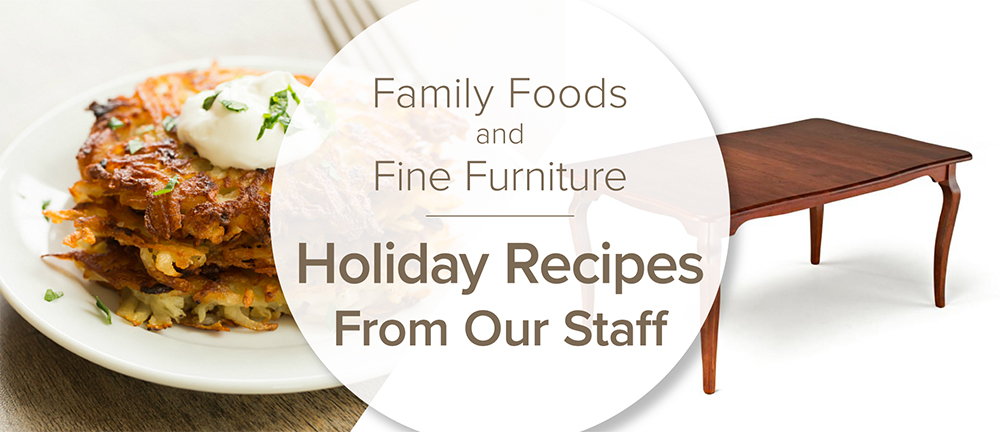 Family Foods and Fine Furniture: Favorite Holiday Recipes from our Staff
As holiday preparations get underway, warm thoughts of family traditions and outings come to mind. Somewhere between carols, decorations, and wish lists come the images of warm pies, stuffing, gingerbread cookies, and juicy turkeys. Think of the dining table you sit at to enjoy your favorite treats, or the bar stool you swivel in as you raise your glass. We're sharing some of our favorite family holiday recipes and solid wood furniture selections that reflect their textures and tones.
Coquito from Kaity
Coquito is a coconut based alcoholic beverage traditionally served in Puerto Rico. It is generally made with rum, coconut milk, sweetened condensed milk, vanilla, cinnamon, nutmeg and cloves. Sales specialist Kaity Vazquez learned this delicious drink recipe from her mother's best friend and has made it a custom to enjoy it every holiday with her family.
We would set this elegant coconut beverage on a serving tray featured on the Amish Wethersfield Single Pedestal Table. This table blends traditional and contemporary characteristics for a perfect transitional mix that never goes out of style.

                                         Coquito Photo: Food Network                                                             Amish Wethersfield Single Pedestal Table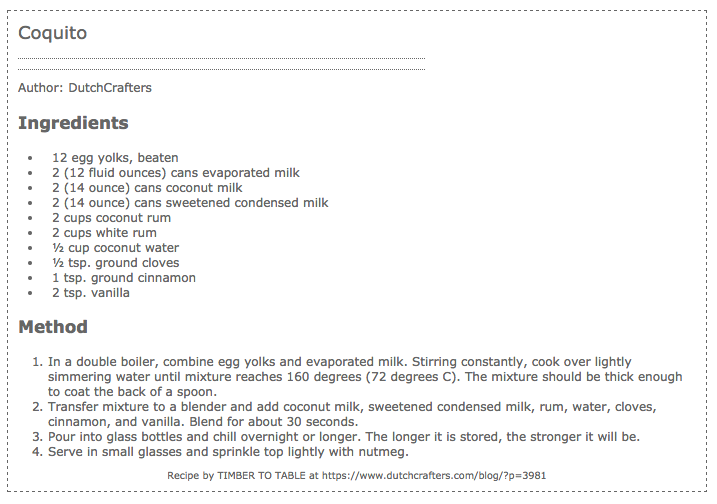 Dutch Goose from Debra
Debra Gingerich, DutchCrafters' marketing manager, shares her mother's recipe for Dutch Goose. Dutch Goose is a stuffed pig's stomach full of delicious goodness. It was favored over turkey as the traditional Thanksgiving dish among Pennsylvania Dutch families.
The belly of the Amish Royal Mission Sideboard with Wine Rack can be stuffed with your favorite wines and glasses, as well as barware in the drawers and storage compartments.

                                Dutch Goose photo courtesy of Debra Gingerich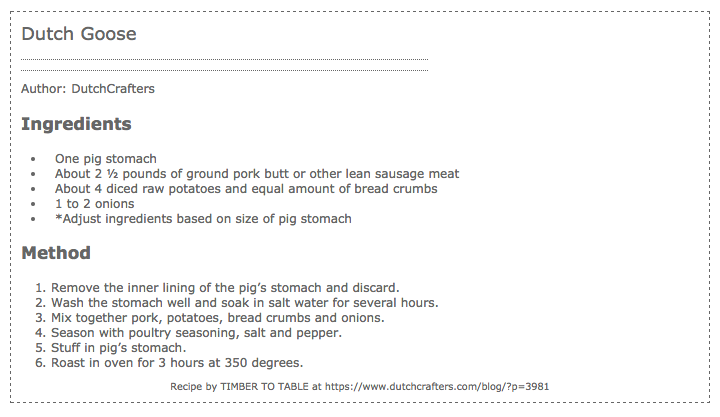 Latkes from Leah
Leah Meldman, a content writer at DutchCrafters, shares a special Hanukkah treat that was made by her Grandma Sue. Latkes, or potato pancakes, are best when they are made by hand, and Grandma Sue's had that special crispness that made them perfect. Foods cooked in oil are a Hanukkah tradition, celebrating the miracle of oil that burned for eight days.
The Amish Richland Dining Room Table provides a beautiful formal table for celebrating Hanukkah traditions.

               Latkes photo: Mihcelle/BrownEyedBaker.com                                                          Amish Richland Dining Room Table

Zwiebach from Jake
Growing up in Kansas, multimedia producer Jake Smucker enjoyed Zwiebach at nearly every family gathering and church potluck he attended. Zwieback is a traditional German Mennonite recipe that produces buttery, fluffy white rolls that can be eaten plain or with jelly or butter.
Jake shares his mother's recipe for Zwiebach that brings golden brown warmth and comfort to any gathering, just like the cozy Amish Slat-Arm Mission Morris Sofa.

          Zwiebach photo: Julie/afaintshadow.blogspot.com                                                                Amish Slat-Arm Mission Morris Sofa

Prime Rib from Frank
Sales manager Frank Quiñones has pursued a quest for the perfect prime rib recipe. It began with Frank and his family enjoying his Uncle Larry's prime rib every holiday. Over the years, the Quiñones holiday celebration moved to Frank's home with the expectation of a great prime rib. With some input from his brother, who is a seasoned chef, Frank developed and refined this favorite family dish, adding his own flair for all to enjoy.
We would serve Frank's fabulous prime rib on the Chesterton Plank Top Trestle Dining Table to create a grand and captivating display.

                                       Prime Rib photo: The Manual                                                                        Chesterton Plank Top Trestle Dining Table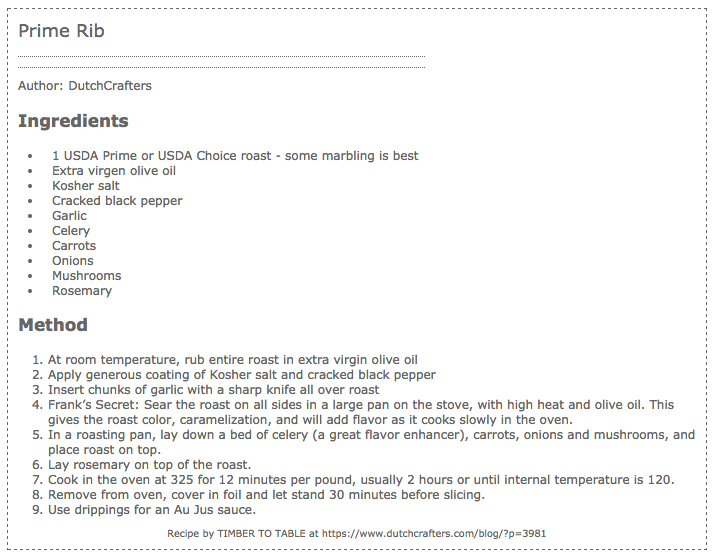 Enjoy your favorite holiday recipes surrounded by family with fine Amish furniture to support your special gatherings.