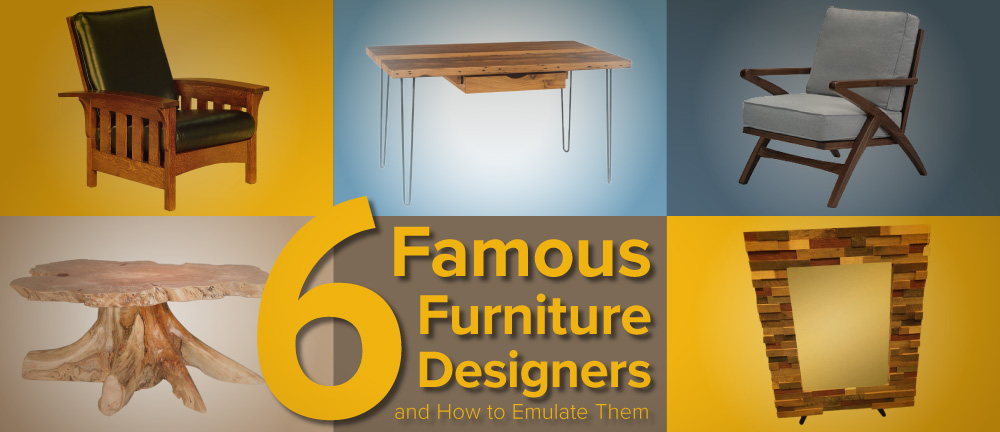 Famous Furniture Designers and How to Emulate Them
As much as we enjoy marveling at the fine craftsmanship of our Amish woodworkers, we love and admire famous furniture designers as well. Each designer has shown dedication to their craft, much like the Amish work ethic that makes our furniture great. Find out how to emulate the unique aesthetic of these designers with pieces from DutchCrafters.
George Nakashima
Known for: "Free-edge" furniture
George Katsutoshi Nakashima was a master woodworker and architect who became known as the father of the American craft movement. Nakashima fell in love with the personality of natural wood, appreciating every knot and burl as a mark of character. His fusion of Japanese and modern American styles left a lasting impression on 20th century American art furniture.
Our Amish Rustic Cedar Log Coffee Table with Stump Base offers the organic, asymmetrical charm that Nakashima loved.
       Amish Rustic Cedar Log Coffee Table with Stump Base
Florence Knoll
Known for: Modern functionality
Florence Knoll Bassett believes architects should use their abilities to design furniture as well. Her architectural background and flair for design has allowed her to achieve immense success with her take on minimalism. She is a pioneer of modern furniture design, having created the Knoll Planning Unit that revolutionized corporate interiors of post-war America. Florence frequently contributed her own furniture designs to the Knoll catalog. Her command of modern design continues to be celebrated.
Our Urban Reclaimed Hairpin Pencil Drawer Desk mimics the design of Knoll's stacking stools.
                                                     Urban Reclaimed Hairpin Pencil Drawer Desk      Florence Knoll Basset Stacking Stool via donshoemaker.com
Sam Maloof
Known for: Simple, sculpted chairs
Southern California homeowners first noticed the practical designs of Samuel Solomon Maloof in the 1950s. His famous chairs possess a sculpture-like quality while managing to be ergonomic. Maloof favored the use of black walnut, cherry, oak, rosewood, and yew. Renowned for his craftsmanship, Maloof preferred to be known as a "woodworker" because of the honesty of the word.
The DutchCrafters Amish Rocker features the straightforward comfort that Maloof mastered.
                                Amish Rocker                           Sam Maloof rocking chair via lamodern.com
Gustav Stickley
Known for: Craftsman style
Gustav Stickley is credited as a pioneer of the American Arts and Crafts movement. He learned to make furniture in a Pennsylvania chair factory, and later became owner of the factory. Stickley founded a magazine called The Craftsman that educated the public about his modest design philosophy. His magazine became the voice of the American Arts and Crafts movement, catapulting Stickley into furniture fame.
The hallmarks of Stickley's Craftsman style, honesty and soundness in design, are apparent in our Amish Bow Arm Slat Mission Morris Lounge Chair.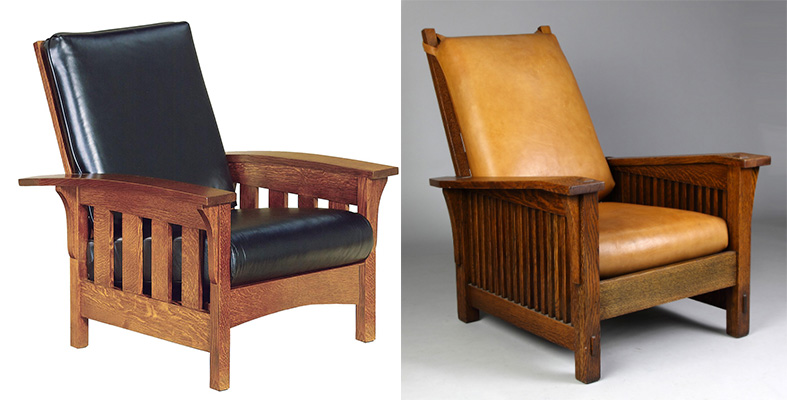 Amish Bow Arm Slat Mission Morris Lounge Chair           Gustav Stickley Drop Arm, Spindle Morris Chair                                                                                                                                                via cottonauctions.com
Gio Ponti
Known for: Modern architecture and industrial design
Giovanni Ponti was at the forefront of 20th century Italian Modernism. He spent his life exploring various disciplines including architecture, industrial design, publishing, and furniture. Ponti's sleek designs for skyscrapers translated effortlessly into his distinctive furniture. His attention to the smallest detail made Ponti an accomplished artist.
Ponti's famous chest of drawers reminds us of our Amish Reclaimed Wood Block Art Mirror.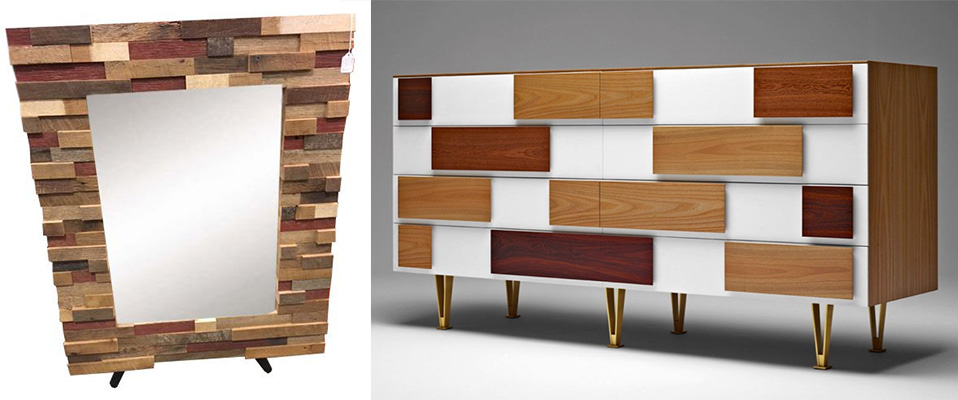 Amish Reclaimed Wood Block Art Mirror           Giovanni Ponti chest of drawers via molteni.it
Jens Risom
Known for: Mid-century modern designs
The Danish-American furniture designer Jens Risom exemplifies mid-century modern style in his furniture. One of his earliest chair designs consisted of a birch frame and surplus parachute straps. He made the most of the few materials that were available after World War II. In 1941, he collaborated with Florence Knoll to develop a concept for the new modern home. His designs were featured in one of Knoll's first catalogs, cementing his place in mid-century modern history.
The simple, well-crafted furniture of Risom is reflected in the Marilyn Mid Century Modern Lounge Chair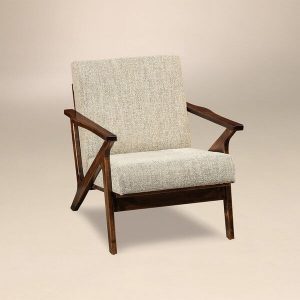 Each of these famous furniture designers earned their spot in history because of their curiosity and dedication. Like our Amish woodworkers, they put the very best into every piece. Bring the spirit of their design into your home.