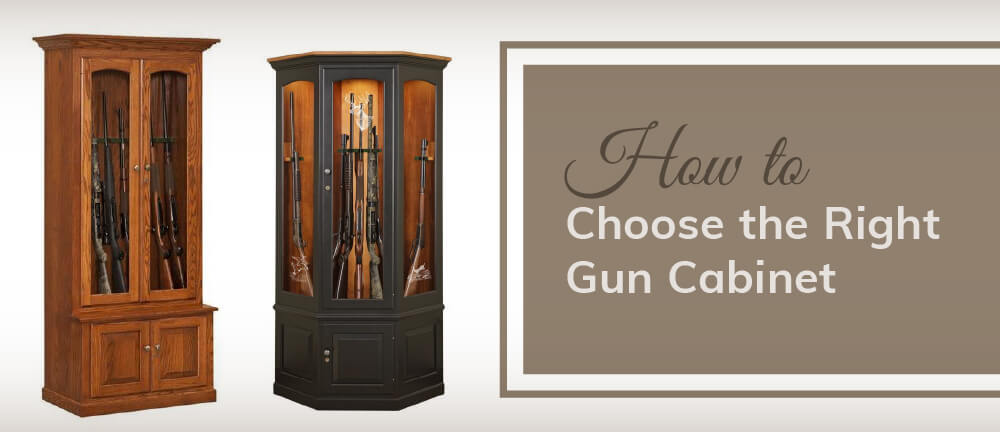 How to Choose the Right Gun Cabinet
Gun cabinets offer a stylish way to display your gun collection while keeping your pieces safe and secure. Different options include things like a carousel holder for easy retrieval, hidden compartments and varying sizes. Here are some important things to keep in mind when you're shopping for a gun cabinet.
Gun Cabinets vs. Gun Safes
It's important to note that gun cabinets are for storing and displaying your collection. While they do come with locks for added security, they are easier to get into than gun safes. In addition, many gun safes are water resistant and flame resistant, whereas gun cabinets are not. On the down side for gun safes, they are not decorative or pretty, but often heavy and difficult to move.
What you will get with gun cabinets is a spectacular display that gun safes do not offer. There's the double-strength glass you can look through to admire your gun collection and show it to others. The cabinet is lined with soft felt and has rows specifically cut to hold each firearm gracefully. Gun cabinets offer added storage for ammunition and smaller guns, and they come in a variety of sizes and styles. (And at DutchCrafters, you can customize them to your heart's content.) Gun cabinets are large capacity. They are lighter than gun safes, and they are attractive.
Gun cabinets offer different display options, some with carousel racks for easy retrieval and some with racks that allow rows of firearms to be displayed. There are also hidden gun cabinet options with the gun rack a hidden unit that's built into another piece of furniture like a bookcase front. Keep in mind, if you choose a model with a hidden rack, be sure there's enough room for the rack to pull out easily and that you have it positioned on the correct side that will be useful in your space.
Gun safes are a good choice when you're not looking to display your collection, but prefer to keep it hidden away safely.
Choosing the Right Gun Cabinet
Measure your space.
Consider the size of your collection and how much your gun cabinet will need to hold.
Make sure your gun cabinet has a lock system that locks securely.
Look over shelving options for storing other accessories.
Look for a quality interior that will hold and protect with items like padding and insulation to guard against scratches.
Your gun cabinet should be easy to open and close.
Consider what style you like best.
Make sure any drawers open and close easily.
If you plan to store handguns, consider what the gun cabinet offers for them.
Consider felt lining for drawers to keep contents from sliding.
Are Gun Cabinets Secure?
Safety should always be top priority when storing firearm collections. It's important to note that while gun cabinets come with locks to make them harder to get into, they are primarily display cabinets and are not waterproof or fireproof.
In general, gun safes offer more security factors, while gun cabinets offer more display options. Amish made gun cabinets are highly customizable, making it easy to create an attractive display.