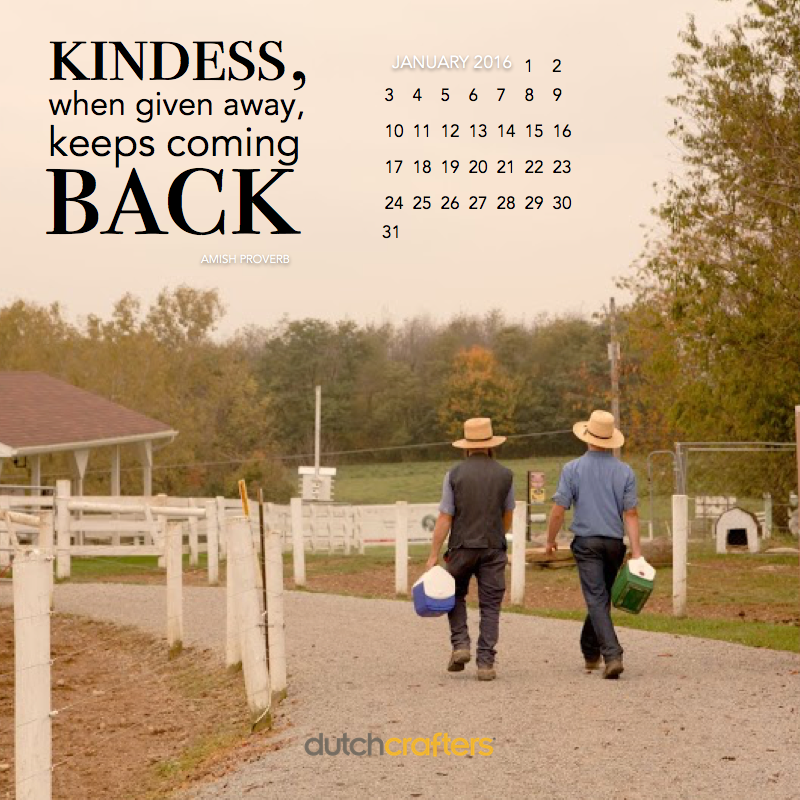 Inspirational Calendar Wallpaper: January 2016
It's Monday after a long holiday weekend, and the last thing you may want to think about is your January schedule. But how about thinking of kindness?
We've designed an inspirational calendar wallpaper for your mobile phone, your desktop, laptop, your tablet – just about any digital background that you can think of!
Our inspiration is an old Amish Proverb about kindness, and we'd all do a little better to remember it in the new year!
Do you have any favorite Amish Proverbs for us to make in the coming months of 2016? If so, share them in the comments!
Inspirational calendar wallpaper for January 2016 sizes:
Directions to installl calendar wallpaper on mobile device:
First, choose and save the optimal size image from the list below, then email the image to yourself. Open up the email on your phone, and save the image to your phone.
Alternately, just bring up this page on your mobile phone, and save the inspirational wallpaper calendar to your phone right here (long tap the image to save to your phone).
To make the image your wallpaper:
On Android:
Long press your home screen
Choose the Wallpaper option and pick your wallpaper of choice
Touch "Save" and you're all set
On iPhone:
Head into Settings > Wallpapers & Brightness
Tap "Choose Wallpaper"
Select a photo from your camera roll
Tap "Set" and choose either your lock screen or home screen.
On Desktop/laptop:
To make any picture stored on your computer (or a picture you are currently viewing) your desktop background, right-click the picture, and then click Set as Desktop Background.