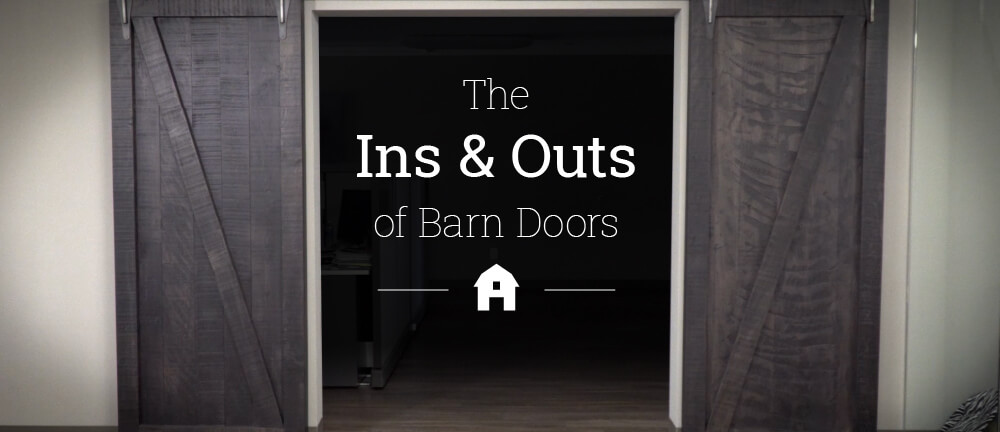 The Ins and Outs of Barn Doors
Barn doors could be just the right answer if you are remodeling and looking to free up some space while adding a style element.
The look of barn doors has been well received and is still going strong. While many favor a rustic farmhouse look, barn doors are available in plenty of styles to fit a contemporary or traditional room as well.
There are a few things to consider before splurging on barn doors. While they are attractive and a great solution for some, they aren't perfect for everyone.
The "Ins" of Barn Doors
Space Please
The barn door idea is a space saver. Think of the room it takes for a regular door to swing on its hinges as it opens and closes. All that space is handed back to you with a door that slides from side to side, and your barn door won't damage a wall by swinging or slamming into it. Sliding barn doors work particularly well for small bathrooms, kitchen pantries, closets, and hallways, freeing up space a swinging door would take up. Keep in mind that the room barn doors create to pass through is fantastic when you are moving things like furniture or other large items.
The "It" Door
Barn door styles aren't limited to rustic. There's a variety available to contribute to your décor, from the rustic favorites to more contemporary styles, industrial or modern. They offer lots of visual appeal and have become the newest way to replace the pocket door.
Decoration and Door in One
Barn doors can be used decoratively, or as a true door to section off a space or create a unique entryway to a room. They make a bold statement and they can be used for large or small spaces. They can also be customized in the wood and finish that will enhance your room best.
The Outs of Barn Doors
There are many reasons barn doors are a great idea. They work well for small spaces where a swinging door would be a tight fit. But here's where we're going to share what can be some drawbacks and important information to consider.
A Little Lost Privacy
If you're strict about your privacy, think twice about a bathroom or bedroom barn door. Why? Remember the barn door covers the doorway opening and does not close and lock tightly. This means there's a little room for sound to seep through. It's also elevated off the floor a little, leaving a bit of space underneath that sound can escape through.
Noise Factor
Keep in mind that as you slide your barn door open or closed it is likely to make more noise than a traditional door. This could prove to be a pitfall if you're trying to close the door and don't want to wake the kids.
Installation
While barn doors are generally simple to install, if you have a doorway or entryway with a unique shape, there will be additional work to set up a track to hang them from.
Measuring for Barn Doors
Now that we've got the facts that could throw a curveball in your barn door plans, let's review how to be sure they're a good fit for your home.
Barn doors need wall space.
Keep in mind the space you'll need for barn doors. You'll need room for their width and room for them to be opened. Imagine your new barn doors open and check the wall space they will be covering for any light switches, plumbing, electrical outlets, vents or artwork as you will not want these things covered when sliding the door open.
Single sliding barn doors are one door on a track attached above the doorway. So you will need space on one side of the door that is at least the width of the door.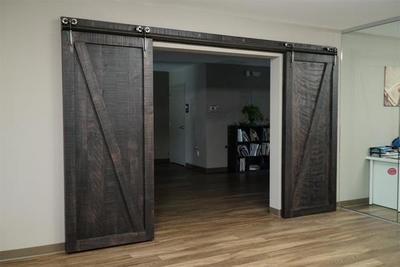 Double sliding barn doors open to either side of the doorway. Here you will need the width of a single door on each side of the doorway. The door should be one to two inches wider than your doorway to adequately cover the doorway and eliminate any gaps on the sides. Add two inches if you have the space to work with or one inch if you're shorter on space.
The track over the doorway should be twice the width of the door.
To sum up, the truth about barn doors is this: They could possibly be noisy and reduce your privacy level a bit, but they make a great style statement and can save you space.