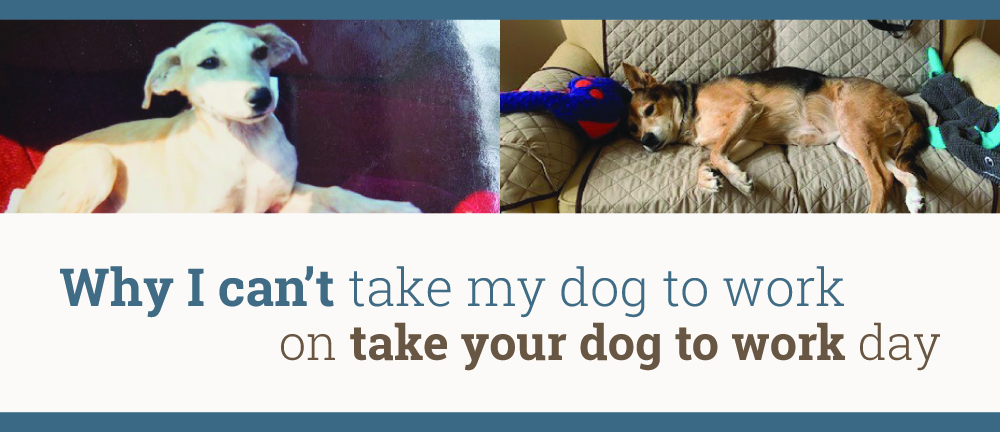 Why I Can't Take My Dog to Work on Take Your Dog to Work Day
I can't take my dog to work, and I'll tell you why in just a moment.
Friday, June 21 is Take Your Dog to Work Day and Monday, June 17 was Take Your Cat to Work Day.
And for bearded dragons, birds, geckos, hamsters, guinea pigs, and all the others, the entire week of June 17 through the 21 was set aside this year for Take Your Pet to Work Week.
But, I can't take my dog to work.

DutchCrafters is a pet friendly workplace and pets are always welcome to visit anytime. I'm allowed to bring my dog whenever I wish and let her lay down under my desk so I can scratch her head periodically. She can rub noses with the other pets that come and dutifully sit up and tell me when she wants to go out. Except that won't happen. She would be nervous and most likely make on the floor multiple times, pace and pant to disturb the peace, and generally cause a ruckus that may not be in sync with a productive workday.

My dog is the type that looks pretty and soft and fuzzy and smiley. She's gentle and patient. But she will run off if the opportunity arises, steal your sandwich when you're not looking, lick everything in the dishwasher then accidentally hook her collar on the dish tray and drag it throughout the house, relieve herself in the car during a car ride or in the lobby of the vet's office when she's nervous, and generally disgrace me whenever my mother-in-law visits.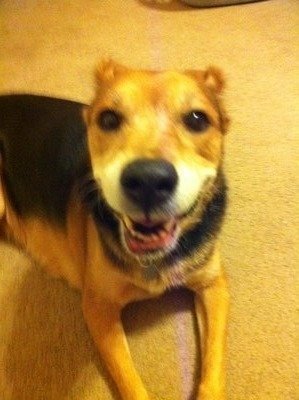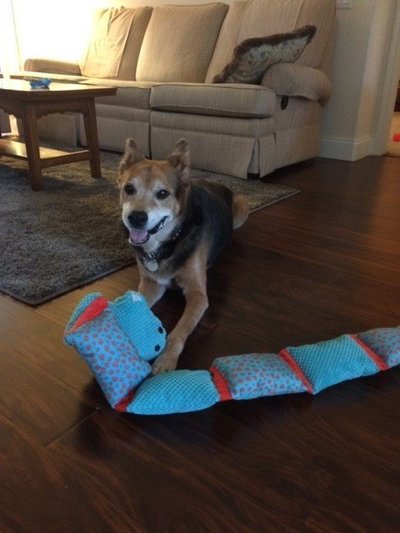 My dog's name is Lady. We call her Lady, Lady Rice, Bubba, Fuzznubbit, Nutball, Cutie and recently added Grandma to the list, since she is fast approaching her "17ish" birthday that we chose to celebrate on July 4t each year.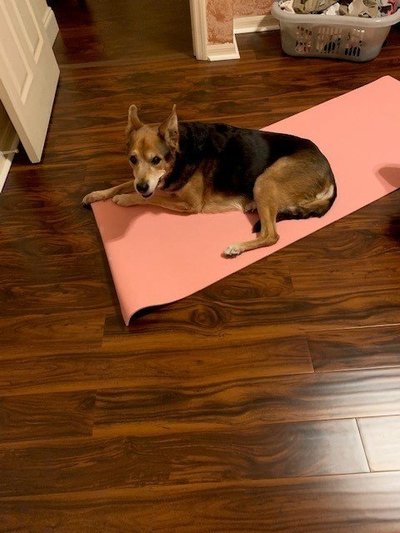 I say "17ish" because when we adopted Lady from the Sarasota Humane Society, they guessed her age as "2ish" and we've had her since 2004. Lady is a pound pup, a charity case, a rescue and an unidentified mix of what the shelter and vet believe to be German shepherd and something else. She weighs about 55 pounds.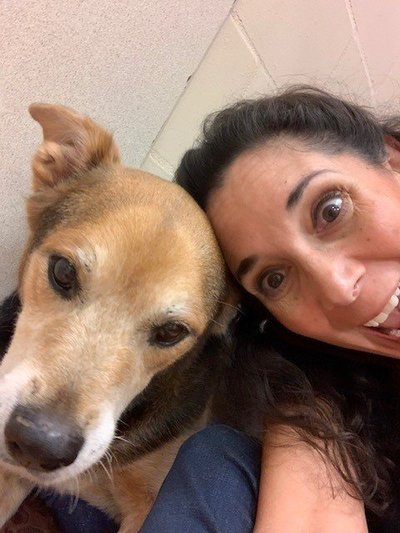 Always devoted to adopting from local shelters, I remember going to the Humane Society with my husband John and our girls who were 4 and 5 at the time. We were ready to add a dog to the family again after losing our hound mix Nikki (also adopted from the Sarasota Humane Society) to a brain tumor and her brother Jennings (who we found at a rest stop in Jennings, Florida) to liver failure when they were 11 and 12 years old.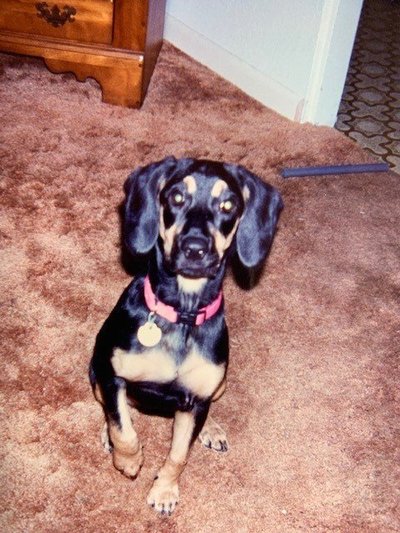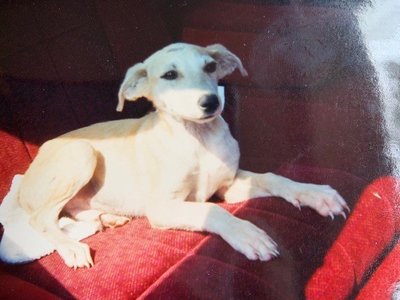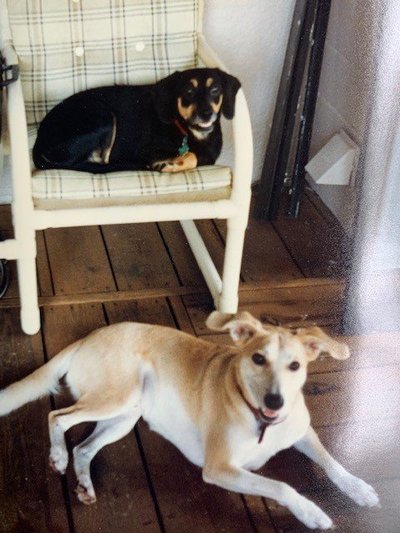 A volunteer took us up and down the aisles at the shelter to view the homeless hopefuls, and after picking out a few, they brought them one by one into a separate room so we could spend time with them. None of the three were a good fit. We were about to leave when my husband John, said "Wait, we missed this row." Down it we went and close to the very end was Lady who came right up to the front of her pen wagging and wiggling.
Lady came to the "test room" with us and then outside to the yard for some play. Each time we threw the ball she went running her hardest for it, retrieving it and coming back. She walked alongside John and impressed me with how she kept darting back to where I stood with the girls, as if to check on the two little charges that she had already assumed were hers to protect.
Lady, in her heyday, was an incredible watchdog, sounding like the meanest, ugliest, fiercest form of Cujo from her side of the door when deliverymen (I'm sorry) or other unknown humans (sorry to all) would knock on the door or walk by our house. Yet she's been the gentlest, most tender buddy and protector to my daughters (now both in college), who put beads on her, dressed her in clothes, painted her nails, made her wear crowns, checked her with their doctor's kit, and trapped her in "forts" they made under the dining room table.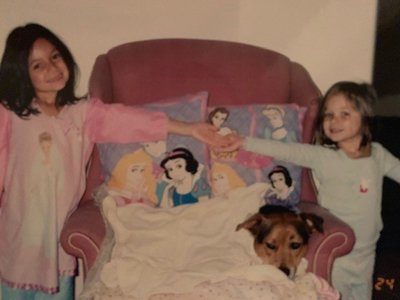 Make no mistake, Lady delivered her share of torture to the girls by mercilessly stealing their stuffed animals (and chewing out the eyes), their snacks, and their Easter basket candy. Let's not mention her habit of darting out the front door and running away as the girls headed out to school, resulting in me delivering two crying children to their elementary school who were sad that their "bad dog ran away again but they still love her."
And in between all of that, there was just a lot of loving going on.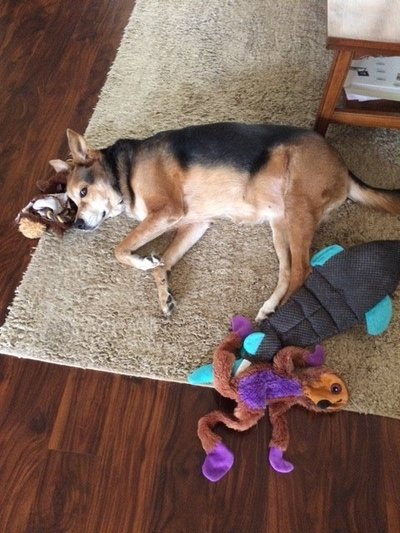 Now Lady is old. She does not hear me come in when I arrive home. She's been diagnosed with significant arthritis along her spine that has caused some nerve damage, which results in difficulty walking. She can't stand for long, she's slower getting up, and she takes tumbles fairly frequently. Our vet has her on medication for pain, and now she walks with the aid of a sling. She roams at night more, and it takes time for her to get comfortable. But her appetite is still good, and she still goes after one of her many stuffed toys with joy and alertness albeit her play is more of a tug of war on the floor than throw and retrieve or steal and chase games. When I am home she follows me everywhere, much more than she did when she was younger.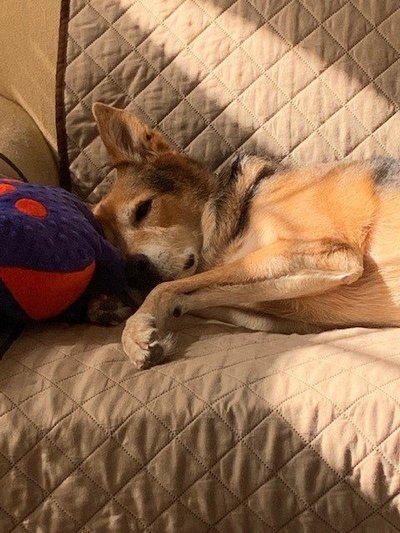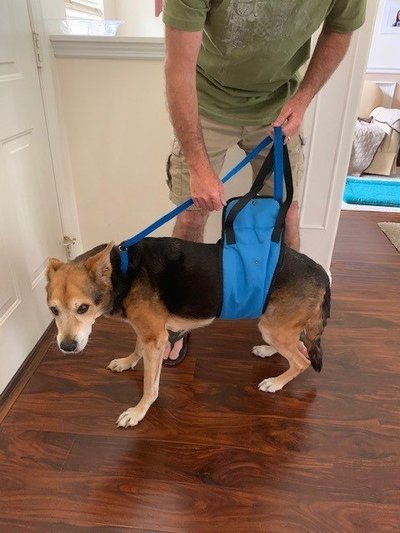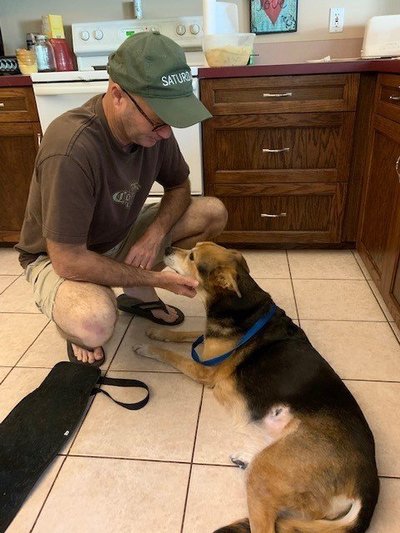 Lady has always opened her own birthday presents, tearing off the wrapping paper herself. So, this July 4, I'll still wrap up her gift and let her entertain us unwrapping it like an excited child. I hope she can still do it.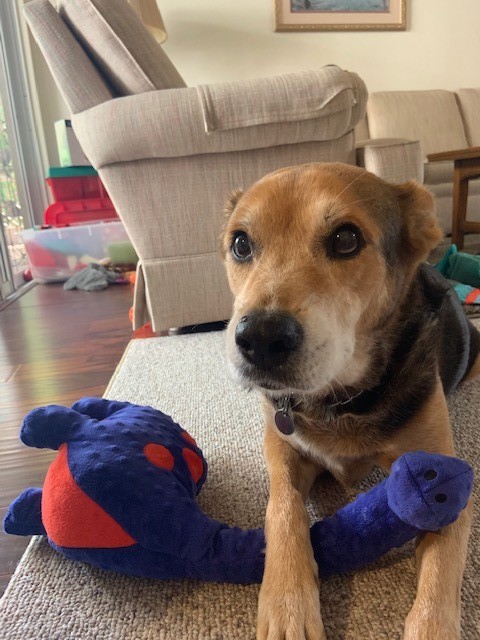 Thank you to the organizations that rescue pets, care for them, and find homes for them.
Take Your Dog to Work Day was introduced by Pet Sitters International in 1999 to recognize and celebrate the importance of the human-animal bond and to encourage employees with no pets at home to consider adopting one.
I don't like to think about what we would have missed if John had not noticed that "other row" where Lady was waiting for us at the end. I'm so glad he did.
Check out some of the gorgeous Amish made pet furniture available here at DutchCrafters!
Have you adopted from a pet shelter or rescue? Tell us about them! We're looking for names, a photo, and your favorite pet story. Feel free to enter your info in the comments below.