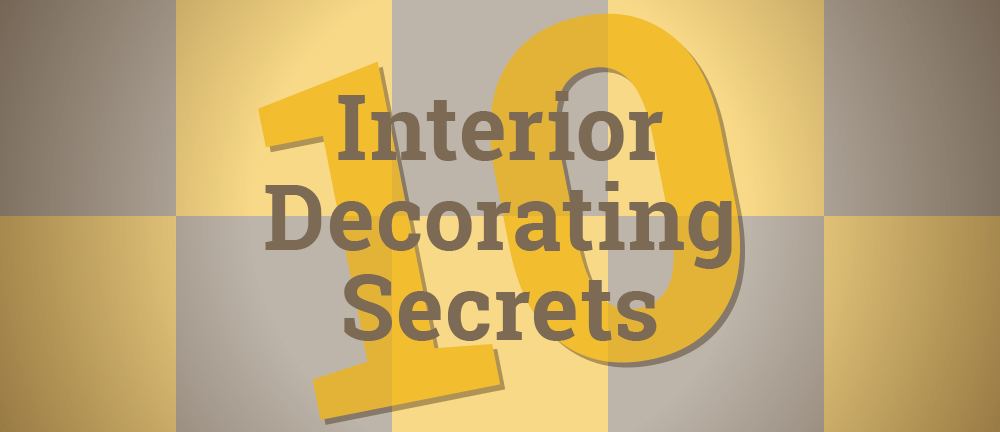 10 Interior Decorating Secrets
Whether you're starting from scratch or would just like to refresh your home's interior, there are a host of decorating secrets that can simplify the process for you. From something significant to minor adjustments, we're sure you will find a tip that applies to your home. It could be a pop of color in an unexpected place or a plant to liven things up.
We've rounded up our top 10 interior decorating secrets to help you pull off a mini or major home makeover.
1. Create a Furniture Focal Point
If you're stumped on where to start, this tip is for you. Creating a focal point allows you to begin with purpose. Narrow down the focus of the room and the rest will fall into place. You'll want a single element to do the talking while the rest of the room's décor plays a supporting role.
The Amish French Country Kitchen Island Set will create a focus in your home, just as it does in our Sarasota store.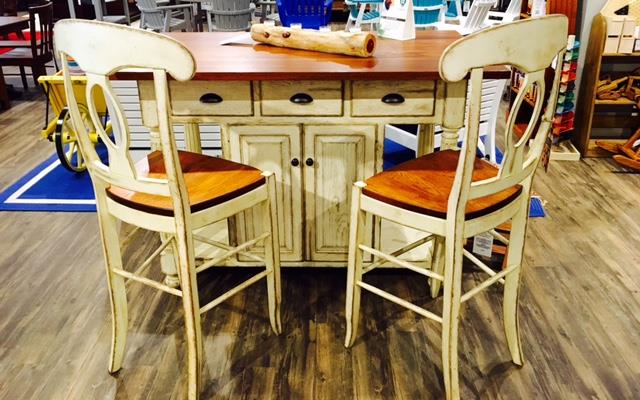 2. Be Bold
Select a statement piece that reflects your style. This is also another great way to create a focal point in your space. Draw attention using a bold color or unique piece of furniture. Keep the rest of the room's color palette subdued to allow this piece to really stand out.
We love the shape of the Sterling End Table.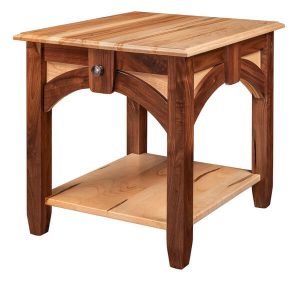 3. Capture Color Scheme
Speaking of color, we've got a little trick for that. The rule of thumb followed by many interior designers is that 60 percent of the room should feature the dominant color of your choice. Next, select a secondary color that comprises 30 percent of the room you are decorating. The last 10 percent should be reserved for an accent color.
The deep tones of our Arcadia Leg Table Collection makes up the majority of the color in this room, while the fresh cream paint on the walls plays a supporting role. This neutral tone is also reflected in the light fixture. Pops of green can be seen in accents like the plant, area rug, and artwork.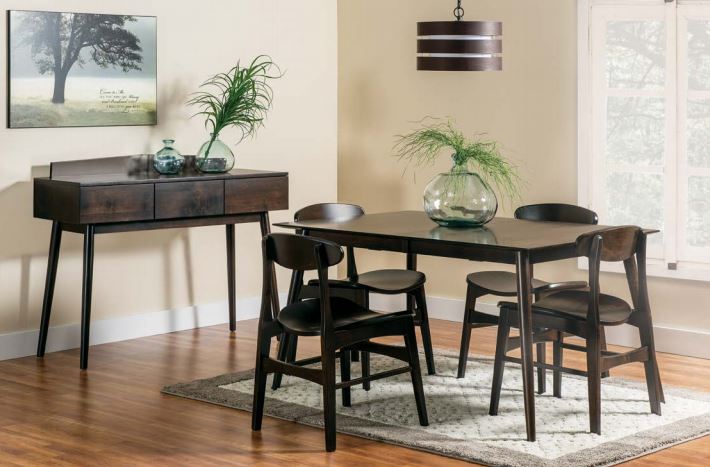 4. Mix and Match
Mixing and matching your dining room seating is a great way to add interest to a space. Avoid a uniform look that is too stuffy and ends up feeling like a boardroom. Employ a variety of seating including benches and upholstered chairs.
The Pierre Dining Room Table gets paired with the Pierre Bench, Pierre Dining Chairs and Bradshaw Parsons Dining Chairs for a varied and eye-catching look.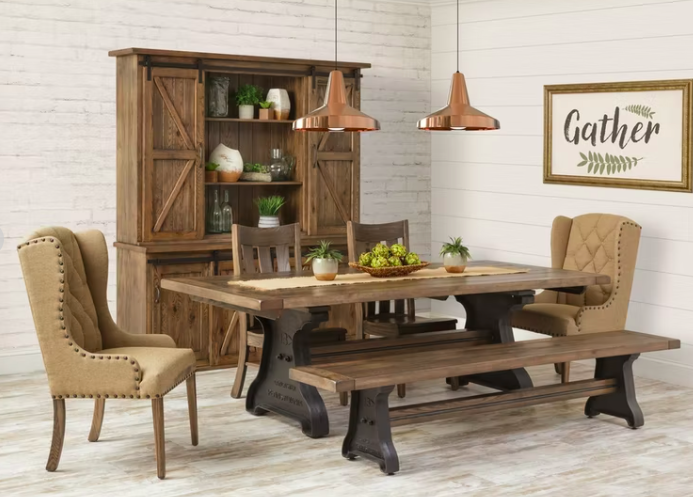 5. Set the Bar
Create a welcoming atmosphere by placing your bar in plain sight. Display your glassware and beverage options for all to see so guests feel free to help themselves.
Give an open invitation to all by displaying the classic Amish McCoy Bar and Wine Cabinet in your space.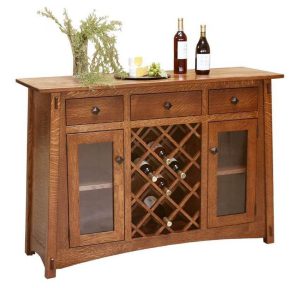 6. Break up the Bookcase
Rearranging your bookcase can do wonders to improve any room. Accessories like plants, vases, and picture frames serve to add interest to your reading collection.
Our Amish Deluxe Bookcase looks great with books organized in various directions accompanied by accessories. The addition of greenery would add even more life to this lovely display.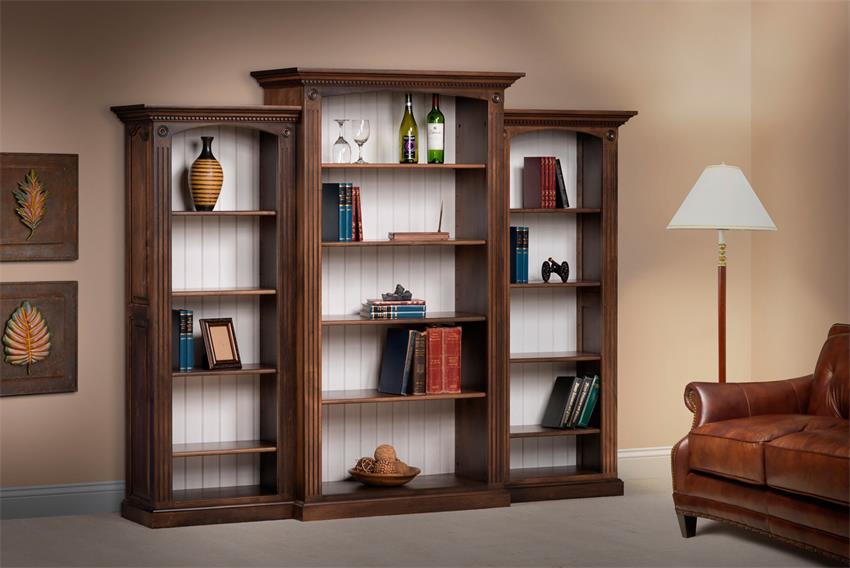 7. Add Light
By placing mirrors in your space, you will instantly open up even the smallest of rooms. What's the magic height placement for mirrors, you ask? Most experts agree that mirrors centered at about 57-inches high do the trick. Mirrors that reflect windows create the illusion of more space by bouncing light throughout the area.
Old World simplicity is beautifully reflected in our Amish Hardwood Large Modern Mission Mirror.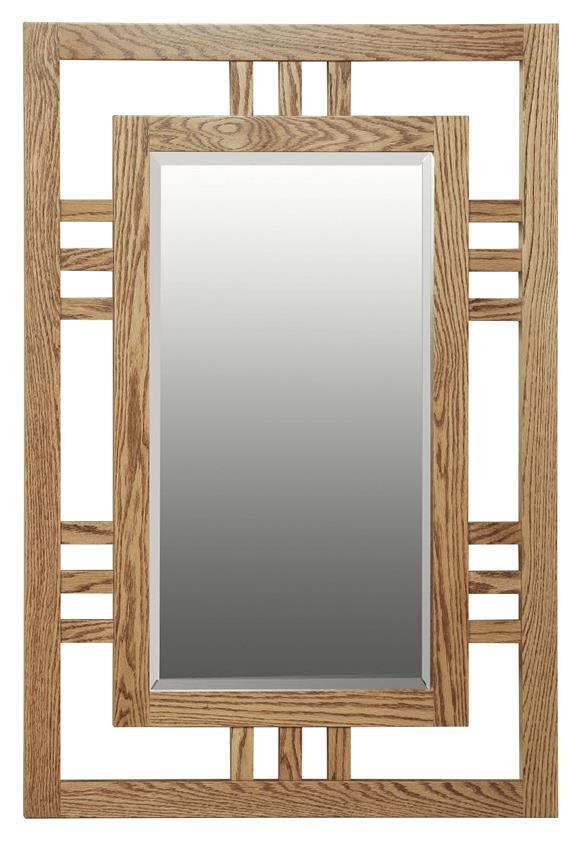 8. Invest in Comfort
Most interior designers agree that you should invest in the pieces where you spend most of your time. Your sofa is a place where the whole family can gather together to relax and unwind. Make sure that you're able to do that for years by investing in the best.
Build meaningful memories with the Amish McCoy Sofa as your backdrop.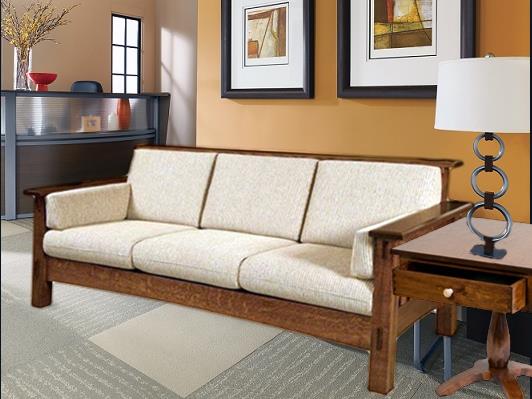 9. Get Personal
Bring your own experience to the interior design of your home. Your history is important to making any space feel comfortable. A curio cabinet is a great way to tell a story unique to you.
Put the spotlight on your past, present, and future using the Amish Lillie Curio Cabinet.

10. Have Fun!
Don't be afraid to experiment. Keep your space feeling fresh by changing up the decor every once-in-a-while. Try new things in order to find out what works best for you. Happy decorating!