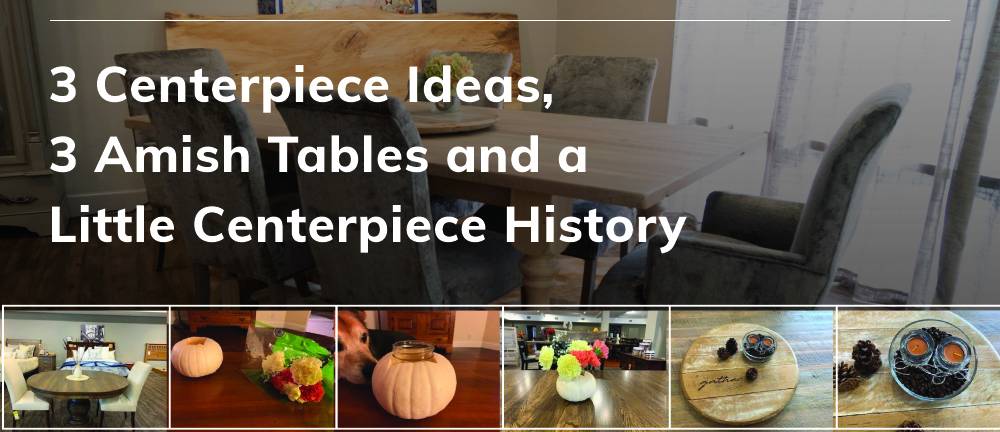 3 Centerpiece Ideas, 3 Amish Tables and a Little Centerpiece History
With the holidays once again upon us, it's time to think about visiting relatives, dinner menus, gift shopping and yes, table centerpiece ideas.
Setting the table and displaying the centerpiece have become as important as the food itself when it comes to entertaining and dining during the holidays.
We've selected three easy DIY centerpiece ideas to share with you as we approach Thanksgiving. And we've chosen three stunning Amish dining tables to display them on.
3 Easy DIY Centerpiece Ideas
Color Wrapped Wheat
This table centerpiece is rustic and simple. I had a few unexpected challenges with it, but I was happy with the result.
You will need:
Dried wheat stalks
Embroidery floss (choose the colors that fit your theme or décor best)
Scissors
A display vase
After visiting three craft stores, I found it is harder to find dried wheat stalks than I thought it would be. I used the closest thing I could find. This impacted the color combinations as I think lighter colored wheat would make the embroidered floss really pop. Tying the little knots after wrapping the wheat is also a little challenging, but worth the effort!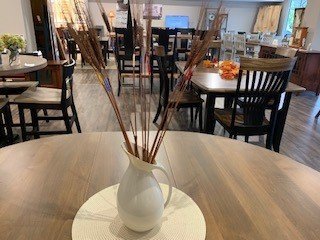 You can find the complete directions for Color Wrapped Wheat at inspiredbycharm.com.
Candle and Coffee Bean Centerpiece
This centerpiece has a bit of a rustic look and feel and….smell. I don't drink coffee but love the smell of it, and this cute DIY brings the color and richness of coffee beans out in the open.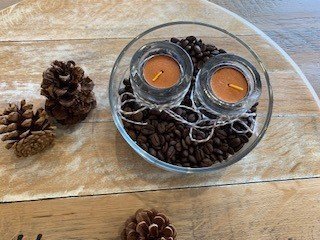 You will need:
Coffee beans (a few bags)
Round glass vases
Raffia
Votive candles
A pan or tray for display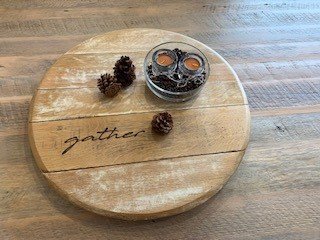 You can find the complete directions for Candle and Coffee Bean Centerpieces at calmcradle.com.
We've placed our candle and coffee bean centerpiece on the Amish Reclaimed Barnwood Farmhouse Dining Table.
Pumpkin Vase Centerpiece
I love how the fall pumpkin is combined with fresh flowers here. I chose a white pumpkin, but orange makes for additional exciting color combinations for your table. The addition of flowers lets you get really creative with colors!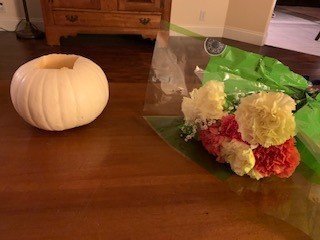 You will need:
A pumpkin
A vase to fit inside your pumpkin that you'll fill with water
Flowers in the colors you choose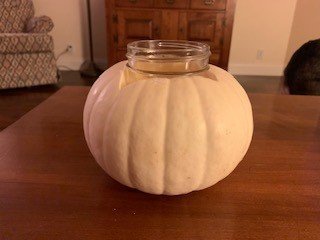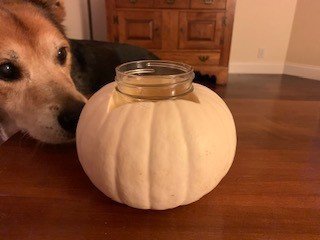 You can find this colorful centerpiece and lots of other centerpiece ideas at goodhousekeeping.com.
We put our pumpkin bouquet on the Amish Christy Extension Dining Table.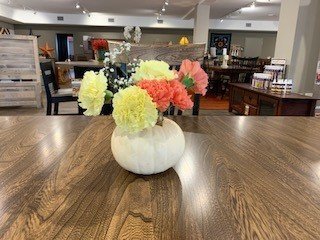 A Little History on Table Centerpieces
As far back as Roman times, the dining table had some kind of centerpiece. Long ago, centerpieces celebrated nature and reflected the current season. Over time, they became a form of creative expression ranging from simple to elaborate.
The table centerpiece is used to create a focal point, dress up the table with decoration and inspire a conversation or two based on its unique design.
During Roman times a ceramic dish surrounded by leaves would be used to decorate the table.
During the 18th century, table centerpieces became a way for the wealthy to display their wealth and often included fancy food displays, fine platters and mirrors, and candelabras to enhance the look.
Flowers have always been used as centerpieces as well as candles. Toward the end of the 19th century, table centerpieces began to reflect themes.
These days, there are no formal rules for table centerpieces, and people are getting more creative than ever. Table centerpieces are helpful tools as well as decorations at weddings and parties, helping direct guests where to sit.
Some Interesting Centerpieces
The Epergne
The epergne was used during the 17th century in Europe to adorn the table. It consisted of a middle dish with smaller dishes attached to it. They were originally made of silver, but later versions utilized glass. Epergnes were used for food, desserts, flowers or candles.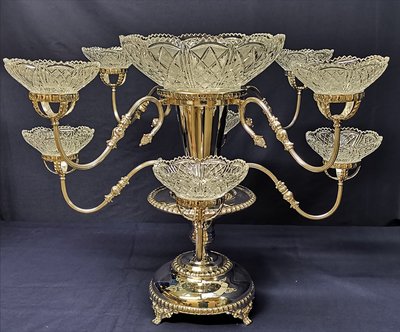 The Nef
The nef was used during the Middle Ages and was made of silver or gold in the shape of a ship. It served as a decoration for the table and could hold salt, spices or napkins. The nef was most often placed on the table in front of a person of importance to signify their status.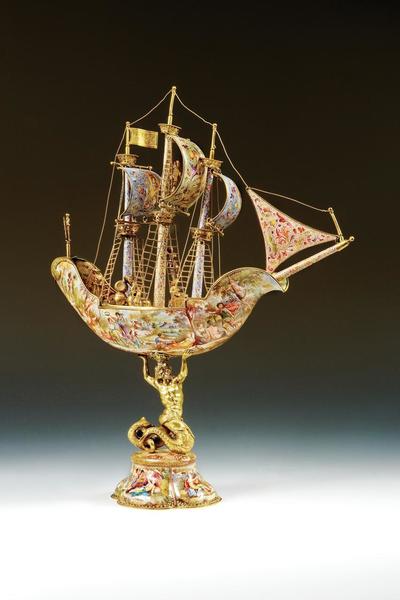 What types of table centerpieces do you like to use on your table?